Wondering where to get a free screen recorder that can record screen with audio? It is not a trouble at all .You can easily get a screen recorder and enjoy recording your computer screen with audio quickly and safely. There are free screen recorders that you can download on your computer and after you have installed them you can freely record your screen with audio any time you want. You need to get the best screen recorder that is compatible with your PC so you can successfully record your screen with audio without difficulties. Read through this article to get the best 5 free screen recorders to easily record your screen with audio for free.
Top 5 Free Screen Recorders with Audio
#1. Camstudio
At the top of our list is Camstudio screen recorder. This freeware screen recorder allows you to capture streaming and online videos on your PC. It can record audio from microphone and from the computer system. With this feature incorporated you can therefore make quality videos with a clear output effortlessly. Camstudio is a software that is designed well and enables you to make correct settings before taking your recordings. Moreover, this software allows you to make annotations using the mouse cursor and takes its recordings.
Pros:
It records videos and audios of high quality.
It is capable of converting audios and videos.
It allows you to add effects.
Cons:
It has a time limit while recording.
Recording of audio streaming may not be perfect.
Supports OS:
Windows 7, 8, 8.1, 10, Vista and XP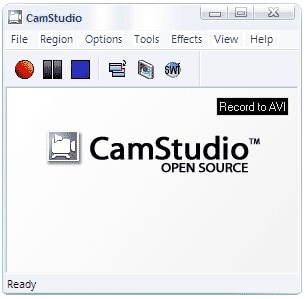 ---
#2. DVDVideo Free Screen Video Recorder
DVDVideo Free Screen Video Recorder is a free screen recorder that lets you capture videos with sound from microphones. It records video and saves them in AVI file format. It allows you to edit videos by changing the sizes of the videos on your screen. It can record objects and mouse movements. DVDVideo free screen video recorder allows you to select specific portions that you want to capture on your screen or you can record a full screen if you want to. This software sorts you out when you want to make presentations and tutorials.
Pros:
It is totally free software.
It supports editing of the videos captured.
It allows you to take screen shots.
Cons:
The texts captured on recording video are difficult to read.
Supports OS:
Windows 7, 8, 10, Vista, XP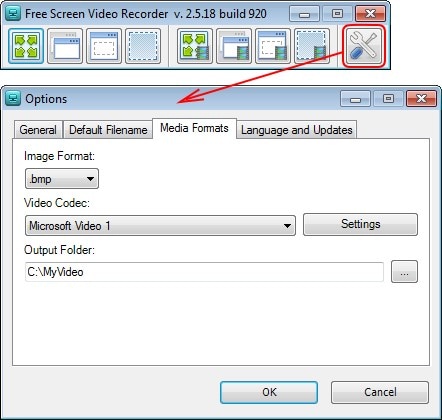 ---
Another free screen recorder that does available is Rylstism screen recorder. This software allows the users to capture whatever is on the screen quickly and easily. It can capture screen activities with audio of high quality. Its records the videos and saves them in AVI format on your computer. This powerful tool can record the pointer of the mouse and the actions that you do with your mouse. To add on this software is has a great user interface that is very easy to use.
Pros:
It can record quality videos.
It enables you to record a whole screen or select certain areas to record.
It allows you to take control of the recordings.
Cons:
It lacks some features as video editing.
Supports OS:
Windows 7, 8, 10, Vista, XP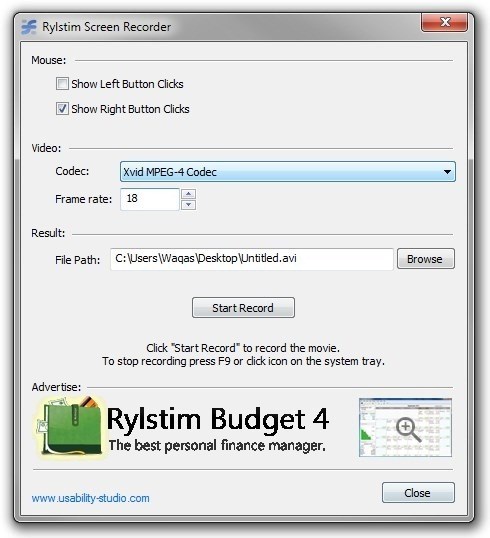 ---
Last but not least is the VSDC Free screen recorder. This software is free but it is coupled with useful features. It allows you to video record your monitor as well as taking clear screenshots. This software also records audios from your computer, microphone and speakers. As you capture screen videos using this tool, it allows you to select and a draw certain areas that you want to mark. It also supports moue pointer captures that makes your presentation or tutorials well explained and organized. Additionally, as you make presentations you can be able to track the mouse movements and record them with ease.
Pros:
It records both streaming and online videos.
It supports many file formats such as AVI, WMV, MP3 OGG and much more.
It produces audio with high quality.
It can record audios from different sources such as system itself, microphone and speakers.
Cons:
The program might crash when you begin recording.
The program is not up to par.
Supports OS:
Windows 7, 8, 10, Vista, XP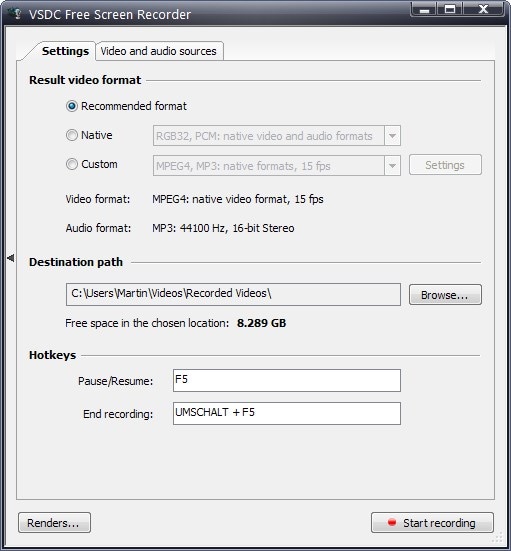 ---
To finalize our list is Free Video recorder by media freeware. This software is also free software as the name suggest. It allows you to recode everything that you do on your screen. It can make tutorials, record movies capture games any anything that you could be doing on your screen. The beauty of this software is a free software that supports different videos formats like WMV, AVI, SWF and FLV. With this software you can also do basic editing on your recorded videos such cropping, trimming, splitting changing brightness and adjusting resolution. Free screen recorder is stable and easy to download from it official website. After that you can easily create your desired screen videos.
Pros:
It can record all screen activities.
It is equipped with a video editor.
It records audio and video with high quality.
Cons:
It lacks the stop button.
It user interface is a bit complex.
It has watermarks at the bottom of right of the screen.
Supports OS:
Windows XP, Vista, 7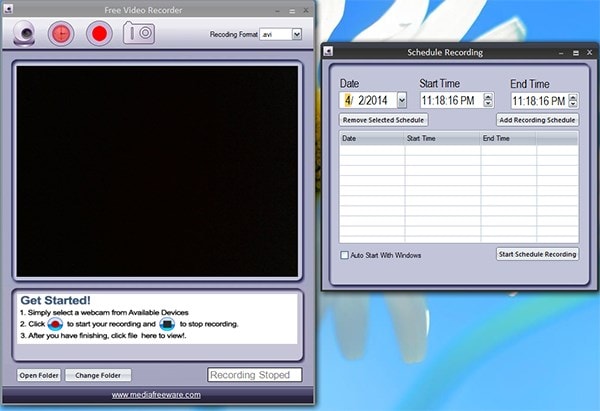 ---
How to Record Screen on Windows 10 using Filmora Video Editor
Step 1. Install and open the software
After downloading the Filmora Video Editor for Windows, you can now install it on your computer and open it.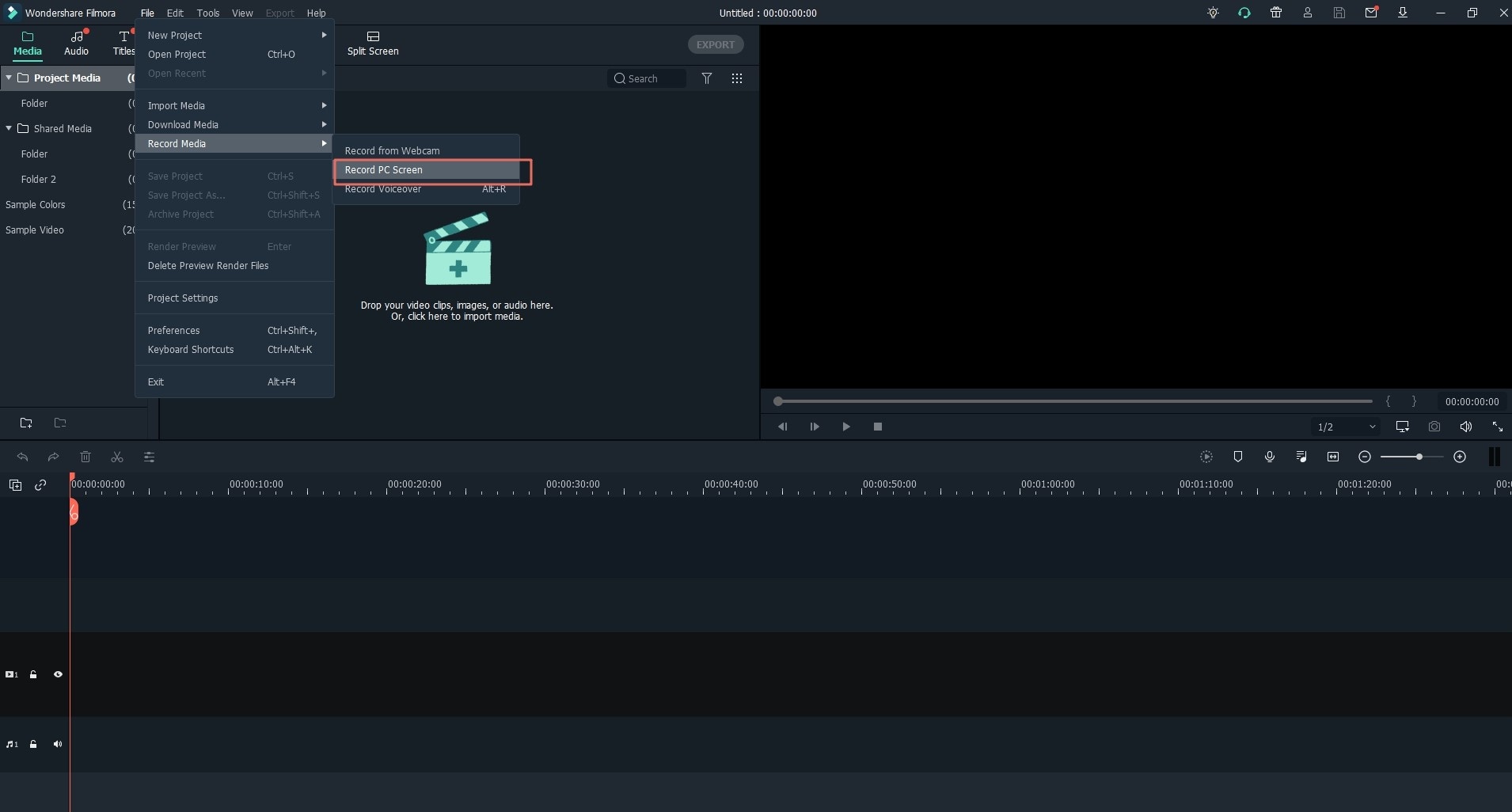 Step 2. Select video recording area
Filmora Video Editor gives you an option to either record the entire window or select a specific area. Therefore, before you do any recordings you should make these settings. To make a full screen recording click on "Full Screen" while for to make screen cast of a specific location click on "Custom" button.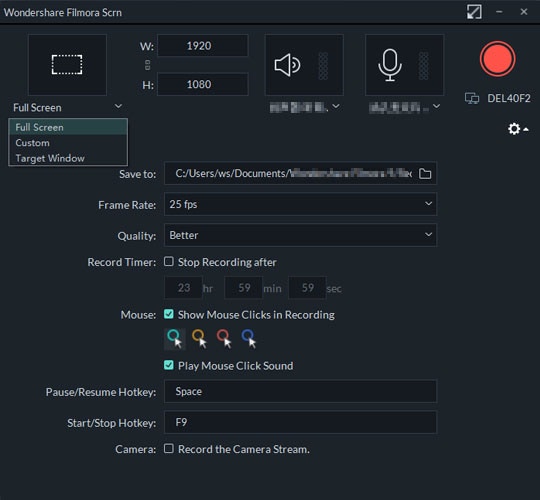 Step 3. Select Audio source
Where do you want to record your audio? If you are making recording from Skype chats or meetings then you need to click on both "System audio" and "Microphone." In a case that you are streaming online, then to get quality videos without interruptions mark on "System audio" only.
Step 4. Start the recording
Once all the parameters are set right it is now time to begin the screen recording. Go to the window that you want to record, it could be Skype, Online site, or just the tutorials on your computer. Now turn to the Filmora Video Editor program and click on "REC" button on your right. The recording will start immediately. Explore the features that the tool has such highlight parts with mouse cursor as you record.
When you're done recording it is advisable you preview your video before saving it.
---
Another Screen Recorder for Windows 10 - Apowersoft Screen Recorder
As mentioned earlier there are other screen recorders that you can use on Windows 10. Another ideal tool is Apowersoft Screen Recorder Pro. This software allows you record your desktop videos and audios effortlessly. This intuitive software is easy to use and supports different recording sources. You can stream and record the screen your desktop. If you are a game lover and you want to share your prowess then you can record as you play games and share them with your friends. To get the full details about this software it is good that we highlight its features.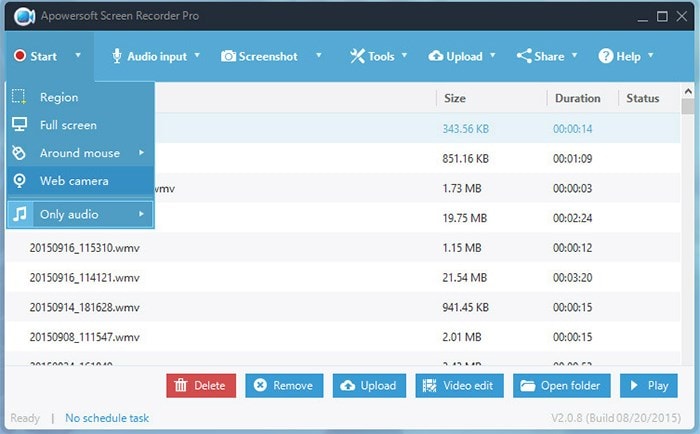 Key Features of Apowersoft Screen Recorder
This tool is well designed to record anything on your desktop screen such videos, objects, texts and images.
It is a software that allows you to record quality videos in MP4 formats.
It is built with a powerful converter that can output video files to formats like WEBM, VOB, MPEG, FLV, MKV, MP4, AVI and WMV.
It enables you record online videos, make tutorials, record games and record live chats.
It has enhanced four screen modes recordings that is Full screen, custom area, around the Mouse and Select Window.
It support audio recording from Microphone, system audio or both.
It supports webcam video recording that makes it possible to record Skype chats, MSN and GTalk.