summary-top:
Sometimes what we feel, see, or hear isn't the problem, but how to safe-keep them in an accessible room of remembrance. Every day, time, and moment of our lives, we have conversations. We hear voices sounding informative, educating, entertaining from friends, family, business associates, lecture rooms, TV screens, news, and more—then intend to make an accessible record of the information. There are times you'd love to keep a memorable record of emotions and feel in an accessible place. Bringing you into the world of Advanced Technology, you'll notice that no other gadget has dominated 95% of the globe except smartphones. As Technology advances regardless, smartphones will always be among the necessities of living from the offerings of its full-functional features. With smartphones, you can now capture voices, moments, feelings in high-quality audio formats, enjoy unlimited recording duration, functional editing features, save and share your moments and experiences with people around you whether you're an Android or iOS user.
Part1. 5 best audio recorders for iPhone
Are you an iOS device user in search of the best voice recording app to record voices on your iPhone? You have nothing to worry about. All you need here is to choose any of the iOS-compatible voice recorder apps that suit your taste, install, activate, and enjoy the functional features of these audio recorders on your iPhone.
1. iTalk
iTalk is an iOS voice recording application by Griffin technology. It's an audio recorder with fully functional features, streamlined and instinctive user interface. Since iTalk is iOS compatible, all you need to do is enjoy its benefits. With iTalk, you can record powerful and quality sound through the device's built-in microphone, append existing recording, save and share your voice record via email, compatible apps using share sheet, and devices using Airdrop.
Pros:
The digital voice recorder is a free easy to use voice recorder with its simplified features.
Cons:
There's nothing on earth that comes with a lot of benefits without little complications running around it. Although the iTalk voice recorder is a great one, it can't record phone conversations on iPhone since its input is channeled through the iPhone's built-in microphone.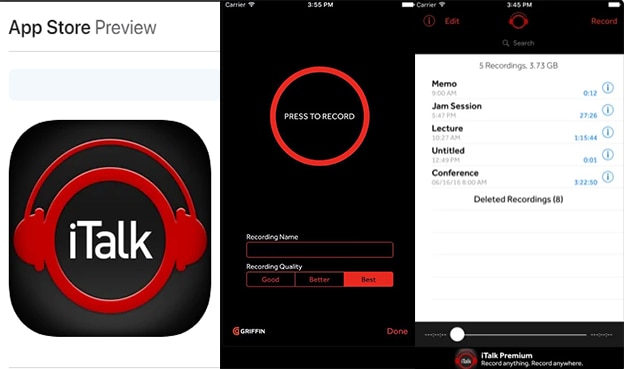 ---
Voice Memos is a built-in free voice recorder that converts your iPhone into a portable audio recorder, making it possible to share family moments, lecture periods, notes, and more in audio format, providing you with exclusive features, where you can record a conversation on iPhone using the built-in microphone or compatible external microphone, have compressed and uncompressed audio format, pin-to-zoom for more precision, trim and cut, replace and resume to fine-tune, rename and save your recordings with its exclusive editing features. Then, you can share your recorded file via email, Airdrop, SMS, and more.
Pros:
It's a Free audio recorder with a nice noise reduction editing filter.
Cons:
Voice Memos is a very good voice recording app even with its noise reduction feature but in terms of security, it's not 100% safe in the fact that it uses the iOS device general passcode for its privacy, once an individual accesses your phone, your recorded files could be accessed. Also, you can't record phone call conversations and it has limited editing features.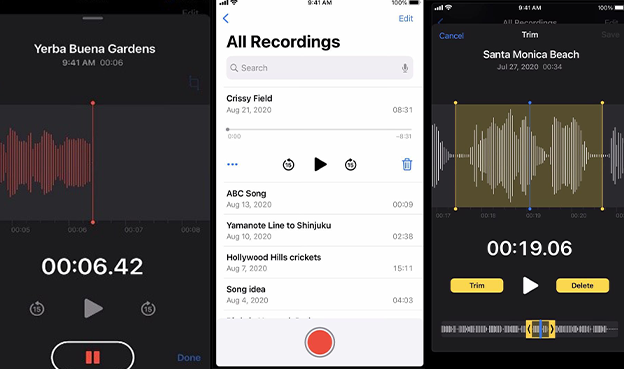 ---
Audio Share is an iOS-compatible voice recorder developed by Kymatics AB. If you're a fan of music making apps, Audio Share is nothing but the best recommendation you can get. You can record high-quality sounds on your iPhone using the built-in microphone, external audio interface, or other audio bus-compatible apps, trim, convert, normalize, transfer, export, import, zip and unzip your recordings with its editing features. At any day, anytime, you can access your sound files from its powerful sound file manager and share your sound file via email, SoundCloud, and more.
Pros:
Audio share has a full editing feature and many share options.
Cons:
With all these exceptional features, you can rate Audio Share as the best sound recorder, but you'll have to buy or pay for audio effects.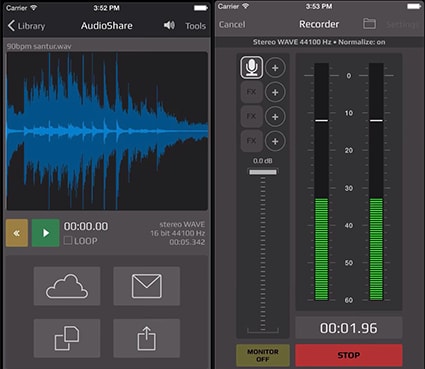 ---
Awesome Voice Recorder is also an iOS mobile audio recorder with an amazing interface and quality functional features. With Awesome voice recorder, everyone is entitled to a one-tap mono or stereo high-quality recording, trim and cut, add tags that grant a resume of a recording process after a three-minute hold or pause, reduce background noise from its editing features, then save your recording in MP3, WAV or M4A audio formats in a created folder. After saving, you can share and transfer the recorded voice or file via iTunes, SoundCloud, email, Airdrop, iCloud Drive, and more.
Pros:
The iPhone voice recorder has complete editing and sharing options.
Cons:
Awesome voice recorder has proven to be one of the best voice recorders with its advanced play control, unlimited recording time, audio visualization, Bluetooth support features. Though it's a free voice recorder but offers in-app purchases and steep learning for inexperienced users.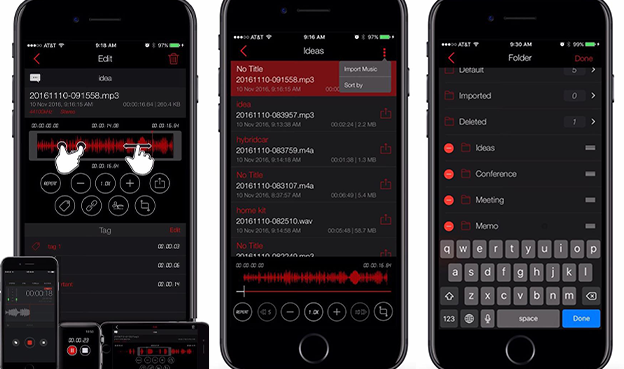 ---
Installing and Activating an iOS-compatible voice recorder app with easy and accessible recording features could be the best way to keep access to memories and information in audio formats. Voice Record Pro allows you to record voice memos and on-site sounds at unlimited duration using built-in microphone, add images, notes, bookmarks, merge multiple recordings into a single file, use audio boost and more with its configurable features and qualities.
Pros:
Voice record is one among the few best voice recorder with its exceptional features.
Cons:
Despite being able to save recordings to iCloud, Google Drive, photo Album and more. Share and transfer the recordings via email, Bluetooth, Dropbox, Google Drive and more. On this free audio recorder, you'll have to make an in-app purchase to remove ads.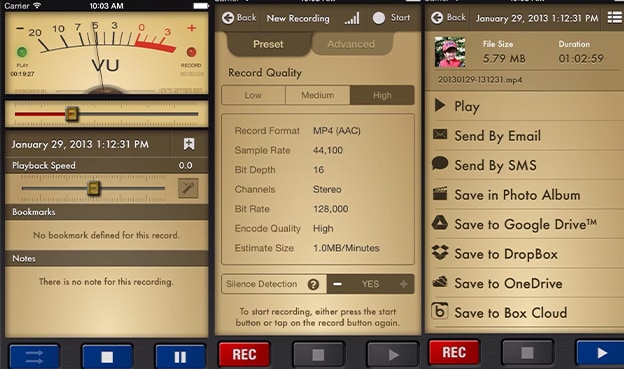 ---
Part2. 5 best sound recorders for Android
Not only iOS devices are opened to these full-featured audio recording apps. If you're an Android user, you can also keep records of all conversations, lectures, events, moments and more in the best audio formats, using the best voice recorder for Android devices. All you need to do is to select and install any of the audio recorder apps available on the list below, and transform your device into a powerful recording tool just at a tap.
ASR Voice Recorder is an Android-compatible free voice recorder that converts all your meetings, lectures, notes, voices, and more into audio format with unlimited recording length. This easy voice recorder allows you to create voice records with built-in and external microphones, group recordings by label, add notes, trim, cut and save recordings with its audio converter in a customized recording folder. Just like many other iPhone voice recorders, you can share recordings with its cloud upload integration support for Google Drive, Dropbox, OneDrive, Box, and more.
Pros:
Free and easy-to-use recorder. Whether you're looking for a Samsung voice recorder or a sony voice recorder, ASR voice recorder supports all android smartphones.
Cons:
With all these exceptional but basic features, ASR voice recorder contains ads and has no audio transcription option.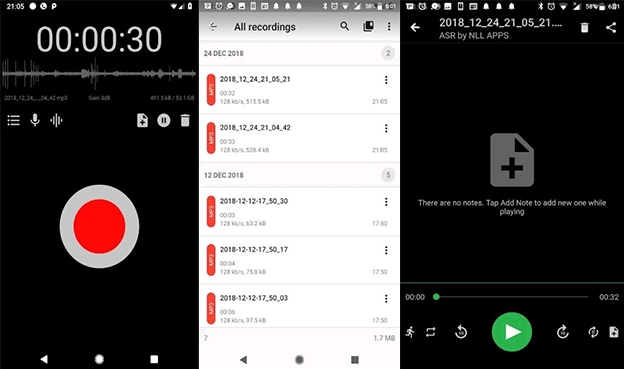 ---
If you're looking for Android sound recorder with audio transcription option, this is the best tool for you "REV Voice Recorder". It's the only app with professional human speech-to-text features where you own and control everything. With REV Voice Recorder, you're open to record unlimited interviews, meetings, memos and more, trim, view and share in high-quality audio formats. The free voice recorder app automatically pauses for any kind of interruption…
Pros:
It supports audio transcription and possess quality editing features.
Cons:
The only complication here is you'll need to pay for transcription and you can't record phone conversations on your android.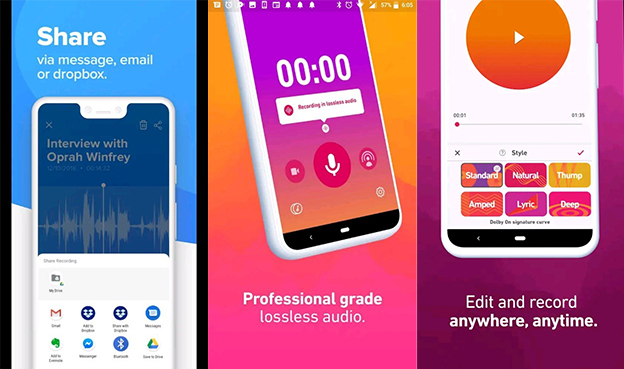 ---
Here's another recording tool with one of the best features for Android phones. If you're looking for a free voice recorder app to take care of sound quality with intuitive sound editing features, Dolby is best at your delivery. Transform your phone into audio recorder, cover your events in the audio formats, edit, save and share on social media channels and other mobile transmission channels.
Pros:
Audio share has a full editing feature and many share options.
Cons:
With all these exceptional features, you can rate Audio Share as the best sound recorder, but you'll have to buy or pay for audio effects.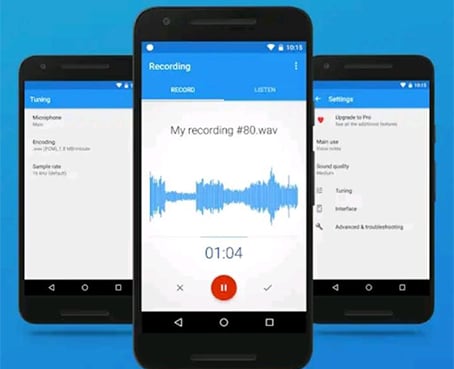 ---
Use an audio recorder that its name defines its functionality. An unlimited recording-length recorder where all you need to worry about is your disk space. Easy Voice Recorder app is an Android-compatible recorder with unlimited recording duration that allows you to record quality sound with built-in or external microphones even in backgrounds, save and share recordings easily via email and other channels. Since the sound recorder is also available on Pro version with additional features, you can get it and enjoy Sound editing features, multiple audio formats, automatic upload to Google Drive, Dropbox and more.
Pros:
Records voice in high quality just with a tap.
Cons:
Please note that: this easy and accessible sound recorder does not record phone calls. You're kept company by ads, and have limited basic audio editing tools if you're not a user of the pro version.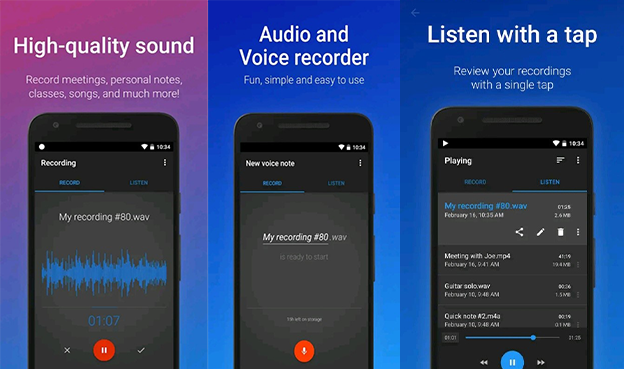 ---
Cogi is an ad-free, voice recorder for Androids, although it's also iOS-compatible. With Cogi, you can capture every thought, record audio on your Android all together in one place, in the best audio quality, just by a single tap. Cogi allows you to create notes, add hashtags and contacts for easy search, organize your audio recordings in one place, save all in the Cogi cloud and allows you to share audio files with people through multiple channels.
Pros:
Exceptional features and easy to use.
Cons:
The only problem here is the in-app purchases.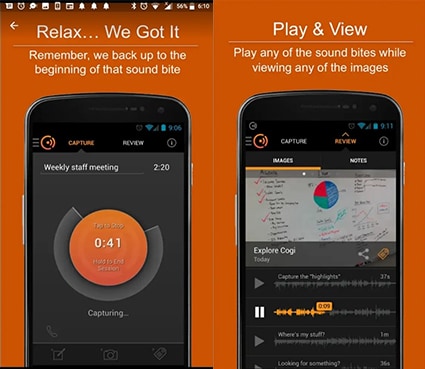 ---
Q&As
Are there any voice Recorder online?
Yes, SpeakPipe and Online Uniconverter are free online voice recorders that allows you to record audio recordings from a browser by giving permission to access your microphone.
How to use Google voice recorder?
Google voice Recorder is a new app brought to you by Google. Using Google voice recorder, you can record conversations and speech in real time. There's no hard way in using this app—all you need to do is; Click the record button. Always make sure you keep sights with the recording process from the audio tab or select transcript to see voice transcription in real time. To save the voice recording, select the pause button and then save. You can also pause or delete the recording through this same selection process.
How to record Audio on Windows or Macbook from YouTube?
Use Filmora X! Install and launch Filmora X on your PC before running your YouTube video. Select File on the menu bar at the top of the interface, then, under Record Media option: click on the Record PC screen button. To have a smooth recording from youtube, Uncheck the microphone and the mouse clicks. Open the YouTube video you want to record. Then, click the REC button and play the video to begin recording. when done, stop recording. If you've stopped recording, the recorded file will appear on the program. Drag to the timeline and use the Filmora X editing features if you like otherwise, click on Export and choose output as MP3 format and save the file.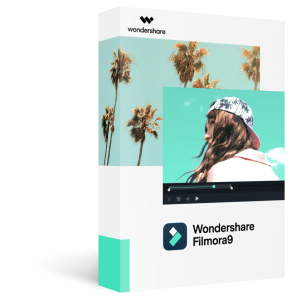 Features about Filmora X
Simple video creator without limits: The motion tracking, color matching, video keyframe can make the editing easier.
Powerful tools to unleash your creativity: You can pan and zoom your video, stabilize and enhance your video on Filmora X.
Stylize your video with amazing effects on Filmstock: Filmstock is an one-Stop resource center, including footage, music, images, and effects for the best video editing.
Share your creativity with the world: Share your work on YouTube and Vimeo.
Security Verified. 5,481,347 people have downloaded it.