You can now celebrate your friendship, birthdays, relationships or holidays with all your friends and loved ones, thanks to the availability of excellent slideshow makers. These slideshow maker apps allow you to easily share photo/ video slideshows with music on WhatsApp, Facebook, YouTube, Instagram and other video sharing sites, letting your followers access them at any time and from anywhere. If you are looking for the best iPhone and Android slideshow maker app, look no further.
Top 5 Slideshow Maker App for iPhone
For iphone users, here are five of the best free slideshow maker with music apps to check out:
This is an excellent video editor that comes with great editing options, over 80 filters and other effects that enhance your videos. It allows you to create video slideshows by merging multiple clips into one and make photo slideshows from any image/picture. You can also add music from your iPod library and record your voice over the video with the help of "Voiceover" feature.
Pros:
The app supports 14 transitions to animate between slideshows.
You can play slideshow videos in reverse.
Slideshows can be shared on Vine, Instagram, etc.
Cons:
While using the free version, you'll be asked over and over if you would like to purchase the pro version.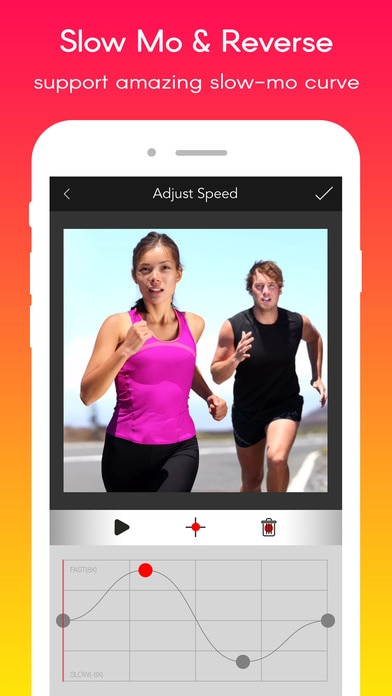 ---
#2. PicFlow
With Picflow, you'll be able to mix photos and music like never before. The app enables you to select photos from your camera roll or albums and control the timing of each of them to match the tune of your favorite music. You'll also have the opportunity to rearrange the photos by dragging. Generally, PicFlow enables you to share several photos on Instagram, Facebook or other social sites without having to cram them into a tiny collage or blowing up your friend's feeds.
Pros:
The app features an easy and intuitive interface.
You can add music from your iPod library.
There are over 18 transitions to choose from.
Cons:
A few customers have complained that experienced problems while cropping and moving images.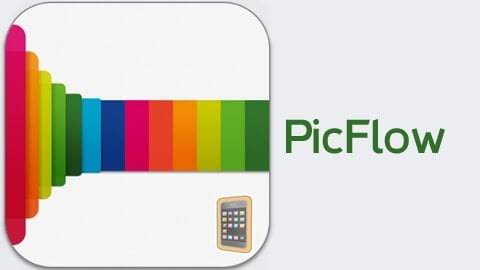 ---
SlideLab is one of the best slideshow maker apps for iPhone due to its ability to transform photos into stunning videos. It also allows users to make video recordings of their special moments and express their stories or motions. Anyone can create slideshows by selecting and arranging photos, polishing them with the powerful built-in editor, add transitions and music so as to spice up the slideshow and finally save or share the output slideshow via Facebook, Instagram, etc.
Pros:
You can select either the built-in music or your own music.
Excellent filters enable you to beautify your photos.
The length of a slideshow can be auto-adjusted in accordance with Vine or Instagram.
Cons:
You can't speed up or mash up music.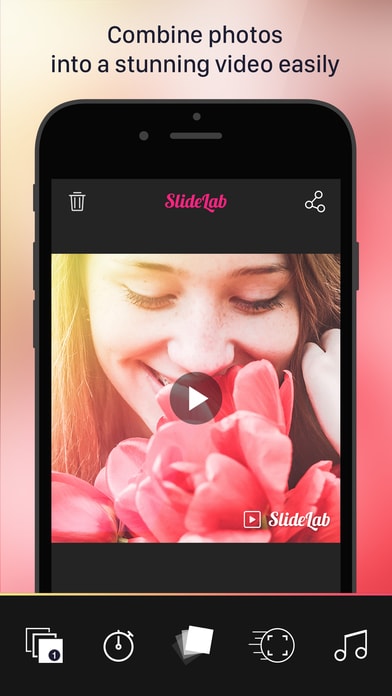 ---
This is a professional slideshow maker that transforms photos into stunning videos. It allows you to add music from iTunes or other videos and even record your own voice over the slideshow video. The app has over 80 filters (Brightness, contrast, exposure, sharpening, shadows, highlight and more), 50+ transitions, and other great effects for editing and beautifying your photos and slideshow videos. In general, everything that SlideStudio has to offer is just amazing.
Pros:
This slideshow maker for iPhone allows you to trim music or adjust the music speed.
Photos are cropped, arranged and moved with ease.
Timing can be edited for certain photos to coincide with specific parts of a song.
Cons:
Videos can't be played in reverse.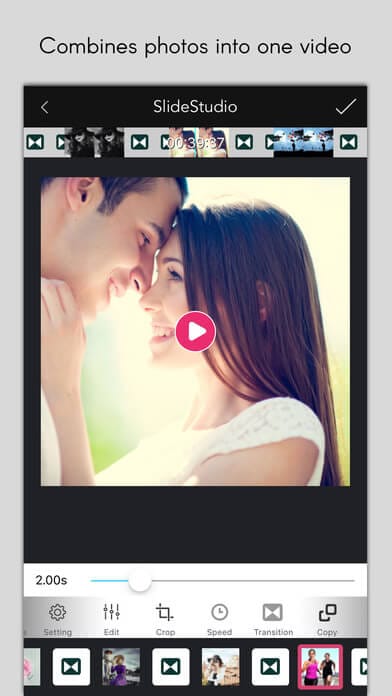 ---
You can impress your friends with high-quality video and photo slideshows created by Flipagram. The fast and simple app is designed with advanced features that allow users to make slideshows like professional video editors. You can also add free music to your slideshows and make them even more attractive.
Pros:
The app is programmed with a user-friendly interface that makes it easy to use.
You can upload video clips and photos from camera roll or directly shoot them from the built-in app camera.
The output slideshow videos can be shared to all video-sharing and social websites.
Cons:
While adding music to the slideshow, you can't control its volume.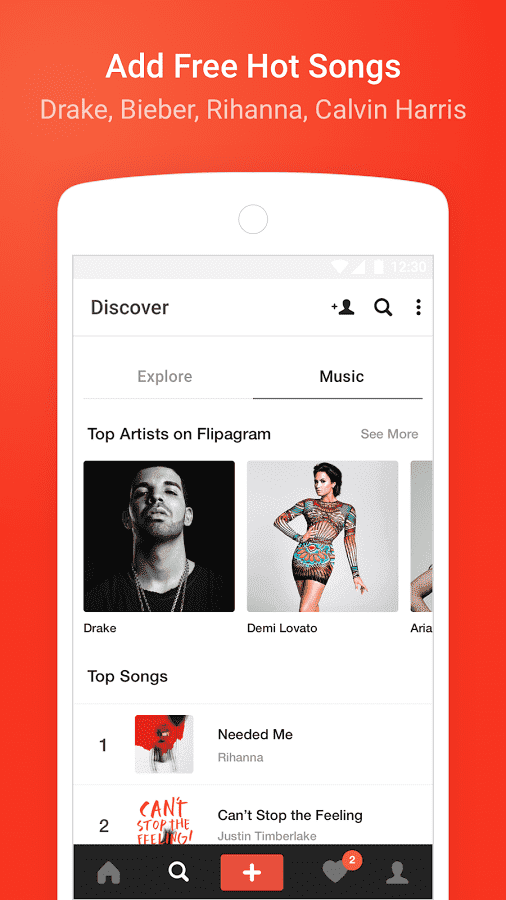 ---
Top 5 Slideshow Maker App for Android
This is one of the most popular apps available on Google Play. It's a powerful video editor that provides you with an opportunity to turn your photos into a movie and make video slideshows with just a few taps. Viva video features built-in background music library from where you can choose your favorite music and add them to the slideshow. It also lets you import music or popular songs from your phone.
Pros:
Slideshow videos can be exported to gallery, social sites, and video sharing websites at any time.
There are over 200 special effects that are available for free download.
You can change the voice/speaking speed of the videos to be added to the slideshow.
Cons:
While adding music to the slideshow, you can't control its volume.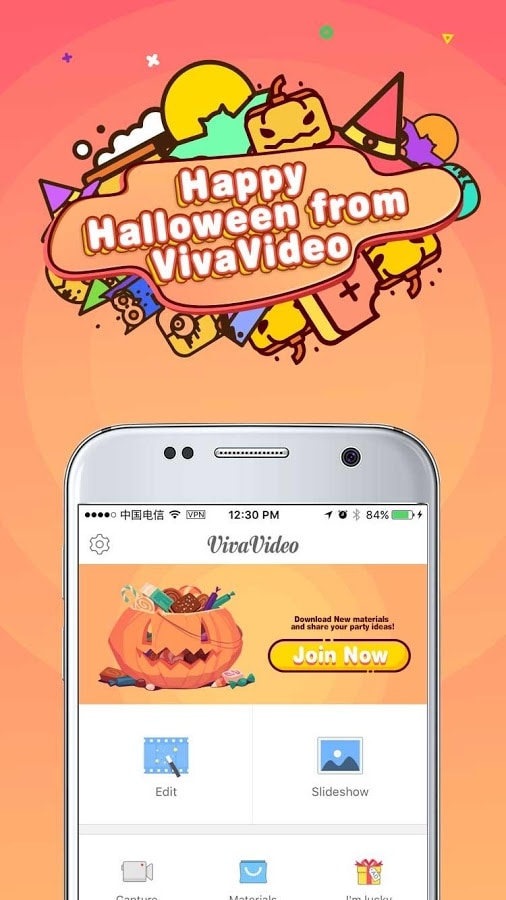 ---
VideoShow is a powerful movie editor and slideshow maker that is frequently used by many to make and share videos to Instagram, YouTube, and Facebook. The all in one app features beautiful themes, music, subtitles, emoji, filters and almost everything you need to make a compelling video slideshow.
Pros:
VideoShow is one of the most popular apps on Google Play.
It's simple to add texts, theme, music, emoji and more to a slideshow.
You can compress, trim or merge any video to create a slideshow.
Cons:
Sometimes the app takes too much time to share or export the output slideshow videos.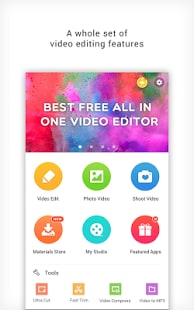 ---
PowerDirector is a video editor app that can also be used to make awesome slideshows. It has powerful timeline video editing features, photo video editor, free video effects and more. You can also add voiceover and action movie effects to your slideshows. The slideshows can then be shared on YouTube or Vine.
Pros:
The app features a professional timeline editing interface.
It supports slideshow video making in slow motion.
You can make a video and pic collage with any music from your collection.
Cons:
The app consumes too much memory and isn't recommended for individuals using older versions of Android.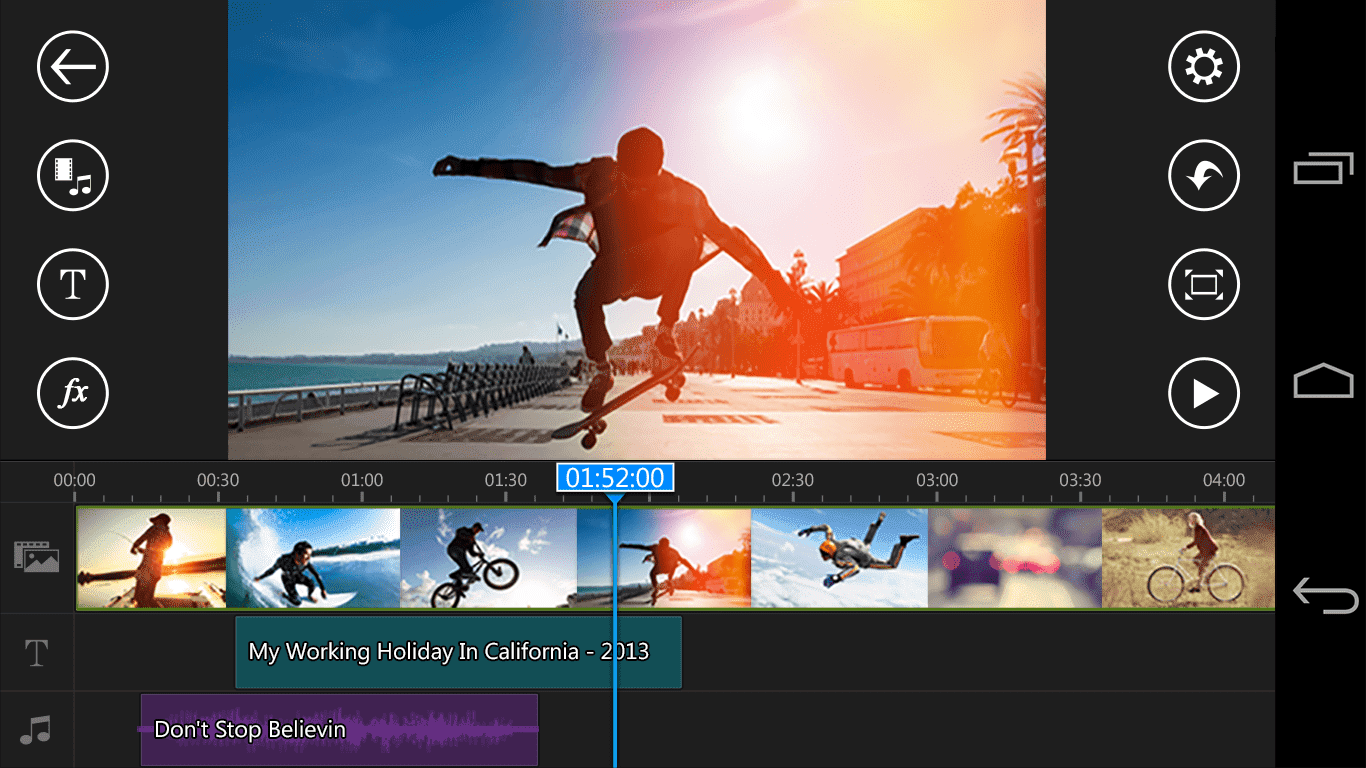 ---
Pixgram is a perfect Android app for customizing photo and video slideshows with music. Only three steps are involved in creating a slideshow with Pixgram. Pick up any video/photo, choose your preferred filter effects and music and then publish the video and share memorable moments with family members and friends.
Pros:
Output slideshows can be shared instantly on Instagram, Twitter, Facebook, etc.
Pixgram is convenient to use since users edit their video slideshows in one place
Slideshows can be saved in multiple aspect ratios, including 1:1, 9:16 or 16:9.
Cons:
Some users have claimed that it takes time to load, but this depends on the model of your Android device.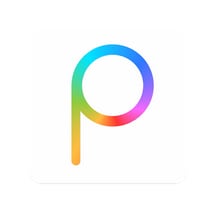 ---
5. Slideshow Maker
This Android slideshow app is incredibly easy to use, but powerful. It creates awesome video slideshow and has multiple options for customizing and making them personal. You are free to add as many pictures as you like from your camera, gallery or from the web and select music from multiple soundtrack options or import your own. After saving a slideshow video, you can still modify it at any time.
Pros:
Built-in video player enables you to play your slideshow videos instantly.
Slideshow Maker is easy to use, thanks to its intuitive interface and excellent performance.
There are many filters to enhance photos.
Cons:
Ads pop-up in free versions.