YouTube, as we all know, is now the most significant source of digital content. With the drastic increase in its viewers globally, this platform makes unprecedented updates that YouTubers can use to make their content unique. The watermark logo for YouTube is just one of them as there are many approaches to expand your image's permeability. YouTube utilized by millions consistently gives you a fantastic chance to build your logo watermark YouTube content. The best part about YouTube is that you can incorporate your image logo with many snaps at zero expense. In this article, we'll put a light on this critical watermark credibility.
The content on YouTube penetrates to the highest level, making standing out one is undoubtedly an exaggerating task for a rookie. YouTube logo watermark fulfills this essentiality. The higher the identity, the more noticeable is your image. With a unique and stunning YouTube watermark logo, we have a mix for progress.
What is Video Logo Watermark?
A watermark is a brand identity, which in terms of YouTube, is a special feature that allows you to add a unique and memorable image, just like your branding logo to your channel videos. This logo watermark has the sole purpose of convincing the audience to subscribe to your YouTube channel, which is the pure reflection of how your YouTube logo watermark is.
Importance of YouTube Watermark Logo
A YouTuber always prefer getting subscribers from several sources. Meanwhile, in this era, getting subscribers is turn out to be a critical task as building an audience for your channel is not a piece of cake. The most comfortable and effective technique you can opt for is going for a YouTube video logo watermark, which names your brand and gives you a unique identity. Here are some of its essential points:
• A logo watermark impacts directly on your subscriber's numbers as it shows professionalism.
• Although YouTube offers a free subscribe button watermark to every channel, it is essential to note that a unique and eye-catchy logo watermark may bias the audience to hit the subscribe button out of the typical YouTube subscriber button.
• Furthermore, a YouTube logo watermark will give your channel a brand identity that you can embed in several platforms with a uniquely identifying quality.
Part 1: Top 5 YouTube Video Logo Watermark Maker
While considering the free YouTube logo maker without watermark, it turns out to be a mountain of such tools with which it just gets complicated while choosing the best fit for your YouTube channel. To make it simplistic and timely useful for you, we've shortlisted the 5 best out of numerous, well-researched, and enriched features for you to pick the best one. Consider the following enlisted platforms:
A product by Envato, Placeit has a variety of digital content, including the free logo templates with the options of customizing the brand logo according to your needs. With its simplistic interface, you can perfectly shape your video logo watermark with this software.
Pricing: $14.95/Month
Pros:
• The Placeit comprises a vast library of around 20,000 samples to pick for your YouTube logo watermark.
• You can also create a perfect intro with the logo watermark embedded naturally in it.
Cons:
• You need to pay a monthly subscription to access this software as it doesn't have any free subscription offer.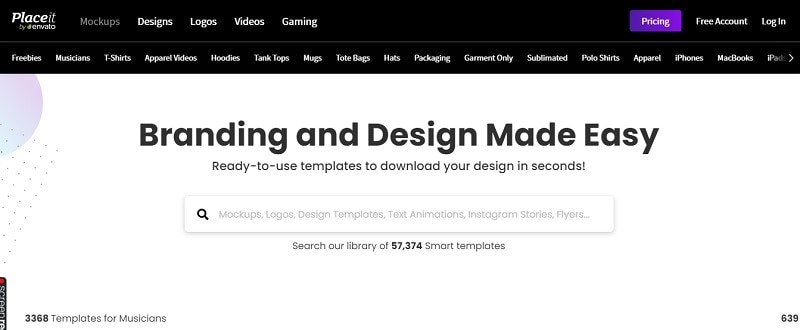 ---
If you're looking for a top-notch and stunning logo design, then BrandCrowd is the best pick for you as it has a ton of templates for your needs and that too available online. This means you can access this platform right from your mobile, as well as from your desktop. This platform also provides you with the option to create your creative logo watermark from scratch.
Pricing: $15/Month
Pros:
• BrandCrowd is an entirely online platform with numerous online templates customizable for your best fit needs.
• You can also design your logo watermark with its crystal-clear and straightforward instructional toolkit available within the website.
Cons:
• It has a high price value for high-quality output files, limiting the free package's output quality.

---
A powerful yet online logo maker, Tailor Brands is a top-rated and widely used platform for millions of user's choices worldwide. You can shape your logo with the best automated generating technique of this platform, which requires some information and gives you an output file comprised of all your needs.
Pricing: $19.99/Month
Pros:
• It has the best AI techniques, with which it can adequately shape your desired logo design within minutes.
• This platform is perfect for beginners as it's handy and timely enough that even without the know-how of design, you can get the best plan for your YouTube channel.
Cons:
• The high-quality files are restricted for access to full branding tools, which costs you a fair amount as it's for corporate uses.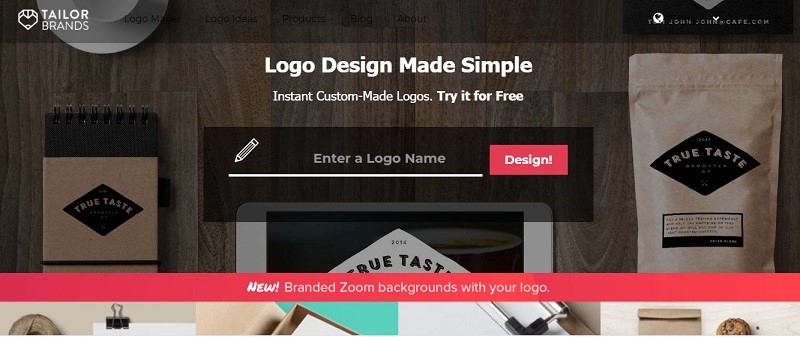 ---
4. Canva
Canva is the webmaster of digital content creation as it has a vast audience taking advantage of its free yet powerful resources and best built-in designs. This online platform provides you with access to numerous free templates and techniques that will surely cover your needs to create a unique and eye-catchy YouTube watermark logo.
Pricing: Free with Premium Package
Pros:
• This online platform comprises numerous built-in design templates free to use and download for your YouTube channel watermark.
• Canva allows you to download your output file within the specified format acceptable by the YouTube with the file's best-compressed size.
Cons:
• Downloading a premium template or elements in your logo file will cost you a Canva watermark; hence you need to purchase the premium package.

---
A three-step following platform, Logo Crisp, is a handy online logo maker that will give you a unique branding identity for your YouTube channel in less than 3 minutes. You can use their unlimited features in a hassle-free environment without any limits and restrictions.
Pricing: $99/Month
Pros:
• Fast and useful online tools provide a perfect environment for beginners with zero knowledge in creative design.
• It has around 10,000 free templates for the YouTube logo watermark, which will make your channel a unique and eye-catchy in its way.
Cons:
• It has limited options to customize your logo if you feel like any enhancements in this platform's design with the price value too high.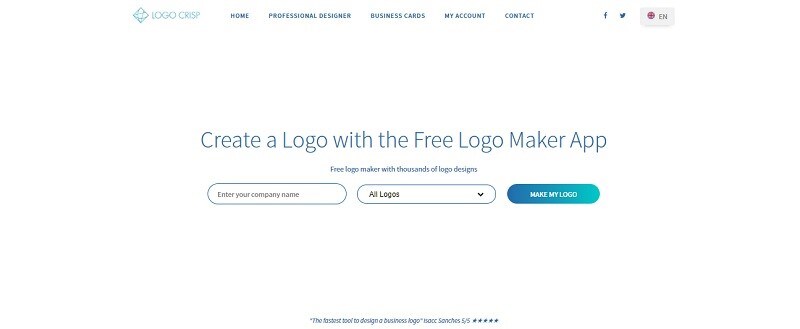 ---
Part 2: How To Add Your Logo Watermark For YouTube
In this section, we'll demonstrate how to add your logo watermark to the YouTube channel. Now, as you've got the perfect and unique watermark for your specified and desired form, it's time to get into action and add the powerfully designed masterpiece to your videos, which can be done in two ways explained very clearly below.
Way 1: Add logo watermark by Filmora Video Editor in the editing process
The first way to add your desired watermark to your video is using a powerful and handy video editor, which is undoubtedly Filmora Video Editor (or Filmora Video Editor for Mac) because of its intuitive and user-friendly design. Filmora Video Editor is the best choice for beginners to professional level video editors. It covers basic to pro-level editing features essential for branding your YouTube channel videos according to the fast-growing YouTube content industry.
Out of the numerous platforms available in the market for branding your YouTube channel, we have filtered out the Filmora Video editor for you. The reason is crystal clear as this software comes up with powerful built-in features with a unique and royalty-free library of Filmstock accessible right within the software. You can form your video content to the next level with its intuitive design and template structures, which is entirely customizable handily.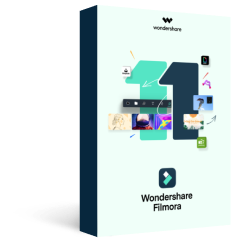 Top features:
Provides you the option to further edit your designed logo watermark with its best preview feature right within the app.
You can also navigate and synchronize the logo watermark to your video content efficiently.
Offers royalty-free image access to its Filmstock library from which you can quickly get the best-fit image for your logo watermark content and background.
Allows to import your watermark format to Filmora Video Editor and output the desired form of video content with the logo watermark embedded effectively within the range.
Steps for adding watermark to your videos
Step 1: Import your video and the watermark file from your system files to Filmora Video Editor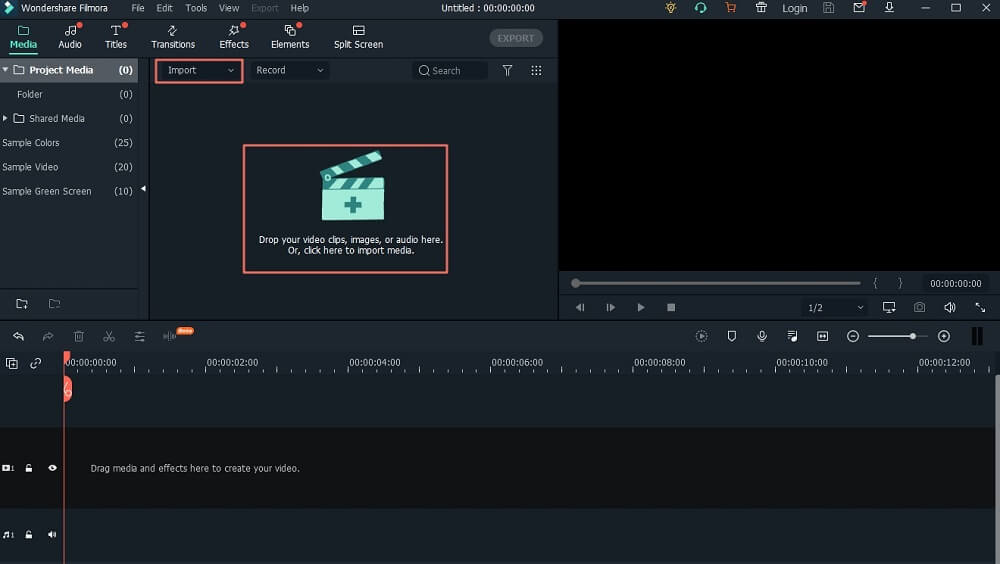 Step 2: Add the imported files into the timeline where you can easily navigate and drag the files timely.
With the handy timeline interface, you can easily synchronize the watermark along with the video content and note the time for which you want to include the watermark into your YouTube videos.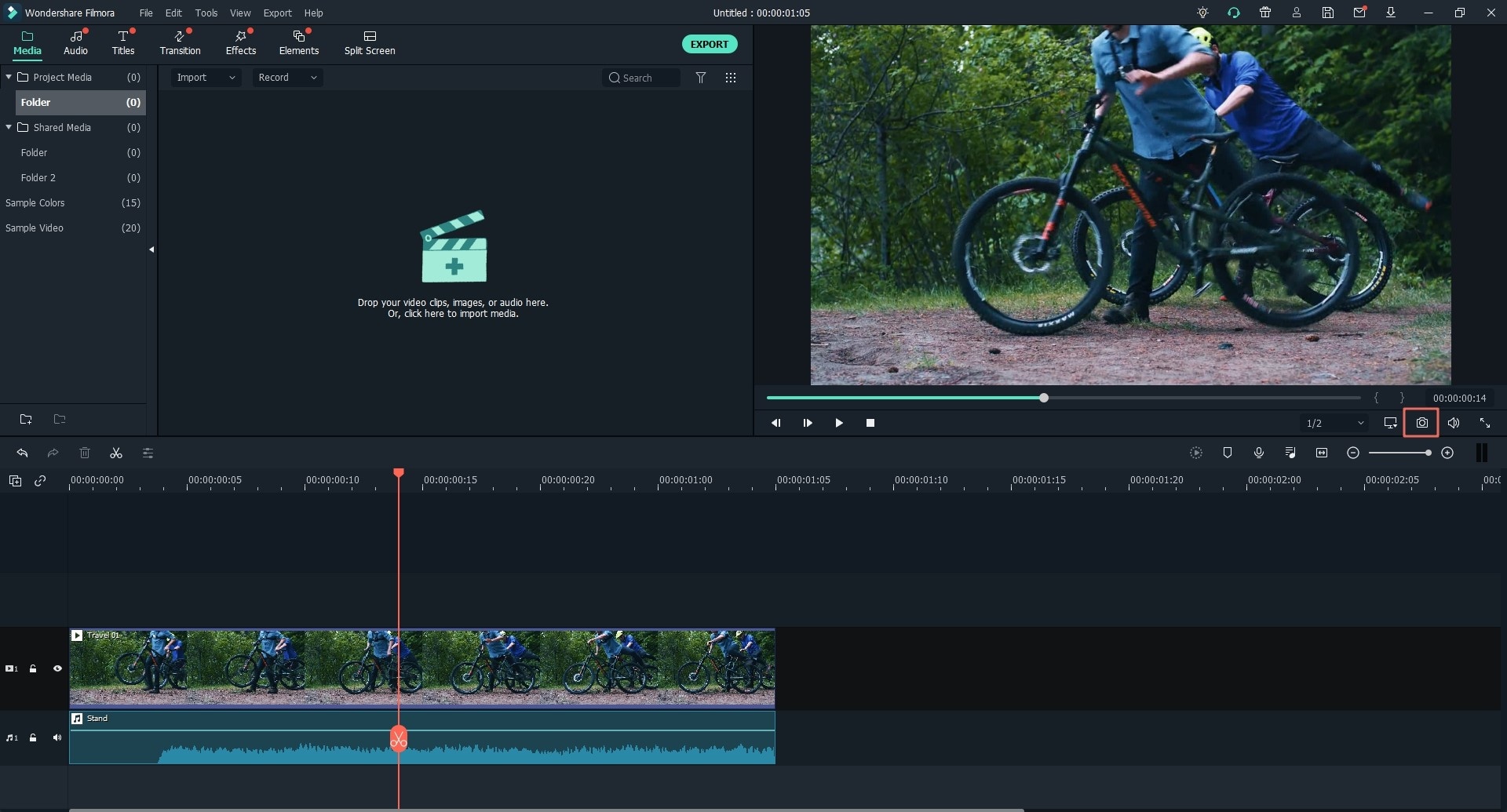 Step 3: You can do the masking to your watermark and match it according to the video while previewing it into the Filmora Video Editor's preview window.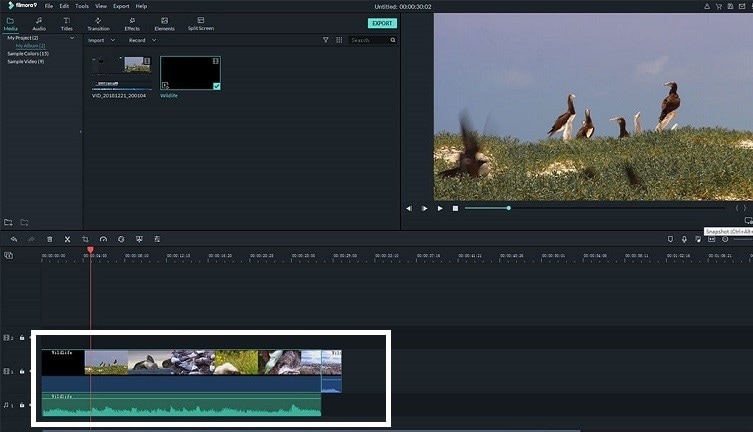 Step 4: In the final step, you can Export your video with the watermark in it to your system with your desired format as follow: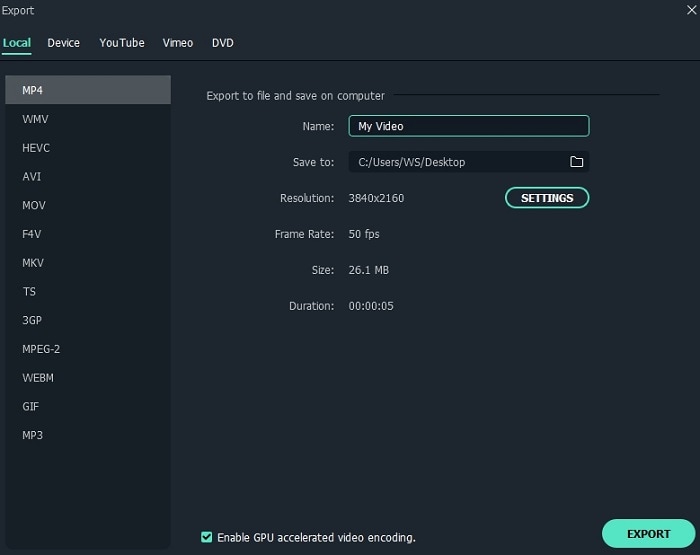 Step 5: You can also export your video directly to your YouTube video channel by selecting the YouTube menu from the Export window as follow: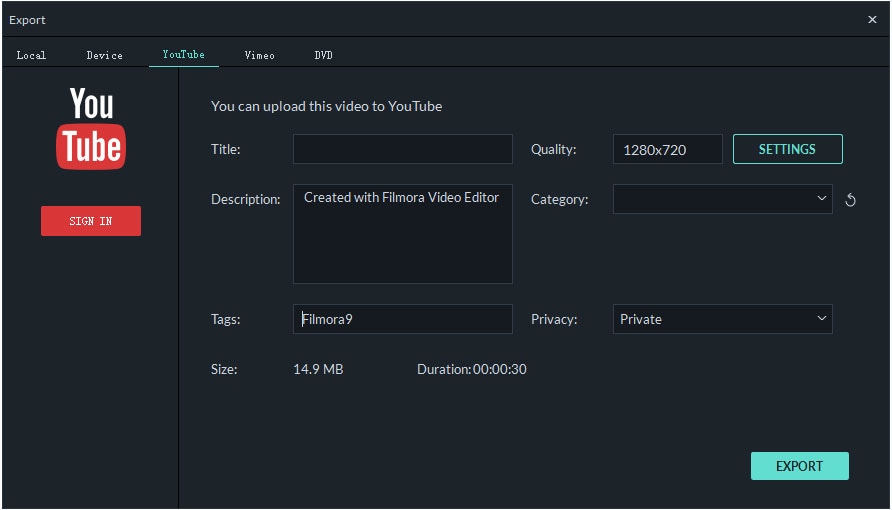 Way 2: Adding logo watermarks to published YouTube videos
If you forget to add your desired watermark to your videos or it's just now, you've your watermark logo for upcoming videos. Then YouTube gives you the facility to add your desired watermark logo to your already published videos without affecting the viewers count. You can do it by following the steps below:
Step 1: Go to your YouTube channel and open the YouTube Studio from your channel avatar as follows: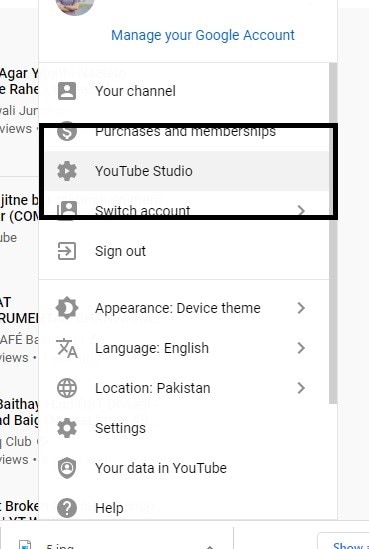 Step 2: Now select the Settings menu from the menu bar of the channel as follows:

Step 3: Here you can see the choose Image button, hit on that, and select your designed watermark logo from your system files to upload: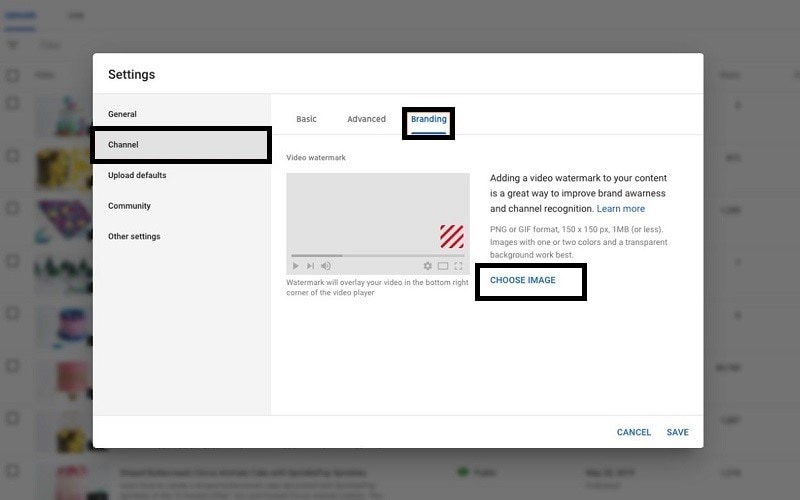 Step 4: After the successful upload to the channel video, you can customize the display time of your watermark logo in your video as follow: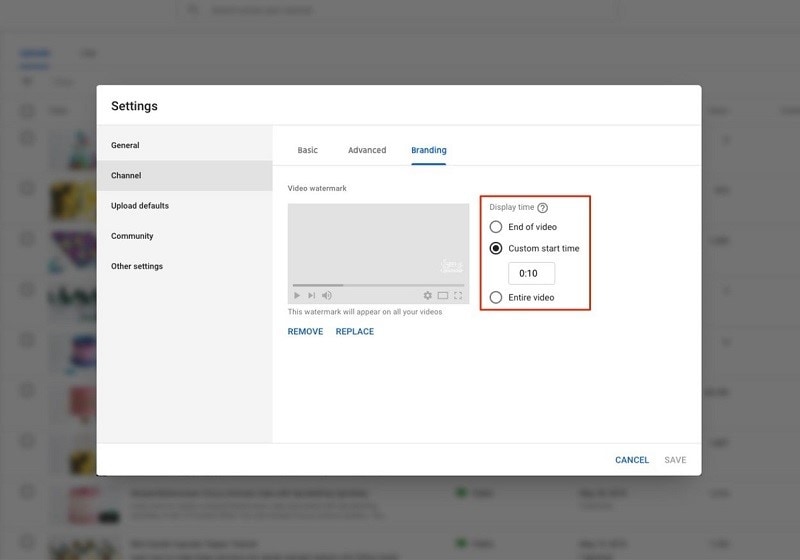 Step 5: As soon as you're done with the customization, hit the Save button below, which will save your video with the watermark logo without harming your viewer numbers and the branding identity.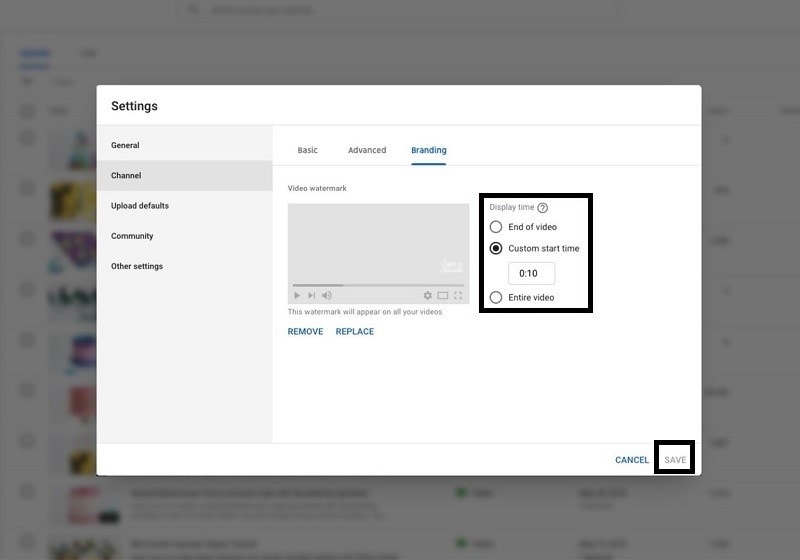 In this way, you can add your desired branding identity to your YouTube channel videos and make it more useful and uniquely identifiable for your channel content. The best part is that you can timely include your pre-designed watermark effectively and efficiently to your channel videos.
---
Conclusion
The bottom line of this article suggests that adding a unique identity in the form of YouTube watermark logo size according to the specified dimensions and the policies by YouTube is an efficient method of branding your YouTube channel and make it professional. However, the steps involved in doing so might get difficult for you if you're a rookie in the YouTube industry, or it's just you don't have enough know-how of how to do so. In the above steps, we've demonstrated clearly with every step and image explaining the watermark creation to the watermark implementation with the Filmora Video Editor.
Furthermore, we've also enlightened the fact of choosing this powerful video editor. It has plenty of built-in tools you must require while giving your already published or publishing videos a professional touch. This means collectively. This software is the best and only intuitive software available to help you add a logo watermark to YouTube videos quickly and design your content into a uniquely identified brand right from the comfort of one single software tool.