What's in a name- to answer that age-old question, it is an identity, the most basic element that people associate with you. Therefore, when creating an online persona, having a unique and relevant name would give identity to your brand.
Twitch, in particular, is one of the most popular online services of today for streaming videos and connecting with an audience, ranging from gaming to talk show podcast genres. You can use a Twitch Name Generator to get a relatable and memorable name for your channel, engage more viewers, and create a brand identity.
We discuss 10 such options here- read ahead.
Part 1. 5 Tips for Choosing a Good Name for Twitch
Creating an appealing name that will stay in the minds of the audience is the first step in being a famous twitch streamer. The name creates an impression of what type of gamer you are and a unique name will help you stand out among a large number of twitch broadcasters. A study also reveals that the cooler the name, the better the chances are to be liked by people.
So, let's check how to make a cool Twitch name before we start streaming.
1. Keep it Short/Simple
A short and simple name is always attractive and easy to remember. It also helps the viewers to easily communicate about you and with you. It also makes it easier for the viewers to search for you and your videos.
2. Be Personal and Creative
If you are not getting a cool name for Twitch, try creating a name connecting with your personal things, rather than creating a variation of an already existing twitch name. You can connect it with your pent name, favorite car, hobbies etc. Also, take the help of a dictionary if needed.
3. Make Sure It's Original
Once you have come up with a Twitch name, make sure that it hasn't been used by any other broadcasters in twitch or related online platforms. Being unique is very important if you wish to conquer heights.
4. Combine Words
You can combine two different words to make your username sound cool. A combination of two different words into one has a better chance of being unique and is hard to slip off from the tongue.
5. Avoid Using Numeric Symbols
Try your best not to use numeric symbols in the name. Numeric symbols are hard to remember and diminish the sense of "originality". Even if you are using numbers make sure that you use them in a way which is attractive and easy to remember
---
Part 2. 10 Best Twitch Name Generators in 2022
Multiple generator types are available that come up with unique Twitch name ideas for the users. We looked through many of them, trying out each to check their performance, the quality of generated names, and user-friendly quotient. The following are 10 of the best sites we found.
People can use this Twitch Name Generator to create unique names for different reasons, like pen names, baby names, pet names, etc. There are many categories available that you can directly select. Then, you have to add a keyword and choose the necessary settings on the given sorting filters. The website generates multiple suggestions after that.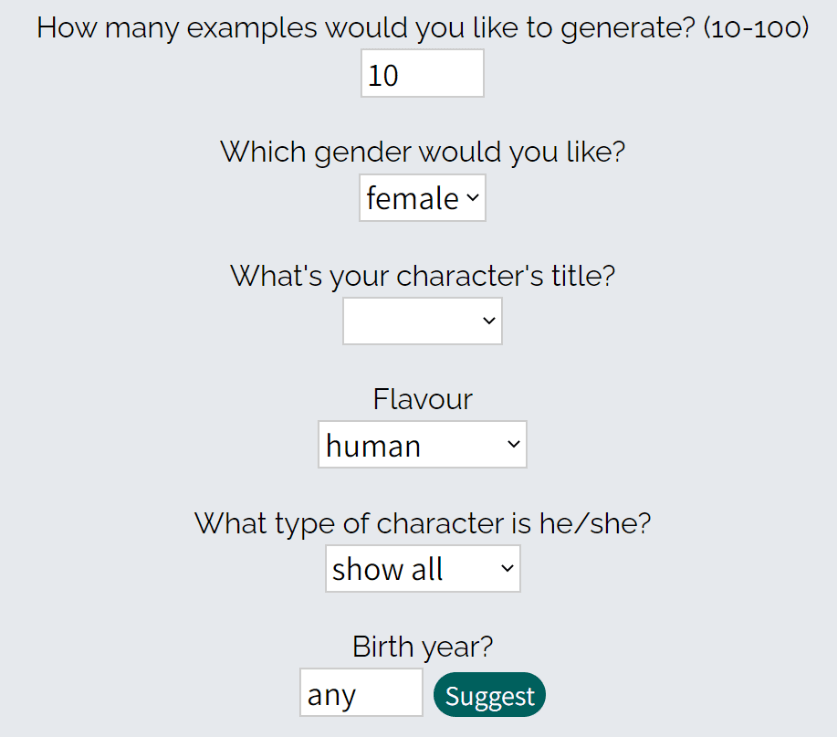 Compatibility: web-based.
Price: Free
Pros:
Different categories like pen names, character names, baby names, etc.
Sort by nationality, gender, birth year, personality, etc.
Quick generation after adding keywords and tailoring filters.
Cons:
The App version is still under development.
The software does not directly check if the names are available to be used.
Some Generated Names: Master Max Lewis, Miss Mimi Skyllarson, Lord Jack Slacker, Detective Finn French, etc.
Best For Users: People who want one platform to generate multiple types of usernames can use this.
---
Characterize is a useful tool for name generation that goes beyond simply choosing a name for the user. Here, it is possible to select names for custom characters in different genres, like pirates, assassins, or humans. You can get statistical reports and details about the new characters you create with information about their personality, interests, motivations, etc.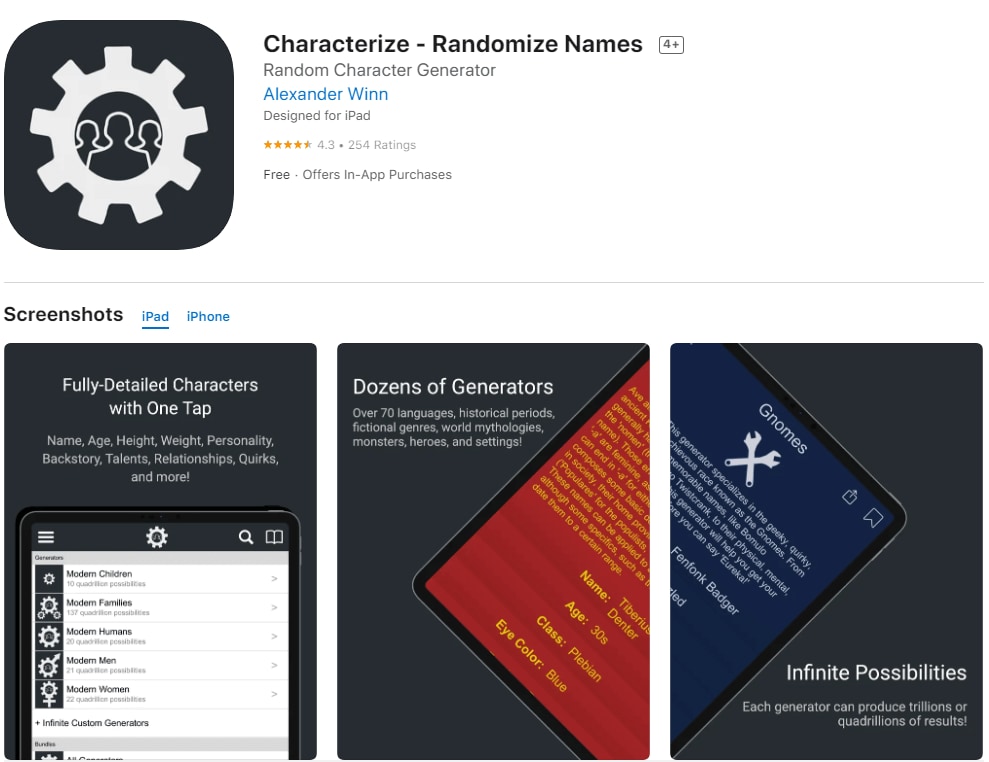 Compatibility: iOS
Price: Free with in-app purchases starting at USD 0.99.
Pros:
Save or share the character names easily with a few clicks.
Themed packs are available with default name options.
Detailed background data about the characters are also created for gamers.
Cons:
No official website with an online generator available.
Very heavy app size.
Some Generated Names: Ceorl, Alfreid Carro, Nat Postmann, Eldred Muller, etc.
Best For Users: Roleplayers, gamers, and story-based entertaining show creators can use this app to create character names and personalities.
---
Users on Twitch can use this online name generator to get edgy and personalized usernames. You can choose between fantasy-style options, rap-based names, or comic-inspired titles. The algorithm here is complex and generates rare interpretations of the keyword you add for nickname generation.

Compatibility: web-based.
Price: Free
Pros:
Users can advertise on this website.
Generate stylish nicknames inspired by rap, superhero, or fairy-based themes.
Choose the extent of your minimum and maximum character limit for names.
Cons:
Multiple ads and cookies are available.
Upgrades change algorithms too much, and old names can get lost.
Some Generated Names: Keelan Crossbones, Arden Fallout, Aydan Thunderbolt, Haley Revenge, etc.
Best For Users: People who want edgy nicknames for their Twitch channel can use this Twitch Name Generator.
---
Fancy Name is a high-quality Twitch Name Generator that turns normal keywords into exciting fancy-looking names. Gamers, in general, can use this app to create their rare username type and choose between multiple fonts and formats. It is simple to use, and people can share the last generated names on other apps directly without much fuss.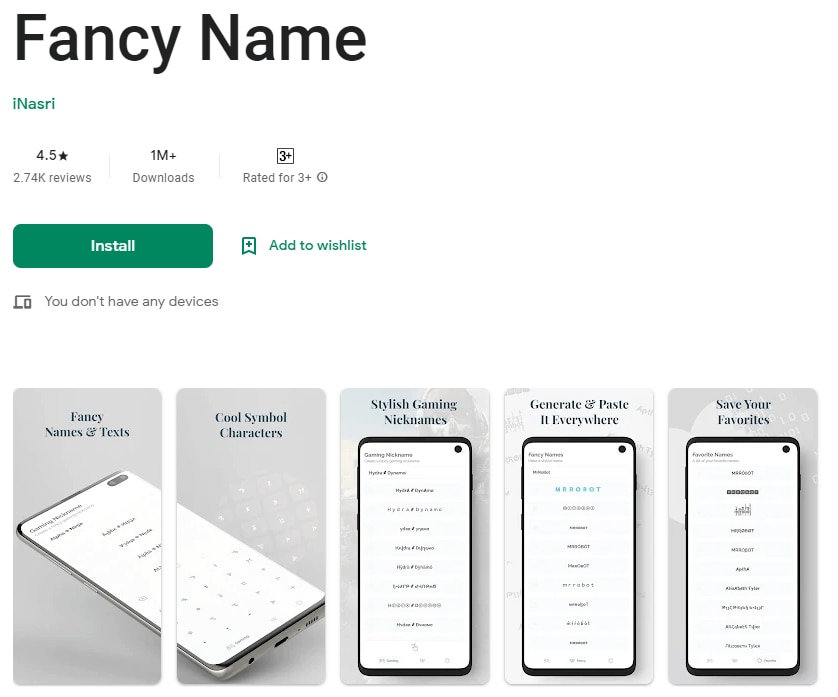 Compatibility: Android
Price: Free
Pros:
You can access more than 200 fonts.
It works with all apps and games.
Copy, save or share the generated texts easily.
Cons:
Symbol specific names may not be compatible with some devices.
Lack of diverse varieties, i.e., only best for game-based names.
Some Generated Names: HeCTRo, Leahcim, Sinn**@, ahsas, etc.
Best For Users: Gamers can use this app to create random and interesting names for their avatars.
---
Nickfinder is free software that you can use to create different classy and fun usernames for Twitch. The service supports over 10 million nickname options that you can choose from for your brand name or Twitch username. The website includes proper categories for turning your nicknames into symbol form or generating strong passwords.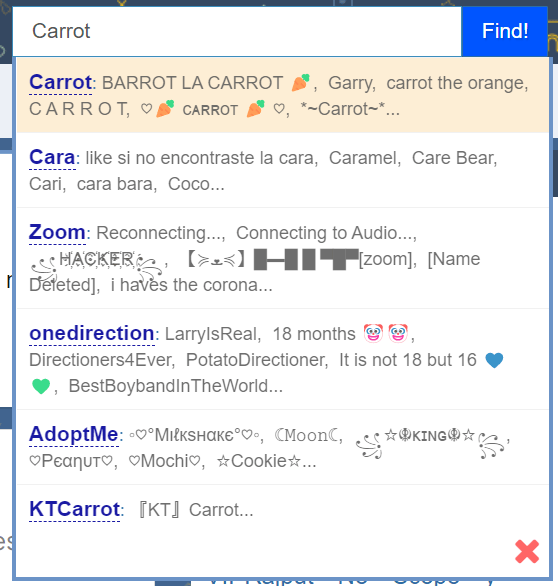 Compatibility: web-based.
Price: Free
Pros:
You can change nicknames you generate into symbols.
Combining two names together is possible.
Multiple interface languages to choose from.
Cons:
The site is collaboratively edited by the users, not the site owner- so they can remove changes without informing.
No mobile application is available.
Some Generated Names: RkRihaanBOss, BDArmy71, SleepTaylor, Catiepiller, etc.
Best For Users: Twitch steamers who want names with letters and character symbols can use this service. 
---
GeneratorMix works as a random name generator with a simple interface and quick performance guarantee. You can add your chosen name or keyword to the online converter and set the number of suggestions you want to get. Then, you can also decide if you wish to add underscores or numerical in your name before clicking the "Generate" tab.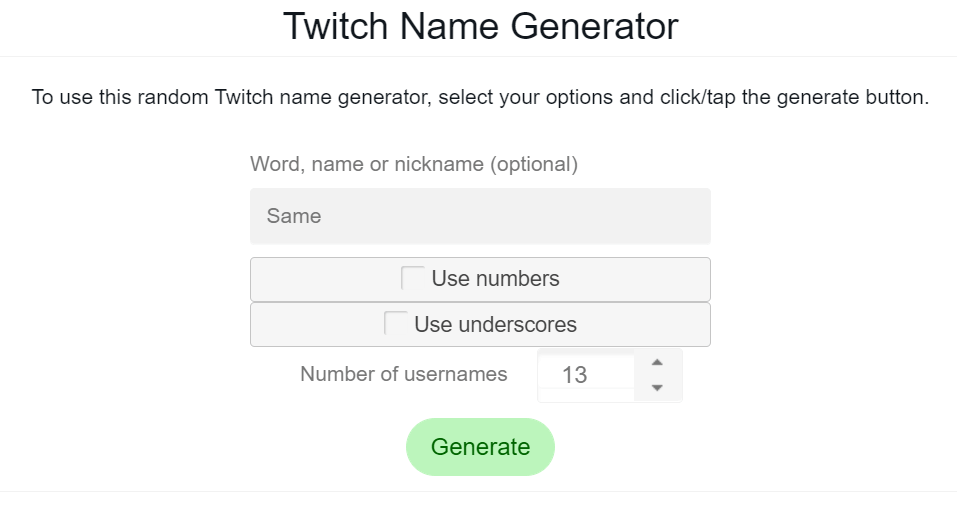 Compatibility: web-based.
Price: Free
Pros:
Specific name options for platforms like Twitch, YouTube, Twitter, etc.
Decide the number of suggested names you get.
Add your choice for adding underscores or digits.
Cons:
Does not support automatic sharing.
It cannot guarantee that the username is not already in use- you have to check separately.
Some Generated Names: gailparanoid, jillgenerous, relaxednando, compassionatefonz, etc.
Best For Users: Users who want top-range Twitch-specific names with a click of a button.
---
Cool Generator is a free and simplified online generator for unique and fun nicknames for different purposes. The website instantly offers a list of multiple combinations for usernames based on the keyword for quick use. You can add the keyword you want the name to showcase and direct the length of the username you want.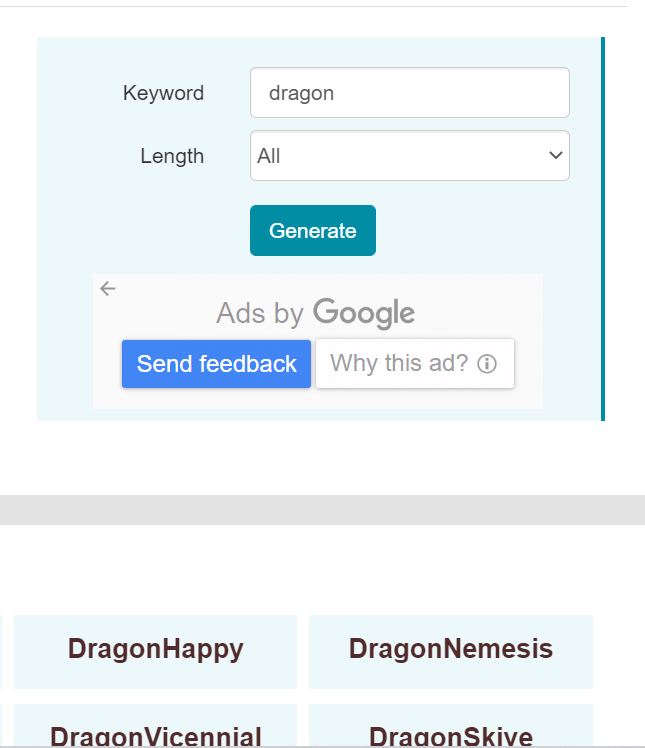 Compatibility: web-based.
Price: Free
Pros:
Choose the length of the name you want.
Add characters and words to the generator and instantly get a list of options.
Get multiple references for names.
Cons:
Only email support is available.
You will lose the generated Twitch name ideas if you do not copy and save them immediately.
Some Generated Names: DragonOtoscope, DragonSententia, DragonHappy, DragonNemesis, etc.
Best For Users: Quick and easy creation of multiple nicknames based on keywords- users who want that can use this website.
---
SpinXO is another top Twitch Name Generator that is suitable for creating stylish and new gamer tags, usernames, nicknames, and even social media-based handles. You can choose between 23 language choices, including fantasy languages like Klingon.
Moreover, press the cursor on top of a generator username to see if they are available to use on Twitch. For setting the name, you can customize your preferences based on hobbies, important terms, interests, letters/numbers, and then press the button.

Compatibility: web-based.
Price: Free
Pros:
The software automatically checks the availability of nicknames across social media platforms like Twitch.
Supports 23 different languages in creating nicknames or gamer tags.
Click the "Spin" button for multiple Twitch name ideas.
Cons:
Optional keywords are available.
Multiple cookies form when you use this service.
Some Generated Names: DrachmDrawings, 15Seriously, GravelyGraft, BraceStyleTyler, etc.
Best For Users: People who want to try out unique Twitch name ideas based on categorized settings.
---
FaNG is a top option for Twitch Name Generator that people can use to create fantasy-based character names. The app supports 28 nationalities and around 11 different fantasy settings. Choose options like Middle Earth or D&D, and click on sub-headings like places, ships, animals, characters, etc.
Then, the app would provide classy and fun Twitch name ideas for the user. You can save the names in personalized lists and edit them at a later time.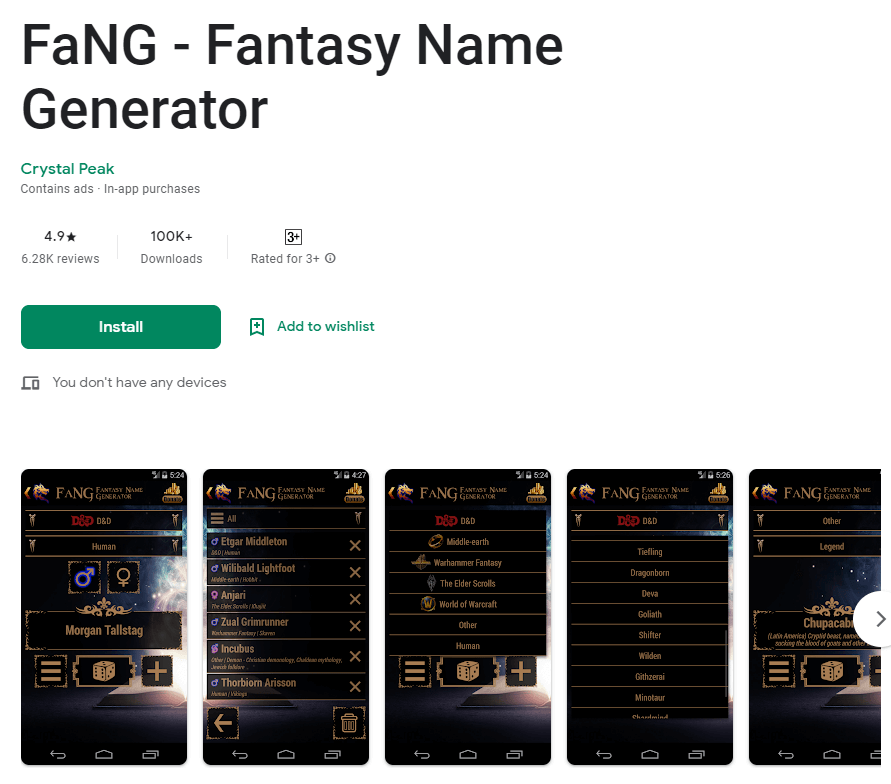 Compatibility: Android
Price: Free with in-app purchases.
Pros:
Very lightweight with 5.89 MB size.
Fantasy-based unique names and settings for humans, dwarfs, etc.
List different names in specific lists.
Cons:
Only available for Android users.
Privacy/security regulations can differ in some regions.
Some Generated Names: Hurim, Madred Ensdorfer, LightningBlades, Deathnight, etc.
Best For Users: People who enjoy fantasy-based names or doing storyline podcasts or gaming can use it.
---
Jimpix is a type of generator that can create random names out of words you add specific to different categories. Here, users can choose the type of name based on length, starting letter, word position, and more. You can include a word of your choice, and the software will generate appropriate nicknames for it.
Name font options, and capitalization effects are also available to create unique names.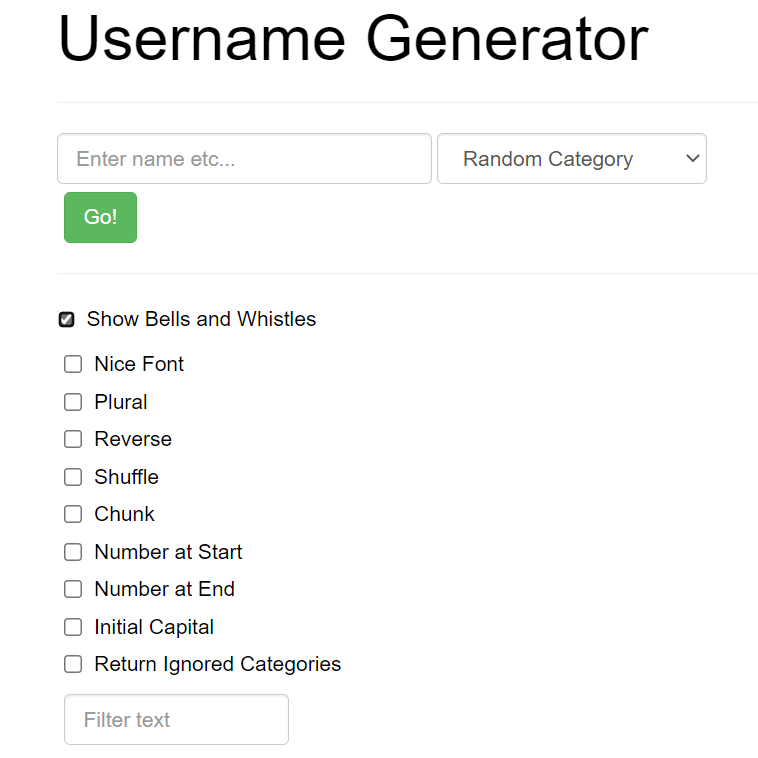 Compatibility: web-based 
Price: Free
Pros:
More creative control over the types of names that you generate.
SSL security protection for data to avoid forgery or tampering.
It is possible to queue e-card sending for set dates.
Cons:
E-cards are kept in history for 1 month.
You have to check your email history each time to find old e-cards.
Some Generated Names: Puptwang, Bottomrychick, Weepyuncertain, Terrorinformal, etc.
Best For Users: Users who want control over the name they get, adding extra letters, filter text, or reverse names can use this website.
---
Part 3. Conclusion
Overall, all these name generators are top-notch when creating unique and fun names for Twitch users. Cool Screen Name Generator, Name Generator, and Jimpix are high-quality options if you want quick usability. Characterize and Fancy Name are top choices for users who specifically wish to use name generator apps. Some like FaNG allow users to create specialized names, like fantasy-based titles.
Use the one that creates names that suit your content genre the most. For that, try each atleast once.