Contents
1. All Tips for Thanksgiving

2. Thanksgiving Apps

3. Thanksgiving Pictures

4. Thanksgiving Movies & Videos

5. Thanksgiving Songs & Ringtones

7. Create Thanksgiving Videos
Thanksgiving is the time to gather with families to thank for all the great people and things happened in our lives. There are some things which will be the same on Thanksgiving Day, such as the Turkey and beautiful videos of time that you spent with those people. For my family, watching home videos, birthday celebrations of a person, engagement or wedding videos of last year or most importantly videos of previous thanksgiving is a must. If it is the same with you, then before the Thanksgiving, you're supposed to modify these videos to make these videos more spectacular or special.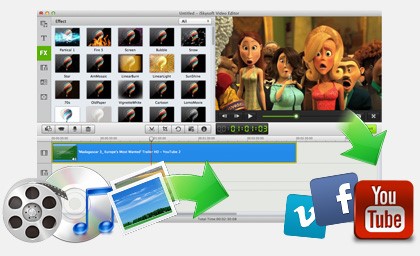 There are different video editors that will allow you to join different videos and add Thanksgiving effects on these videos to make them even more beautiful. But only few of them are easy to use for everyone. Filmora Video Editor is one such great software that will allow you to edit these videos in the best possible ways. That's not just it, it is all-in-one media editor, you can also add beautiful photos alongside videos and the transitions will help the photos to make a perfect video. Here are the most important reasons that why you should use Filmora Video Editor to edit home videos for Thanksgiving.
* One of the primitive reasons of using Filmora Video Editor to edit home videos for Thanksgiving is the simplest and easy to understand user interface. The program is for every kind of video editor, so, no matter if you're a newbie or a professional video editor, you can do professional level video editing using Filmora Video edito
*The timeline of the Filmora Video editor has every basic video editing tool for cropping, trimming, rotating, splitting, video enhancing and even adding background music to the videos. All the tools are just above the timeline and can be used with one click. To make your videos even more beautiful, it has more than 280 beautiful motion elements and the special part is that some elements are specifically related with the Thanksgiving. For example; if you are editing a video related to thanksgiving, you can add turkey in it and set it in motion to make everyone laugh.
*The beautiful text styles will let you demonstrate the videos in the best possible way. Moreover, to enhance the beauty of your video, you can also add some amazing filters and overlays. Some of the filters are just like Instagram to make vintage videos while others black and white filters can be used for the videos of your childhood. All in All, Filmora Video Editor includes everything that you need to make a perfect Home video for Thanksgiving. Here's the step by step guide on how you can use different tools to edit home Videos for Thanksgiving using Filmora Video Editor.
Edit Home Videos for Thanksgiving with Filmora Video Editor for Mac: