What is Jahshaka?
Jahshaka is a totally free software program that gives users a complete platform for managing media and playback. The platform is augmented by having built-in modules for composting, editing and adding in any effects you would like. The main features offered by Jahshaka include two dimensional and three dimensional media playback, the ability to correct color, a wide range of editing and effects options, along with a media management, asset management and composting features. When it comes to the problem that can't run Jahshaka for Windows 10, here are some solutions.
Part 1. Troubleshooting on Using Jahshaka on Windows 10
Due to Jahshaka being open source software, there is no requirement for the developers to ensure perfect compatibility with Windows 10. Many users have upgraded to the Windows 10 preview edition and not experienced any problems when using Jahshaka on Windows 10. However, for some users there have been issues. Proven and effective troubleshooting solutions to get Jahshaka working on Windows 10 better include:
Running a legacy version of Windows on a Virtual machine from within Windows 10;
Installing an earlier version of the .NET framework;
Ensuring that all of your hardware drivers are fully up-to-date;
Installing all Windows updates before trying to run Jahshaka again;
Turning off Anti-virus software when using the software.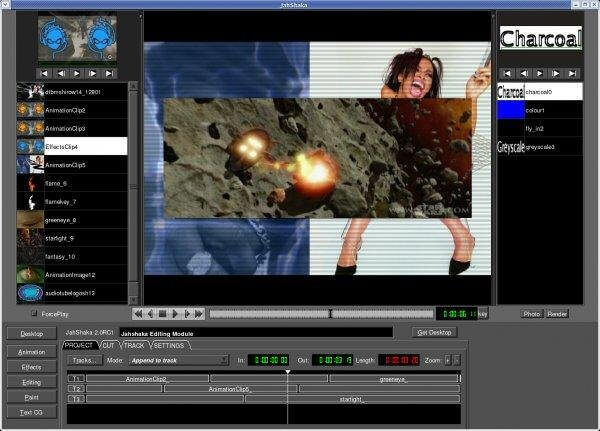 ---
Part 2: Best Jahshaka Alternative for Windows 10 - Filmora Video Editor
Filmora Video Editor is a powerful stand-alone video editor tool equipped with a bunch of crucial features that makes video and audio editing easy and full of fun. There are several editing options permitted by this wonderful tool and user's would hardly go for a third party software to complete their respective editing's. You only need to download the software and install it in your computer.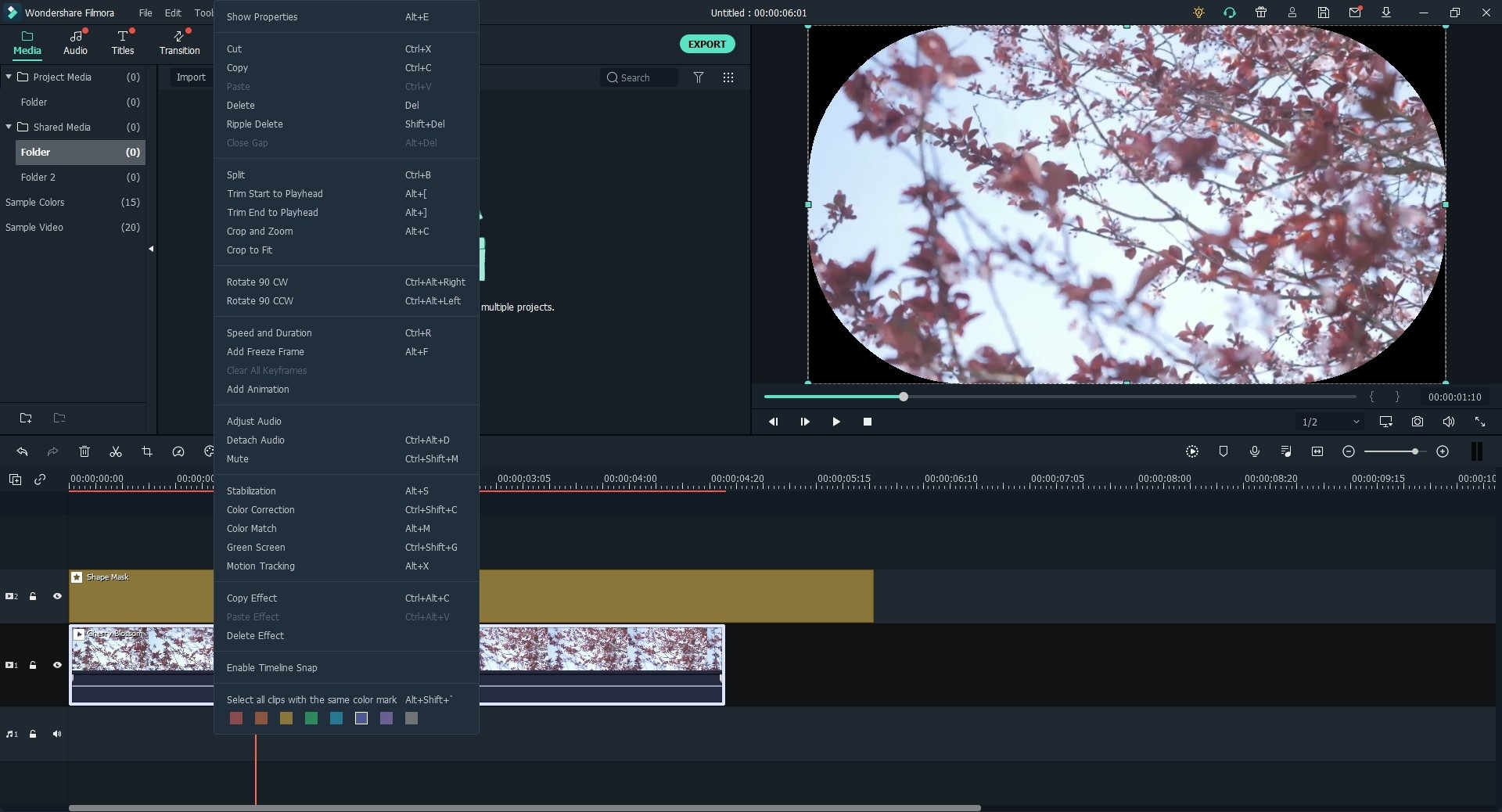 This program offers several edit options ranging from basic ones like crop to advanced ones like split screen, green screen and play files in reverse.
Filmora Video Editor features support for several common video and audio formats such as MP3, MOV, 3GP, and WAV among others.
With this program, users can export their projects to popular online sites like Facebook, YouTube, and Vimeo among others.
This tool has a powerful recorder that can record web cam, screen activities and microphone.
It can also edit images and insert images to videos and audios.
Steps on How to Use Jahshaka Alternative - Filmora Video Editor:
Step 1. Run the Program
Once you have downloaded and installed Filmora Video Editor in your computer, locate and tab its icon to run and display the primary window.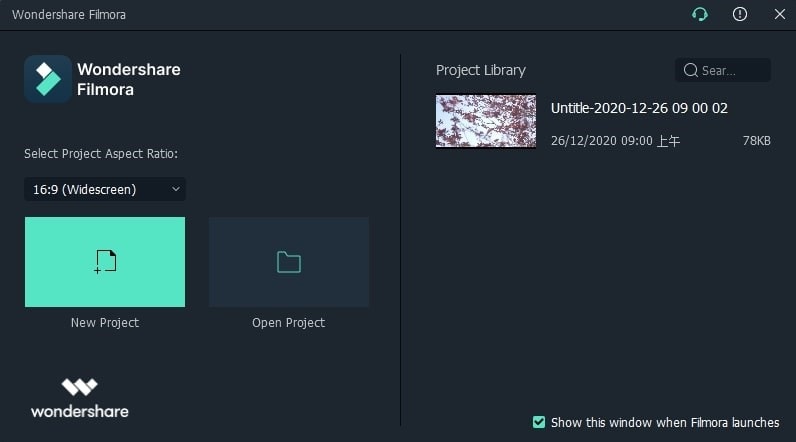 Step 2. Import Files
This program lets users upload their media files in a number of ways via the "File", "Import" menu as well as drag and drop. For the "File" menu, just click on "Files" menu then select "Import Media" from the displayed sub-menu and then "Import Media Files" option. For the "Import" option, go to the "Import" menu and choose "Import Media Files". All these options would open a files explorer. Choose the desired videos and click "Open" to upload them to the "User's Album". If you find these options a bit daunting, just drag your files and drop them on the program. Once uploaded, again drag them to the Timeline.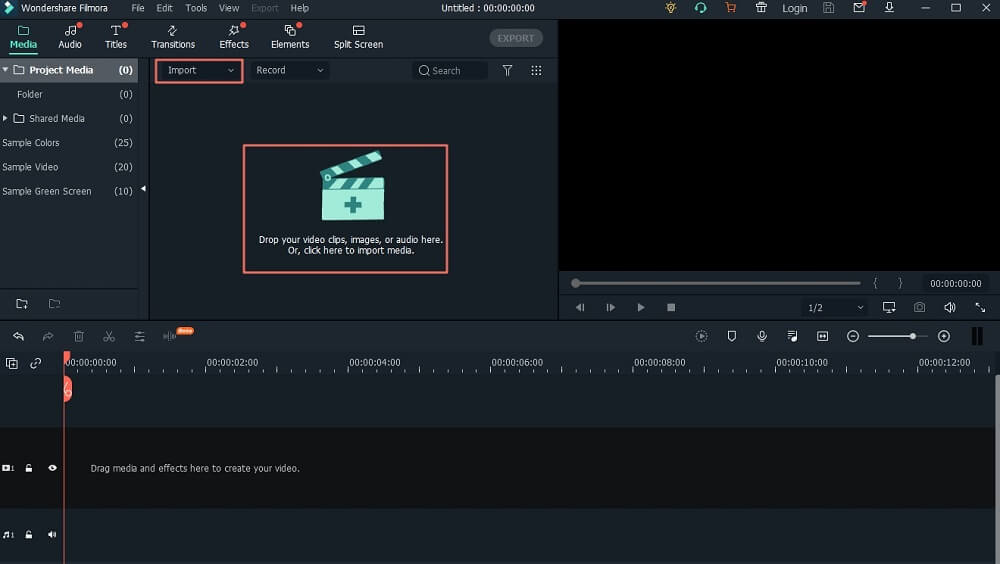 Step 3. Editing Video
Filmora Video Editor enable you to perform various video editing like Transition, Overlays, Split Screen, Filters, Elements, Text/Creation. Crop, Split, Trim, and more others.
To add Transition to your videos, go to the Timeline menu and Click the "Transition" button to display a various transition types. Confirm the transition type on the preview window and drag the one that suits your task and drop it either at the start or at the end of the video.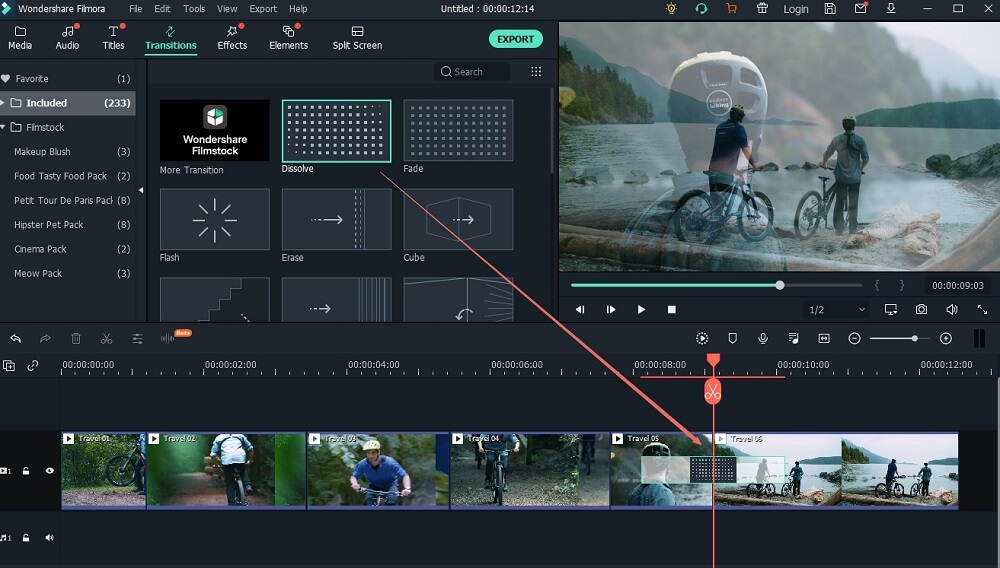 To apply filters on your video, just hit the "Filters" button on the Timeline menu and check the one that interests you on the preview window. Just like transitions, drag and drop the respective filter type at the point you want its effect felt in the video.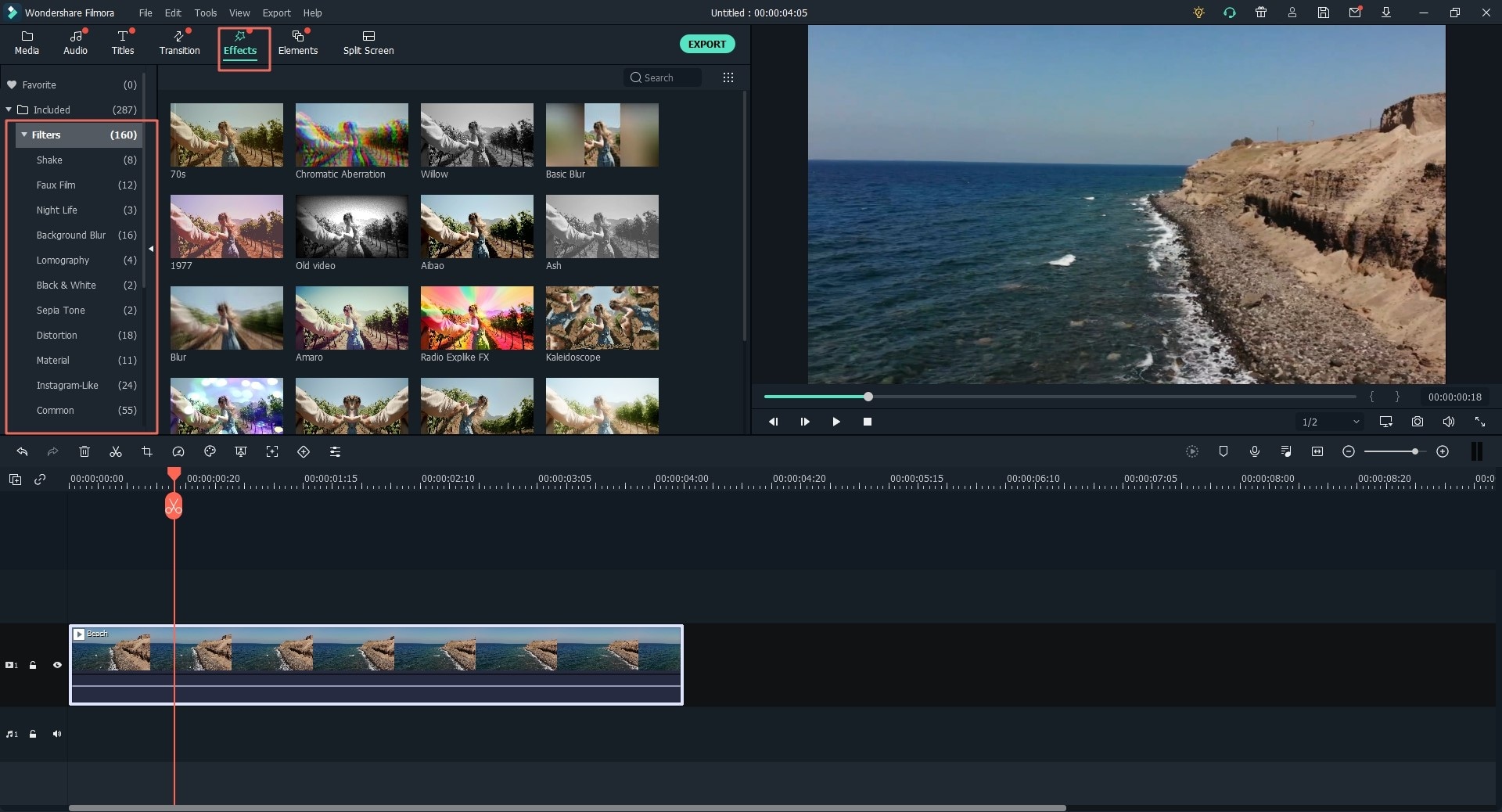 To split your screen so as to view several videos at a go on the same screen, click the menu "Split Screen" button on the Timeline to display several split screen types. A sub window containing your files and the split screen zones will be displayed. Drag your videos from the "User's Album" and are also available on the Timeline to respective screen zones. Click "ok" when done.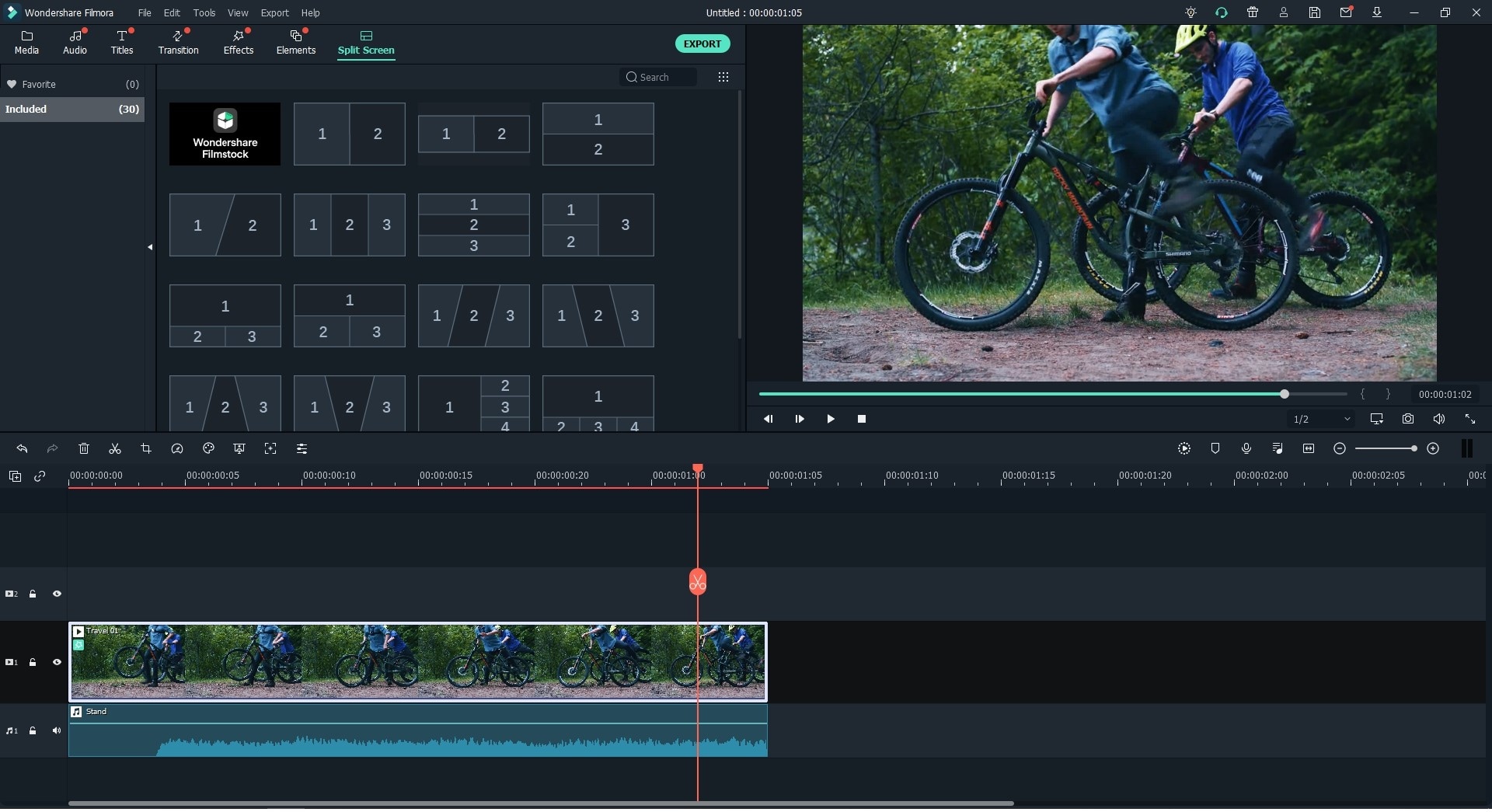 To split the video right click at the desired split point and select split option.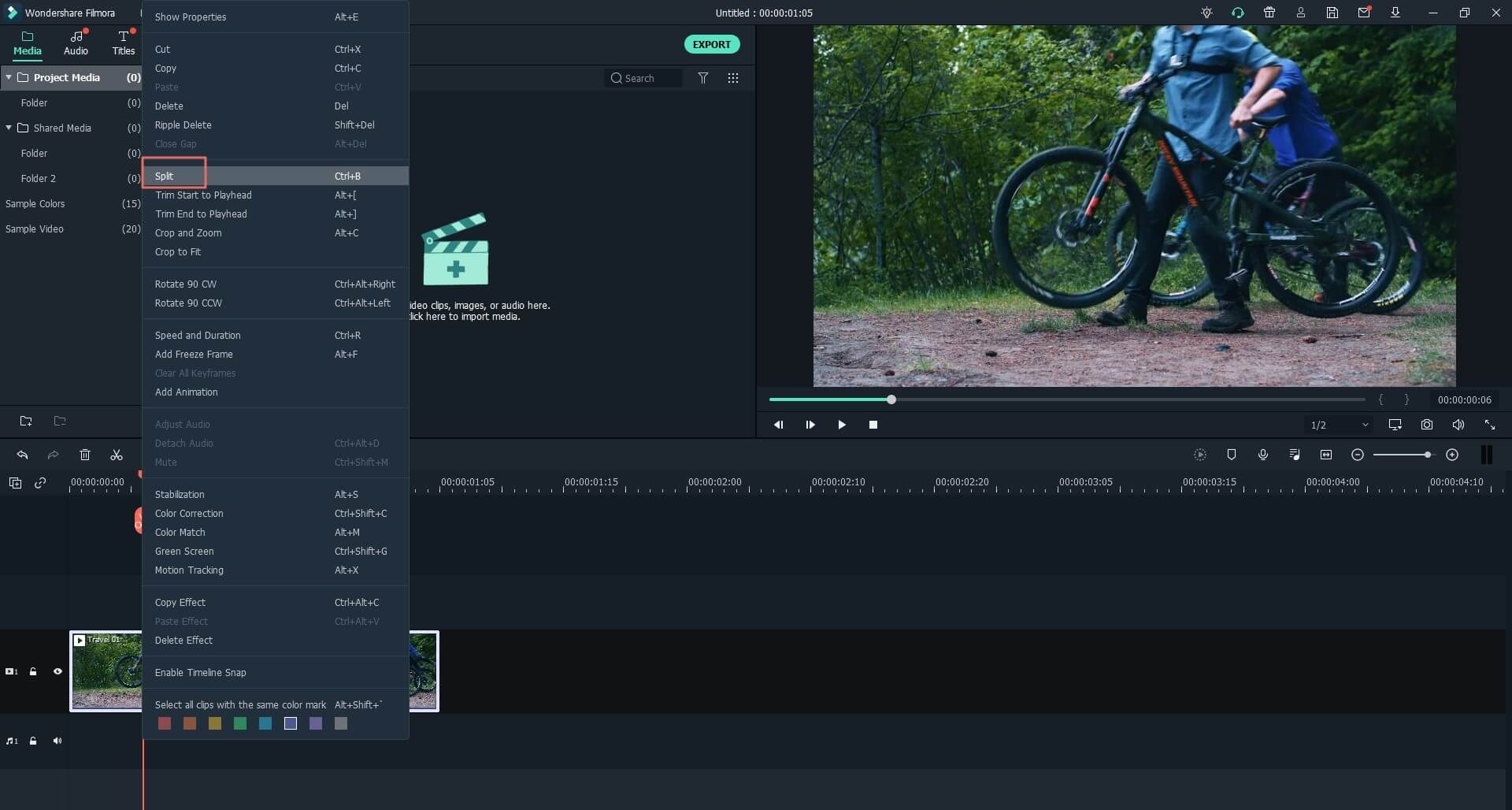 To crop your video move the mouse over the edges of the video you would like to crop and drag the "I" like pointer to the length of your choice.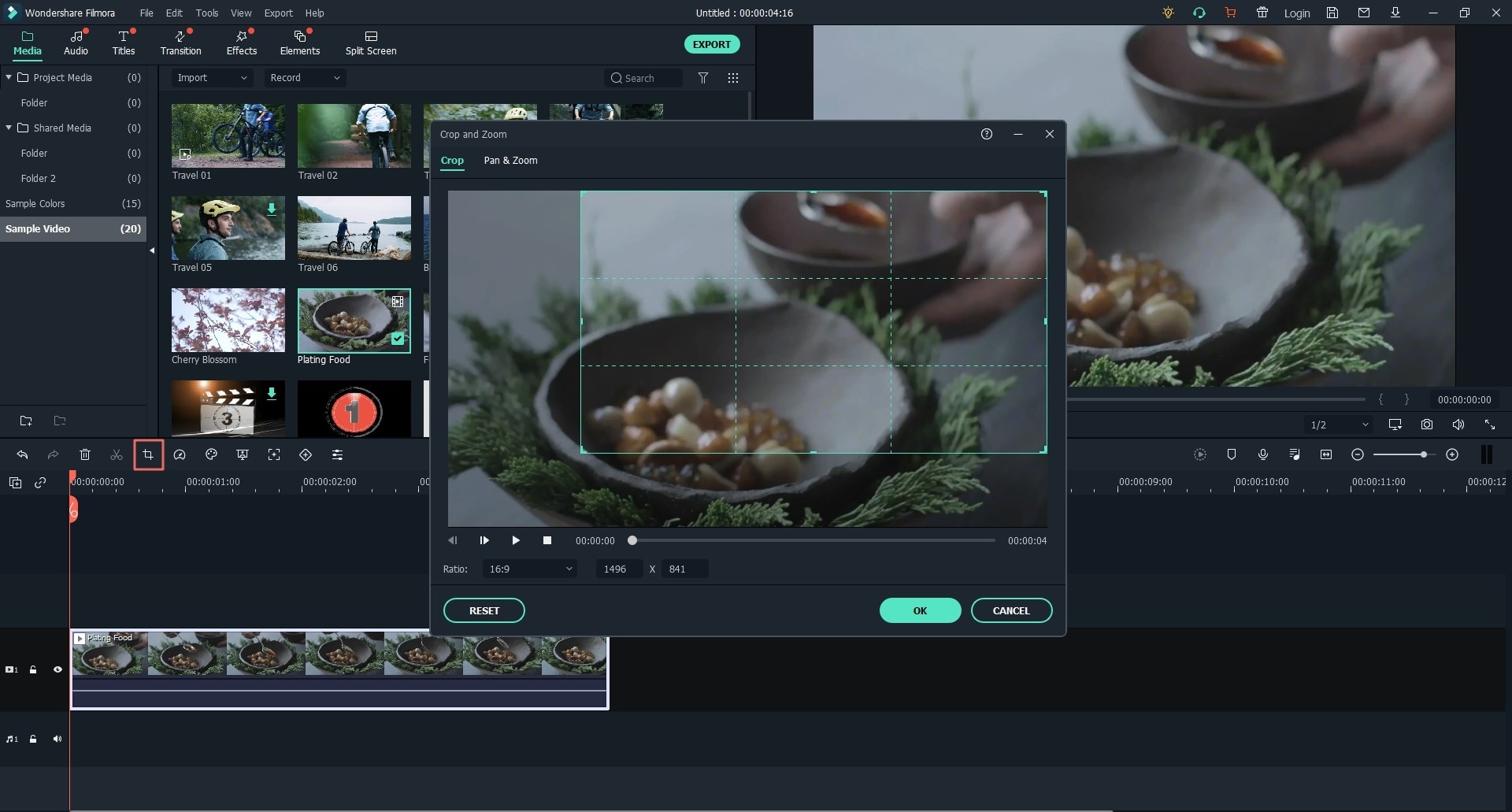 To add an element to your video, Click "Elements" button on the Timeline menu and choose the one that suits your need by simply dragging to the point you wish to appear.
Step 4. Export your Edited Video
When you are through and satisfied with the video editing, Click "Export" button either on the Timeline or on the Main menu to open the "Output" window. On this new window, select the appropriate video format under the "Formats" tab or choose device format or any of the provided online social platforms based on your need. Give the name to the created video file, select the appropriate save location and hit the "Export" button. Note that you can change the video resolution by clicking on the "Settings" button and then select the resolution of your choice. However, resolution settings is not mandatory.