Magix Video Pro X is one of those amazing video editors that have the simplest user-interface and provides a lot of editing tools for video editing. From editing short clips to high definition 4K videos, it can do all the task without any hassle using Magix Video Pro X. With all these professional level video editing features and sleek new user-interface, Magix Video Pro is a good choice.
But unfortunately, it is only available for the Windows PC. If you are looking for Magix Video Pro for Mac, you will find the best alternative to Magix Video Pro.
Now, let's get started.
Part 1. Magix Video Pro X7 Features You're Supposed to Know
Magix Video Pro X7 supports most of the Audio, Video and Image format. You can import the videos of approximately any format, however, it has limitation for the output format. Similarly, it doesn't support GIF image format for export but for import purpose, all format works fine.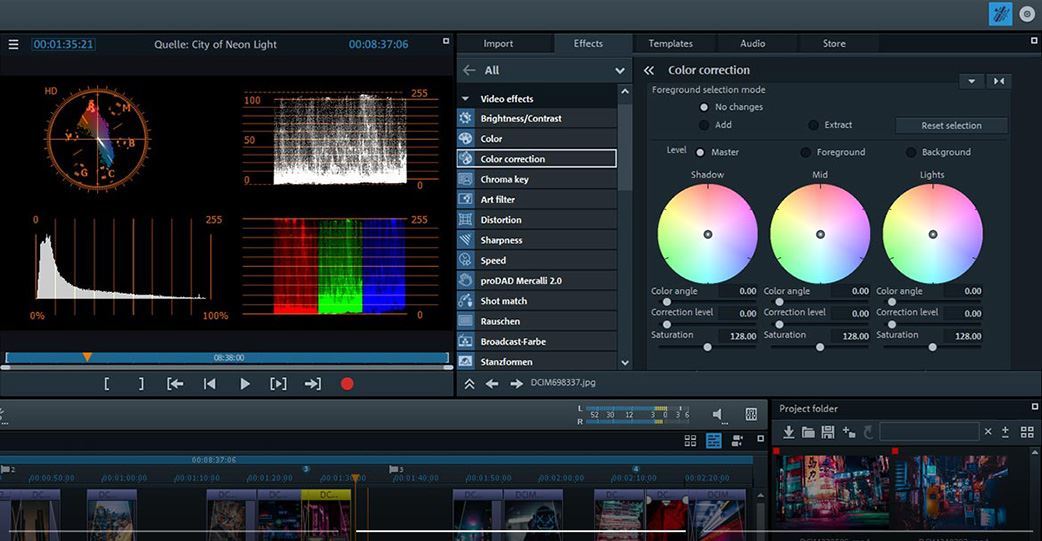 Magix Video Pro X Supported Data Formats:
Video Formats: AVI, DV-AVI, MPEG-1, MPEG-2, MPEG-4, MJPEG, , MKV, WMV, Quick Time, MVC, MXF, Pro Res, DNxHD, DVCPro, AVC Intra, MXV
Audio Formats: MP3, OGG, WAV, WMA
Image Formats: JPEG, BMP, GIF, TIF, PNG, PSD, TGA
Price: € 399.99
Ratings: 3/5
Operating System Requirements: Windows Only
Official Website: https://www.magix.com/int/video-editor/video-pro-x/
---
Part 2. Magix Video Pro alternative for Mac - Filmora Video Editor for Mac
Filmora Video Editor for Mac (or Filmora Video Editor)is the best alternative of Magix Video Pro both in terms of quality and usability. From the sleek user interface to high level video editing features, Filmora Video Editor for Mac has got everything. The most important and best thing about this alternative is that it is way cheaper as compared the Magix Video pro. Filmora Video Editor for Mac is so easy to use that even a newbie video editor can become a professional video editor in no time. All the basic video editing features are present right on the timeline. Simply double click on your video or select a tool to perform the basic functions such as crop, split, merge, detach audio, rotate and auto-enhance.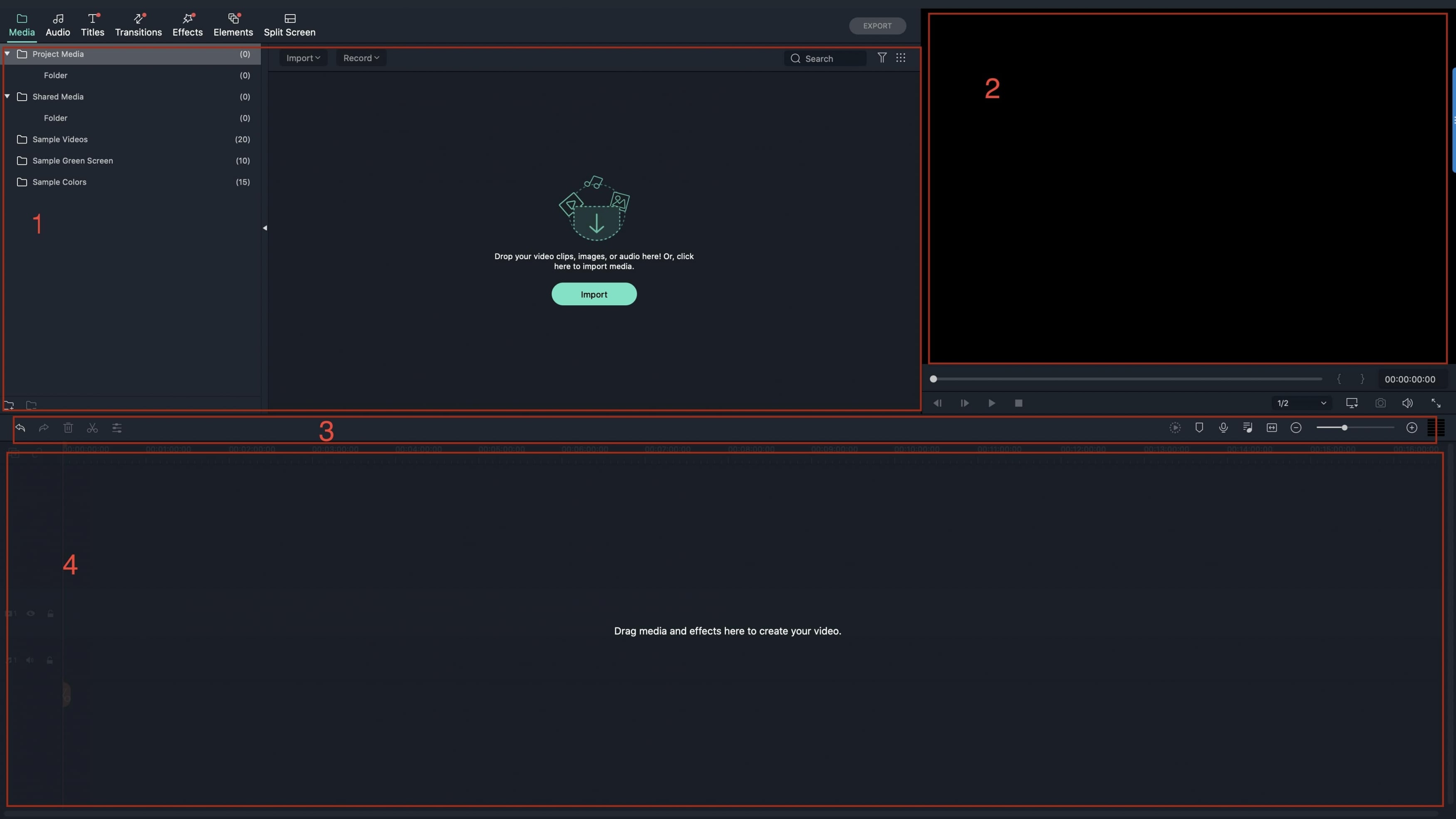 Why Choose Filmora Video Editor for Mac:
Apart from these basic functions, it also provides many different overlays and tons of filters to add Instagram-like effects on your video. Most of the filters are already present in the video editor but you can also download them as an Add-on.
Another amazing feature is the elements, there are 290 different types of elements present in the library which you can add on your video and can also set them on motion as well.
There is a vast library for the music which you can set as background music for your videos.
The special effects can easily be applied on videos such as Mosaic, Tilt-Shift, Face-off and green screen.
Here are the detailed features of Filmora Video Editor
All the basic editing tools are present in a line right above the time line. Simply select the clip and perform any kind of basic editing that you want such as crop, cut, split, trim, rotate, detach audio and auto enhance.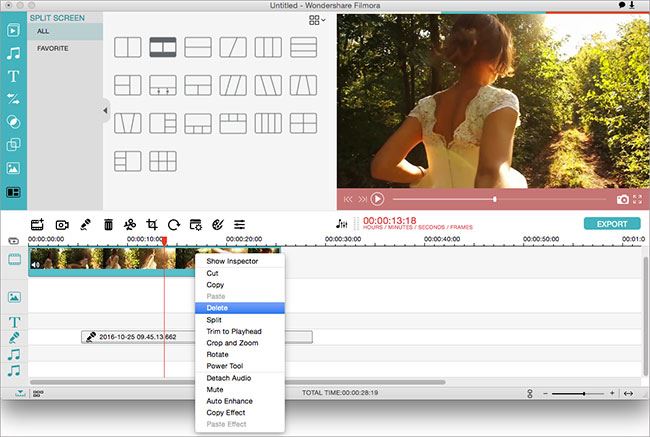 *Text Styles
Filmora Video Editor has more than 130 different text styles, the best thing about using Filmora Video Editor is that you will not have to manually edit the text. Simply select a style and change the text. That's all you are good to go. But for the detailed editing purpose, it also provides different text functions such as changing the format, size, color and alignment. There are also some intro/credits styles in the form of text. You can also select them to apply on your videos.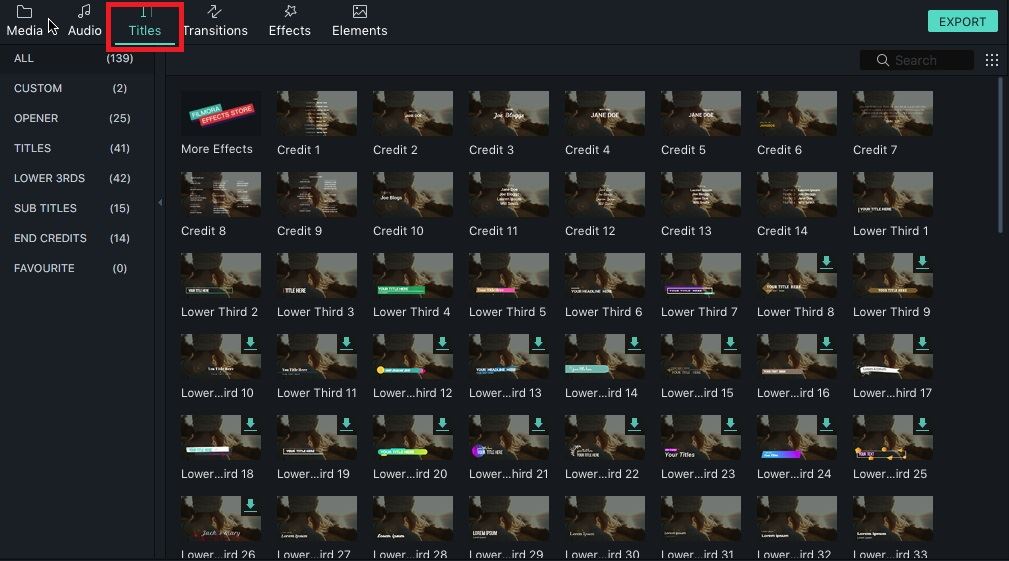 *Overlays and Filters
All the overlays and filters are divided into different categories. You can select the category and filter or overlay depending upon the nature of your video. From Black and White to Chrome, there are plenty of Instagram like filters. On the other hands, Overlays will add some beautiful effects by adjusting the colors of your videos.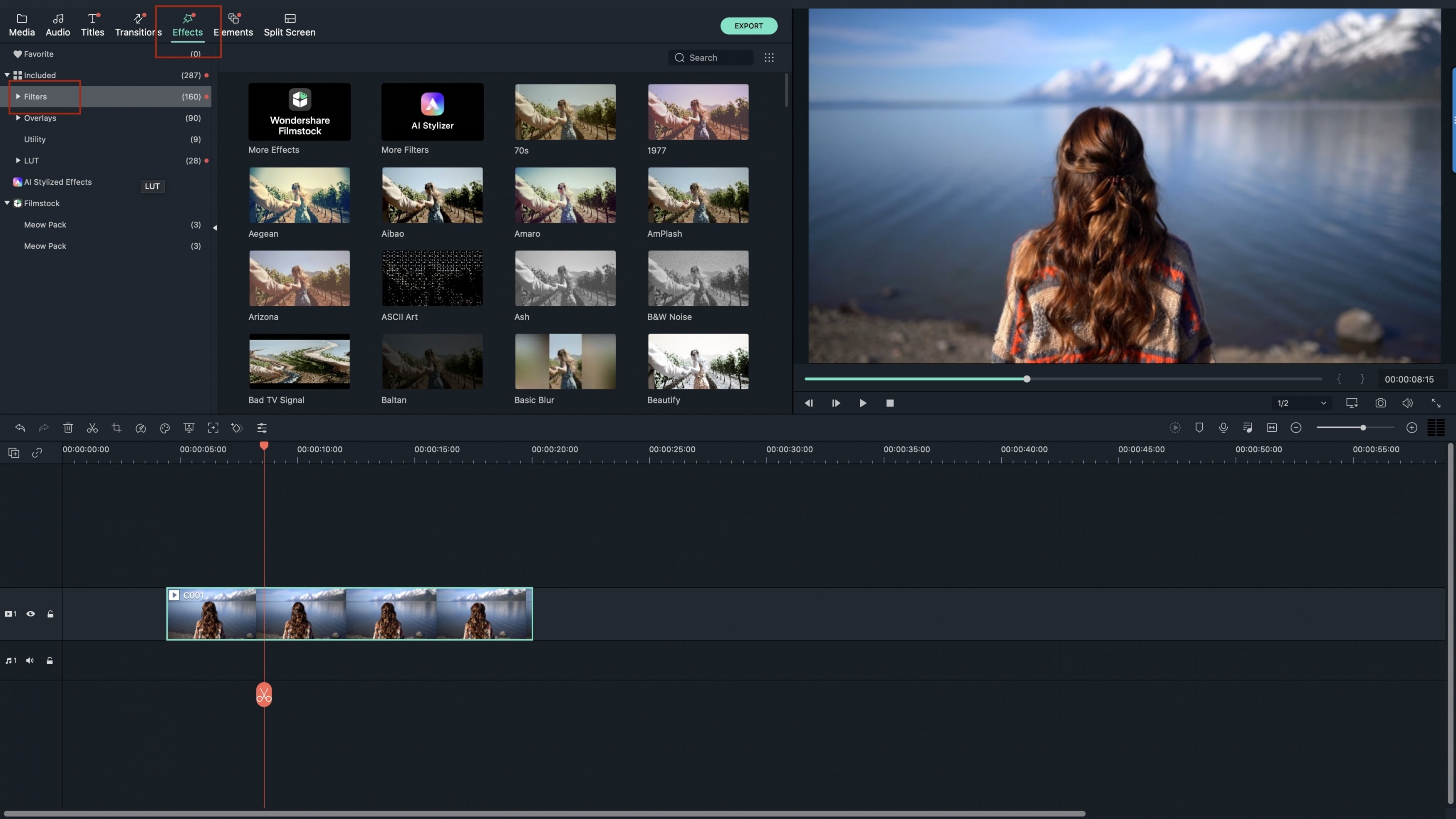 *Transitions
Transitions are useful to join two clips, photos or a clip and a photo. There are tons of transitions available. Simply select a transition and drag it between two clips or photos to get the perfect results.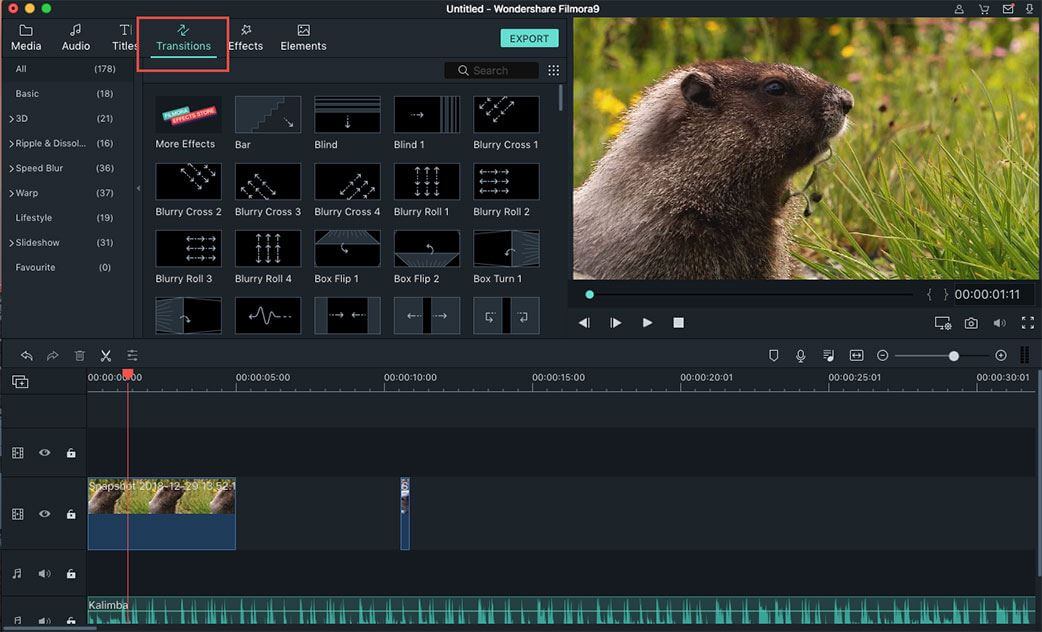 *Motion Elements
There are 280 elements already present in the Filmora Video Editor such as the shape of heart, arrow, balloons and birthdays gift. Once an element has been moved to the timeline, you can also set it course in the preview. So, the final result will be the motion element.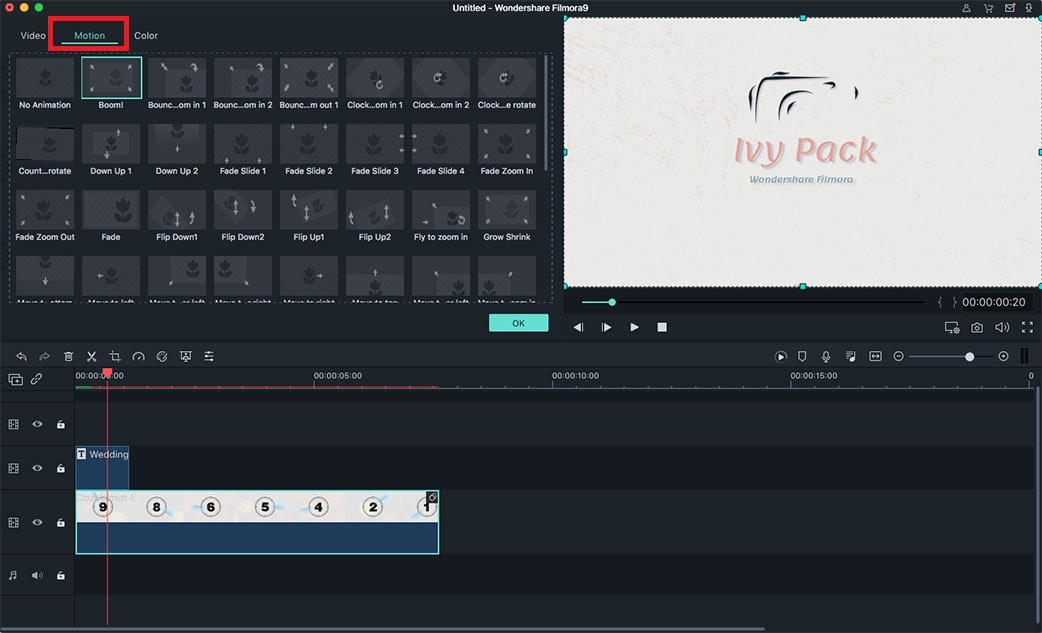 *Special Effects (Face-Off, Green screen, Mosaic, Tilt-Shift)
Special Effects makes the Filmora Video Editor complete, these effects are not present in any other video editor at this price. Here is the detail of each effect.
1. Face-Off: This effect is used to hide the faces in the videos. There are different emoticons and cartoons by which you can replace it.
2. Mosaic: Mosaic is used to blur a typical part of the video. For example; if you are making a video related to credit cards, you can hide the important information using the mosaic feature in Filmora Video Editor.
3. Tilt-Shift: It is the opposite of Mosaic, it will focus on one thing while making the whole frame blur.
4. Green-Screen: This effect is useful to make picture in picture effects. The whole purpose is to record the video with a green background so it can be changed with anything in the background. This is the most stunning and best feature of Filmora Video Editor for Mac.