Contents
3. Watch Christmas Movies

4. Listen to Christmas Songs

5. Prepare Christmas Dinner

6. Play Christmas Games

8. Collect Christmas Memories

9. Make Christmas More Enjoyable
Finally, it's Christmas again, the time for people to get together to share their happiness. There are many different ways to keep the good memories with your family members and friends. You can take photos, record videos, write or play some beautiful songs to others. All these things will join to form a perfect memory for a person, yes, joining different photos, videos and Christmas songs to make one beautiful and perfect video. In the following, I'm going to introduce you how to make a video with Christmas photos and songs.
A perfect Christmas videos should have beautiful elements, filters, amazing transitions, and Christmas photos and last but not the least, it should have a beautiful Christmas song such as Jingle bells. A perfect present to give someone close is the memories which will not cost you a single dime but will have the perfect emotions which no gift in the world can buy. In order to join different photos and songs into one video, you will need a perfect video editor which covers all these areas in a great way. Here, I suggest you try Filmora Video Editor.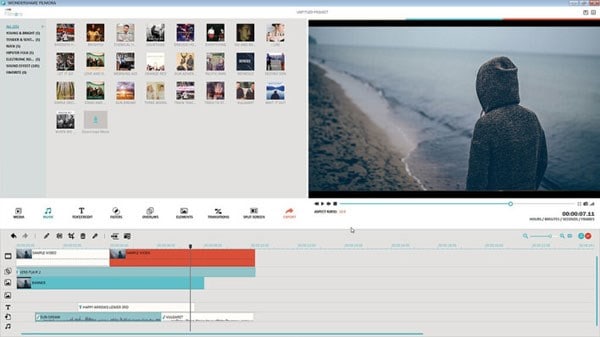 Filmora Video Editor doesn't only join the photos but will also add songs to your videos. The interface of this software is developed in such a great way that even the new users will not have to go to the deep tutorials to understand it. Most of the tools and options in Filmora are present right on the screen and are one simple click away. It provides a wide range of options to import the media, you can import the photos, videos and music from the computer, a folder, iTunes, Facebook and even from the Instagram. There are tons of beautiful transitions available in the software to join these Christmas photos. The developers have also included the split screen feature which will let users to add on the same screen in a stylish way. Apart from these feature, you can either import the songs from a folder on computer or iTunes or can use the already present songs in the music library of Filmora. Most of the songs come pre-downloaded in the software, however, the rest can be downloaded with one simple click.
Apart from these amazing features, it also has great motion graphics which are specifically related with the Christmas and can be added with just one click. Christmas motion graphics include the Santa Clause's socks, beard, Christmas trees, bells and much more. You can set these elements in motion without a single problem. Once you have joined all these Christmas photos and songs to from one perfect video, you can easily export it from the software with one click. You can either export the videos in an appropriate format or can upload them directly on the Facebook, YouTube, and Vimeo or can burn them on DVD.
Make a Christmas Video with Christmas Photos and Songs via Filmora Video Editor