Music is easily one of the first things that come to mind when it comes to relaxing activities and favorite pastimes for many people. However, the volume can seem too loud or soft when listening via some apps or devices, affecting the overall user experience.
Having software that controls this issue is valuable for people who have hearing disabilities and those who do not want to adjust volume constantly.
Many opt for an MP3 volume changer app to optimize the sound quality and level of their recordings, songs, etc. These software types adjust volume levels to reasonable rates and assure a satisfactory listening experience.
Wondering which to try out? Here's a list for you.
Part 1. Best 5 MP3 Volume Changers Online in 2022
Indeed, multiple types of MP3 volume editor apps are available online, each proclaiming different benefits for users. After carefully evaluating such software types, we found the best 5 choices with simple usability and a strong performance guarantee.
Audacity allows users to record live sound using the pre-built mixer or microphone. Or, you can add digital recordings from your device. The Envelope Tool here is useful for fading volume smoothly. You can use keyboard shortcuts for all editing, recording, and downloading steps and get other benefits like unlimited sequential redo/undo during editing.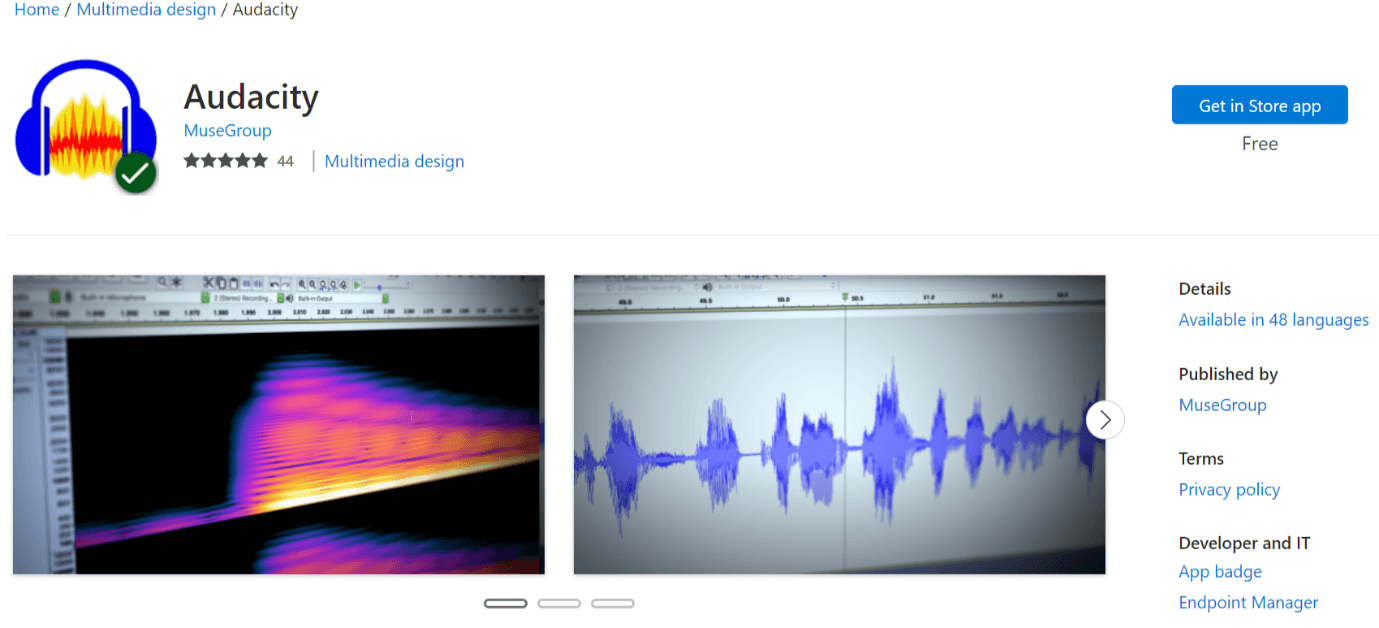 Compatibility: Mac, Windows, Linux
Price: Free
Pros:
There is no maximum time limit for recording audios or download limits through this application.
Convert sample rates/form with top-notch dithering and re-sampling functions.
Add effects and plugins for audio editing.
Cons:
It can record audio from one device only at one time.
It is not easy to do multi-channel recording on Windows.
Best for Users: Professional editors can use this MP3 volume editor to visualize frequency, adjust sound settings, and export them across different platforms.
How to Use:
Step 1: Open the app after installation and select the File menu or drag-and-drop audio files to the primary software window.
Step 2: Click on the track. There are gain controls to its left; use the small bar available to adjust volume towards the minus (-) sign or the plus (+) sign to decrease or increase it. 
Step 3: Alternatively, you can select Effect > Amplify. This would automatically adjust file sound volume.
Step 4: Choose the File menu and select export.
Step 5: Click on the "Export as MP3" choice, add the saving location, and press the "Save" button.
---
TwistedWave is a top-range MP3 volume changer that users can install on their devices or directly use online. You need to register for a TwistedWave account and use your select plan, even getting 16 bit / 48 kHz sampling rate support in the free version. The browser-based software processes the audio automatically and saves it.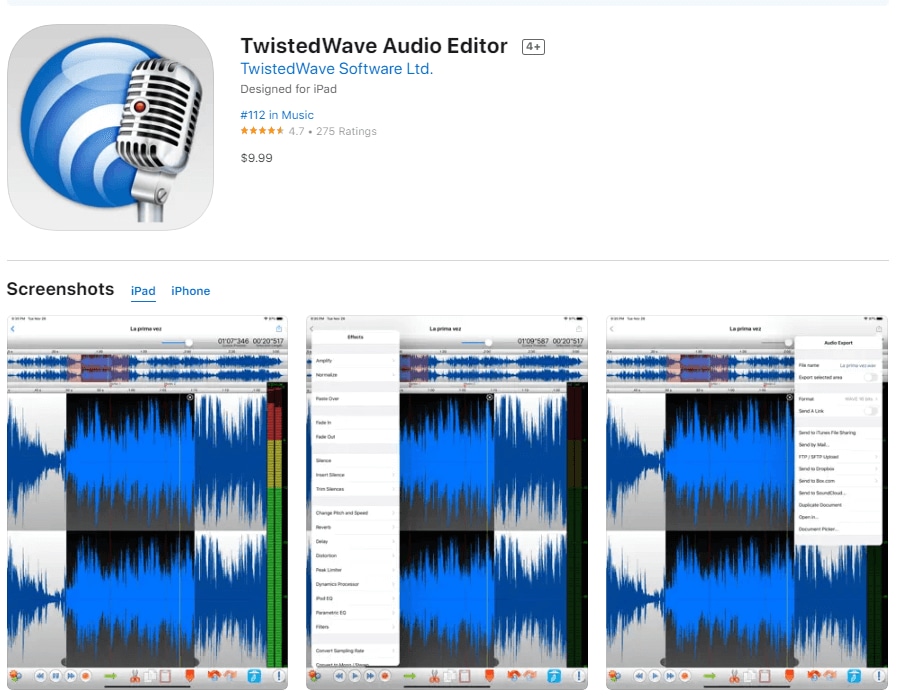 Compatibility: Web-based, iOS, Mac
Price: Demo- Free, Basic- USD 5, Advanced- USD 10, Pro- USD 30 (all mentioned are monthly plans)
Pros:
There is no need to download audio files manually- it saves automatically in the server.
Users only need an internet connection and a browser to use this.
You can view audio recording history easily to access older files.
Cons:
You can only record 5-minute-long mono files in the free version.
Users have to pay subscription plans to increase the storage hour limit.
Best for Users: Beginners who want a simple platform to record, play, and edit their audio files and volume can use this.
How to Use:
Step 1: Open the official browser and upload an audio file from the device, SoundCloud, or Google Drive. You can drop the file as well.
Step 2: For a new recording, click on the record button at the top left side of the screen.
Step 3: To adjust volume, drag the cursor on the volume adjustment bar between -39 decibels to +12 decibels. To turn off the volume, drag it to the extreme left to Muted.
Step 4: Save the final file after you are satisfied.
---
Users can opt for MP3 Louder to edit their MP3 files freely and optimize their sound level and quality. You can upload any music file from your device library and adjust its sound volume, getting the final cut file in a few seconds. Avoid closing the browser while the encoding or upload is in progress to avoid errors.
Compatibility: Web-based
Price: Free
Pros:
Simple and fast process of audio optimization only.
Adjust volume between 1 to 50 decibels.
Easily decide between lowering or rising the audio file sound level.
Cons:
Only supports left or right channel options that you have to set manually.
The variety of features is limited.
Best for Users: Users who want a free online browser for quick MP3 volume adjustment can opt for this free software.
How to Use:
Step 1: Open the website.
Step 2: Click on the "Browse" button to select your audio file from your device and upload it.
Step 3: Choose between increasing or decreasing volume and channel type. Change the decibels for the sound as well.
Step 4: After the software translates the MP3 file, download it.
---
MP3 Cutter is a simple online browser-based software that users can operate to edit their voice or music recordings. Add pre-saved files into the software and cut the audio to short ringtones. It is easy to save the files for different devices, like Android and iOS phones.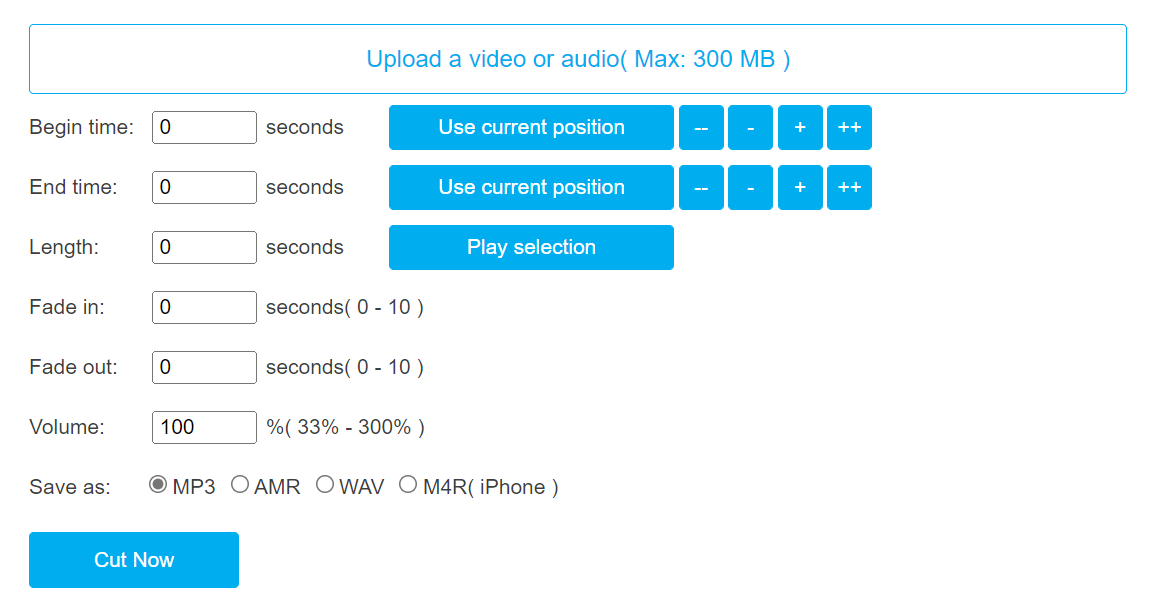 Compatibility: Web-based
Price: Free
Pros:
You can adjust the time by seconds for the beginning and end.
Set face in/fade out portions by seconds.
Change the volume between 33% and 300%.
Cons:
It only supports AMR, MP3, M4R (for iPhone), and WAV formats.
You have to add video/audio files within a 300 MB size limit.
Best for Users: People who want to create and save short recordings with adjusted volumes can easily use their MP3 volume changer.
How to Use:
Step 1: Open the MP3 Cutter browser and add your file by clicking on the "Upload a video or audio" button.
Step 2: Set the fade in/fade out time, start time, end time, and length.
Step 3: Choose the volume level for the audio.
Step 4: Click on the MP3 format type and press the "Cut Now" button.
---
You can use this MP3 volume editor software to mainly record calls from online communication apps. Then, make changes to the audio settings in your recorded video with features like Sound Test.
You can decide on a specific section to record, remove background noise, etc.

Compatibility: Mac, Windows
Price: Monthly- USD 26.25, Lifetime Purchase- USD 44.25
Pros:
You can record voice call audio using Yahoo Messenger/Google Talk or other mediums and customize its sound quality.
Pre-built screen capture feature is available.
You can directly add arrows, text, callouts, lines, notes, etc., to the recording.
Cons:
Technical support is only available in email style.
Users with limited funds cannot use it since no free version is available.
Best for Users: Business professionals or regular users who want to record VoIP calls, conferences, or call interviews for future listening can use this app.
How to Use:
Step 1: Launch the software and select Audio Recorder.
Step 2: Click the system sound/microphone ON to begin recording. Adjust the system sound, volume mixer, and sound source at this point.
Step 3: Switch on Microphone enhancement and Microphone noise cancellation settings for automatic audio optimization.
Step 4: Edit audio by adding start and end times. Change volume level, if needed.
Step 5: Save the final file.
---
Part 2. How to Increase/Decrease MP3 Volume with Wondershare Filmora?
Filmora 11 is capable software for various video and audio editing levels. The application comes with a wide variety of audio control and adjustment features, like Auto Beat Sync and Audio Visualizer.
It is useful for easily adjusting background volume with the Audio Ducking function. It detects background sound and then lowers the volume during voiceovers, so the speaker's voice can stand out. You can directly control the MP3 sound volume as well with this MP3 volume changer.
How to do this?
Step 1: Install the software on your device and run it.
Step 2: Drag your select audio track or video file and drop it to the app's primary Video Timeline window. You can select by clicking the "Import" button to get audio from the device library.
Step 3: Double click on the video to open the editing panel. Select the audio section to edit audio-related elements.
Step 4: In the next submenu that opens, adjust the volume slider to the right or left for lowering or increasing sound volume. Press the Play button on-screen to hear the audio effect.
Also, make other adjustments like Pitch adjustment, Fade in/fade out, etc.
Step 5: After completing the action, select "Create" for saving the file.
Step 6: In the next window for output formatting, choose the audio format, i.e., MP3, and the location for the file saving.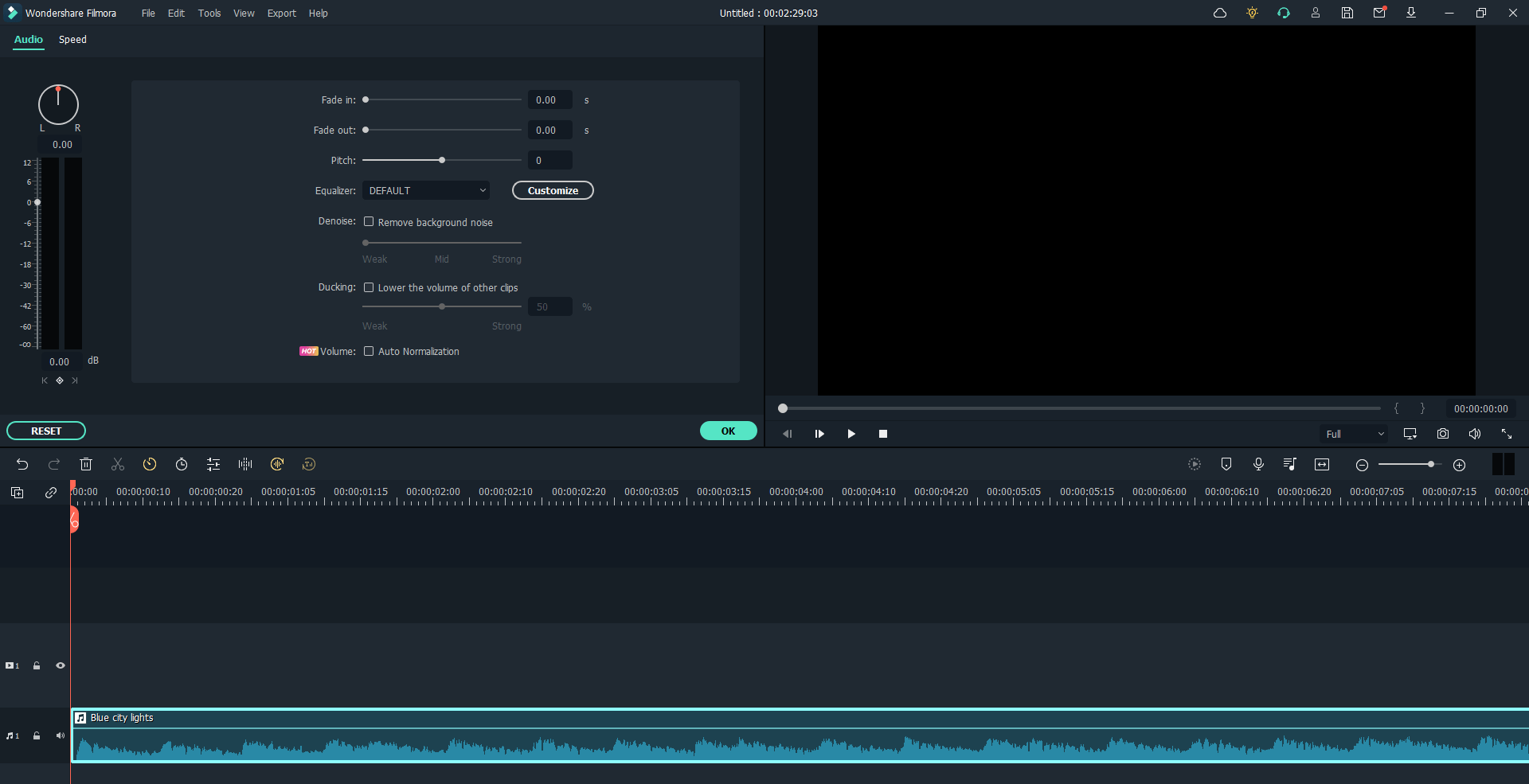 Step 7: You can also adjust the presets for exporting according to devices like iPad Mini, iPhone, social media upload, or DVD burning.
---
Part 3. Conclusion
Several of these software options are good for normalizing audio volume during playback. If you want a comprehensive set of benefits besides volume management, opt for Filmora.
However, for specific uses, select out of these choices. For example, Audacity is good for open-source use, while AnyMP4 Screen Recorder has powerful recording/editing features. If you want mono file editing options, utilize TwistedWave. For budgetary concerns, MP3 Cutter and MP3 Louder are free options.
Try out all options at least once before you settle on one to use for the long term.