Text to speech software is a new popular software category. TTS converters use assistive technology to read out text aloud. The sound is computer-generated, so users can easily control the reading speed.
Besides this, these smart software aid users with visual impairment or someone who is too busy to sit and read. In any case, TTS software is extremely useful for streamlining your workflow and saving time.
According to a Markets and Markets report, the TTS market stood at $2 billion in 2020 and is expected to reach $5 billion by 2026, with a whopping CAGR of 14.6%.
So, are you excited to use text to speech tools in 2022? If so, check out the top 8 professional recommended converter tools that you must try this year.
Part 1. Top 8 Text to Speech Software in 2022
After testing various TTS tools for different purposes, our team concluded the best 8 solutions that can streamline all the important operations. Let's see those tools in detail.
Supporting Platform: Windows and macOS
Price: Free version. A full version for $49.99 per year.
Filmora is a video editing that you can download for free from the Wondershare site. It has several features to make your video clips unique with special effects, moving titles, movie filters, added audio, etc. The new Filmora V 11.3 version will get text to speech features to convert text to voiceover and brighten up your video clip. Besides this, it will also offer a speech-to-text function to convert your voice to subtitles in one click. Filmora is one of the rarest video editors with TTS abilities.

Main Features
Supports HDR and SRT files
Audio visualizer to live music
Audio normalization
Audio effects like echo, phone and reverb
Pros
Easy to use.
Available cross-platform.
Smart templates.
Additional visual plugins.
Cons
Various online services like Filmstock require stable Internet connection.
Requires at least 10 GB free hard disk space for installation.
Best for: Video creators and editors
---
Supporting Platforms: Windows
Price: Free
WordTalk is a free TTS software for Microsoft word. It was developed by the University of Edinburgh to support Microsoft users. The WordTalk toolbar might not look attractive but it is simple to use. It has clear functions that can even a child understand. The software supports SAPI 4 and SAPI 5 voices that you can tweak as per your liking.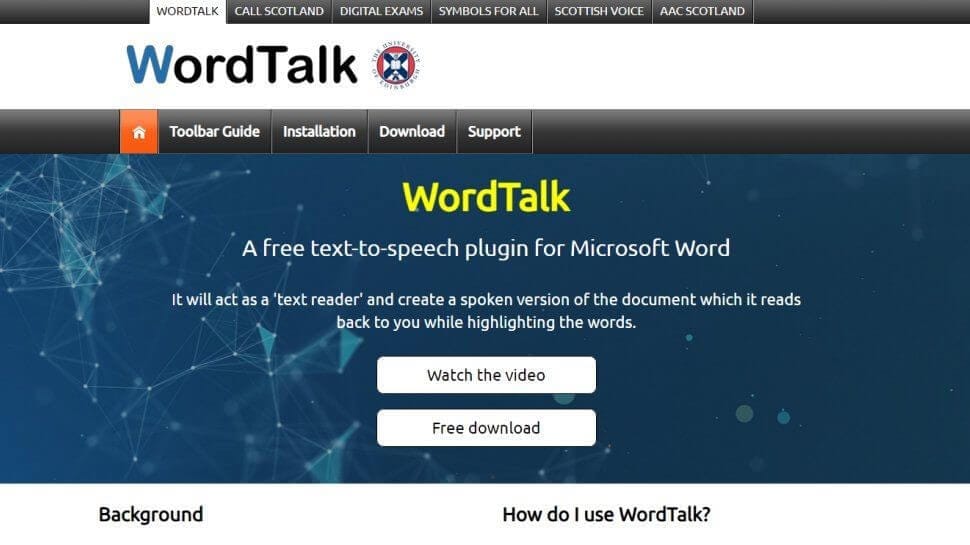 Main Features
Highlights the word being read
Talking dictionary
It can speak entire document in one go
Adjust the word highlight colors
Allows you to convert text to MP3 or WAV
Pros
Easy to use.
Customizable voices.
Seamless integration with Microsoft words.
Cons
Poor interface.
Doesn't support Mac.
Best for: Educational and Entertainment
---
Supporting Platforms: Mac, Windows, Android , iOS and Chrome
Price: Free forever. The paid plan costs $39.50 per voice.
NaturalReader is available in a couple of formats. NaturalReader's free version is available on all MCPS computers in the applications folder. In addition, students can download the software for free to use at home. An OCR format is also available to load up a photo and read its text aloud. You can also use a floating toolbar to highlight text in the application and customize your reading speed.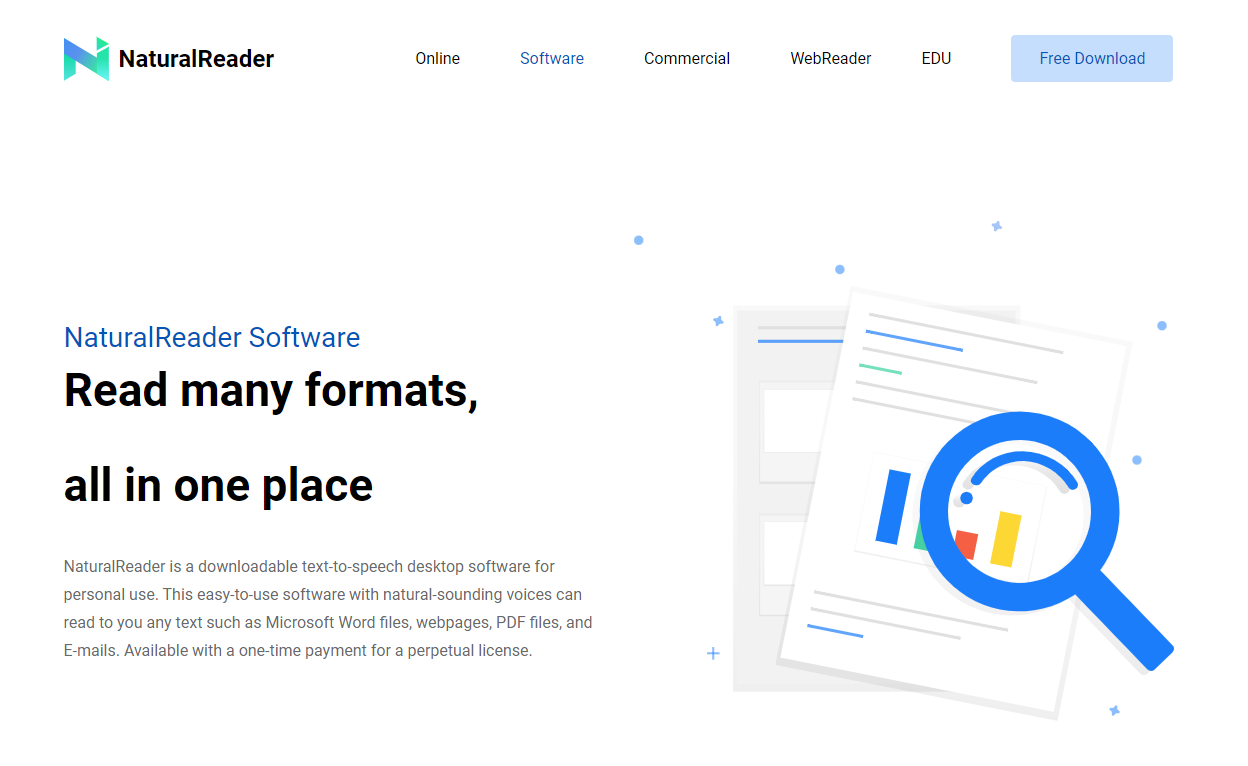 Main Features
Synthesized AI to bring out the natural sound
Offers 176 voices from 27 different languages
Set specific voices and speeds
Improve the pronunciation of a word or phrase
Advanced controls like adjusting pitch, tone or emphasis
Pros
Built-in OCR.
Dyslexic-friendly font.
Dynamic interfaces.
Cons
The paid plan is way too expensive.
Free version required an internet connection.
It can sound stiled.
Best for: Students and Teachers
---
Supporting Platforms: Windows and MacOS
Price: One-time price for $100
Speechelo is a cloud-based TTS converter that offers real sounds with all emotions. The expressive tone makes the voiceovers more interesting; you can add them to sales videos, training videos, etc. It is simple to use the software, just create the voiceover, download the MP3 file and import it to the video editor. This, in return, will provide a 100% human-centric voiceover.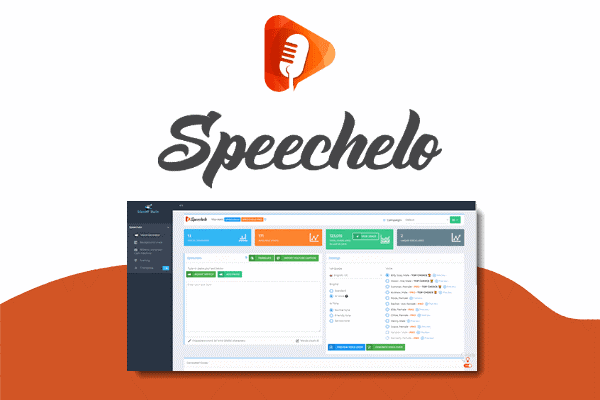 Main Features
It can add inflexion to the voice
The tool offers over 30 human-sounding voices
Different male and female voices
Compatible with almost every video editor such as Adobe, Camtasia, iMovie, etc
Pros
Expressive voiceover.
Supports multiple languages.
Several settings to adjust voice tones.
Cons
Not free.
Not human voices as claimed.
Heavy word limitations.
Best for: Marketers and Salespeople
---
Supporting Platforms: Windows
Price: $32.95 one-time cost
Panopreter Basic is free TTS software without any frills. It can read out plain text, web pages, and Microsoft Word docs for you. It produces audio in both WAV and MP3 formats that you can easily save to your computer. You can exploit Panopreter Basic settings further to find the features to change the language, set custom interface, save audio files to different locations and more.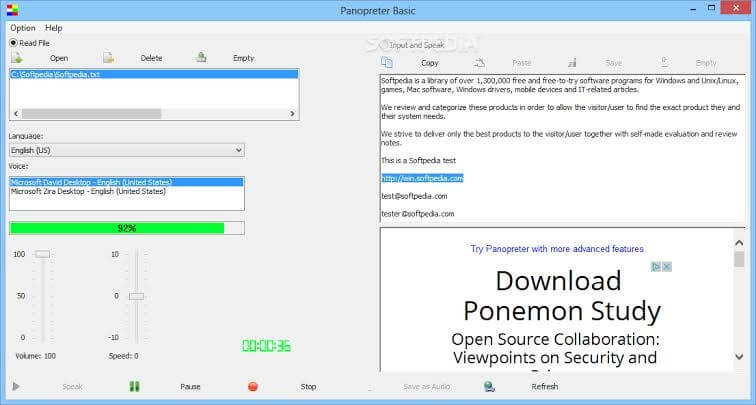 Main Features
Provide toolbars for Microsoft Word and Internet Explorer
Supports batch conversion
Chrome and Firefox extensions are available
Highlights the word that is being read
Powerful audio controls including voice speed, pitch and volume
Keyboard shortcut keys
Speaking repetition
Pros
Easy to use.
Supports multiple input formats.
Available in extensions and toolbars.
Cons
Only available for Windows users.
Doesn't support modern Web browsers.
Best for: Web browsing
---
Supporting Platforms: Windows
Price: $24.94 one-time cost
Zabaware is a robust tool that uses a speech synthesizer to read the content aloud. For generic purposes, it is a free tool with simple voices with high-quality CereProc or AT&T. However, the voice collection is limited, and you can only customize volume and speed unless you move to the premium tier.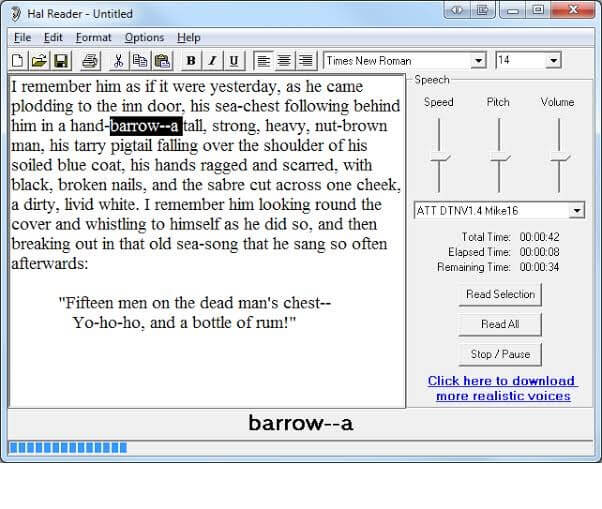 Main Features
It can read documents, web pages, clipboards, emails and Windows dialogue boxes
Add over 11 high-quality AT&T Natural Voices
Assist people suffering from dyslexia and ADD to read
High-speed reading
Audio can be stored on CDs or MP3 players
Useful for proofreading
Pros
Supports multiple input formats.
Easy to use.
Cons
Choosing and configuring voices is a little difficult.
Limited voice support.
Best for: Writers and Editors
---
Supporting Platforms: Windows and MacOS
Price: Available for $29 and $59 per month
Synthesys is a leading AI-based text to speech converter useful for creating voiceovers and commercial videos. It uses human-centric TTS technology to transform your script into expressive and dynamic media presentations. In only 3 simple clicks, you can turn your plain text into an emotional voiceover and eliminate all the robotic tone. If you are looking for text to speech solution for commercial purposes with a variety of male and female voices, Synthesys is your tool.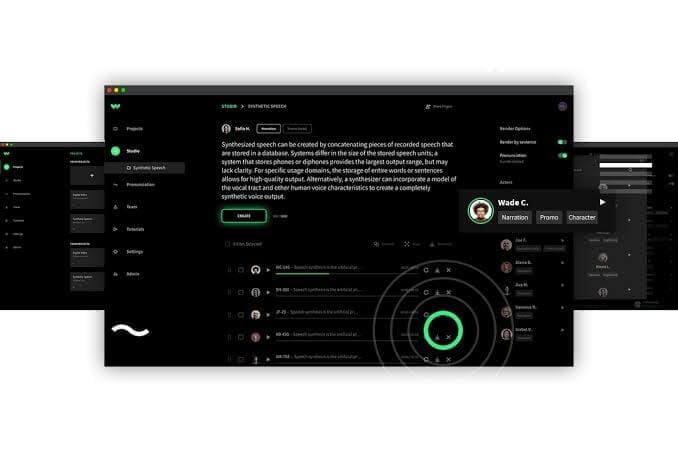 Main Features
It is a cloud-based application that will work from anywhere
Useful for creating sale videos, animations, social media stories, podcasts and TV commercials
It has a library of over 35 professional female and 30 male voices
More than 66 languages to select from the huge voicebank of 254 unique styles
Fully customizable tool to adjust settings to meet your requirements
Pros
High-resolution output.
Easy to use.
Dynamic interface and rendering speed.
Good for commercial videos.
Cons
No free version is available.
Not a perfect tool for power users.
Best for: eLearning platforms and Social media marketing
---
Supporting Platforms: Windows, iOS and Android
Price: Dragon Home for $200, Dragon Professional for $500 and Dragon Legal for $500
Nuance Dragon is a deep learning-driven speech transcription, recognition and dictation software. It is one of the leading TTS software with over two decades of constant development to meet the changing digital landscape requirements. It can unlock the power of voice to streamline your operations via different packages. In addition, the software uses 256-bit encryption that protects your confidential documents. So, if you want secure and flexible voice recognition solutions in 2022, this is the best tool for enterprises.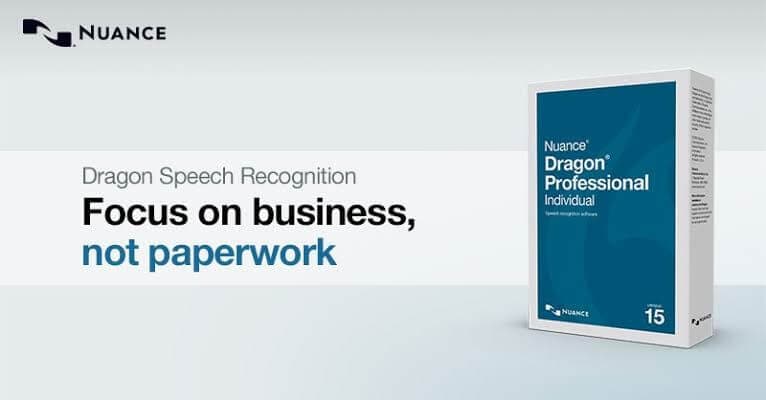 Main Features
It can create, read and edit documents using voice commands
Power deep learning speech engine that constantly learns from your commands
Allows you to create and edit spreadsheets with voice
Convert recordings into editable text
Import/export custom word lists specific to your business sector
Automatically transcribe recordings
Pros
Simple to use.
Mobile support.
Full voice service package.
Highly customizable.
Cons
Not available for macOS.
A bit of a learning curve.
Limited choice in languages.
Best for: Employees and Employers
---
Part 2. Conclusion
Text to speech software is helpful for proofreading, streamlining workflow, saving time and more. Having the best converter can manage different operations for you. All you need is to select the right tool.
As per our recommendation, Filmora is the best tool when you want to create stunning video clips and presentations. In addition, Murf Studio is useful for recording studio-quality sound at your home. And Natural Reader is perfect for academic users.
All the tools shared in this guide are good for bringing text to speech versatility to your operations. So, based on your requirements, select the right tool. However, you should first try the free version to determine whether the software is useful or not before purchasing. Rest, we know you will make a wise decision.
Also, you can check our complete guide on TTS apps and online TTS tools.
If you're looking for STT (Speech-to-Text) services, follow our detailed guide on STT apps and STT software before you make a wise decision!