As the saying goes: "one man's disgusting is another man's delicacy." - same is the case in the software industry. That's why you must know what exactly to expect from a video editing tool before getting yourself familiar with such. That way, you'll know which programs fit you best.
In this OpenShot video editor review, we'll dig into the many questions that may be roaming your mind: Is OpenShot free? Is it still a good option in 2021? Let's find out.
Part 1: Review of OpenShot
OpenShot video editor is an optimized, open-source, free video editing software. It is packed with visual effects for video enhancement, alongside audio tools to ensure a perfect blend of video and audio.
1. System Requirements
Operating System: Windows, Mac, Linux.
RAM (Random Access Memory): a minimum of 4GB ram is required for smoothly running OpenShot. As with other video editors, having a device of up to 8GB or 16GB RAM significantly increases performance.
Storage Space: before downloading/installing OpenShot, ensure that you have at least 500MB of free storage space on your device. What type of storage device you use doesn't matter; however, using a solid-state drive instead of a hard drive significantly improves the performance of applications generally.
2. Key Features of OpenShot
Trim: OpenShot offers a clean interface for fast cutting/trimming your videos.
Video Effects: using OpenShot's effects engine, you could remove video background, adjust color & brightness, blur, make a green screen with a chroma key, and achieve much more effects.
Subtitles: there are some text templates ready for use on OpenShot. The title editor is a flexible one: you can choose to design your titles.
Speed Control: with OpenShot, you could quickly slow down video clips, reverse videos, or speed them up. There are also available presets for time effects.
3D Animations: free 3D animated lens flares, snow, and flying text are available on OpenShot. With its powerful curve-based animation framework, you can easily and flexibly create just about any animation.
Transitions:

In OpenShot, transitions are represented by blue, rounded rectangles on the timeline. They are automatically created when you overlap two clips and can be added manually by dragging one onto the timeline from the 

Transitions

 panel.
3. Pros
Easy to download and install: installation is only a few clicks away. There are no unnecessary configurations that require expert knowledge during the installation.
Friendly user-interface: users easily find their way around without needing to swallow chunks of online tutorials.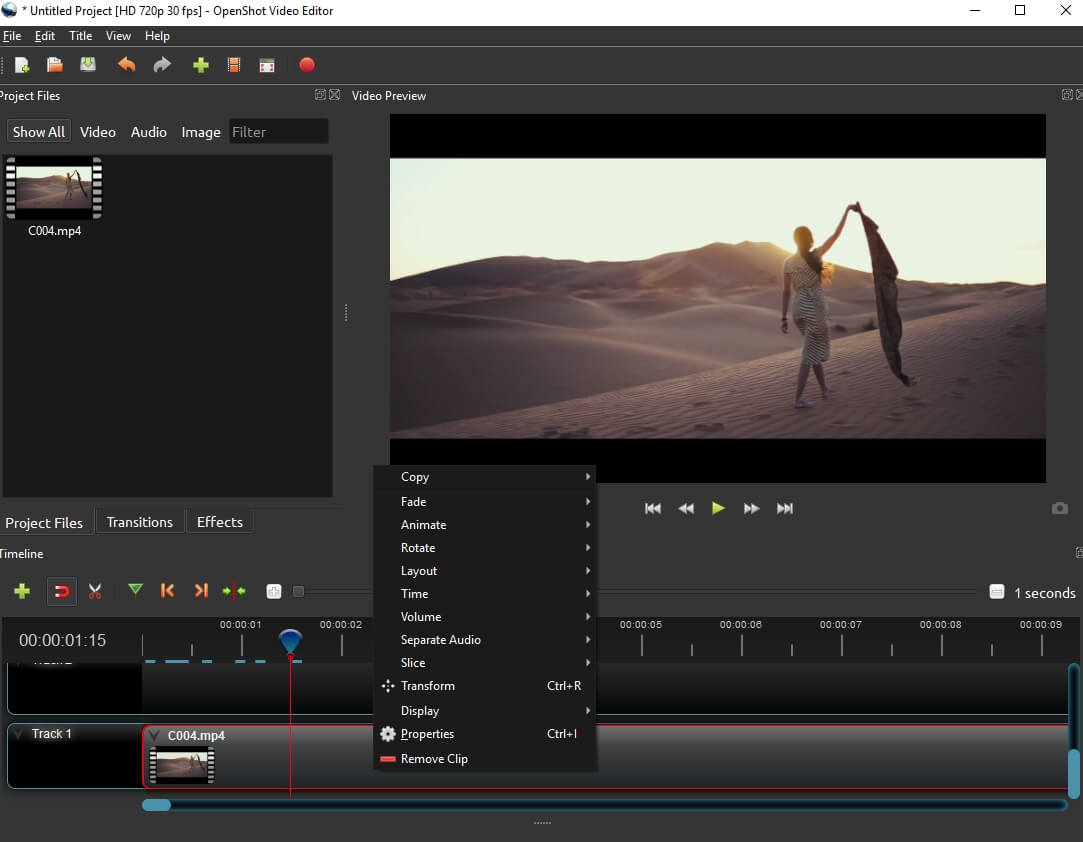 Fully functional editing tools: basically, it shows the whole functioning video creation process on one screen and has easy access for multiple tracks. All sorts of basic editing tools contribute to producing engaging videos.
4. Cons
Limited transitions and effects: transitions and effects aren't the strongholds of OpenShot - consequently, there are limited transitions and effects readily available for use. There is a lack of built-in available o

verlays, elements, filters, luts, and rich title templates for editing stunning videos.

Reduced audio quality: while working on your video on OpenShot, you might notice a reduction in audio quality.
Bad video rendering: OpenShot arguably hasn't gotten video rendering quite right yet; one might experience multiple crashes when rendering is in progress.
---
Part 2: Filmora vs OpenShot vs Shotcut
Being knowledgeable in the use of several video editors isn't something that's reserved for professionals alone: how do you know what you're missing or what you've got if you do not try other tools? - unless, of course, you're okay with what you've got.
This section comes in handy to those who haven't taste these three video editors: Filmora, OpenShot, and Shortcut.
If you aren't new to digital filmmaking, then you've probably heard of Filmora. Filmora video editor is designed with the amateur filmmaker in mind, and most importantly, not neglecting the powerful video editing functions required by professional filmmakers. This perfect blend of intuitiveness in design and powerful video editing functions gives Filmora video editor an edge over a whole lot of video editing tools.
Filmora video editor is a combination of power and the most wanted functions demanded by video creators - all in one software. It finalizes the touch by presenting advanced features in a user-friendly way.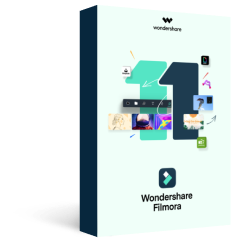 Key Features of Filmora Video Editor
Readily available for download and installation on Windows and Mac.
Quickly create Ads, educational, gaming, vlog, makeup, and music videos.
Ability to crop, rotate, merge, trim, or split videos.
A wide range of subtitles, text/title templates.
Easy video color correction and color matching.
Endless supply of audio and visual effects on Filmstock (Filmora's Effects Store).
Export finished work to social media handles directly from the software.
---
2. ShotCut Video Editor
Shotcut, like OpenShot, is a free, cross-platform, open-source video editing software. It is available for Linux, Mac, and Windows. With it, you can perform various actions such as video editing, add effects, create new movies, import most image file formats, export to almost any file format, and much more.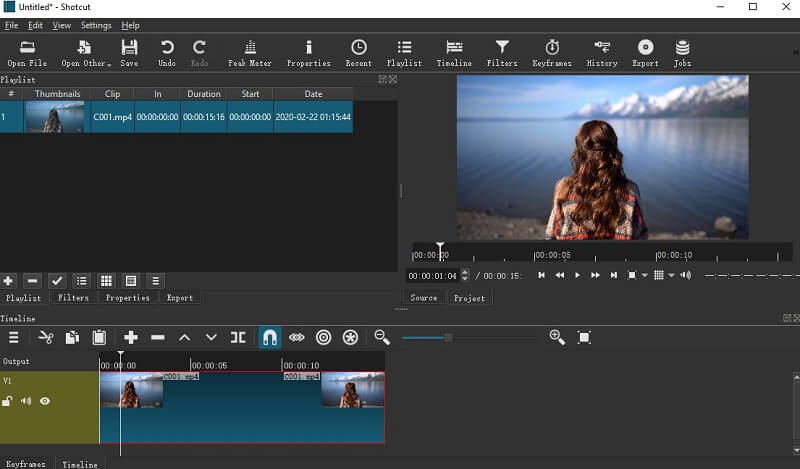 - Pros
A capable video editor that lets you cut, trim, crop, split, and merge video clips easily.
A helpful timeline that allows you to add an unlimited number of tracks.
Provides various kinds of transitions and video effects to use for free, including Chroma key, Color filters, and audio tools.
Format support through FFmpeg.
Supports more than 70 languages and can be translated online with LaunchPad.
- Cons
The interface hides a complex array of features, making you feel as if it doesn't work for you.
The app crashes very often, especially when you're editing video on a laptop.
Limited preset text templates and transitions.
No built-in sharing to popular sites.
---
3. Detailed Comparison Table
In here, we make a Filmora vs OpenShot vs ShotCut comparison table to help clear things up. Let's dive in:
Particulars
Filmora
OpenShot
ShotCut
Platform
Mac, Windows
Windows, Mac, Linux
Windows, Mac, Linux
Learning curve
Easy
Medium
Steep
Interface
More user-friendly
User-friendly
Needs a bit more UX consideration
Platform
Mac, Windows
Windows, Mac, Linux
Windows, Mac, Linux
4K Support
Yes
Yes
Yes
Video and Image Management
Auto filter
Manually Reorganize
Manually Reorganize
Screen & Webcam Recording
Yes
No
Yes
Split / Merge / Cut / Rotate
Yes
Yes
Yes
Speed Adjustment
Yes
Yes
Yes
Text Editing
Basic & Advanced, various text templates
Basic, limited text templates
Basic, no text templates
Audio Tools
Basic & Advanced audio workstation
Basic audio editing with waveform
Basic audio editing
Keyframes
Yes
Yes
Yes
Effects (Title, Transitions, Filters, Overlays, Elements)
Tons of built-in and dedicated effects
Limited built-in effects
Limited built-in effects
Effects Store
Yes
No
No
Social Sharing
YouTube, Vimeo
Not Support
Not Support
---
Conclusion
Lots of beautiful videos are churned out daily from all corners of the world. Behind these videos are also gorgeous video editing apps. With OpenShot, you could split, merge/join videos, view waveform representation of sound, among other functions. However, Shotcut performs these basic and advanced video editing functions in a slightly faster manner by using keyboard shortcuts.
OpenShot and Shotcut are good options for video editing even in 2021. If you are looking for a free yet powerful video editor, you can opt for OpenShot with a more user-friendly interface than Shotcut. Both provide similar functional editing features except screen recording unavailable on OpenShot. Taking it into consideration, you may prefer to choose Shotcut when needing to capture clips.
However, Filmora is more rounded when it comes to general filmmaking. With an intuitive and easy-to-use interface, tons of editing tools such as recording screen, applying more templates, transitions, and audio/visual effects, it presents a seamless blend of simplicity and power. It makes film production using top, modern filmmaking techniques ridiculously simple - hence highly recommended for you.