Using a split screen is a must-have feature, especially if you plan on becoming a full-time content creator.
A split screen is all about combining your media in order to tell a more complex narrative. It's a great tool to have if you want to engage your viewers and make them distinguish certain aspects of your content. If used correctly, split-screen can make your videos unique and bring a whole new perspective to your project.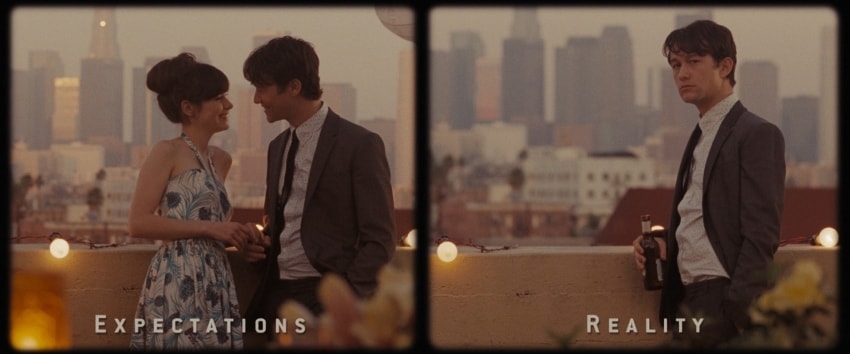 This is how influencers connect with their fans during ongoing live streams or maybe a recorded gaming session. Either way, if you want to give your content a fighting chance to go viral, then using Split-screen is your best bet.
That's why today we will talk about the different apps that you can use to portray split screens and become a pro. You will also be familiarized with their supported devices and a step-by-step guide for creating such videos.
So, without wasting much time, let's dive deep into this topic!
Part 1. How to Use the iMovie App to Split Video Screen?
If you want to create a catchy, attractive, and intriguing splits-screen video, then using the iMovie application is your best bet. This tool can cut and edit movies, music, and photos without changing any of the original files. This way, your editing process will be smooth, and your end video will be catered to your audience.
Compatible Devices
iMovie was developed for Apple products so that it will work totally fine with many iOS devices. This creates ample opportunities for iOS users who wish to edit their videos virtually from any location and at any time.
However, not every Mac, iPad, or iPhone model runs smoothly on this editor. Here's a list of all the devices that supports the latest version of iMovie:
iPad Air 3rd generation or later.
iPad mini 5th generation or later.
iPhone XS or later.
iPad Pro 11-inch and 12.9-inch 3rd generation or later.
How to Create a Split-Screen Video?
Launch iMovie on your Mac and add all of the videos you want to split through "Add new project."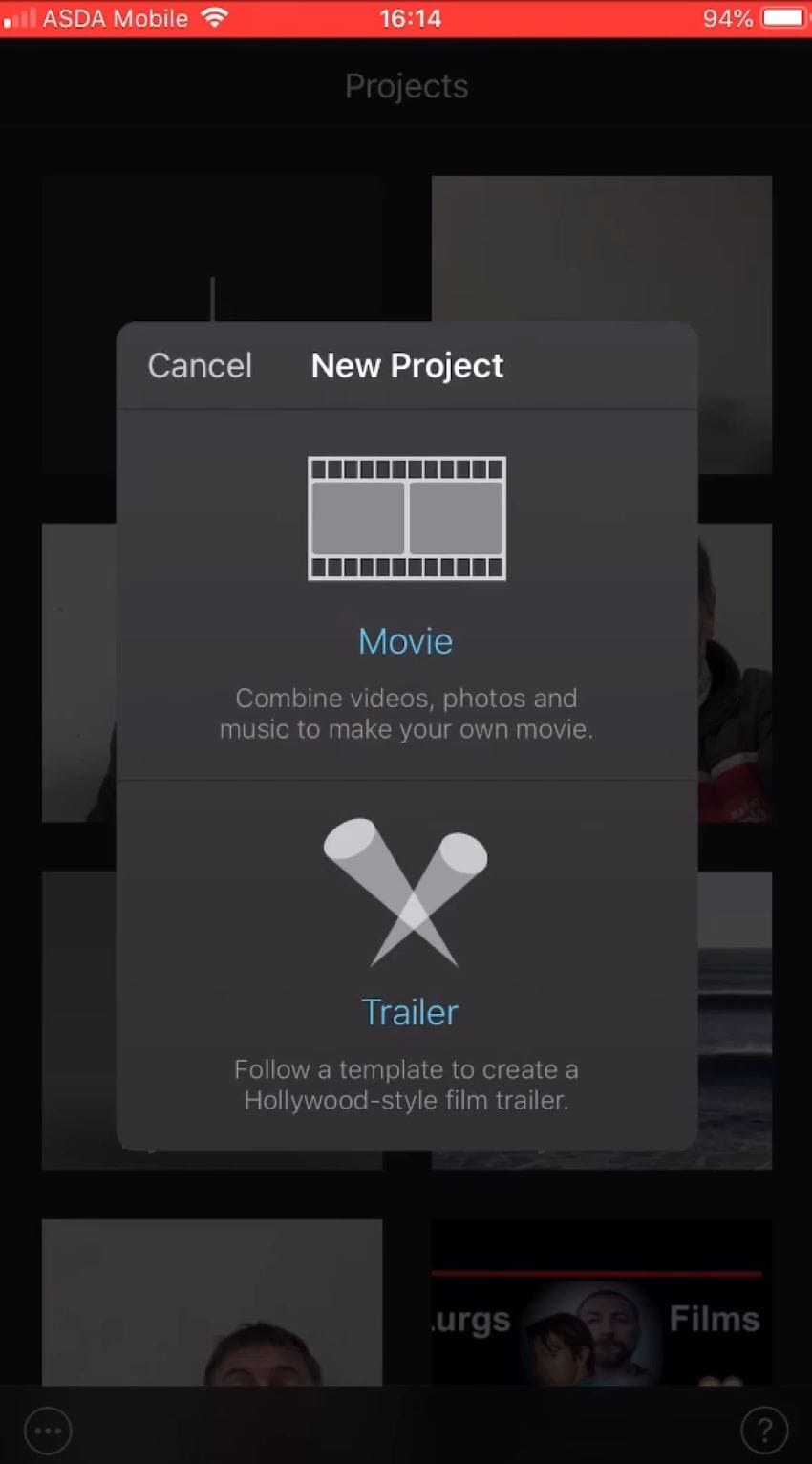 Select the first clip that you want to put in your video, and add the next one by clicking on the "+" icon.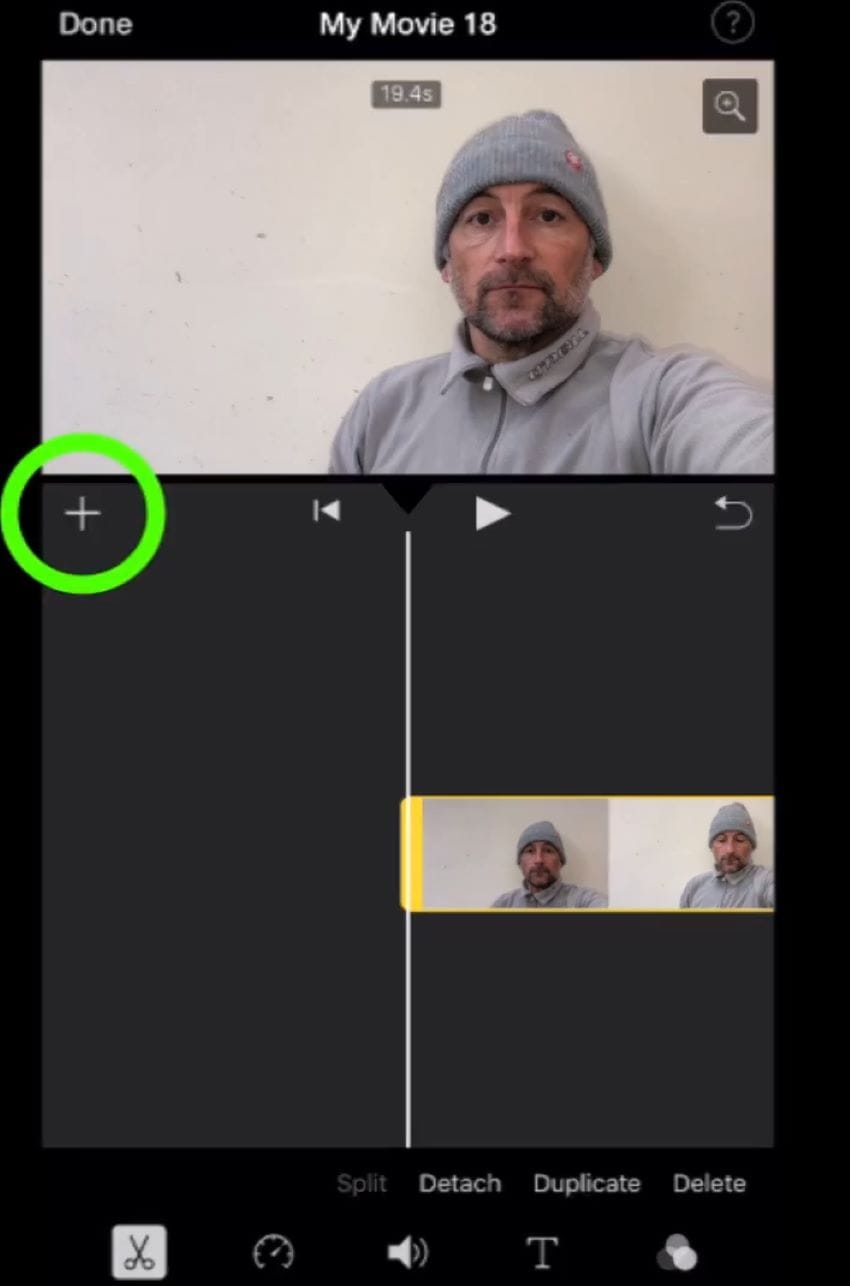 Now, click on the three dots and select the "split-screen" option from the list. This will put your videos in a vertical position on your screen.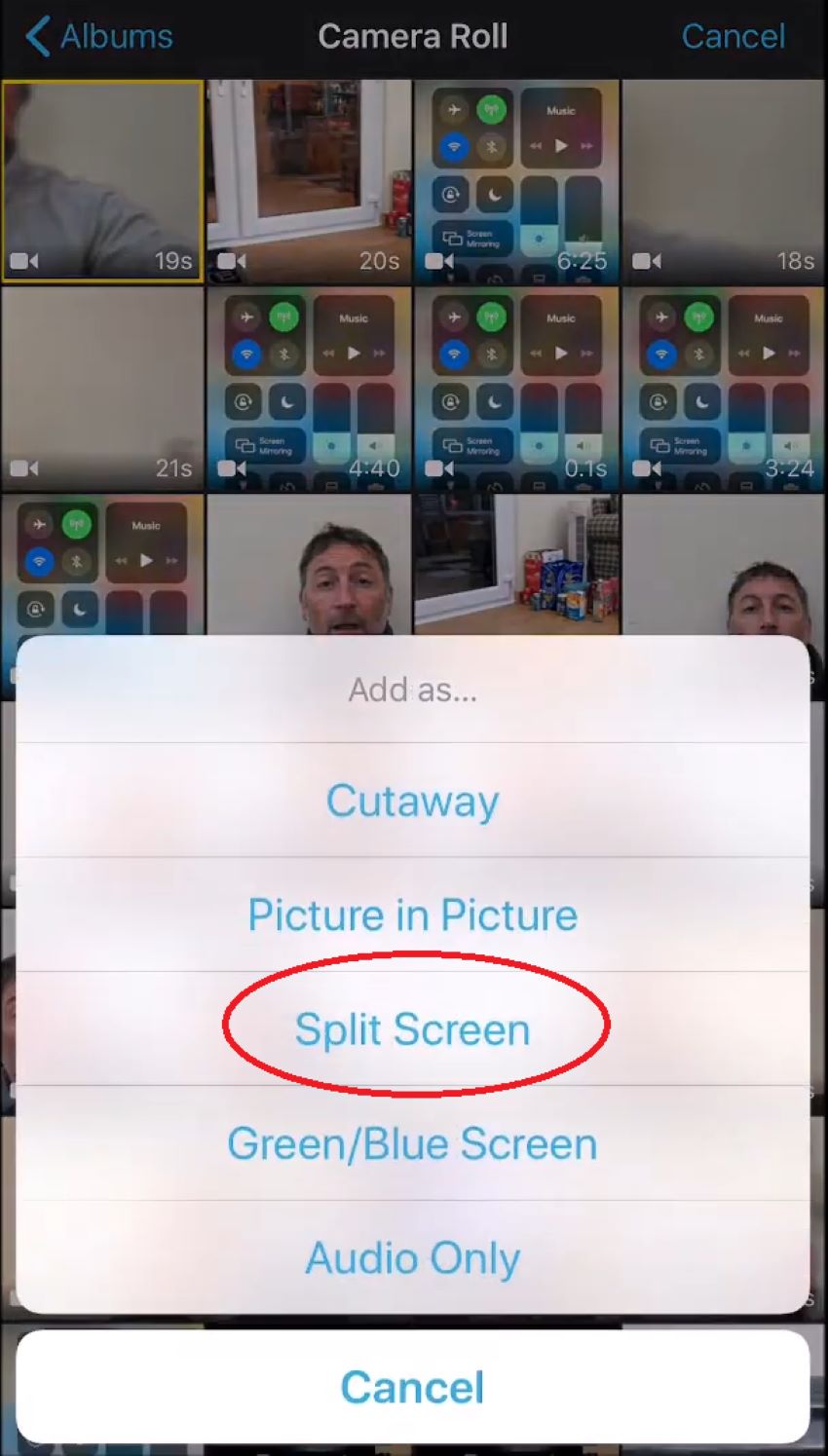 After that, you can do a bit of tweaking or editing if you like, and once done, just select "Done," and that's it!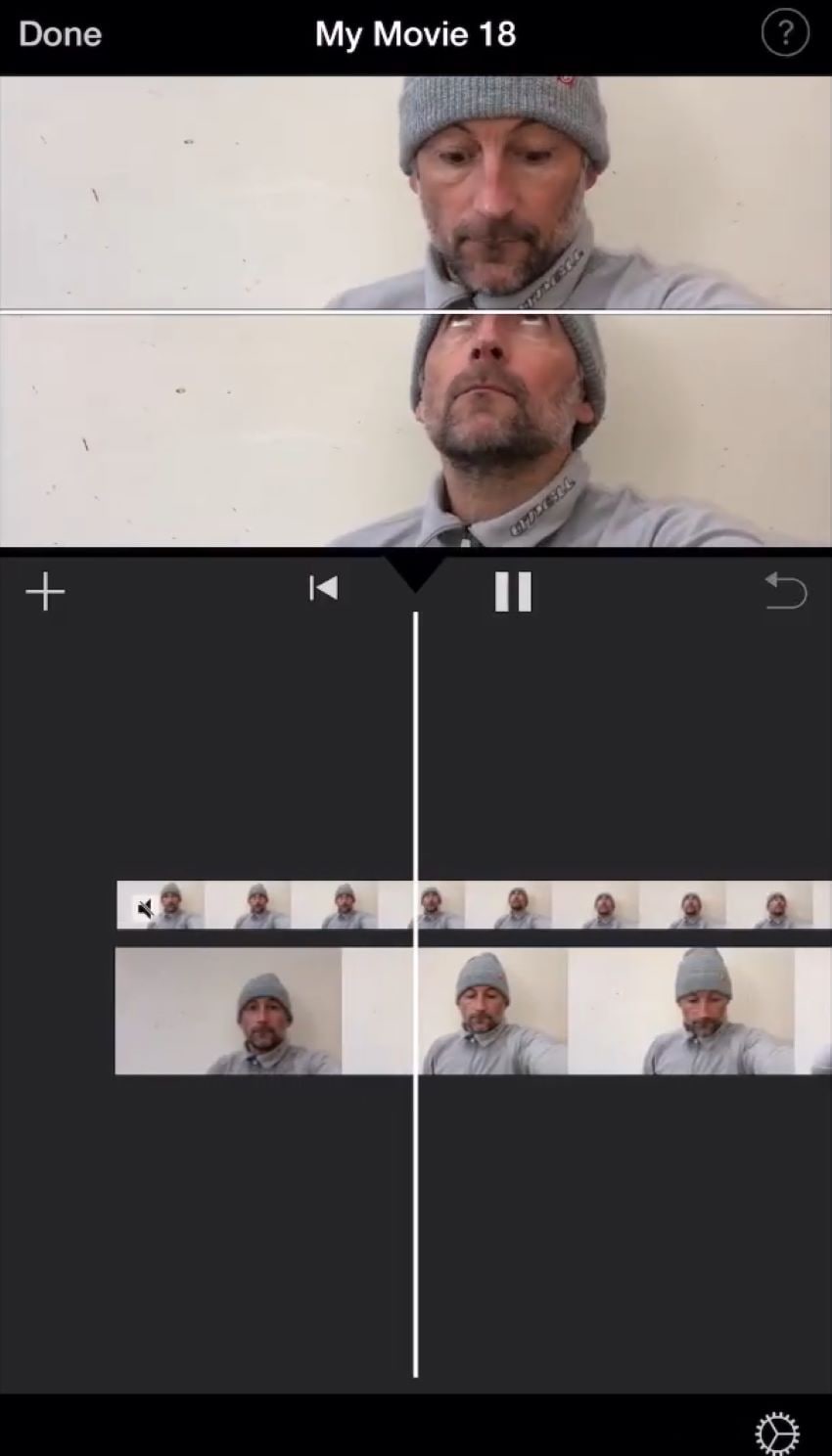 Part 2. How to Use FilmoraGo to Split Video Screen?
FilmoraGo is another popular video editing app that helps beginners or people who just wants to create attention-grabbing videos. The software itself is quite powerful and can make long editing videos a piece of cake. Also, it comes equipped with tons of tools and special effects, so you don't have to waste much time searching for the required add-ons.
One such amazing feature of this application is to create split-screen content. Like iMovie, you can import multiple audio and video files and split them up into unique segments. The process is quite simple, and users can merge their media files without messing with advanced toolbars.
Compatible Devices (Android/iOS)
Merging your video clips can sometimes come with the added cost of compatibility. However, that's not the case with this app. FilmoraGo supports a large number of devices and runs smoothly without any hiccups. Some of the compatible systems for this editor include:
Android 7 and up as well as iOS (iPad & iPad Pro)
How to Create a Split Screen Video?
Open the FilmoraGo app on your smartphone and click "New Project."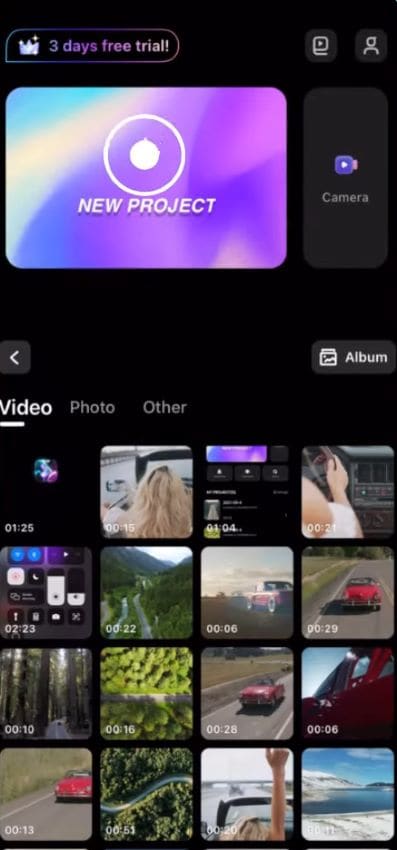 Now, from your video gallery, choose the clip you want to create a merge for.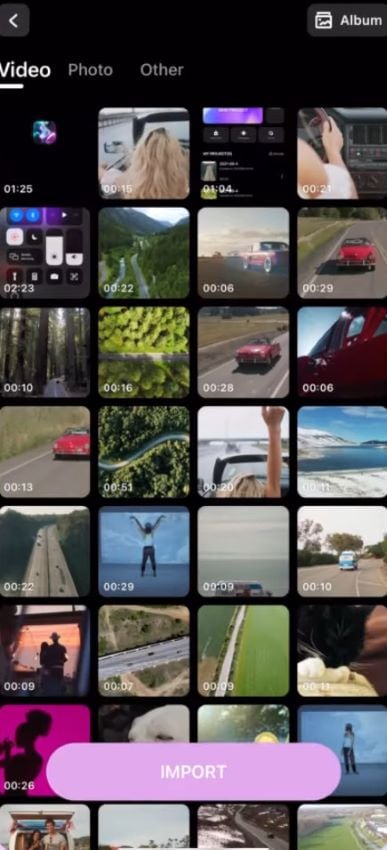 Once it's in your timeline, resize the clip from the bottom "16:9" and choose a background color if you want.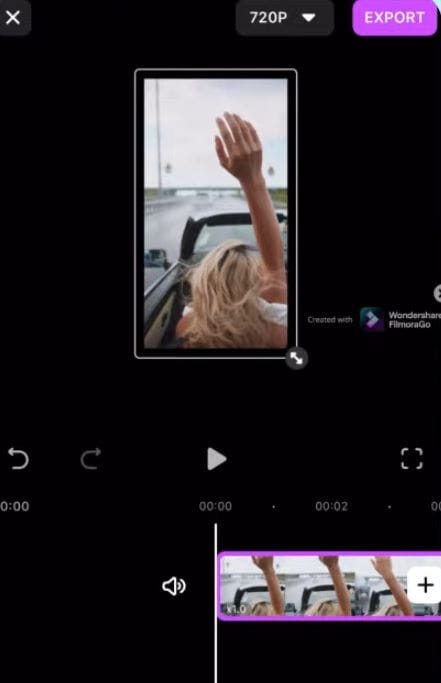 After positioning the video on either the left or right side of the timeline, tap on "Pip" and import the second clip for the vide-split.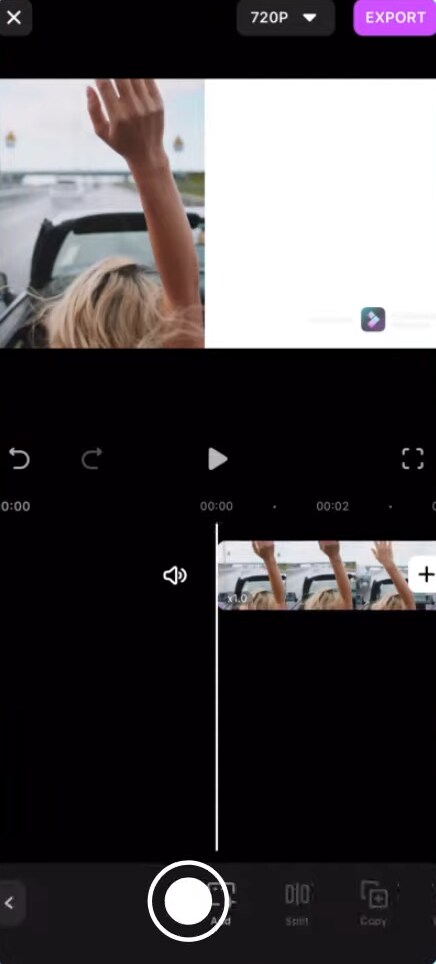 Now adjust its size as well, hit play, and once you are satisfied, import the split-screen video straight to your storage!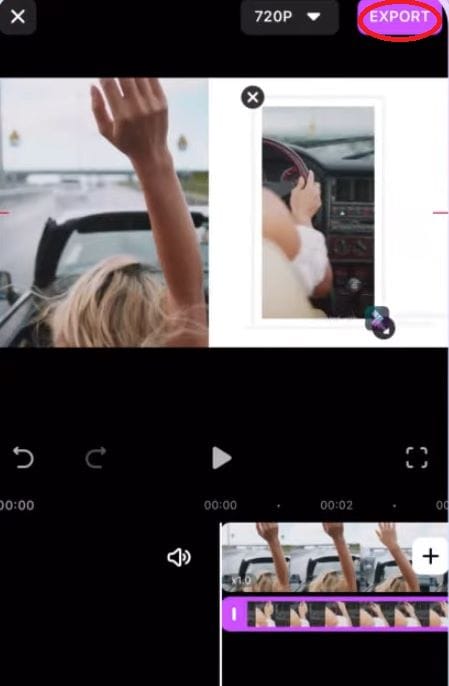 Part 3. How to Use the Perfect Video Editor, Collage to Split Video Screen?
If you're looking for an app that can help you easily split a video screen into two, then look no further than Perfect Video Editor. With just a few steps, you can create an awesome split-screen video that can be shared on social media and engage with your audience!
The split-screen feature in Perfect Video Editor allows you to place two different videos side by side, even on your mobile's screen.
The program is free to download and use, but to make split-screen videos; you'll need to purchase the Premium version. You can use this app to make changes to your videos in several ways, including cutting, merging, splitting, and flipping them. There are also some options to watermark images and place text, transitions, and music.
Perfect Video Editor is a great alternative to many video editors because it supports 4K resolutions and offers features like picture-in-picture video as well as Chroma Key.
Compatible Devices (Android/iOS)
Unfortunately, Perfect Video Editor is compatible with iOS devices only. Here are some of the compatible devices that you can use to split videos:
iPhone 6S, iPhone 7, iPhone 8, iPhone X, and more.
How to Create a Split Screen Video Using the Perfect Video Editor?
First, launch the Perfect Video Editor app on your iPhone or iPad.
Make sure you have the premium version so you can use the split-screen function.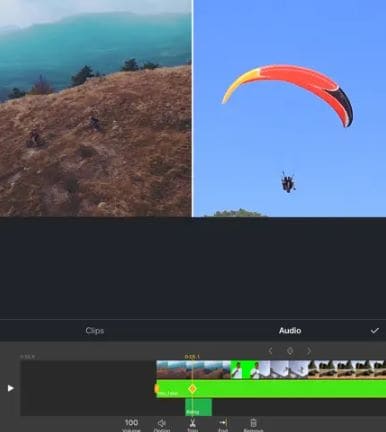 Once uploaded, you can edit the videos however you like.
After making these changes, you can start sharing videos with your audience.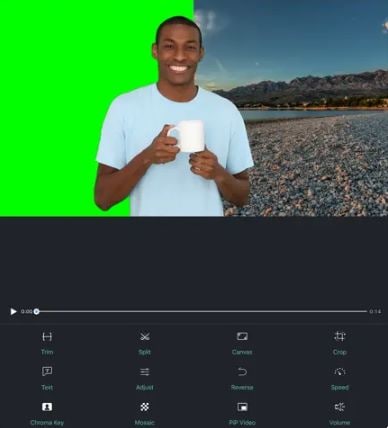 Have fun editing your TikTok videos, and make your viewers engaged!
Comparison Between the iMovie App / VSDC App / Perfect Video Editor
Let's compare three popular tools: VSDC, iMovie, and Perfect Video Editor, to find out which one will work best for your needs. Each app has its own pros and cons; take that into account before finalizing your pick.
iMovie

VSDC

Perfect Video Editor

✅Pros

1

Available on both iOS and Mac

It's quite easy to use

Available in both free and paid versions

2

Autosave features keep your work secure.

Can converts projects to DVD format

A variety of editing tools

3

Has many cool built-in features.

It supports FHD @120 FPS

Supports 4K resolution.

❌Cons

1

It only supports apple devices.

Certain features are only accessible in the paid version

UI is not beginner friendly.

2

Limits to 2 tracks only.

Not ideal for professional use.

The split-screen feature is available in paid version only.

3

UI is outdated, which makes it difficult for a lot of beginners.

Constantly paid promotions
What if you need a powerful video editor that provides a "split screen"?
Everybody has their own preferences when it comes to video editing tools. Some people prefer using simple apps, while others might want more features.
For us, the answer to this question was quite simple: Filmora! We highly recommend using Filmora if you plan on making viral videos. There are a lot of great features available in this software that you won't find anywhere else.
For once, it has an easy-to-use interface that can help you make great and appealing videos without much trouble. Another great thing about Filmora is that it's available for both PC and Mac users, which means you'll have no problem using it no matter what platform you're on. It's also reasonably priced, which is a great bonus since you won't have to spend an arm and leg to use this software.
You could also get these exclusive features while making split-screen videos in Filmora:
More than 30 split-screen templates
Advanced video customizations
Drag and drop access
A plethora of special effects
Live recorder
Auto-reframe function
Also, take a look at this video ; if you want to learn how to make perfect split-screen content.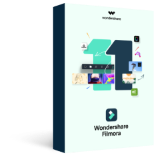 Best video editing software for beginner and semi-professional, that comes with powerful editing skills like trimming, splitting, rotating, editing, etc.
Advanced video effects like green screen, PIP, audio mixer, etc. can also be found and applied to your video within few clicks.
500+ free special video effects to customize and create an awesome movie by yourself.
1000+ standalone effects downloading resources to make videos in all kinds of styles.
Export videos to Chromebooks compatible format with 1 simple click.
Conclusion
All in all, these were some of the apps through which you could create split-screen videos. To summarize it, we believe that Filmora is easily the most powerful video editing program available to date that provides a split-screen feature. Its ability to cater to everyone's needs and affordable packages make it perfect.
However, if you want something a bit more popular, then iMovie is not as bad as well. It also covers all those cons we've discussed for major split-screen apps while bringing in a couple of advanced features on the table.
We definitely recommend trying these apps for yourself and seeing how it goes. Once you give them a try, we bet you'll love them as much as we do!