You must comply with YouTube's monetization criteria to generate money on the platform. For many content creators, YouTube Adsense is their primary source of money. Therefore, it would be best if you created the groundwork before you can start showing advertising on your movie and earning money.
Suppose you are a new YouTube channel creator or your channel already has a respectable following; there are several ways that YouTube can be monetized, including advertising, affiliate marketing, and paid views. This article will show you how to monetize YouTube channels and the requirements for monetization.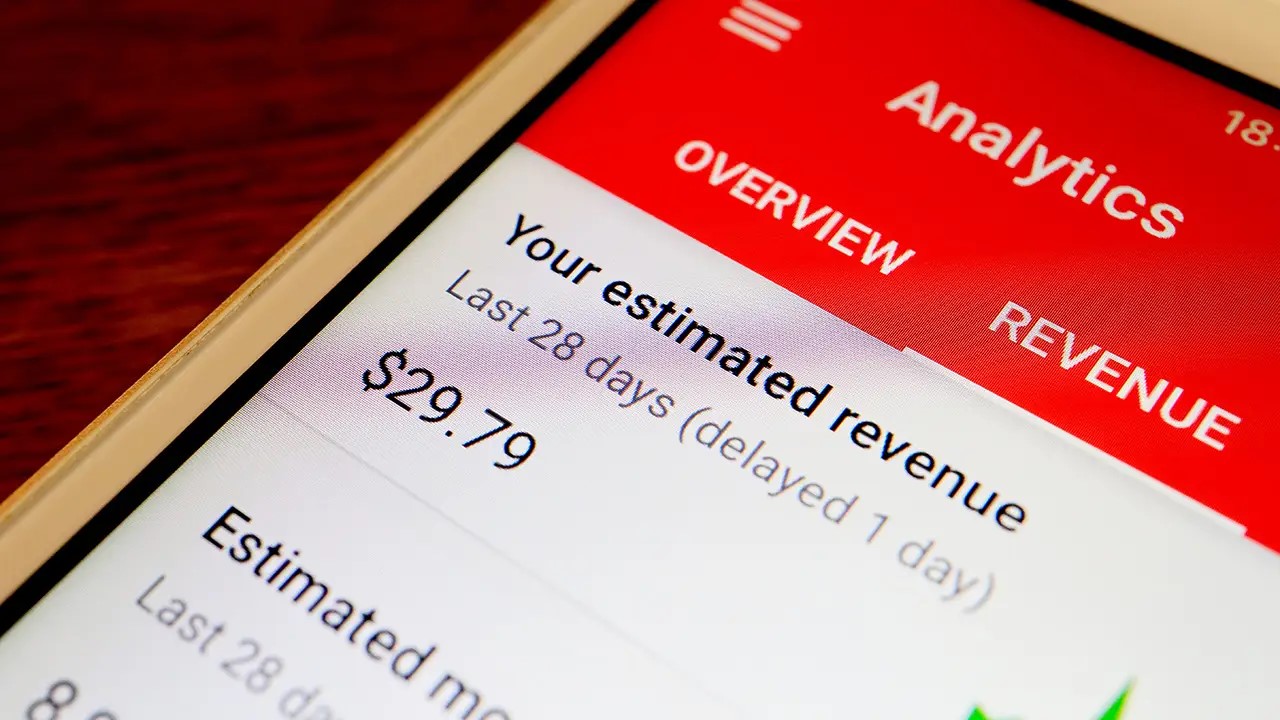 Part I: What you need to know about YouTube monetization
Making money from your YouTube videos is known as YouTube monetization. In essence, corporations will pay to place advertisements at specific periods in your movies. The creator is paid each time a viewer views the entire advertising in this manner.
Given that YouTube is one of the most widely used search engines worldwide, you likely found this post because you already created material and uploaded it there. You might earn money from your music, films, or other stuff later.
Part II: Basic YouTube monetization rules and requirements
1. Observe the YouTube channel's monetization guidelines
Your channel must abide by YouTube's monetization policies if you plan to make money there. These cover the terms of service, copyright, community guidelines for YouTube, and the Google AdSense program. These apply to everyone who is a member of the YouTube Partner Program, is considering joining, or is already a member. These also apply to anyone getting bonuses for shorts from the YouTube Shorts Fund.
Videos must also adhere to our advertiser-friendly content criteria if you want to monetize them with advertisements.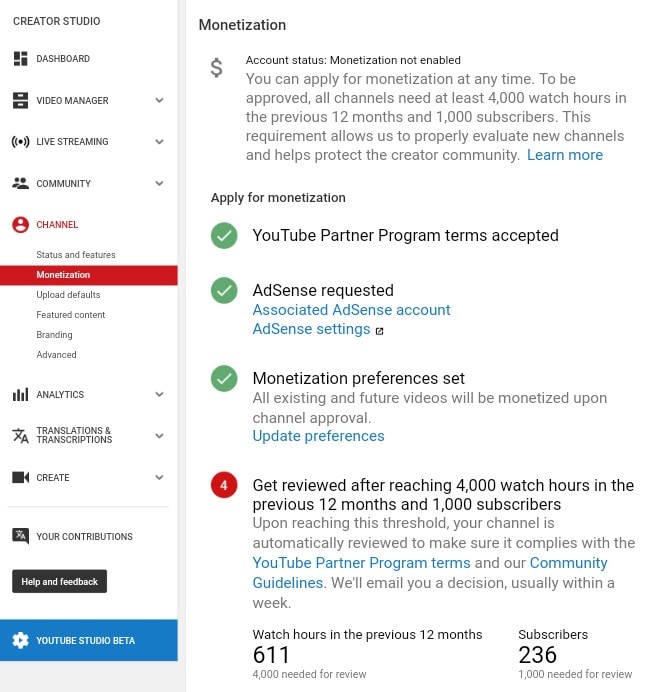 2. Available countries for YouTube monetization
If you are from the following areas, you are qualified for the monetization program. Here is the list of the approved countries for YouTube monetization:
New Zealand
Netherlands
Russia
Singapore
Saudi Arabia
United Arab Emirates
South Africa
Thailand
United Kingdom
United States
And many more. Please click here to see the whole list.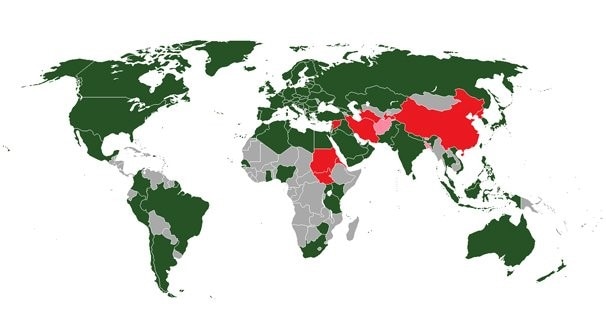 3. There are no open Community Guidelines strikes.
The Community Guidelines on YouTube have long specified the kinds of content that are prohibited. All content on the site is subject to these rules, including videos, comments, links, and thumbnails.
In a nutshell, you must ensure that your YouTube channel complies with YouTube policies and guidelines.
However, it is not a one-time event.  YouTube monitors your channel regularly. One will kick you out of the YouTube partner program if you violate YouTube's policies and guidelines, even if you've earned money from it.

4. More than 4,000 hours of legal public watch in the previous year
YouTube requires 4,000 hours of Watch Time to be monetized. The effort to accomplish that goal, which takes many creators a year or longer, is entirely worthwhile. If you achieve this objective, you can sign up for the YouTube Partner Program and start making money from commercials.
However, it isn't easy. To gain 100 hours of watch, yes. But thousands? That will test your commitment to continuing on YouTube. You have to post many videos and hope enough people watch them.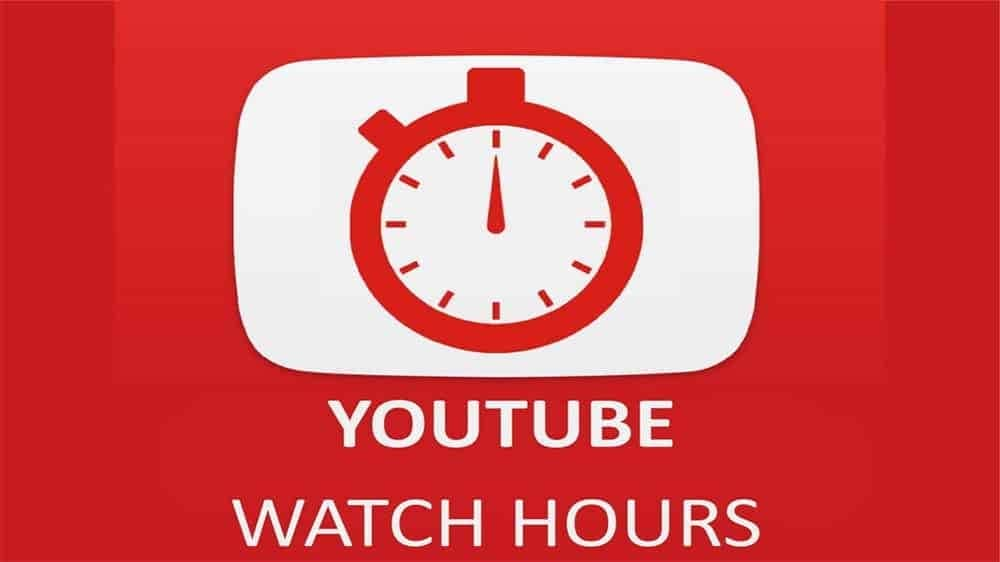 5. More than a thousand subscribers
The benefits of having a YouTube channel peak for creators at 1,000 subscribers. They are then qualified for the YouTube Partner Program, which enables content producers to earn money from their videos by running advertisements.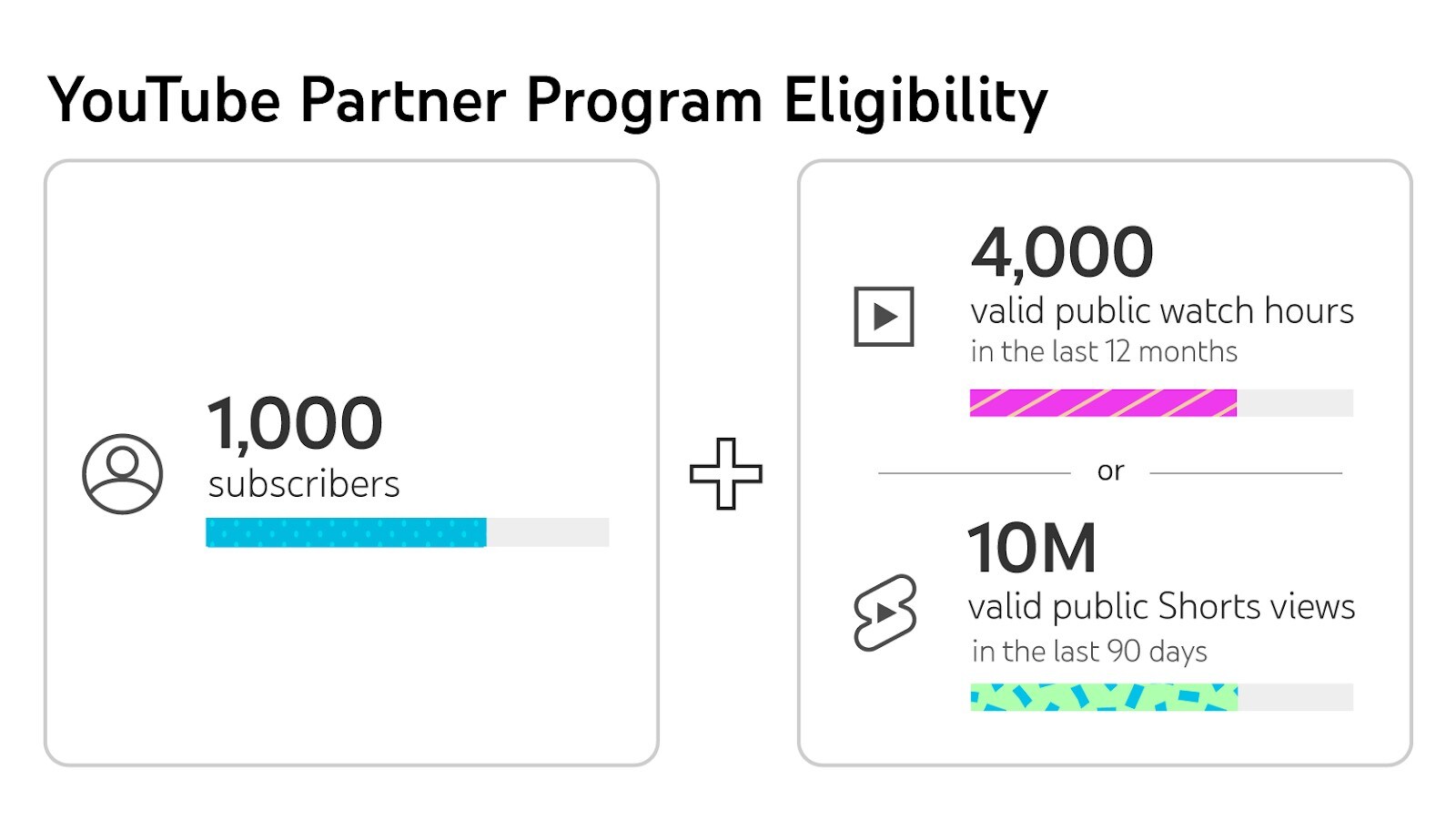 6. You must have an AdSense account
You'll need to create an AdSense account, as having one is one of the prerequisites for joining the YouTube Partner Program. AdSense is Google's advertising network, used to advertise and monetize ad space on various platforms, including YouTube.
To begin with, you must create an AdSense account. The next step is relatively simple, but you must make sure your content satisfies the AdSense requirements. Since Google, not YouTube, is paying you to promote companies, you are technically not earning directly from YouTube. As a result, you should ensure that your content is excellent enough to be sponsored by a corporation or appropriate for corporate sponsorship.
You should now set up the types of adverts you're willing to display on your content. We understand that you may want to generate money quickly, but you must ensure that the advertisements you run are not off-putting to your audience and that the advertiser benefits in some way. Make sure it's something that your audience might click on.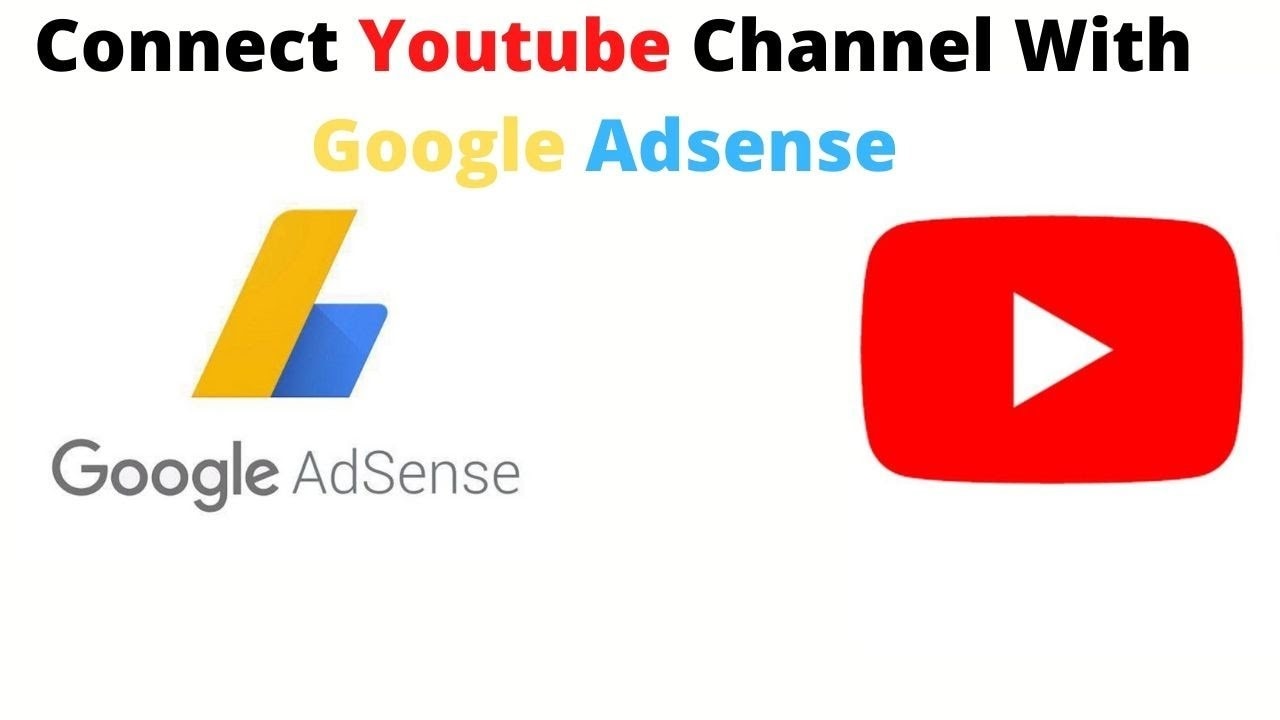 Part III: Top 5 Ways to Monetize Your YouTube Channel
1. Google Ads
Advertising that appears before or during your videos is the most standard approach to monetizing on YouTube.
You can enable ad monetization for one or more videos on your channel if you've signed up for the YPP. Remember that for your films to carry advertisements, and they must adhere to YouTube's requirements for advertiser-friendly content. Thanks to the various YouTube ad types available, you can decide where the adverts appear on your videos.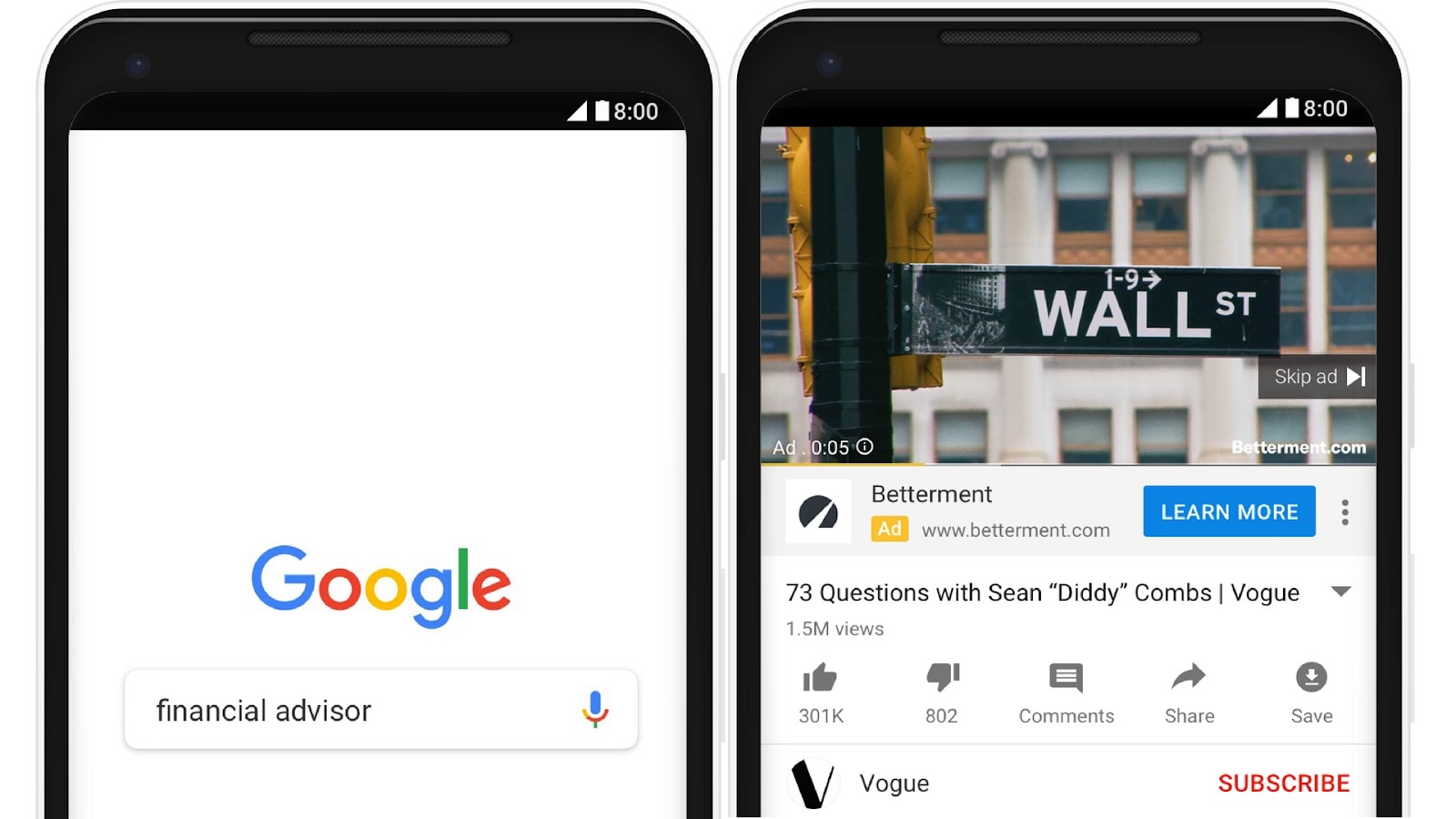 2. Paid Promotions
Paid endorsements involve companies and brands paying or sponsoring a content producer to utilize, promote, or advertise their product in a video. Brands support creativity through sponsorships, which is advantageous for both parties and the audience.
Though challenging to secure, sponsorships can be pretty fruitful. You can approach pertinent brands in your niche to collaborate on a video if you have an established, well-followed channel.
Show brands your previous work, YouTube analytics, and engagement rates to secure a sponsorship. Tell them how your material can benefit their company and how.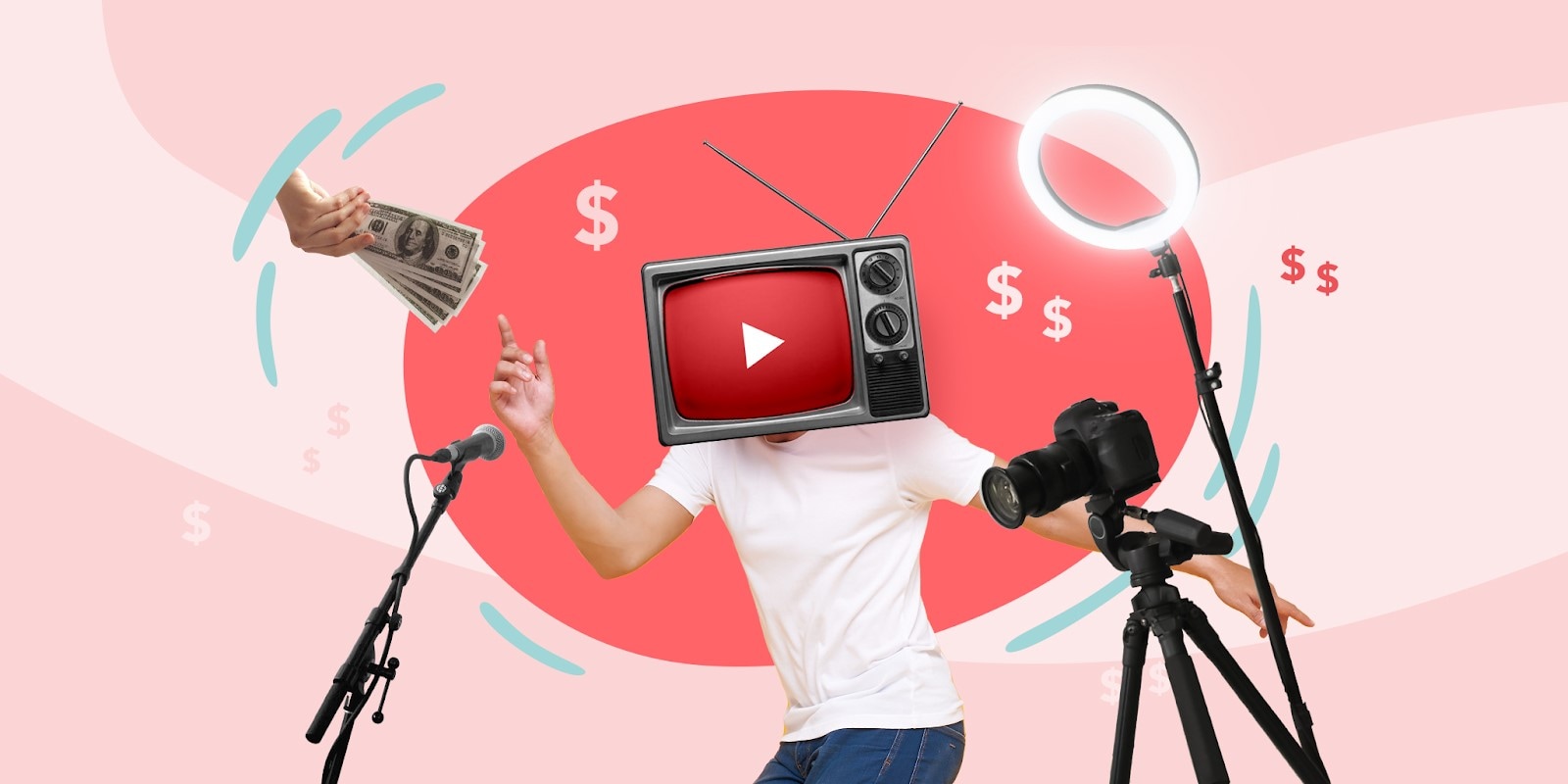 3. Clickable Affiliate Links
You can still make money off your YouTube videos by signing up for a suitable affiliate network, even if you still need to meet all the conditions to join the Partner Program for YouTube monetization. By doing this, you can profit from any sales you refer through your channel.
Check to see if any of your favorite companies or merchants have an affiliate program in place.
Even if paid sponsorships are more profitable, an affiliate program still brings in extra money. You can start promoting things you already use as an affiliate and even give your followers a coupon.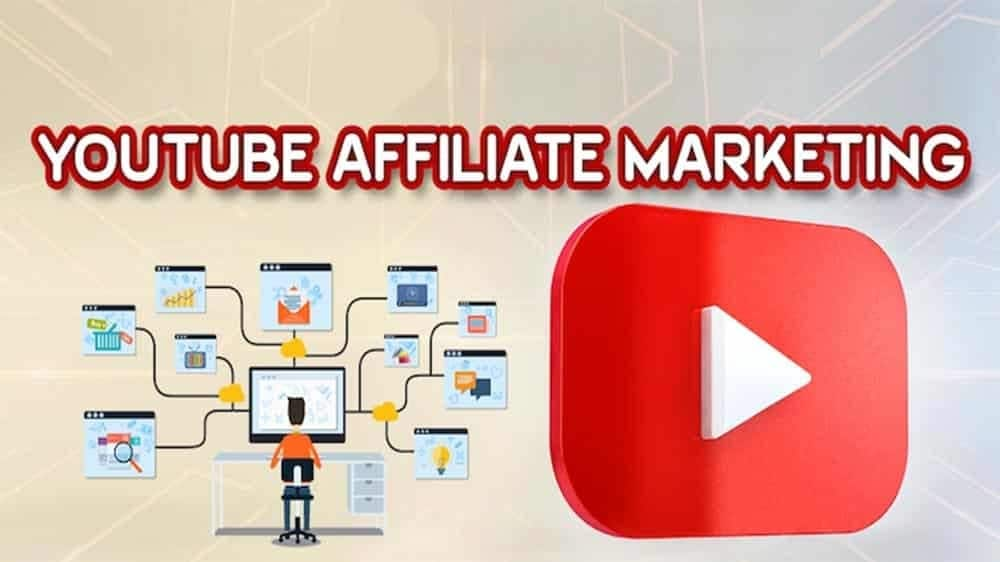 4. Must have Merch
A retail shelf that shows on each video page for YouTube channels with more than 10,000 followers allows for the sale of products. Selling branded products to your fans on YouTube might create a new revenue stream if you've established a strong brand community.
Before you begin, ask your subscribers what kind of merchandise they find most appealing. You don't want to spend a lot of money producing thousands of t-shirts to sell 100.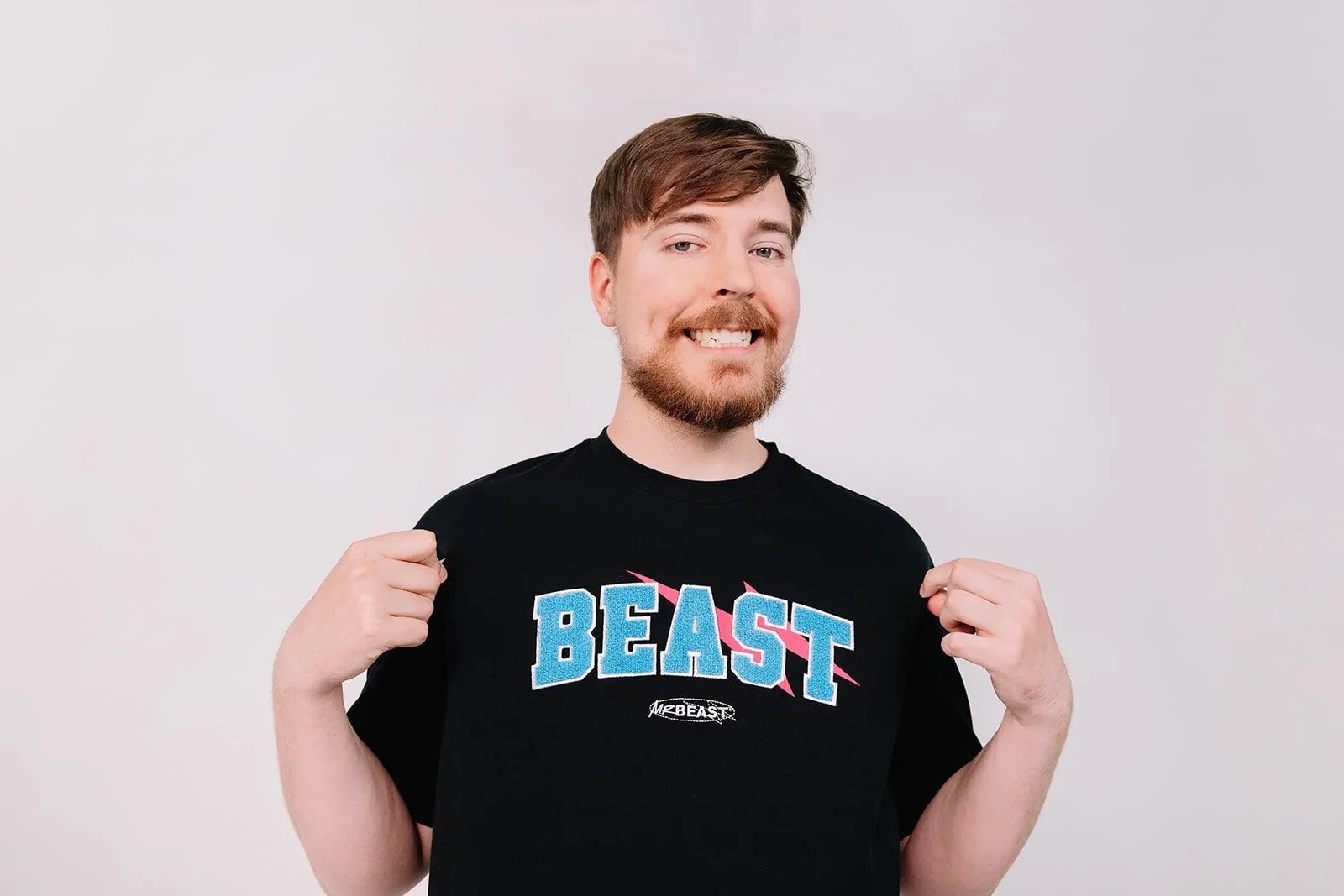 5. Premium YouTube
A membership service provided by YouTube is called YouTube Premium. Members can access ad-free streaming, video downloads, background playback, and more.
How does that impact monetization, then? Will YouTube Premium subscribers who watch the videos of artists who monetize them with adverts still receive payment? Thankfully, absolutely.
YouTube claims that, like ad income payments, subscription revenue payments are made to creators at the beginning of each month. Of course, the quantity is determined by how frequently Premium members watch your movies.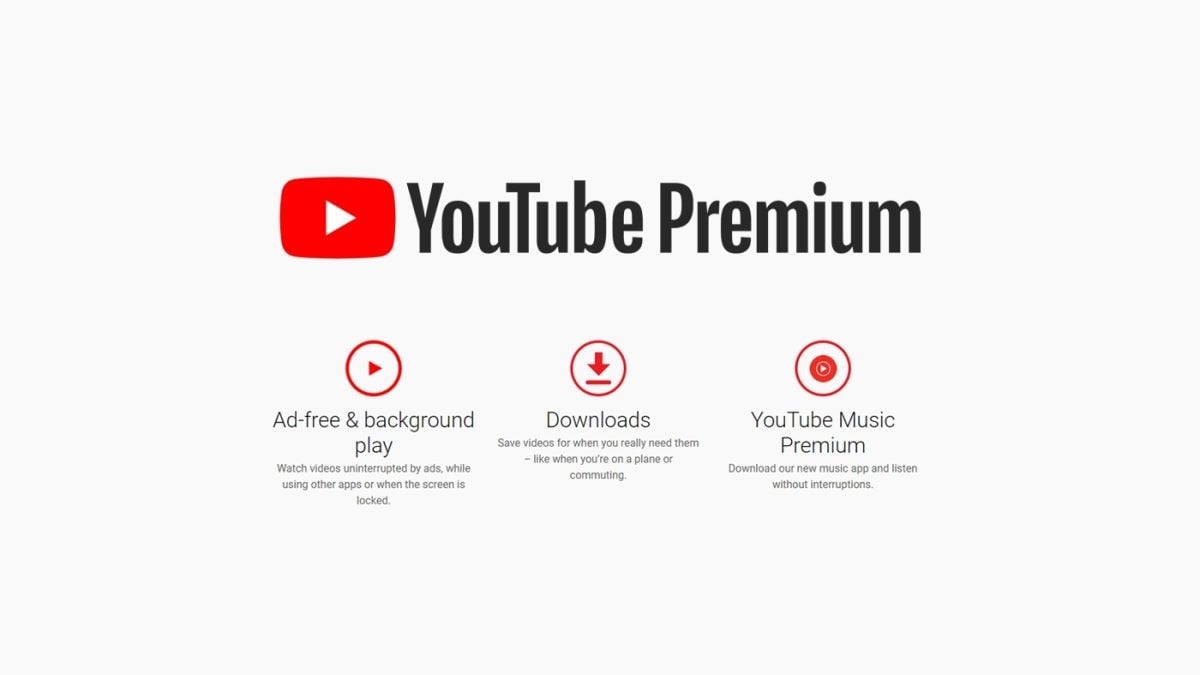 Bonus Tip: Wondershare Filmora: The Best Video Editor for Beginners - Here's Why
To monetize on YouTube, you first need to publish videos. But expecting videos you uploaded right after shooting them with your camera to do fantastic is unrealistic. You must add some flare to the video to catch the attention of the viewers. Some methods to achieve that are adding background music and visual effects.
With that said, having a reliable video editor installed on your computer is a must. Filmora is your best option for that. It is a video editing software popular among video editing novices and experts alike.
Key Features:
Up to 100 audio and video tracks can now be added to the timeline.
Add thousands of effects, transitions, components, and more to spice up your movies.
Had to be one of the best software in terms of video stabilization, which improves your video quality considerably.
With only a few clicks, Filmora makes video editing simple.
You can add color to a video clip, split screens, and PIP effects, among many other video editing chores.
You can upload directly to YouTube when finishing the video project.
With this tool at your fingertips, you can make visually stunning videos for your YouTube channel. Watch this video to learn how to make your own YouTube channel trailer using Wondershare Filmora:
Conclusion
YouTube monetization is a very complex process. It requires time and effort to learn how it works and how to use it to your advantage. This article has provided you with an overview of what YouTube monetization is. It allows you to get more out of your videos while at the same time giving you access to millions of potential viewers and subscribers. The best way to ensure you're getting the most out of YouTube monetization is by using Wondershare Filmora, which makes it easy for anyone, regardless of their experience level with video editing software.