"I am stuck and sick of wandering around looking for a good YouTube video cutter online for my YouTube videos. Yes, it is really sucking. The cash I have been lashing out to pay for the premium versions is eating hard into my account. I have heard a lot of people say there are better alternatives in the form of free YouTube video cutter online. Can someone help me please?"
Indeed, there are plenty of online video cutter for YouTube that can perfectly cut your YouTube videos with ease while keeping the quality of your videos. In this article, you shall be guided on the best free online youtube video cutter websites. Thoroughly go through them and pick the most ideal one for your task.
Part 1. The Best 10 Free Online YouTube Video Cutter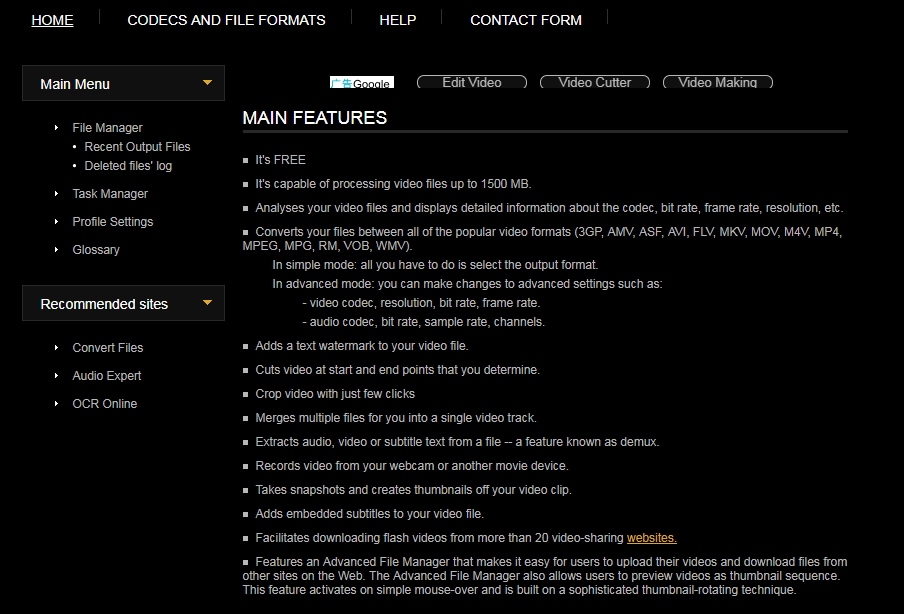 As the name suggest, video toolbox is an excellent YouTube online cutter with a collection of simple yet functional features that performs scores of tasks. Apart from YouTube, you can convert a wide range of video formats such MKV, MP4, M4V, and AMV just to mention but a few. If you are worried about keeping the quality of YouTube videos, then this is an ideal tool for you. The program ensures that the quality of your video remains intact. Once edited, you can upload directly to YouTube or share your videos with ease on social platforms including popular ones like Facebook.
Pros:
The program allows users to export edited YouTube videos back to YouTube or other social sites.
This program does not alter the quality of video files.
Cons:
The free version limits you to 600MB file size.
Note: If you prefer to directly cut your video on your mobile device, you can check our editor-picked list of video cutter apps.
---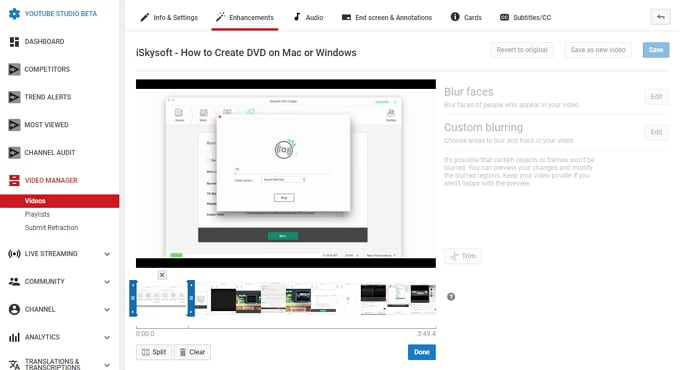 YouTube Video Editor is definitely a cherry on top free software when it comes to how to cut YouTube videos online. As you would expect from a great software, the online video cutter is equipped with tons of useful video editing features. They include merge, trim, addition of video effects and music among others. If you have used this software before, you will definitely understand how easy it is in terms of user navigation.
[Update]: Google has closed YouTube Video Editoe service since September 2017.
Pros:
The program is equipped with several other editing features that integrates well with video cutting.
The program's interface is total no-brainer and hence navigation is not a bother.
Cons:
Some people have reported cases of the program hanging.
Sometimes users encounter a 504-uploading error. However, the remedy is simply re-launching the software.
---

Online Video Cutter appears basic from the interface but the functionality is really exceptional. The program has amassed trust to multitudes of users simply because it doesn't disappoint when it comes to online video editing. The time tracker is specifically essential in creating accurate video cutting which is a desire for every user. It contains assortment of useful features including merge, slow or fasten video, and trim among others.
Pros:
The program maintains the quality of video and soundtrack when editing.
Video cutting is quite accurate due to the time tracker feature.
Cons:
This YouTube video cutter online has a limit size of 500MB
---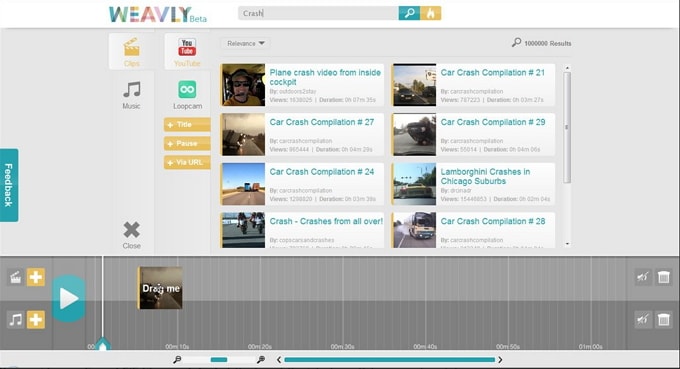 Weavely is one among the first-rate online YouTube video cutter software. The program offers plenty of splendid capabilities that would coax virtually any user into constant usage. You can source plenty of videos directly from popular sites like YouTube or SoundCloud and edit them as per your need. This program comes in two versions, the free and paid version. The free version has a number of functional tools that facilitate basic editing including cutting videos while the paid version simply offers some additional advanced functionality. All in all, the free trial version is pretty good to go with.
Pros:
This program is quite fast in cutting YouTube videos.
The user interface is quite user-friendly.
Cons:
Full features can be accessed by upgrading to the paid version.
---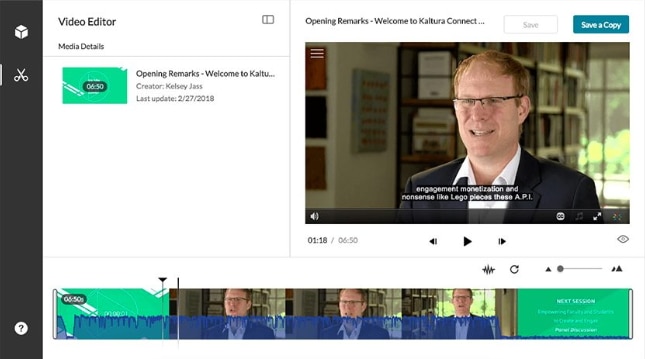 Kaltura is a tool worth mentioning when talking about how to cut YouTube videos online. This open source online video service looks somewhat unpopular to a vast majority but its capability is making it slowly earn genuine trust from scores of media users. For a free tool, you wouldn't expect too much functionality but the reality is Kaltura just does what you need. Although this tool is quite ideal for commercial and professional use, newbies encounter no difficulties. Regardless of being limited in terms of functionality, the free version has the right mix to ensure excellent cutting of YouTube videos.
Pros:
The website is user friendly.
The program offers community-based solutions.
Cons:
Users require the paid version to access advance editing functionality.
---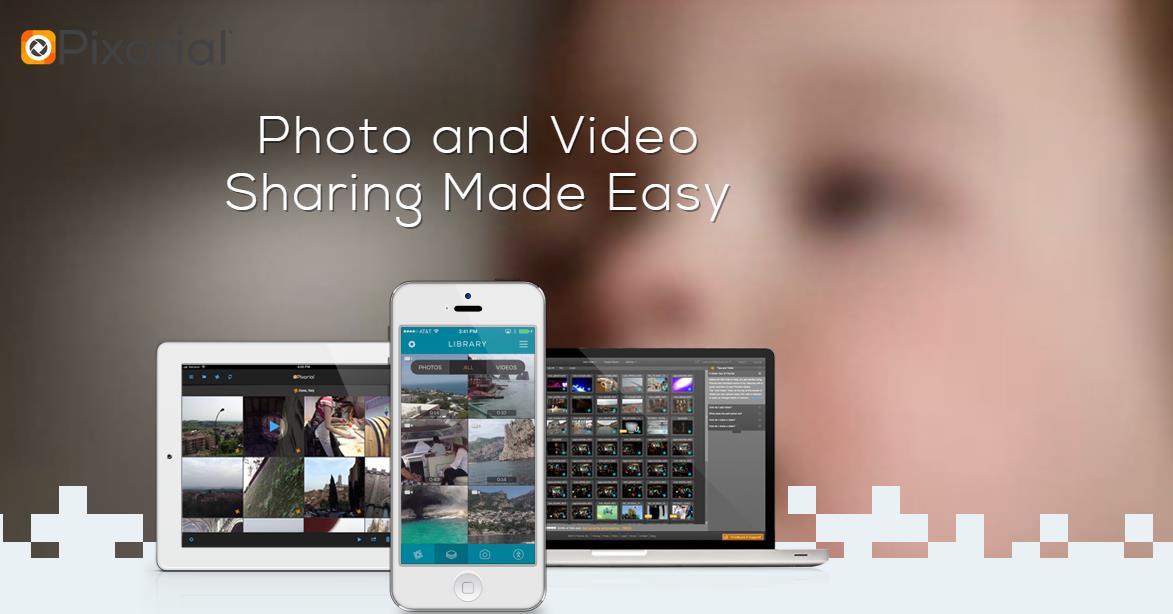 Pixorial is a powerful free YouTube video cutter program with plenty of editing options that offers amazing experience. The program has the capability to trim, combine several video clips, and add plenty of effects, texts, tittles, and music tracks just to mention but a few.
Pros:
With program, you can access more than 500 free royalty music tracks.
The program has the capability to transform videos to high-quality production.
Cons:
There are no much advanced features.
---
#7. Cellsea Video Editor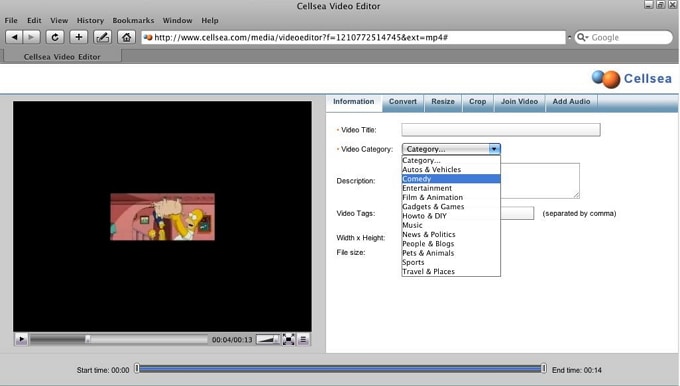 This is no doubt one amongst the top pick online YouTube cutter software. The array of customizable options would generally make your video editing effective and full of fun.
Pros:
The program provides a platform for flexible video editing.
The user-interface is quite friendly.
Cons:
This program imports a file size limit of 25 MB.
---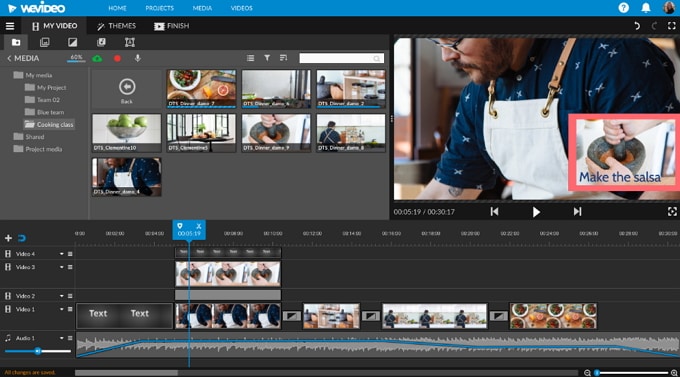 Wevideo is a popular video cutter available in free and premium versions. Going for the free version is a cost-saving move because it offers basic necessary editing features including video cutting. The program supports a wide range of video formats including popular commonly used. The online storage capacity is at 1GB and thus can edit large video files without problems.
Pros:
This program has a large online storage of 1 GB.
Cons:
The free version has some limitations which can be avoided by only upgrading to full version.
---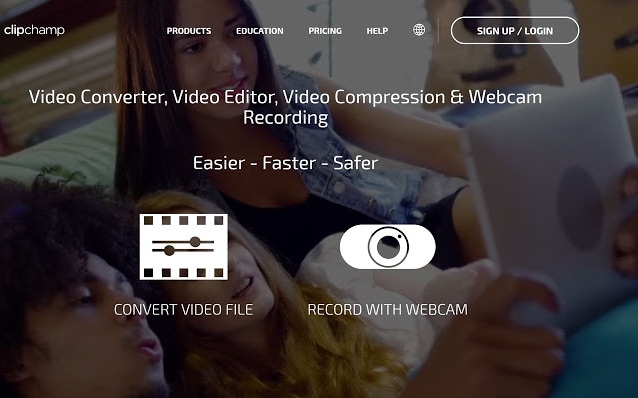 This is a professional online video editor that does scores of video editing tasks including cutting videos. The program does not impose any file restriction and can thus be used to edit large files. Apart from video cutting, this program has plenty of editing features like video optimization, and online sharing among others.
Pros:
There is no file size limitation.
There are plenty of video editing options.
Cons:
It is a bit slow in uploading files
---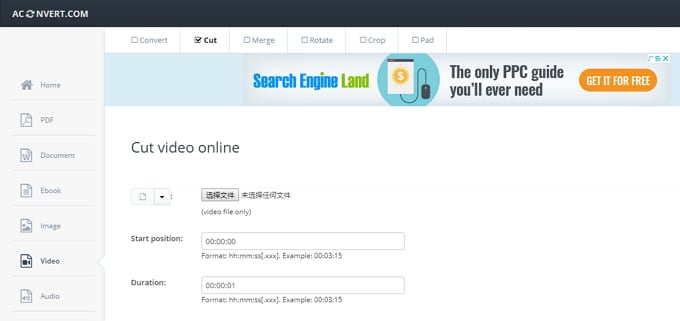 There is no debate about the capabilities this amazing free online YouTube video cutter. The easy to use platform offers a good number of useful tools that help transform the entire editing process unforgettable. You can edit videos of larger size and still get the same awesome experience.
Pros:
The program supports both local and online video sources.
Cons:
This program has a file size limit of 200 MB.
---
Part 2. How to Cut YouTube Video on Windows and Mac
Filmora Video Editor for Windows (or Filmora Video Editor for Mac) is a powerful must-have video editor with scores of amazing capabilities. You can regard it as a beginner-friendly yet powerful alternative for YT Cutter. The program has a massive fan base due to its prowess in dealing with videos, audio, and image editing. You can edit videos of virtually all formats on your Mac or Windows without having to get worried on format compatibility. The interface is quite elegant and users do not anticipate a steep learning curve. You can download the free trial version before finally upgrading to the premium version.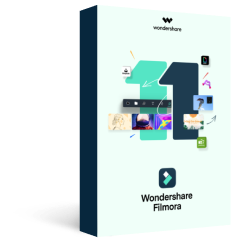 Key Features
Best video editing software for beginner and semi-professional
Simple video editing tools including cut, trim, merge video
Easily add transition/image/audio/transition/overlay/elements
Advanced video editing features including speed ramping, motion tracking, color match, keyframing, masking, etc
Advanced audio editing features including audio ducking, audio denoise, auto beat sync, auto synchronization, etc
500+ free special video effects to customize and create an awesome movie by yourself.
Numerous free stock media from Giphy, Unsplash and Pixabay
Top-notch industry-leading Boris FX and Newblue FX plug-ins and live graphics solutions to simplify complex editing tasks
Step 1. Launch Filmora Video Editor
Firstly, download Wondershare Filmora for Windows and open it.
Step 2. Import your video
Download the YouTube video you want to cut, and import it into Filmora. Please note, Filmora can supports almost all commonly used video formats, including MP3, MP4, AVI, MOV, WMV, F4V, MKV, TS, 3GP, MPEG-2, WEBM, GIF.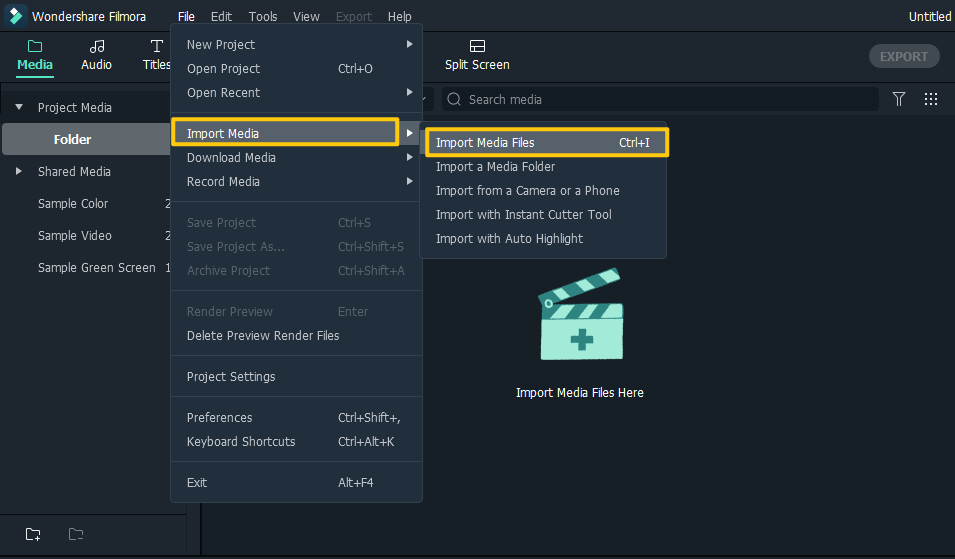 Step 3. Split the video
Place the playhead on the exact frame where you want to cut the video. And click the scissor button to easily split the video into 2 clips.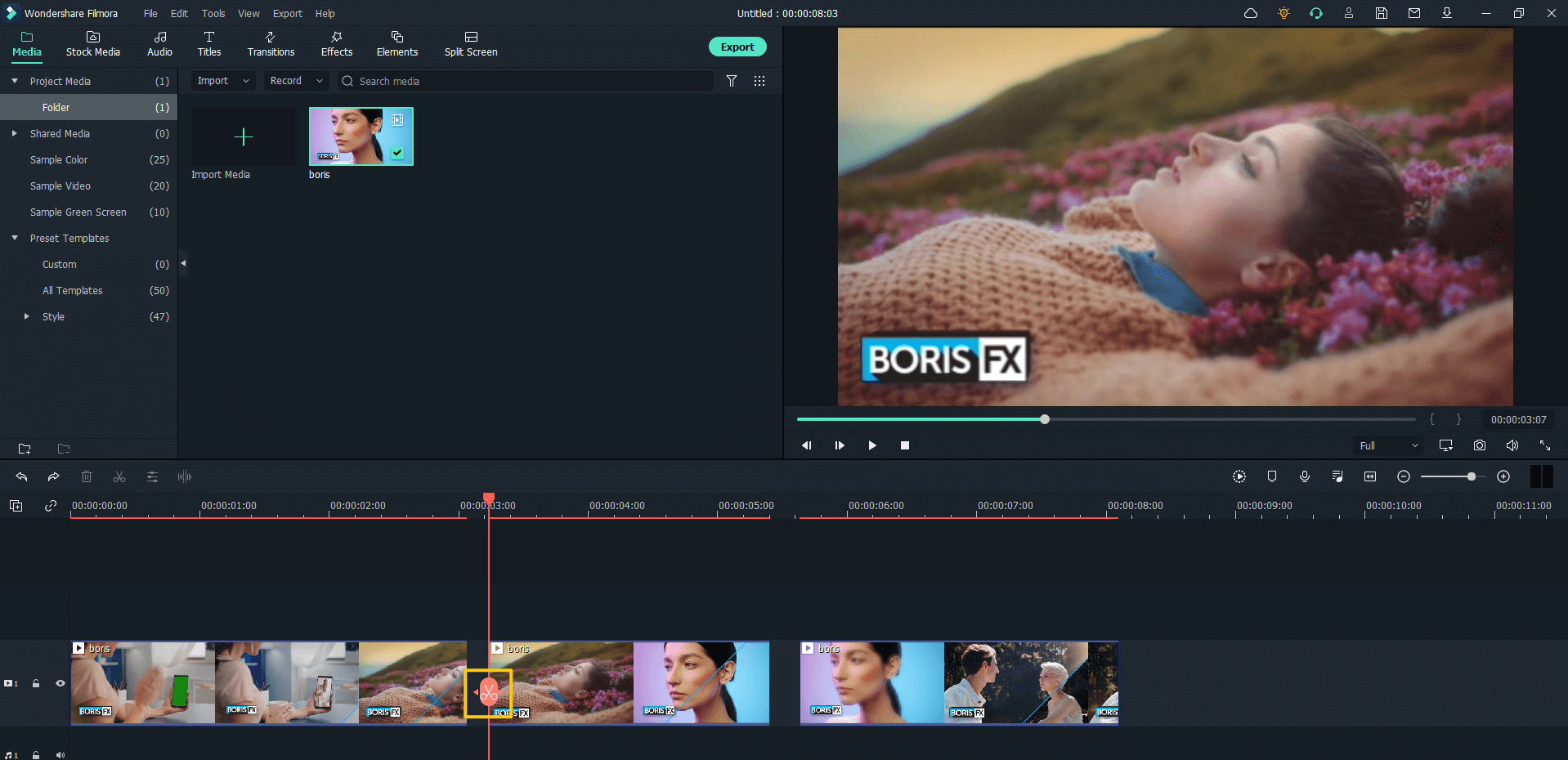 Step 4. Remove the unwanted clips and join the rest clips
Then,you can click the unnecessary part and press Delete button to remove it. If there is a gap between the remaining clips, you can right-click the gap to choose it and click on Ripple Delete to remove it. In this way, the clips can be combined together easily.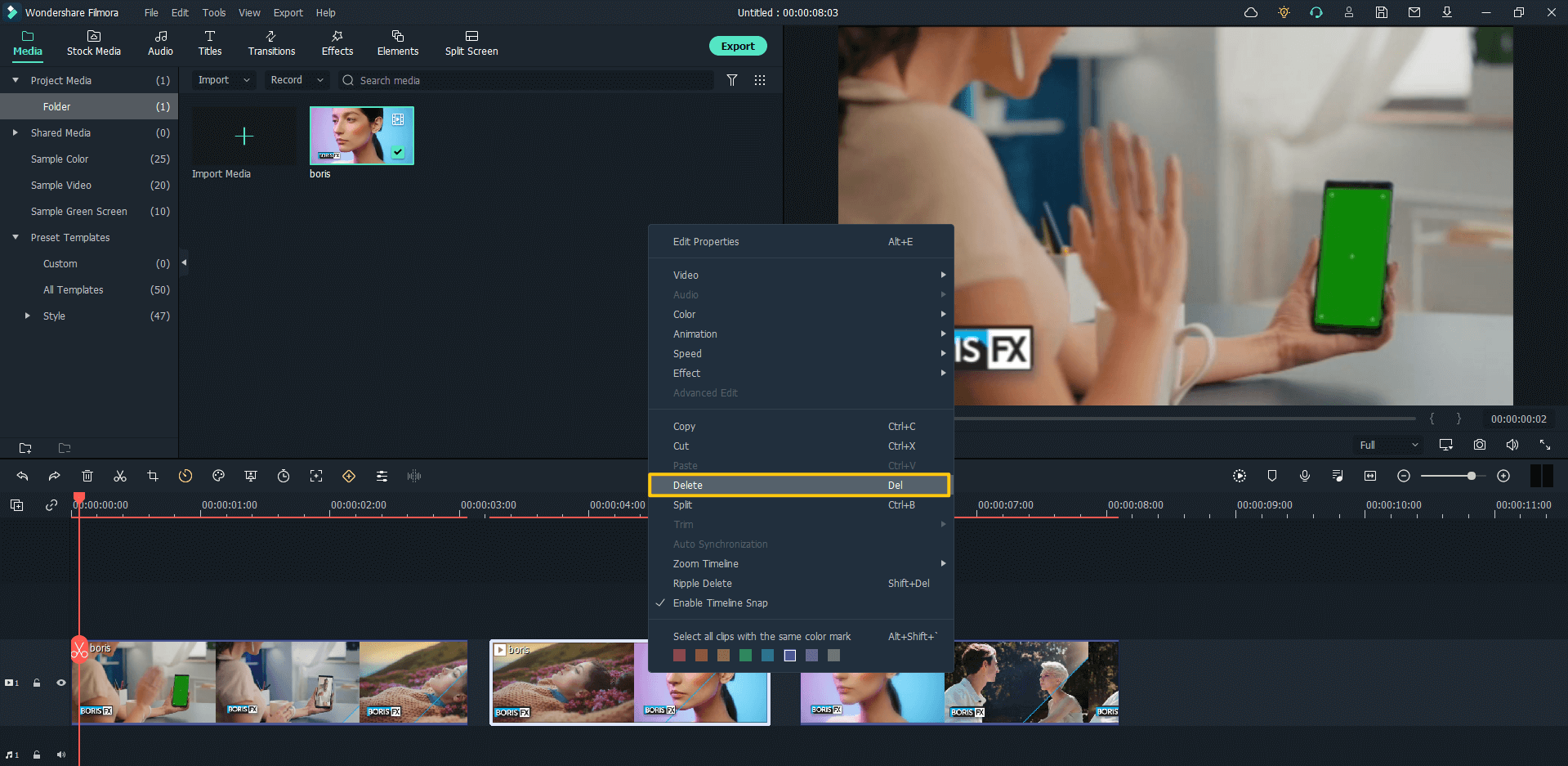 Step 5. Export the video
Then, click the Export button to export it. You can choose from the following format:MP3, MP4, AVI, MOV, , WMV, F4V, MKV, TS, 3GP, MPEG-2, WEBM, GIF.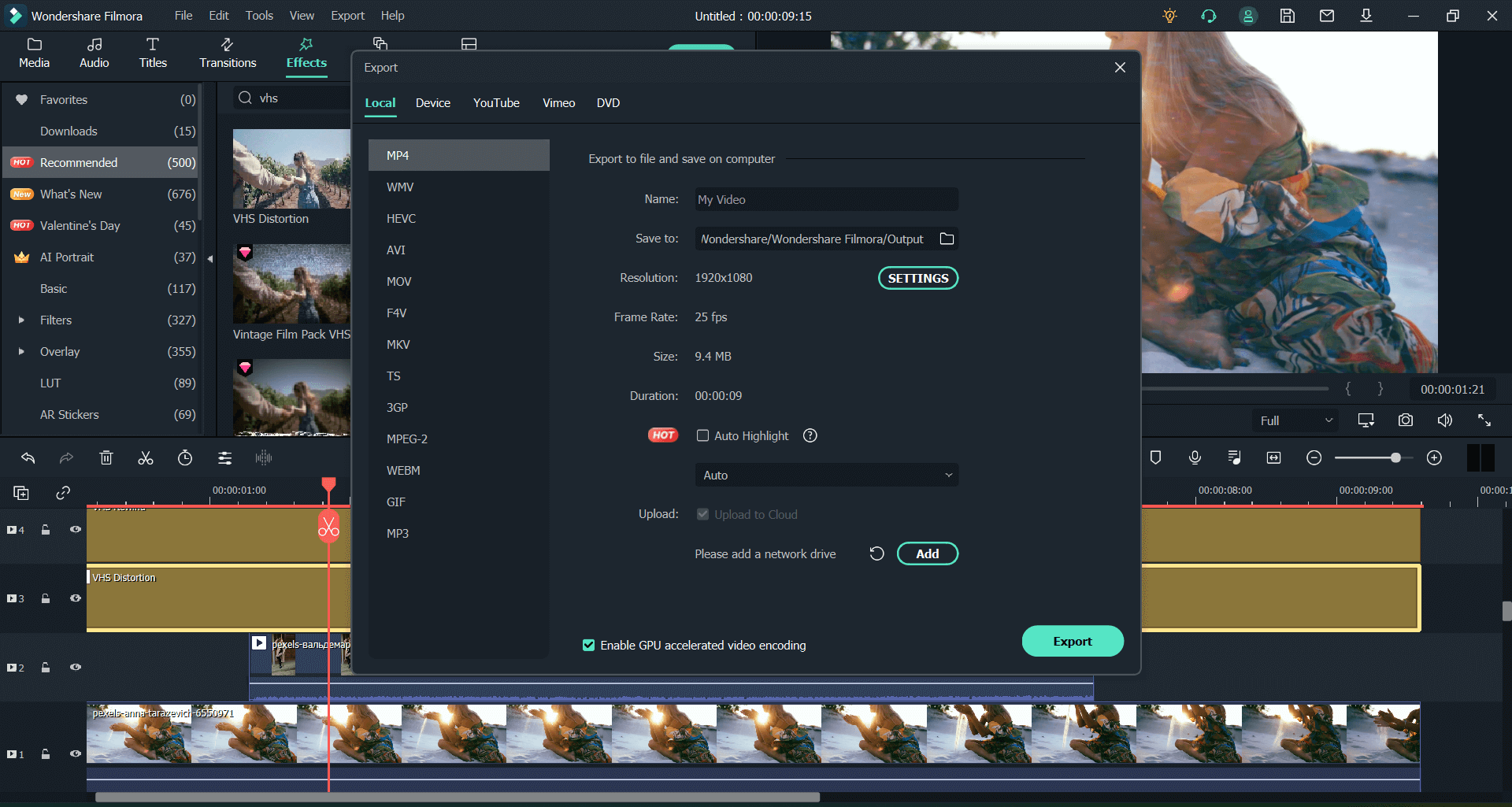 ---
Part 3. Can You Cut Your YouTube Video Directly After Published
Many YouTube users have lived in a world where editing of published YouTube videos required that you pull original video for offline editing. However, this is undesirable because it is time consuming and the video ID would definitely change. This means that all previous links or embeds becomes outdated. Cutting video directly after publishing on YouTube is a nowadays easier than expected. Thanks to the inbuilt new YouTube video editor tools. Follow the steps below and directly cut your published YouTube video, or check the detailed guide on how to cut and download YouTube video now.
Step 1. Sign-in
Use your browser to sign-in into your YouTube account.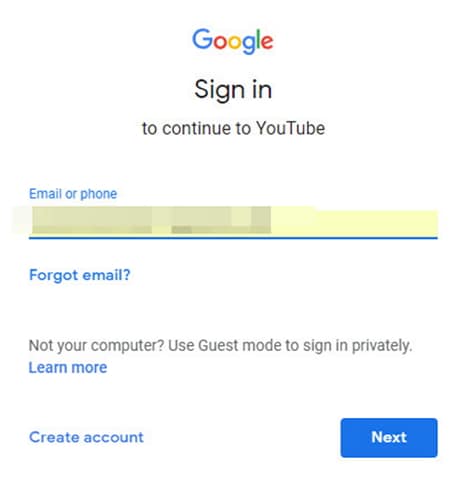 Step 2. Identify the Video to Be Edited
Once signed in, navigate to My Channel > YouTube Studio. Select "Videos" to display the list of all the videos uploaded in your account. Now select the video you would like to edit.
Step 3. Cut Your Video
Click the target video to view all the details about it. Go to the left side of the interface and hit "Editor" to display the YouTube video editor interface. Just drag the slider on the timeline and cut your video to the desired size.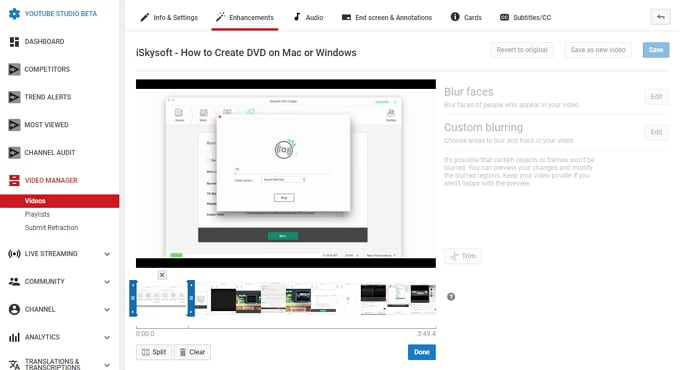 Step 4. Save Edited Video
Once you are satisfied with the editing, simply hit the "Save" tab and your video is republished without altering the ID.
---
The Finish Line
From the information provided, you can clearly see that the era of expensive YouTube video upload is gone. Everything now has been brought closer and cheaper than you ever thought. In fact, you can edit a YouTube video (even it is already published) with minimum time and energy and never having to incur any expenses for paying an expert with right YouTube video cutter online. Just create an account and always make use of the online video cutter for YouTube to perform several video editing depending on your need.
If you're interested in Filmora, watch the short clip below to learn more about its new amazing features. Then, start your journey of creating!