Online solutions are always simple yet effective, that's why you are easrching for online video cutter when you need to shorten videos or chop off unnecessary content in your video. There are dozens of online video cutters and trimmers in the market, how to measure whether the online tool you choose meets your requirements?
3 basic but important criterions you need to remember.
1. Free online video trimmers are better than non-free ones. Online tools are all basic video editors which only support to cut videos, if you choose a non-free online tool, you had better to get a professional and functional video editor like Filmora Video Editor.
2. Check whether it is compatible with your browsers.
3. The most important thing is that you need to check and sure that the online website is safe, all in all, you have to upload your own videos to their server.
To save your time, we collect the best 10 free online video cutter websites in this post.
Part 1. The 5 Best Free Online Video Cutters
Do not cry over missing your favorite video cutter when the following five are in the market and ready for your consideration:
#1: Aconvert Online Video Cutter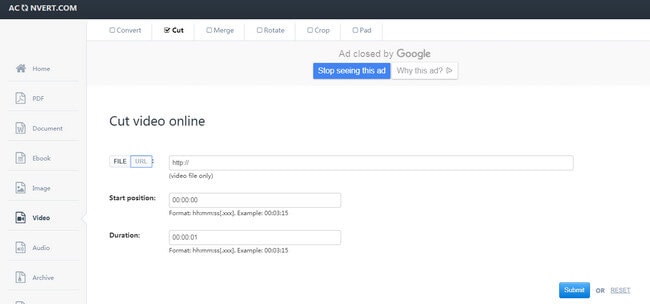 Aconvert Online Video Cutter is a free solution for cutting your video without downloading. With this online video trimmer, you can import up to a 200MB video, select the start position and duration of the video, then save your cut video. This is still a large file size capacity, and the site has many other useful features to help edit your video.
Price: Free
Pros:
Supports both local file or online video source;
This online video cutter supports large amount of video formats.
Cons:
Video file size can only be up to 200M.
---
#2: Video ToolBox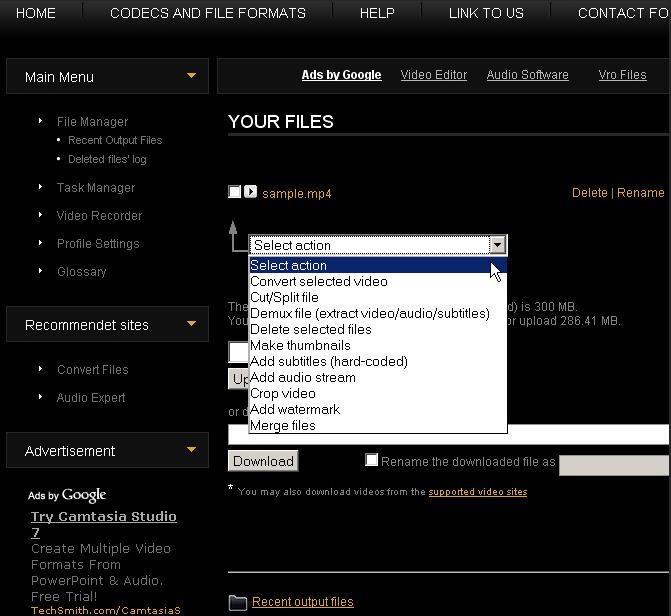 Video ToolBox free video cutter and editor has an advanced file manager that will allow you to download as well as upload your video files to other online sites. Add watermarks to a video file using this editor in addition to other basic editing tasks like merging and cropping. It is more flexible because you will have the choice of using an advanced or simple mode of the editor. Furthermore, it supports a wide variety of file formats.
Price: Free
Pros:
Processes videos up to 300MB file size;
Video conversion for major formats.
Cons:
---
#3: Pixorial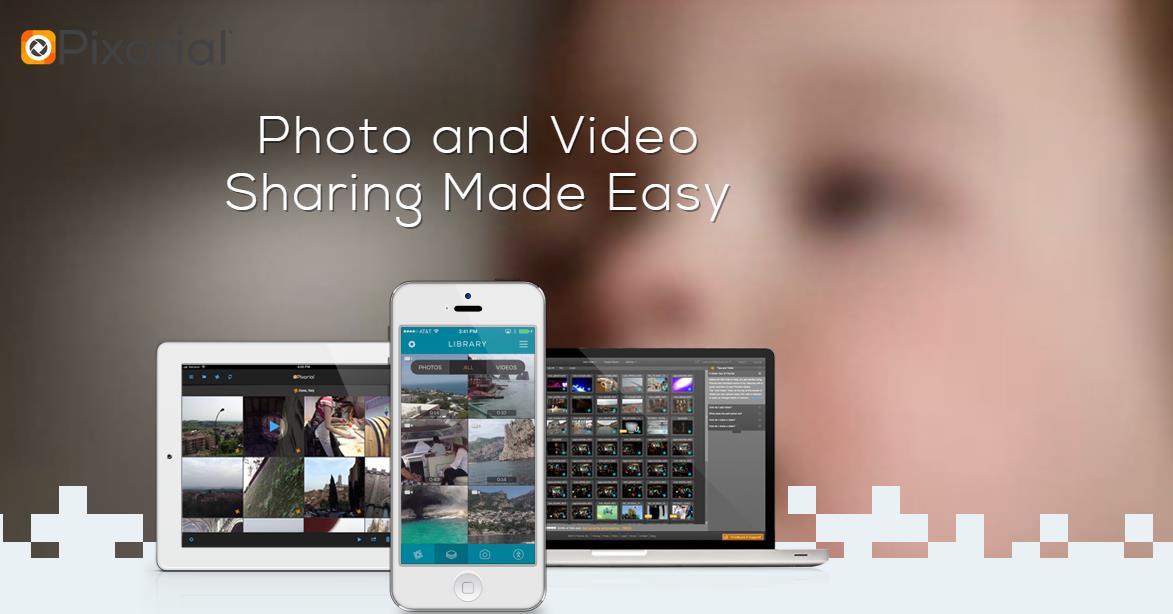 Pixorial free online video cutter offers collaborative video editing experience like you have never had before. This will include trimming and combining of different video clips in addition to creating titles, texts, adding music and credits. The biggest advantage of Pixorial is that you will enjoy up to 500 music tracks that are royalty free.
Price: Free
Pros:
Easy to personalize and transform videos into high-quality productions.
Cons:
---
#4: Cellsea Video Editor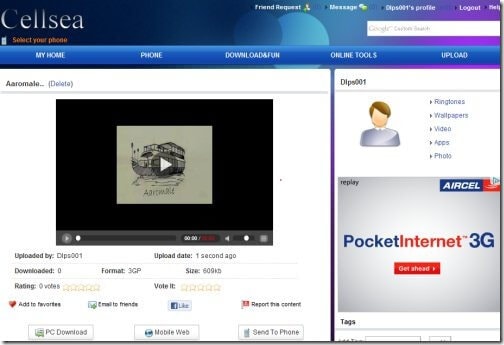 Cellsea Video Editor free online video cutter allows the uploading of videos from a computer system and sites like YouTube. It has several customizing options for video editing that you will enjoy.
Price: Free
Pros:
Offers flexible editing options including cutting.
Cons:
Maximum file size is 25MB.
---
#5: FileLab Video Editor

The biggest benefit of using this video editor is its easy interface that comes with user friendliness for you to cut video. You will be able to perform common editing tasks like mixing of vides, rotation, merging, splitting and cutting videos free. It allows for the addition of video overlays and privilege of setting their right direction, position and transparency.
Price: Free
Pros:
Professional video editing options with lot more effects;
Supports all key video formats.
Cons:
---
Part 2. Top 5 Online Video Cutter for Large Files
Lots of online video cutters have file size limitation. So it's better to use a desktop software to cut large video files. But if you still want an online video cutter for large files, you can try:
#1: Clipchamp Online Video Editor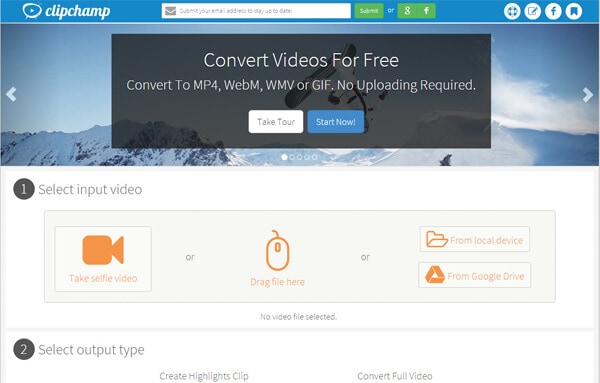 Clipchamp Online Video Editor is a professional in-browser video cutter online without downloading. With this useful online tool, there is no file size restriction. It also has other useful features besides its in-depth cutter, such as video optimization, and online sharing capabilities. Online Video Editor has different pricing plans, but you can select the free one and trim your videos with no problem.
Price: Free for 5 videos per month
Pros:
No file size limitation;
Lots of video editing options.
Cons:
---
#2: YouTube Video Editor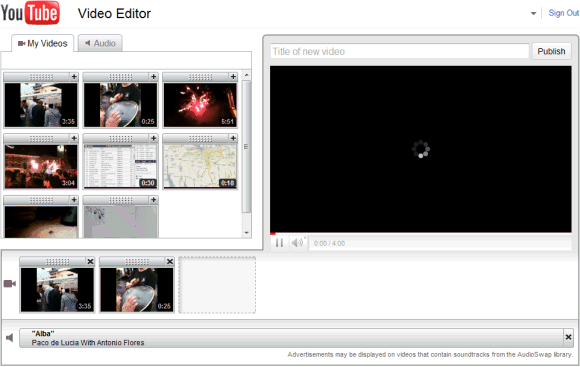 YouTube Video Editor video cutter online tool is designed for editing videos to upload on YouTube and has limitless features that you can enjoy. There are special effects to help enhance the looks of your video; the blurring tool will help you safeguard privacy of your video while adding a soundtrack to your video is very easy. If you have multiple video files and want to combine them for a single file, this editor will help accomplish that.
Price: Free
Pros:
The YouTube video editor is easy to learn.
The YouTube video editor processes video quickly.
Cons:
---
#3: WeVideo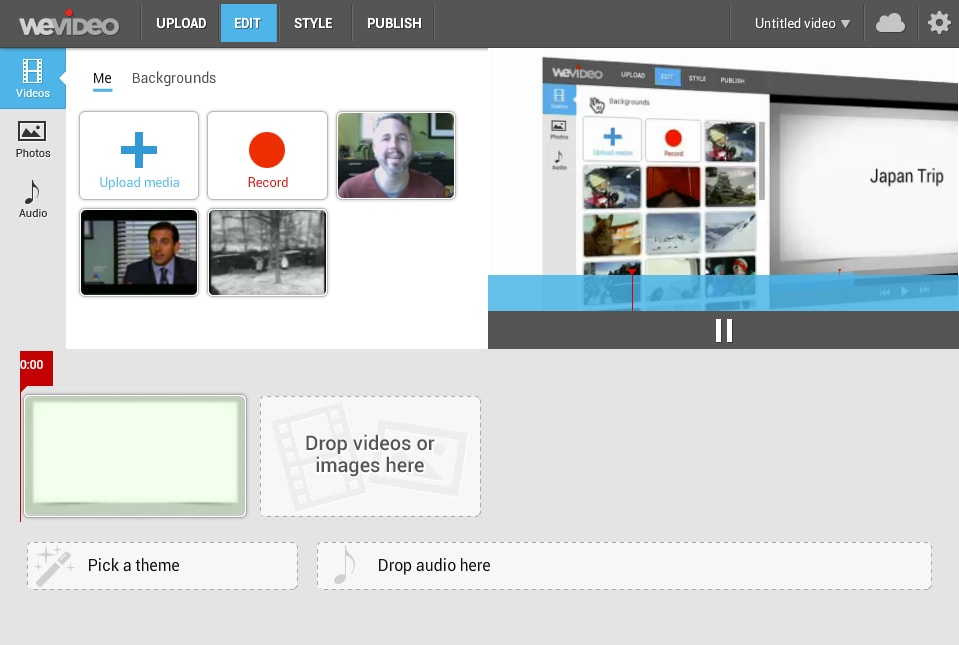 You will get WeVideo as a premium and free version but you should go for the latter to save costs. A comparison of the two versions will reveal very minimal differences in terms of features and benefits to gain from its usage. Its online storage capacity stands at 1GB and has support for almost all video file formats. There are few limitations you will experience with this free version. Resolution is pegged at 360p for videos while exports are restricted to 15 minutes in playtime per month.
Price:Free
Pros:
Very easy to use.
Personalized video editing options.
Cons:
---
#4: Online Video Cutter

Online Video Cutter is a free online video trimmer created by 123Apps. With this video cutter online, you can import your files, cut, adjust, and save them. This service allows you to upload up to 500MB of footage, which is plenty to cut any of your videos.
Price: Free
Pros:
Very easy to use.
After uploading your file, you can choose the quality and format of the output file.
Cons:
---
#5: Youtube Cutter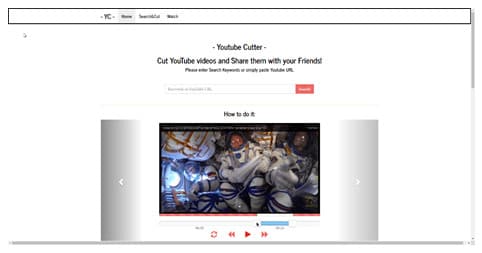 Youtube Cutter is a free video trimmer online that allows you to cut uploaded videos on YouTube. It has a very simple user interface where you search or paste a video, and use the built-in tools to trim your video. It uses a beginning and end slider bar to let you customize which part of the video you want to trim.
Price: Free
Pros:
Cons:
Supports only YouTube videos.
---
Part 3. The Excellent Desktop Video Cutter - Filmora Video Editor
Sometimes, you may want to add more effects on videos. If what you still prefer to combine and rotate videos, apply PIP, Mosaic and other special effects, what you need is more than a video cutter. What's more, you have higher requirements for video quality, you wish to cut videos without losing quality. For this purpose, I will recommend Filmora Video Editor for Windows (or Filmora Video Editor for Mac) to you.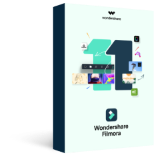 As a trusted and useful program, it supports hundreds of video and audio formats.
It allows you to cut, combine, add filters, transitions and other cool effects to your video.
It combines multiple effects by applying PIP or splitscreen effects.
Saves your final video to any format quickly or upload to social network sites like YouTube and Vimeo directly.
...
How to use Filmora Video Editor to cut your videos? The guide can be included in 3 steps:
1. Import video clips and drag it to timeline;
2. Click on the video and drag the slider to the right place;
3. Click the scissor icon.
Done! You can export the cutted video to your own device like iPhone, Android or PC.
Write in the End
There are 10 reliable online video cutter and one professional video cutter listed above, have you selected one satisfy you? To help you to make a right decision, I have some suggestions.
If you just want to trim and cut a video, I think the 10 free online video cutter without downloading could meet your demands.
If you want to create an attractive and stylish high-quality video, it's obvious that video cutter online is not the winner to you. You can choose to use a professional video cutter and trimmer like Filmora Video Editor, Adobe AE, Final Cut Pro, etc.
Anyway, all of these methods could help you to split the video into parts online and cut videos online fast, I believe that you can make a satisfactory video. Good Luck!