The great moments and good memories we have experienced are what gives our life meaning. Imagine being able to replay those moments and memories, not just in our minds but on a screen. That is one of the coolest perks of technological advancements.
Technological innovations like the 8mm video players and camcorders have helped us to catch the best moments of our life on a 8mm cassette and relive those moments. Even though the technology is a bit outdated, the 8mm components have helped a generation to capture videos, convert it into different formats, and edit them according to their needs. This was the one of the first steps in the media industry which enabled every person to enjoy a personal video recording experience.
Can't Miss: The 10 Best Video Player Apps For iPhone You Should Know.
Can't Miss:The 15 Best Video Players for Windows Available in the Market.
What is an 8mm Video Player?
Before start, let's take a look at what an 8mm player is (I believe most young people have no idea about it).
An 8 mm video player is an electronic device combining a video camera and a videocassette recorder that an 8 mm video cassette is compatible with. The video cassette will have videos recorded through a camcorder and the video player helps in the playback and editing of these videos. Because it only supports 8mm video format, that is, videocassette formats, so its image/video quality is retro, with a unique nostalgic style, allowing you to relive the warm feelings at the end of the last century.
This is a unique and memorable video player that is worth collecting. There are very few 8mm video players on the market. Keep reading and learn about the high-quality 8mm video players/camcorders that are still on sale now!
10 Best 8mm Video Player Equipment in 2020
Here we have listed some of the bestselling 8mm video equipment which can now be bought from Amazone.com. All these products are a bit old and the production of some of these products have been stopped. But if you have a collection of 8mm cassette players and you wish to play, edit or convert the content of these cassettes, then you have come to the right place.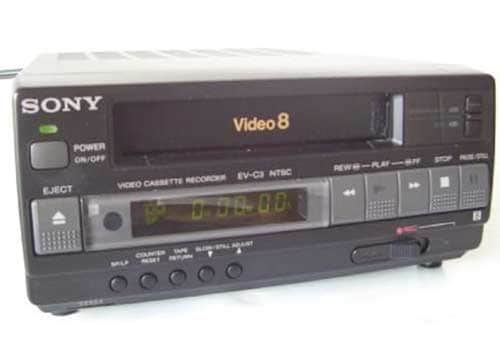 The Sony EV-C3 is a very compact and rugged product of Sony which can play any type of 8mm analog tapes. It is one of the perfect choices to convert these 8mm video cassettes into DVD if you wish to preserve the videos for a longer time.
Key Features
• 

Can play SP and LP tapes;

• 

NTSC color system type;

• 

No built-in monitor.
Price on Amazon: $499.99
---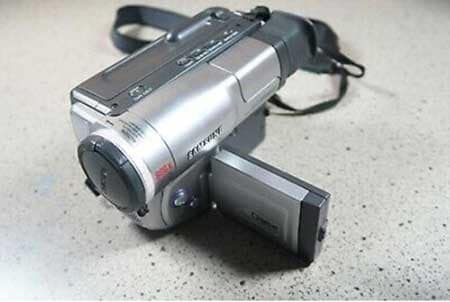 The SCL700 of Samsung is a comparatively small device loaded with a lot of features and functions. It has a 2.5 inch clear display and does not weigh much, which makes it easier to carry around. The sound clarity and picture quality are also good.
Key Features
• 22x optical zoom, 880x digital zoom;
• It has inbuilt effects like sepia, black and white, mosaic, wide, 16:9, etc;
• Video light;
• Multi-system video output;
• NTSC and PAL playbacks.
Price on Amazon: $259.99
---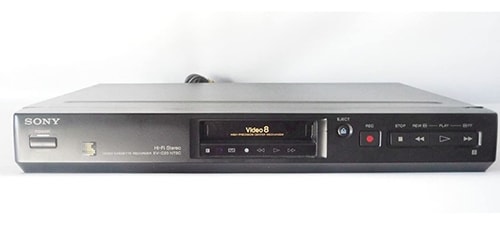 The Sony EV-C20 VCR offers amazing video playback and has features including 8mm player, Video8 and Digital8. It has a stylish and sleek design and comes with a remote and A/V cable.
Key Features
• Can play all video 8 tapes;
• Has a fast rewind and fast forward option;
• Brilliant picture quality;
• A heavy-duty mechanism which ensures durability.
Price on Amazon: $449.99
---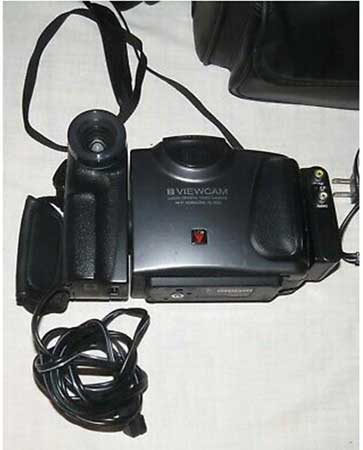 The Sharp VL-E33U is a black sturdy device that comes with remote control. It is a wider cam when compared to the Sony cameras in the market and competes in Video clarity and quality of the Sony camcorders.
Key Features
• 3-inch full-color LCD ;
• Helian type scanning system, 2 rotary heads;
• 8x power zoom;
• MP type 8mm video tape;
• Offers 120 minutes of recording time.
Price on Ebay: $119.99
---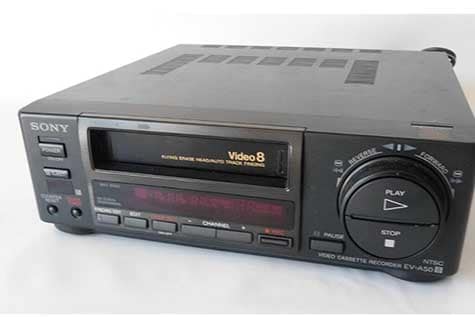 The EV-A50 is one of the best products of Sony that guarantees high-quality playback of 8mm videos. These are also one of the best products that can be used to convert 8mm videos into DVDs, which is known to last longer.
Key Features
• Compact but rugged 8mm VCR;
• 4 Head;
• Syncro edit and auto-tracking;
• Voice boost pause;
• Control L and Control S;
• RF in RF out;
• Perfect for transferring video to DVD.
Price on Amazon: $445.00.
---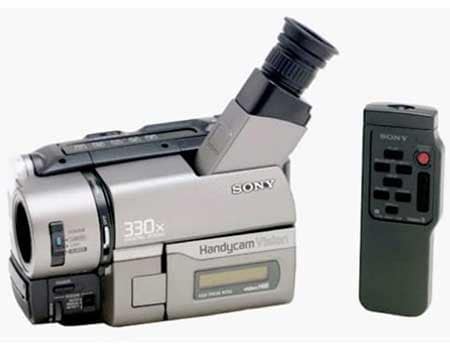 The Sony CCD-TRV57 8mm/video8 is an analog NTSC camcorder with an A/V jack. This product comes with an AC adapter, A/V cable, and a stylish remote control for easy operation.
Key Features
• 8mm camcorder with a remote;
• A swivel color LCD screen of 2.5-inch;
• 360x digital zoom, 20x optical;
• Steady Shot image stabilization;
• Night Shot 0-lux shooting.
Price on Amazon: $225.00.
---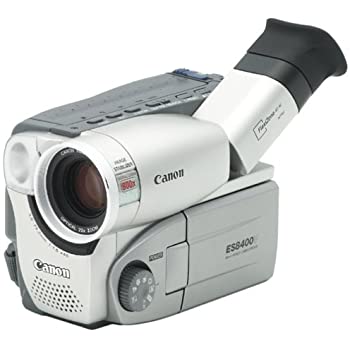 The design and colors of the VL-A110U Sharp camcorder make it stand apart from other camcorders. The design and built offers durability and an appealing appearance to the product. This 8mm video cam comes with LP and SP modes.
Key Features
• 16x optical zoom;
• Sensor resolution – 270 KP;
• Optical sensor type – CCD;
• Programs available – sports mode, moon, sunset, and part/indoor;
• Included special effects - black and white, solarization, negative and sepia.
Price on Amazon: $309.00.
---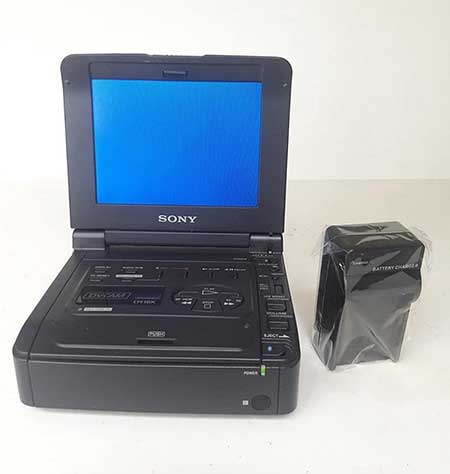 The Sony Dsr-v10 is an amazing video Walkman that can easily be held in our hands. It has a 5 inch LCD and built-in speaker and can play any tapes recorded in the Sony camcorders.
Key Features
• 5 inch LCD screen c;
• Has an RCA A/V jack;
• S video jack and a DV jack (or firewire port);
• Compactable with tapes of Sony DCR-TRV series, DCR-VX series, DCR-PC series, DCR-HC series, and DSR-PD series;
Price on Amazon: $485.
---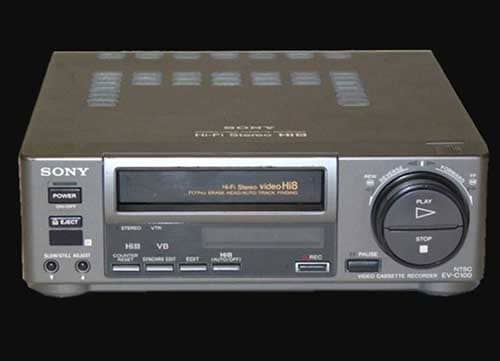 The EV-C100 video cassette deck is an amazing choice for watching and editing the videos you have captured in your camcorder. Hi8 recording delivers more than 400 lines of horizontal resolution, improved signal to noise ratio, and a video master that maintains higher image quality through multiple generations of editing and dubbing.
Key Features
• Record and play 8mm and Hi8mm - NTSC system;
• Delivers 400+ lines of horizontal resolution;
• Better signal to noise ratio;
• AFM hi-fi stereo recording;
• Voice Boost audio system;
• American TV Standard.
Price on Amazon: $475.
---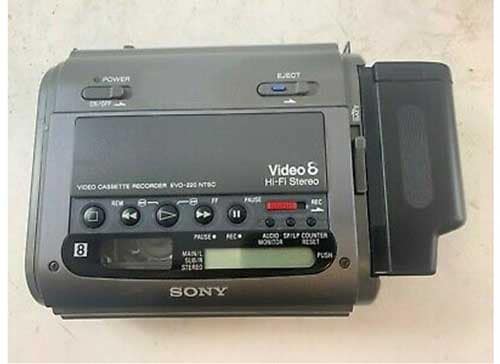 The Sony EVO 220 is a box-shaped product of Sony which helps in the playback, recording, and editing of media. This device easily helps to convert 8mm videotapes into DVDs, which have a chance of lasting longer. This device comes with a strip-type black and white display.
Key Features
• Quasi Hi8 tape playback;
• Automatic switching between Video/Audio In/Out according to the operation mode;
• Quick start function with 2 seconds from Start to Record;
• AFM Hi-Fi stereo recording capability;
• Video recording system - Rotary 2 helical scanning FM system;
• Playback time – SP mode 2 hours 30 minutes.
Price on Porter Electronics: $399.99.
---
Conclusion
The above listed are some of the products that are compactable with 8mm cassette players. The camcorders listed above can be used to capture quality videos on the 8 mm cassette and the video players and decks can be used to play and edit these videos. These products also have many features that can be utilized for video editing purposes. Some of these products can also be used for the conversion of videos on the 8mm cassette into DVDs which will preserve your beautiful memories for a longer time.