Mac OS X El Capitan is the 12th edition release of Apple's OS X, for Macintosh computers. The first Beta version of this OS was released to computer creators earlier in 2015. However, the upcoming version comes with a number of upgrades that focus on better performance, stability, and enhanced security. El Capitan was named after a famous California rock landmark and it is a rock formation located at the Yosemite National Park. The Beta version of the Mac OS X El Capitan will be released later in fall of year 2015 and users will have a free Upgrade right from the Mac App store.
10 New Features and Refinements of Mac OS X El Capitan
#1. New Super-efficient Metal API
The newly introduced "Metal" feature has brought tremendous refinement to the Graphics on Mac OS X El Capitan. The Graphic processor has become super-efficient and more flexible, thus you can maximize your graphics and the way you use your apps. The new Metal has provided a better stream-lined API alongside new features such as shaders and excellent support for multi-threading. The enhanced performance and richer graphics brought about with the new Metal feature helps load graphics and apps faster and better.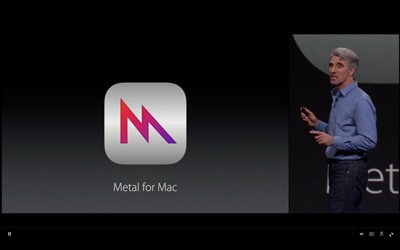 #2. Split Screen Desktop
One of the coolest new features you can find on Mac OS X El Capitan is the ability to split your screen in two equal halves. You can manually resize your apps and have access to multiple pages at the same time. The new split-view mode is quite similar to the Windows' Snap feature, and it allows you to work with two apps at the same time side by side. With a Split screen, you can multi-task more frequently.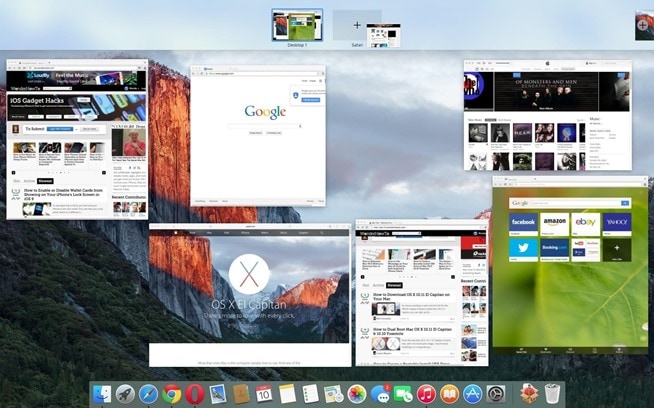 #3. Newer Version of "Spotlight"
The new Spotlight feature on Mac OS X El Capitan is simple to use, with lots of search enhancements that gives you fast access to apps and other contents on your computer. The newest version of Spotlight on Mac OS X El Capitan will provide cleaner search results, especially when you search on the Internet for public transport, weather, sports news, and even stock market analysis. You can even search for documents you type on certain dates and get the exact document.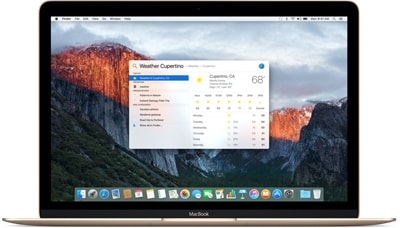 #4. Mail Swiping Feature
You don't have to prune your emails down until you have zero mails in your inbox any longer, the new Mail swipe feature on Mac OS X El Capitan allows you to swipe to the right and mark your emails, or simply swipe to the left to delete the emails. Mail swiping also ensures that you glance through emails within seconds.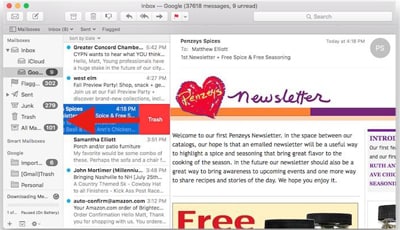 #5. Enhanced Maps
The newly designed Map reader on Mac OS X El Capitan is mighty in nature. The latest upgrade to maps on Mac OS makes it easier for users to access directions, and even detailed public transportation. The map also provides transfers and directions based on the target and arrival time you input in your description. This feature allows you to port directions generated on your Mac computer to your IOS device such as iPhone. With enhanced maps, you can see details of places you want to go or visit.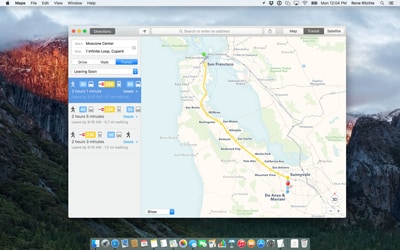 #6. Bigger Cursor
The cursor on Mac OS X El Capitan is quite larger than what you are used to on Mac OS. You don't have to get confused on the Trackpad again, especially when you are searching for the cursor. One of the newest upgrades on the Mac OS X El Capitan is that the mouse point gets bigger when you booth up your computer thus it becomes plain visible. With a bigger cursor, you can magnify smaller texts and images.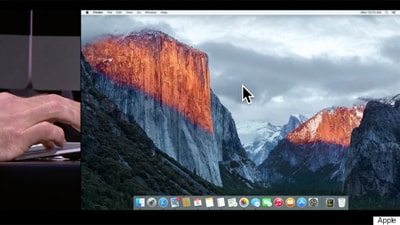 #7. Mute Noisy Tab from Safari
One of the integrated features on Chrome has been embedded in the new Safari offered on Mac OS X El Capitan. There are thousands of tabs around and the new Safari will help you detect which of them is creating noisy background. With the new Safari, you don't have to touch your desktop volume before muting any or all the tabs.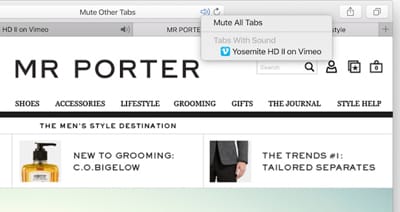 #8. Richer Notes
The new Notes app inside Mac OS X El Capitan works similarly with the "Evernote" app. The app performs a number of tricks and these include: allowing you to add images, videos, maps and even notes to your maps. This option will also help you create a number of interactive checklists while allowing you to sync any type of note on all your Apple devices, including your iPhone and Apple Mac notebook.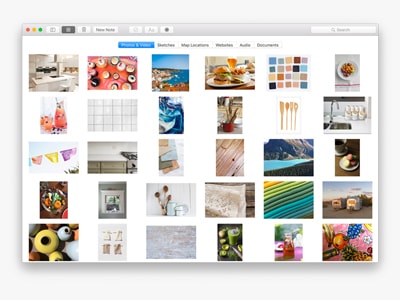 #9. Site Pinning from Safari
The new Safari on Mac OS X El Capitan allows you to pin different sites. The new Pinning feature allows you to Bookmark websites, and the pinning is uncluttered and very clean in arrangement. When you pin a website from Safari, a Chiclet drops together with a logo at the far left side corner of the Safari tab. With this new feature, you don't have to worry about entering website URLs manually when you bookmark. Site pinning allows you to keep track of your favorite websites and you can access them at any time.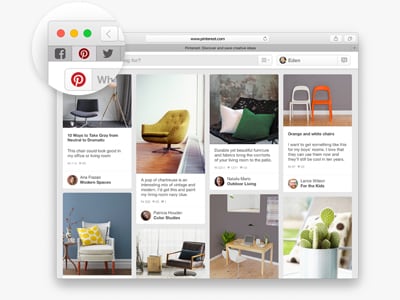 #10. Swift 2 Technology for Programmers
Regardless of whether you are an entry level programmer or a professional, the brand new Swift 2 technology makes writing code much easier. This feature comes with a super-lightning application, and its innovative programming language makes it ideal for Mac OS devices. The latest Swift technology is the "Swift 2.0" version and delivers other services such as code error handling, code availability checking, and plenty enhancements on the Syntax. The apps you write on Swift 2 are guaranteed to reach wider audiences all across the world. The latest Swift 2.0 has been released by Apple as an open source.