"I have always yearned to create videos or photos that mimic my presence in some surreal scenes. I have perennially heard droves of media experts argue that there are quite some excellent programs out there capable of engineering green screen creation.
However, the crux of the matter is my desire for a green screen online editor because I am inseparable from the internet. I need someone to kindly guide me on the best green screen online app to carry out green screen creation." - Message from Filmora Support Center.
Have you ever met a situation as above, or do you have the same trouble as the above user? If so, then you've been the right place. In this post, I'd like to take 10 advanced green screen online editor for your reference. You can compare them and decide which one is better according to your own needs.
[Bonus] Looking for the best green screen software? Let's have a look at the seven advanced yet free green screen video editor software.
Now, let's drive into the right section soon.
PART ONE. Top 5 Free Online Green Screen Video Editor
Wevideo is arguably one of the top green screen editor online worth highlighting. The program features tons of useful video editing capabilities. You can simply create stunning videos in a minute and can access hundreds of thousands of video clips.
Pros:
With this program, users can access an innumerable number of licensed videos for editing.
WeVideo features an intuitive interface, and thus users get along well with it.
This program is quite fast. You really don't have to wait for long to upload your video clips.
The program supports a wide range of video formats.
Cons:
You need to sign using a Facebook account or Google account to use it.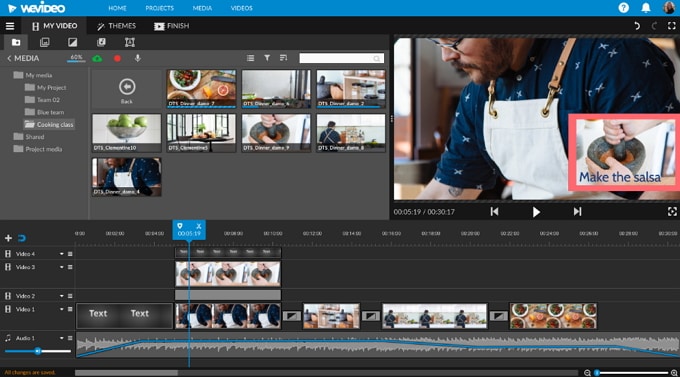 ---
Movie Maker Online is genuinely an excellent free online video editor with lots of useful features suitable for many video editors. It not only supports video but the image and audio editing. Upload your favorite video and make use of several filters, then create an amazing green screen for the background of your video.
Pros:
The free online green-screen tool is enriched with a good number of editing features.
Cons:
The presence of ads can be a disturbing sight to many users.

---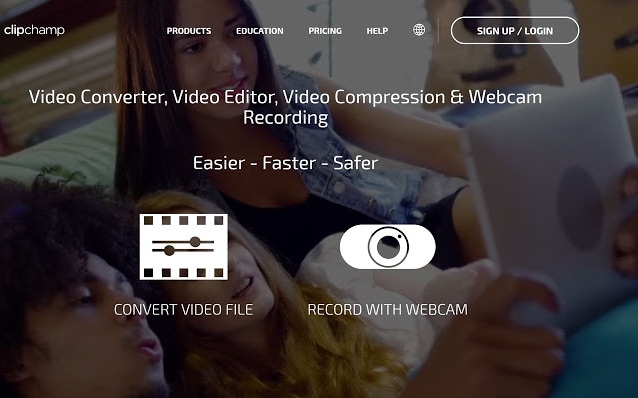 ClipChamp is an amazing online green screen video editor free with a host of useful editing tools. The basic editing tools include trim, crop, flip, rotate, merge, and adjust background, among others. The simple and well-designed interface makes the user navigation as easy. Even beginners would hardly come across challenges. Users can then share there edited videos on a variety of social platforms, including Facebook, YouTube, and Google Drive, among others. Remember, you can also record videos within the app and edit.
Pros:
The program allows direct sharing of edited videos.
There are a lot of relevant basic editing options.
Cons:
The program requires a strong internet connection.
---
Kizoa is indeed one of the popular green screen online editor. The program is comprehensive and handles all video edits virtually. You can make awesome integrated background videos in a few minutes and share it with your friends. There are several special effects that play a great role in shaping the appearance of your videos.
Pros:
This program is equipped with tons of editing features.
The program can edit high-quality videos.
Cons:
The program requires that you sign up.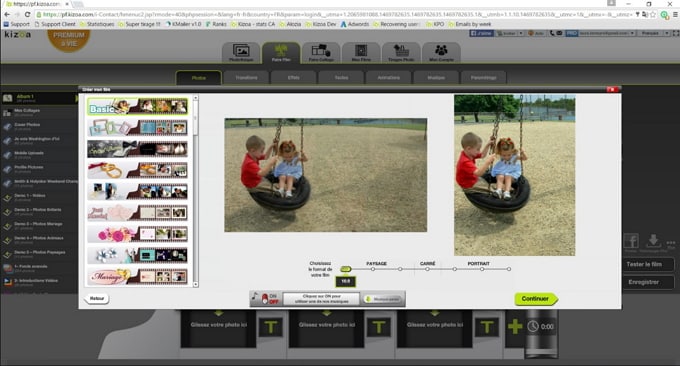 ---
Just as you would expect from a great video editor, Creaza is an amazing program with several interesting video editing capabilities. You can do several tasks with this program, even without the need for a third-party tool. Several functions have been integrated on the dashboard and can be accessed with ease. The four different editing tools include Audio editor, Movie editor, Mindomo, and Cartoonist.
Pros:
There are several editing functions which are merged on the dashboard for easy access.
There is a wide customization base.
The free online green-screen tool is not complicated.
Cons:
Any user must sign-up in order to get started.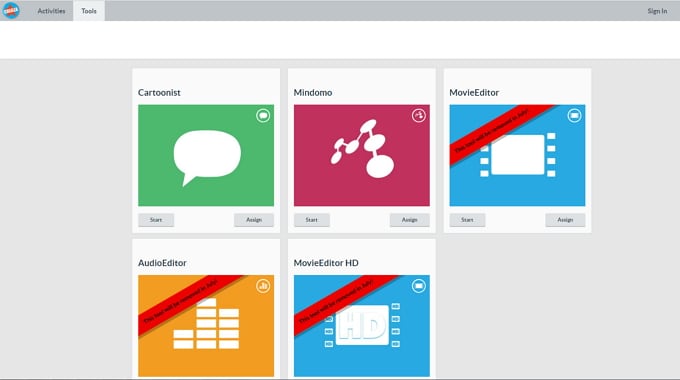 ---
PART TWO: 5 Best & Free Online Green Screen Photo Editor
LunaPic is a popular green screen online application that definitely brings fun in photo editing. You just need to visit the website and follow the simple, straightforward green screen instruction. With several awesome video effects, you are sure to create stellar videos from your computer or web URL with ease.
Pros:
LunaPic is known to support a wide range of image formats ranging from GIF, PNG, JPG as well as video formats like MOV, and AVI among others.
The program features a simple interface, and hence no expertise is required.
LunaPic offers tons of effects for enhancing your photos.
Cons:
LunaPic has a text-based only menu selection.
This program has a 20MB limit per file uploaded.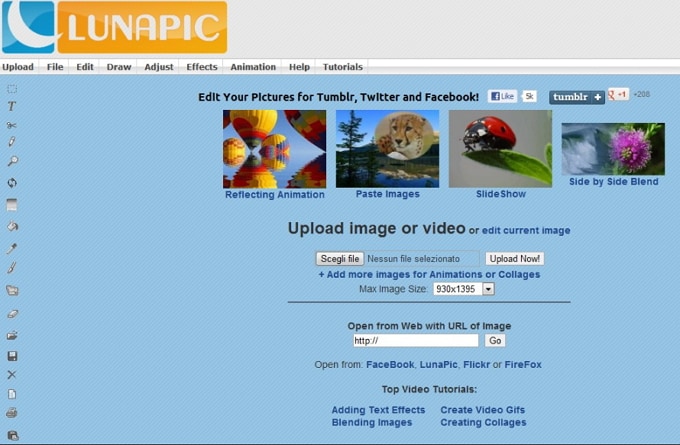 ---
Clipping Magic has since been an outstanding online green screen photo editor. The website has the capability to change the background of your image with simple steps. You just need to sign up and create your account from where you can perform image editing as per your need. You can adjust the background color and preview to check whether your edits are satisfactory.
Pros:
With this amazing program, you can remove your background and get a transparent one with just some simple few steps.
The program is faster.
Cons:
It has limited editing features.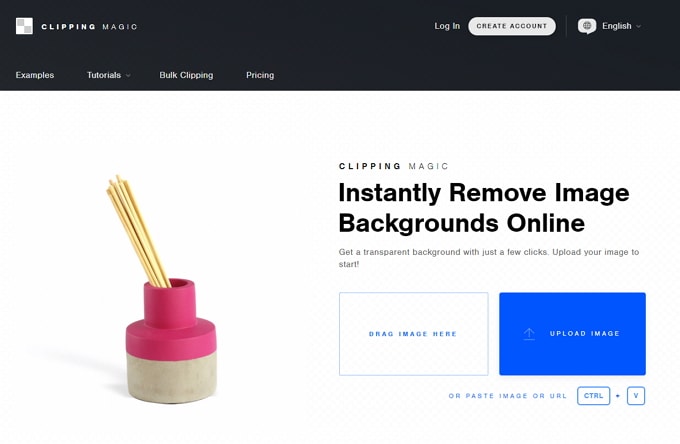 ---
This is definitely one of the best green screen photo editors online. The program is fast and supports a range of image formats. Apart from the green screen, there are several other great editing features, and I am pretty certain you won't miss. Make use of the preview feature to constantly check that your photo background appears as per your desire.
Pros:
PhotoScissor has a user-friendly interface, and thus users will navigate with ease.
With this amazing program, you can preview your editing to check that you don't deviate from the intended editing.
With this program, you can replace your background in less than a minute.
Cons:
Users need to sign up before getting started.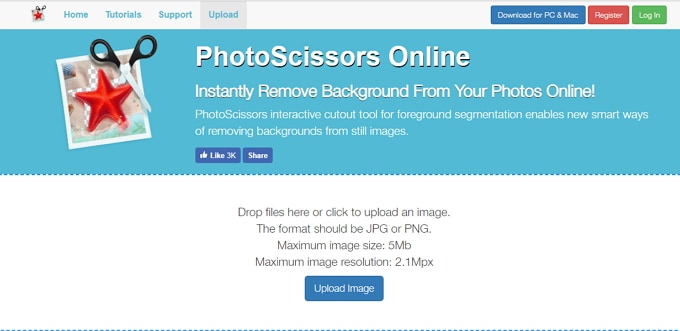 ---
<#4. Autoclipping.com
Autoclipping.com is an outstanding green screen picture online editor that allows users to remove background from photos and images for free. You can edit your videos with three simple steps and share them on Facebook, Twitter, and Instagram. Just navigate to the website and edit the image background to meet your need.
Pros:
There are plenty of editing options.
The program uses both green and red markers to make the background transparent.
Cons:
Users must sign-in in order to use the program.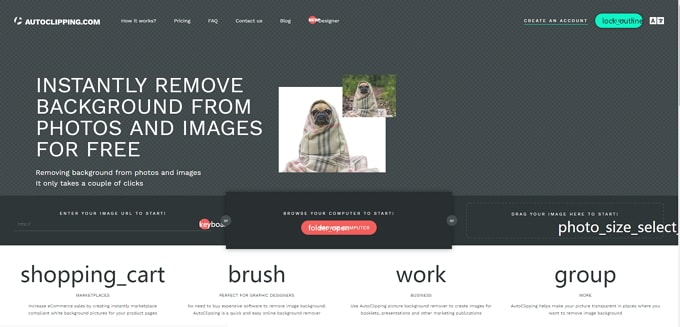 ---
#5. Malabi
This is a good free online green screen photo editor that allows users to remove background image and replace with the user's choice. The program requires that you create an account before being in a position to perform any editing task. The preview function is another great functionality that adds up to an already exciting list of edit options.
Pros:
This program is faster in terms of processing.
The Touch-Up button is a great feature.
Cons: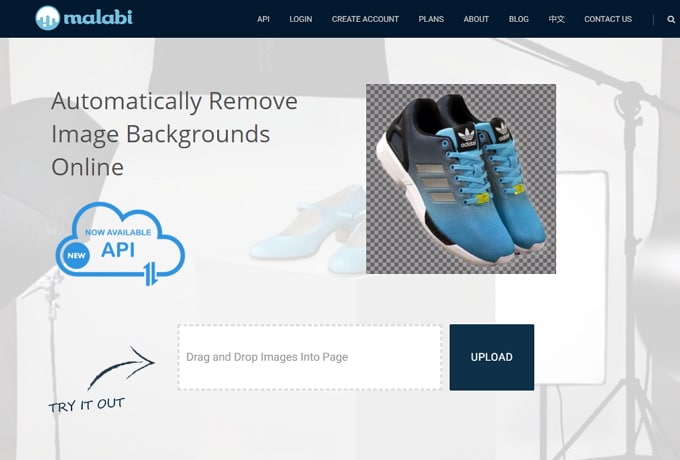 ---
PART THREE: Filmora Video Editor - The Best Green Screen Editor on Mac and Windows
Are you a Mac or Windows user and scouting out for the best green screen editor?
Are you tired of underwhelming yet incommensurate tools?
Cease the worry and let the cat of the bag. Filmora Video Editor for Windows (or Filmora Video Editor for Mac) is definitely the green screen app you have been looking for. The program is equipped with myriads of amazing video and image editing capabilities. The program is designed in such a manner that all types of users, regardless of expertise, can perform seamless editing. With a multitude of users garnered worldwide, it is definitely crystal clear that this is a program of its own kind.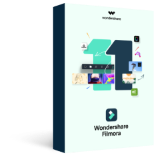 Best video editing software for beginner and semi-professional, that comes with powerful editing skills like trimming, splitting, rotating, editing, etc.
Advanced video effects like green screen, PIP, audio mixer, etc. can also be found and applied to your video within few clicks.
500+ free special video effects to customize and create an awesome movie by yourself.
1000+ standalone effects downloading resources to make videos in all kinds of styles.
Export videos to Chromebooks compatible format with 1 simple click.
Step by Step Guide on How to Apply Green Screen to A Video
Step 1. Import videos
Launch Filmora Video Editor and navigate to the primary window. Click the "Import" menu and select "Import Media Files" from the drop-down menu. From the file explorer window, choose the target video clip and click "Open" to upload to the program's media library. Remember, these clips include the desired background video and the video you wish to appear on the selected background.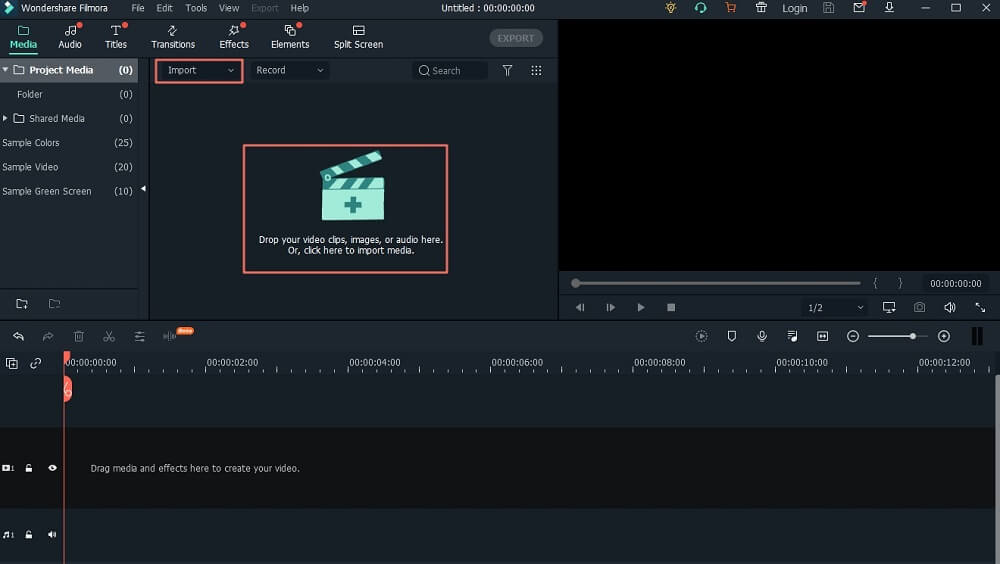 Now drag the uploaded video clips (you want to cut out some elements or portions) to the PIP track timeline, and drag and drop the background video to the timeline located at the bottom of the program. Carefully arrange the videos so that they appear together when you preview.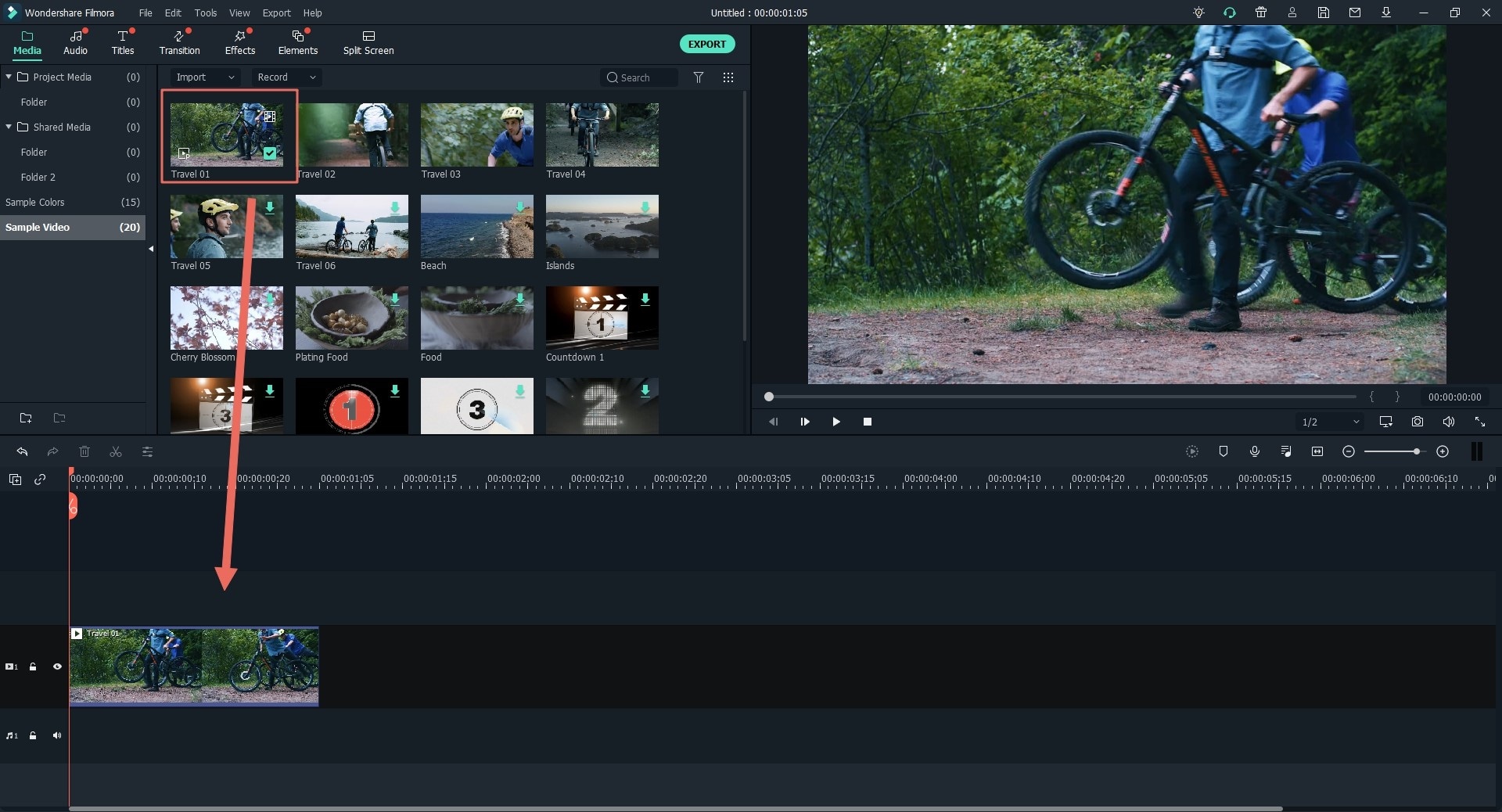 Step 2. Add Green Screen effects
Right-click on the video to be featured on the background and choose the "green screen" option.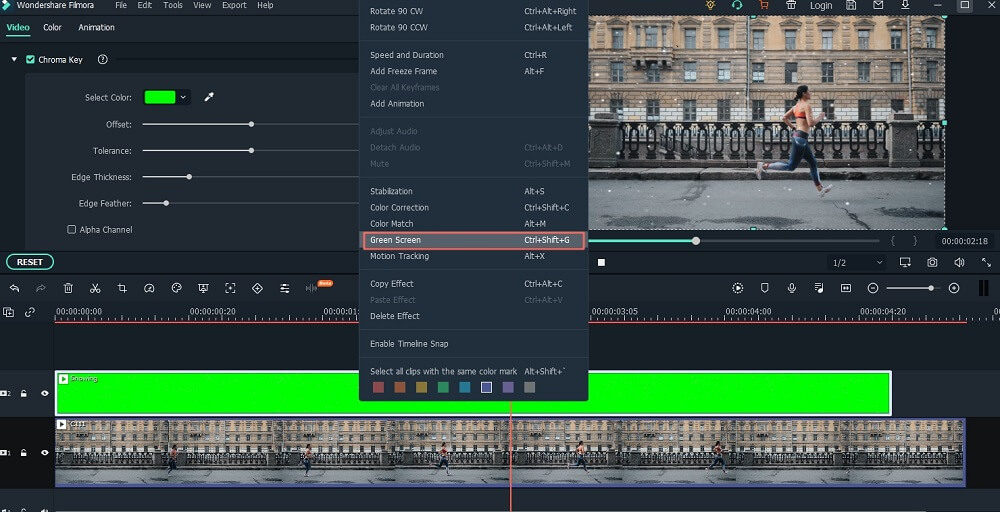 Then, you'll be taken into the interface as below. Specify the Chroma Key options and hit the "OK" button to save the settings. After that, you can find that the green screen background has been removed.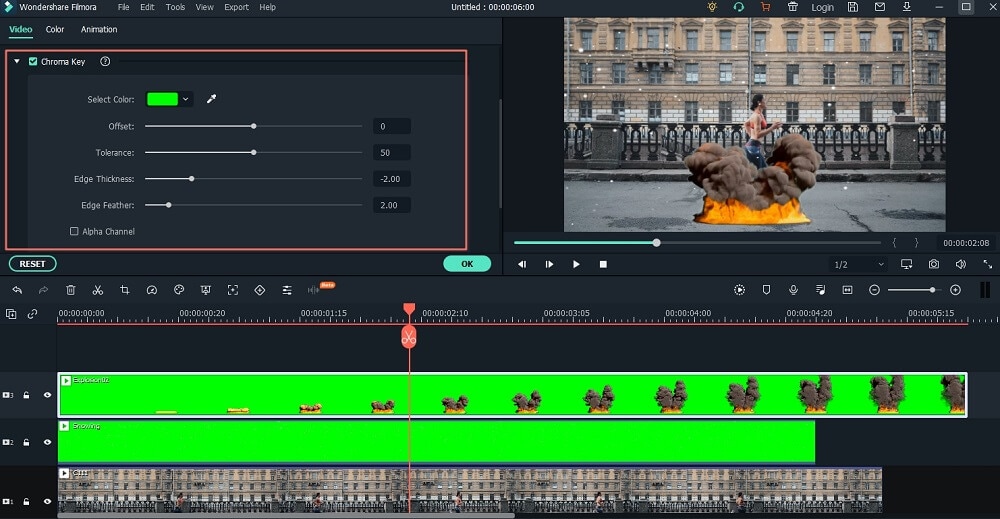 Step 3. Export videos
Navigate to the "Export" button to display the output window. Choose the desired output format, provide a suitable save location, and click "Export". The program will immediately commence compiling your edited video. Wait until it is successfully complete and trace your green screen video in the save location your're provided.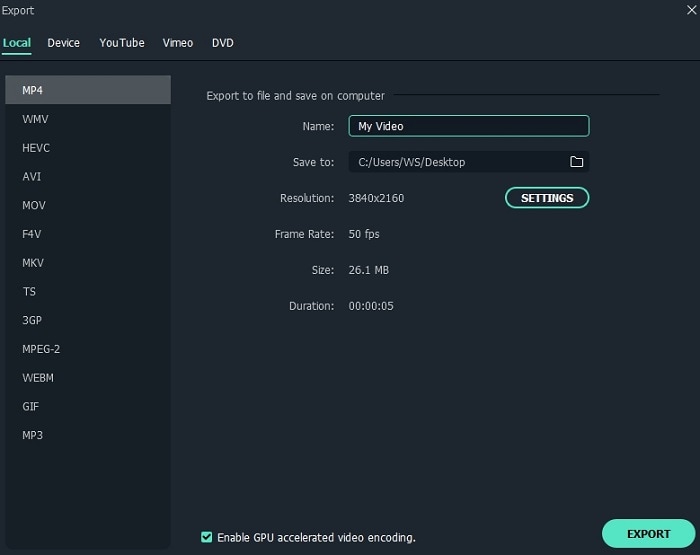 ---
The Finish Line
Green Screen is an amazing editing experience to scores of media lovers. However, with the right photo and video editor, you are certain to fully exploit and enjoy the entire editing process. As explained in this article, there are several amazing green screen online tools. Simply get yourself the software that suits your needs and pull the trigger.
If you don't know how to start your green screen video editing journey, I'd like to recommend to begin it with the Filmora Video Editor as below.