Due to the strict law, you are not able to play different region DVD on your computer. Every DVD player (that includes the one in your computer) is sold being able to play only discs with the same region as the country it was sold in. That includes Macs too, sort of. On a new Mac, the DVD drive is automatically locked to the DVD region code that is first used. From then on, this can only be changed four more times.
You pretty much have two choices — either find the DVD region code that you'll be using the most and set it to that one (since the four times are going to be used up sooner or later) — or "flash" your drive to make the DVD player in different regions, which goes with the risk of destroying the drive. Below are tips to play different region DVD on Mac (macOS sierra, EL Capitan, Yosemite and Mavericks included).
Simple Steps to Play Different Region DVDs on Mac OS X (EL Capitan included)
Step 3
Download and install VLC and open it, then select File > Open Disc.

Click on the Disc tab -> click on DVD -> select the device -> click OK (usually this is selected by default). The DVD will now play, and your region code will remain intact.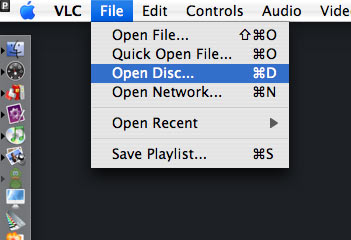 From http://creativebits.org/