Contents
Part 1. How to Upload Final Cut Pro Videos to YouTube
Final Cut Pro is a much known media editing software. It helps out in editing your favorite and memorable videos in an inspirational way. With sophisticated tools and pre-determined options for sound, graphics, color combination and other templates are of great assistance for the beginners. Customized editing options make it easier to deal with final cut pro. After editing a video many of the editors want to upload the final project on YouTube. For that considerable count of people who find it difficult doing this find, we have a step by step detail of uploading a video on YouTube.
Before we discuss the procedure of exporting the media files from your final cut pro to YouTube, make your head clear about that if you want to upload video fast then it is good to convert it in compressed file (low-res). This will make uploading quicker. However it is not mandatory to convert file and the uploading speed for the genuine file is also fine. File compression is just a way of saving time. Here are well defined settings you can make for small formats as well as for High –Res Formats.
Setting for formats
 Small Format setting:

Resolution: 842 x 480
Video Codec: H.264 Faster Encode
Format: Web Hosting
You can even go for smaller format size.

 High Resolution Format setting:

Resolution: with whatever resolution the video is shot at, it will be displayed on the very same pattern
Video Codec: Apple Pro-Res 422
Format: Video and audio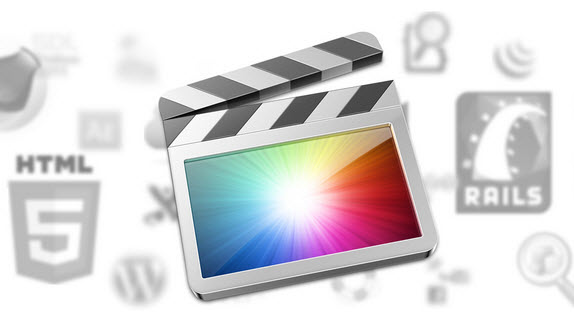 Steps to upload Final Cut Pro videos to YouTube
1. After completing your video editing, open Final cut pro window.
2. Go to "File" option on the option Bar.
3. Then go to "Share" option.
4. Then select "Master File".
5. A small window will appear on the screen with Option "Info" and "Setting".
6. After clicking on "Setting" a menu will appear, you can select format for your video.
7. After this again go to "File" option and then go to "Share" button.
8. Click on "YouTube" to upload and get and output file simultaneously.
9. Sign In to your YouTube account by Clicking on "Sign In".
10. Then go on the "Next" button.
11. On next window Click on "Publish" to upload your video.
12. Open YouTube directly into your web browser.
13. Get signed in to your account of YouTube.
14. Go to "Upload" button and click on "Video Manger".
15. Here you can see your video being uploaded.
After taking its required time according to file format, your video will be on YouTube. This is an easiest way of uploading your Final cut pro video from your iPad to YouTube.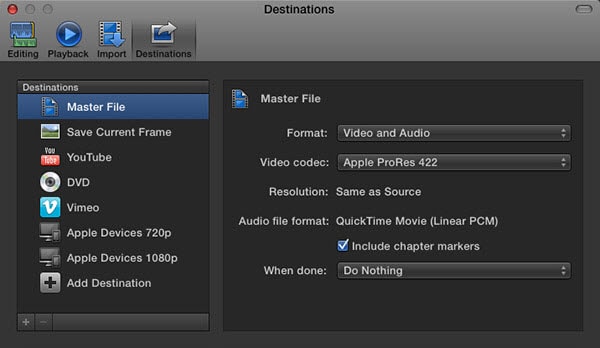 Part 2. What Are the Best Sizes for YouTube Video Uploading
Although you can directly upload video from Final Cut Pro to YouTube, you may get the video in a poor quality then. To get better result, you'd better convert videos to the best size and set video audio parameters to fit for YouTube before uploading. Here I'd love to recommend you iSkysoft Video Converter for Mac, which helps you easily convert MOV video to YouTube compatible formats (such as MPEG4, MP4 or FLV) after editing it on Final Cut Pro without any quality loss.
Best Video Size for YouTube
240p: 426x240 (16:9)
360p: 640x360 (16:9)
480p: 854x480 (16:9)
720p: 1280x720 (16:9)

1080p: 1920x1080 (16:9)
1440p (2k): 2560x1440 (16:9)
2160p (4k): 3840 x 2160 (16:9)
7,605,622 people have downloaded it