Apple music is a new application by apple that allows music to be streamed by subscription basis in the same style as radio services, while creating a connection between the fans and artists. It comes with iOS 8.4 or later. This service will now enable users to stream music directly without purchasing them to their phones. The advantage is that once you are subscribed to access the directory of music in the apple libraries, you get the ability to stream all the music they have. They can also allow your own music collection into the apple music system.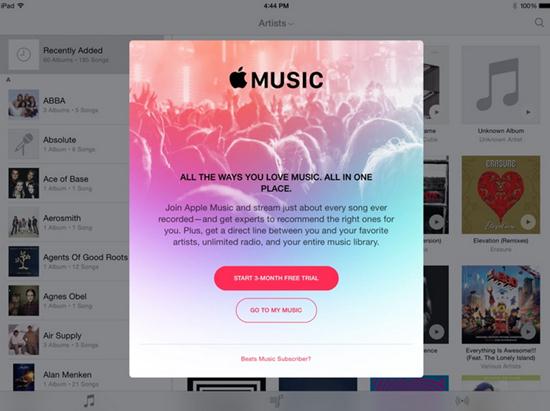 The idea is that the music doesn't reside in your phone. You'll have to stream it from their servers. That means ownership of the song doesn't belong to you but it more of a rental service. Looking at the volumes of music you'll access, it's actually comparatively cheaper to buying the music.
Apple have provided a trial period of up to three months for users to try it out, after which you will be required to purchase. Before you start out the free trial, turn off the auto-renewal feature so that you can later on decide whether or not to continue.
The options for subscription are split into two, individual and family:
Individual: pay 9.99 dollars per month, gets you access to apple music and iTunes
Family- 14.99 dollars per month allows a family of up to six people to access apple music, with a feature called family sharing. This therefore extends the sharing to iTunes, apps and books
The subscription allows you the following benefits:
Unlimited playing of music in their catalog
The choice to add apple music songs to your offline collection
Unrestricted listening to apple music radio stations
Freedom to comment, like and save content
Unlimited storage for your purchased content on iCloud
Customized recommendations to songs and playlists
Those who do not have an active subscription at the end of the trial period will continue to listen to ripped, uploaded or purchased content. You will however have limited access to the total music collection. Radio stations available will be ones supported by ads.
Get Apple Music on Your Devices
Since it is part of the iOS 8.4 update you have to install or update the OS in your device. To do so, go to settings, general, then software update. Click on "software update" the rest will will be done automatically. You will then navigate to the music app, then settings where you can choose to start the free three months trial.
How to Use Apple Music
Start off by looking around the new design of the music app. There is a different tab created in the extreme right named "my music" which has all the features that used to be in the "artists", "playlists" etc.
There also exists different tabs for my music and playlists, both of which are found in the Music library. You have the ability to sort the songs according to your liking whether by albums, artists, genres, songs etc.
Another very vital feature is one called "music available offline" which is used to pick music from apples servers to your own device. Click the "music available offline" to ensure it is set on. You then go to the search button at the upper right, type the artist or song you want to add, select the song, artist or album from the results and click on "+" button. That way you have the song transferred to your local collection.
Navigation Buttons for the Apple music App
The new tabs might be a little confusing, so let's look at what each and every one of them is used for:
Radio- this is the button where you access the apple radio stations including the most recent beats one radio station. You can also create your own artist station just like in Pandora.
For you- this is where you find suggestions on music, tailored according to the music you liked before. Liking is done by clicking the heart like structure next to the song, artist or album.
New- this is there to enable you choose from completely new stuff, nothing related from what you already have.
Connect- it is the social aspect of this music app. You can follow stations and artists, you can also see who you are following or auto follow artists as they are being added to your music collection.
My music- the is the repository for all your music, or the gateway to accessing them.
Apple Music vs iTunes
The difference between apple music and iTunes is that while iTunes is centered on people owning the music in their devices, apple music is about accessing remotely all the music you want without necessarily owning them. ITunes comes already installed on the devices when you first buy it, and is some form of digital library for music and media items. ITunes as a software is free to download and install even for non- apple devices. ITunes doesn't need you to subscribe on whichever basis, but you have to buy the digital content into your device. So how do you move music from iTunes to apple music? Here is how:
Moving Music from iTunes to Apple Music
Step 1. Setup
After you join the new apple music service, the app will auto-scan local storage devices and music libraries. It checks to see if there is any music in your devise that is also available in the apple music servers. From there, you can choose to import the music you already own from iTunes into the apple music store.
Step 2. Adding Music
Go to the iTunes menu, on the right top corner of your screen, there's is drop down from which you select "add file to library"
Choose the song that you want to transfer and open it with iTunes
The apps will sync the song to both places, then the Next thing is to use it as a start to creating a playlist of songs you already have on iTunes
Another option would be to incorporate the playlist with another library that you have created saved and favorited in the apple music app.
Ensure you enable your iTunes iCloud feature during the syncing process, so that any file access restrictions that were imposed on the music in your iTunes are clearly communicated. Hope you enjoy your experience with the new apple music app.