We all need cheap external hard drives during many times. It is with the help of hard drives that one can easily store endless media files. With the help of these external storage options, carrying your media files wherever you go becomes extremely easy. They come in a lot of different storage capacities and it is upon you to decide the ones which seem to be apt for your use. Here are some of the different factors which you can consider when you are looking to buy the best hard drives.
• Connectivity
• Reliability
• Capacity
• Writing speed
• Read speed
Part 1. The Best 10 Cheap External Hard Drives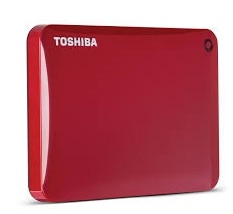 This 2 TB hard drive from Toshiba is more about use and less about the external form factor. It has a very plain design but it is one of the cheaper alternatives in the market. The average read speed offered by this device is between 100 to 112MB per second.
Pros:
● It comes with a good reading speed
● It offers massive storage at the right price
Cons:
● It doesn't comes in an attractive design
Price:
● Priced at £69.99, this is a great value buy from Toshiba
---
For those who need a lot of space, this hard drive My Western digital is apt for use. It comes with 4 TB of storage and it is an extremely reliable option. The brand is known for making some of the most versatile hard drives and this is no exception either.
Pros:
● The hard disk comes with 3 year warranty
● It also has a hardware encryption too which means your media files will be secure
● The read and write speed offered by the device is between 110 and 115 MB per second.
Cons:
● The storage space is too high which may not always be a requirement
Price:
● Priced at £125, this hard disk is a steal deal given the amount of space one can get
---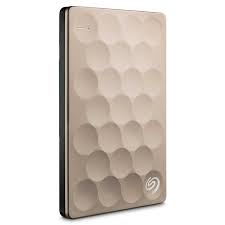 Just as the name suggests, this hard disk is merely 9.6mm thick. They are the most portable of the lot and also it comes in a flashy design as well. There is a little flash of gold or platinum along with the metallic top cover.
Pros:
● The form factor is sturdy and on point
● It comes in 2 variants of 1 and 2 TB and users can choose the ones which they want to buy
● It further comes with 200 GB of free OneDrive storage which is applicable for a period of 2 years
Cons:
● The plastic casing makes it a little unattractive to behold
Price:
● At less than £46 for the 1 TB model, it is surely a cheap buy
---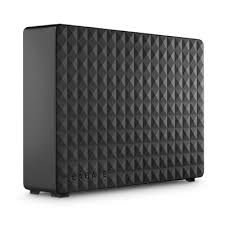 This is primarily a desktop drive that loses out as far as the form factor and style is concerned. The main selling point of this device has to be the economical price and the high storage capacity which it offers. It omens in three different options starting from the 2 TB model to the 3 TB and even the 5 TB model as well.
Pros:
● 153 MB/sec read and 152 MB/sec write are the peaks speeds offered and it is quite commendable
● It comes preformatted and ready for use with your windows desktop
Cons:
● It looks chunky and doesn't forms an attractive hard drive
● The drive is a little noisy and when making file transfer, you can actually hear a lot of sound
Price:
● It offers great value for money. The 2 TB drive can be bought for £70 while the 5 TB one costs as less as £130
---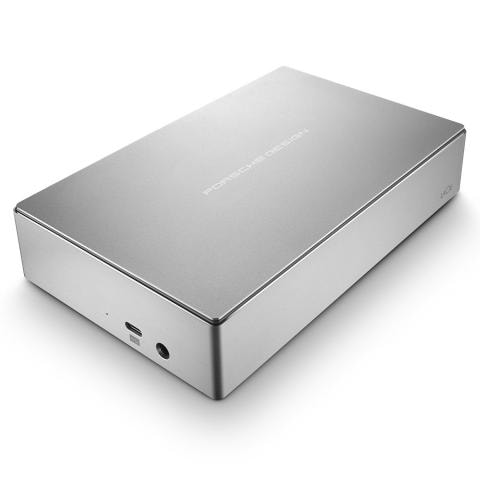 If you are on the lookout for on board storage, this is by far one of the best choices which you have. It has a lot of working space to offer. Made with an aluminium chassis, it comes with a USB type C connector. Along with this, there are also USB 3 and USB type C cables included with it.
Pros:
● It can reach a peak read speed of 159 MB/sec and a peak write speed of 122 MB/sec
● The design is good enough
Cons:
● It comes in larger space options like 4, 5 and 8 TB
● You need to use the bundled Genie software to organize backups
Price:
● The 4 TB variant costs £168 and the 8 TB variant costs £280
---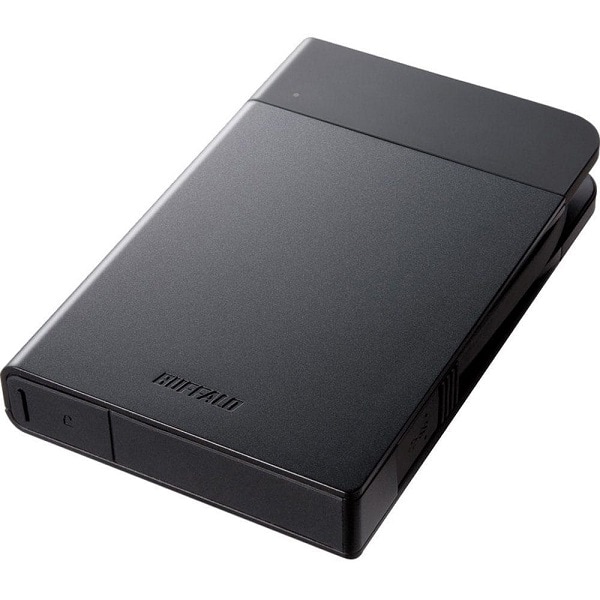 For all those who are very particular about the kind of security which they can get when buying an external hard drive, this option feels like the best possible choice. It comes with an integrated NFS security encryption which means that it makes use of a communication device which is located on the nearby field in order to unlock itself.
Pros:
● This drive is best for all those who want the finest security standards
● It has an excellent drive speed of 7200 rpm
● It comes with a read speed of 120 MB per second
Cons:
● It loses out a little as far as the form factor is concerned
● You have much better portable options in the market
Price:
● Available at a price of £59.73, it surely is a steal deal as far as security is concerned
---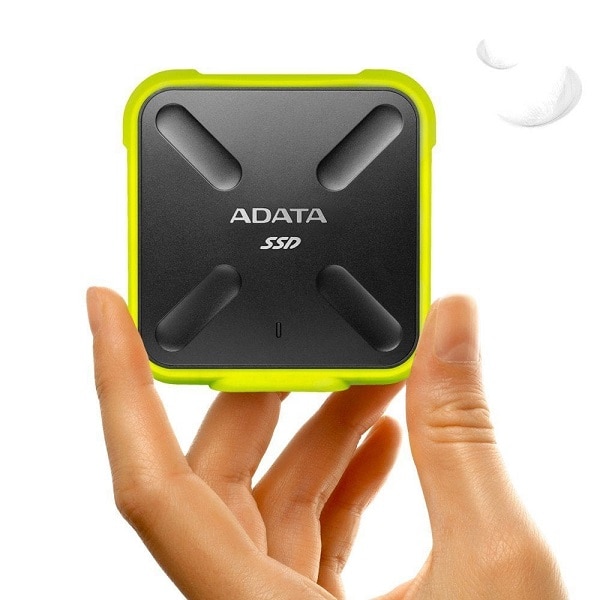 Ideally, it isn't an external hard disk drive but rather a solid state drive. Nonetheless you cannot beat it when it comes to storage and performance. The drive comes in three sizes namely 256 GB, 512 GB and 1 TB.
Pros:
● It comes with excellent features like being dust resistant, water resistant and even shockproof
● It is ultraportable and can fit easily in your palms
● It comes with a whopping read and write speed of 440 MB/sec
Cons:
● The only cons to this drive has to be the whopping price that it comes at
Price:
● If you are a little concerned about the cost, it can be expensive on your pocket as it is priced at £183
---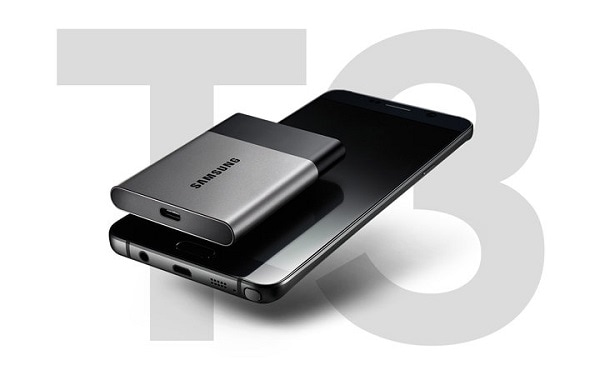 Yet another solid state drive, this product from Samsung has been getting a lot of buyers. It has excellent use for those who want to expand the memory present in their smartphones and even tablets. It is perfectly compatible with your windows devices as well. In fact, you can always check the list of computable devices on the official website of thus solid state drive by Samsung. It comes in two different variants namely 500 GB and 1 TB.
Pros:
● It offers excellent read and write speed with the peak being marked at 450 MB/sec
● It weighs as less as 51gm which makes it super portable
● It can connect with the help of USB-C
Cons:
● Of course, the downsides to buying this solid state drive have to be the price factor. There are plenty of cheaper hard disk drives available for similar storage but lesser speed
Price:
● Priced at £189, it surely ends up on the expensive side but given the features it comes packed with, it justifies the overall rates that one needs to spend
---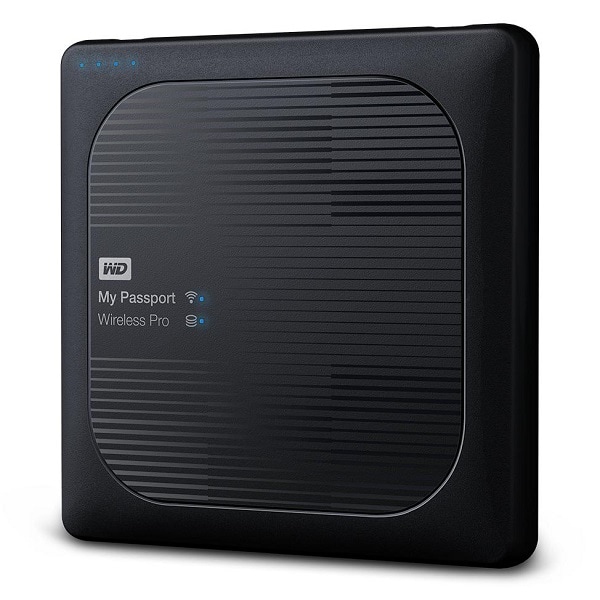 Another hard disk by WD, this one comes with a storage space of 3 TB. This is apt for all those who want to take tons of pictures and even transfer them on the go.
Pros:
● It comes with a ten hour battery life
● It is portable and handy to carry
Cons:
● With the only option being of 3 TB, there is less variation and people who do not need so much storage space might not be inclined to buy it
Price:
● It is priced at £210 and so it is surely a little expensive, but for those who really like to have an option of additional storage and want to transfer their media content, it surely is a good choice
---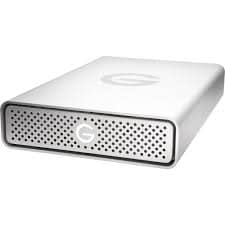 This is definitely not the cheapest hard drive in the market but it is apt for those who are crammed for time and want to get the transfer done quickly. This drive comes with transfer speed of 165 MB/sec. It can also be used on Mac as it comes formatted.
Pros:
● It comes in an attractive design as the company has definitely worked on the form factor
● It offers terrific transfer speed
● The device comes with a fanless design along with a heat sink. This is done to curb the noise and to ensure that the hard drive doesn't gets heated up
Cons:
● The higher price is one of the biggest drawbacks of this model of external hard disk
Price:
● Not only this, the designing too has been done with a lot of care. The price though starts from £300
Now that we are done with the details of the different hard drive, let us focus our attention on the next part.
---
Part 2. How to Recover Lost Data from Cheap External Hard Drive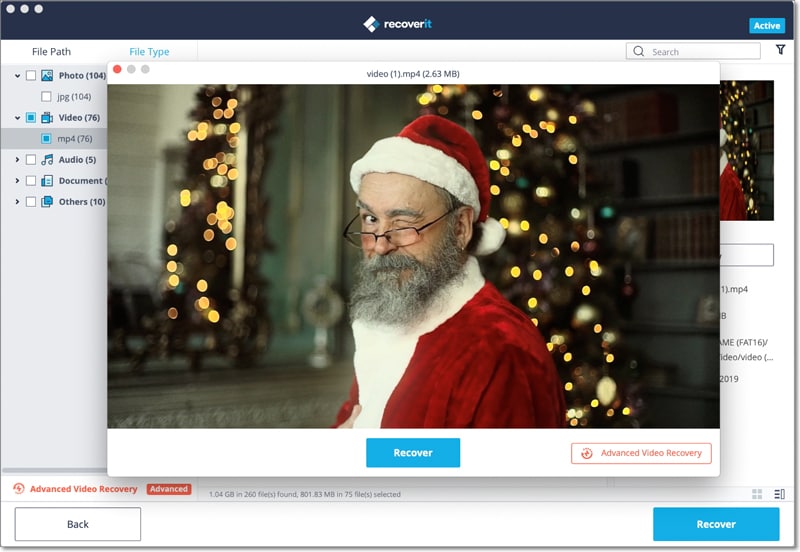 If suppose your data in the hard disk drive has been lost and you need to recover it, what would you do? You have one of the best software which you can use – Recoverit for Mac (or Recoverit for Windows).
Why Choose This Software to Recover Deleted Data from External Hard Drive:
You can completely retrieve the data that has been lost because of clearing the trash or the recycle bin.
You can recover data lost during disk partitioning.
It supports a lot of different devices including but not limited to Mac, USB, hard disk drive and more.
It supports a lot of different image and video formats along with audio files as well.
Your data is always kept safe.
Step by Step Guide to Recover Lost Data from Cheap External Hard Drive
Step 1. Install the Software
Connect your external hard drive to the Mac. Download Recoverit for Mac and install it. Launch it on your system. In the main window that opens, click on the specific file types type want to recover or else click on "all file types". Now hit "Next" button.
Step 2. Select the External Hard Drive
Now, you have to choose the hard drive. You can find it in the "External Removable Device" and then click on the "Start" button. The software will now scan your hard drive. Ideally, Quick scan should search the content. If not, you should click on "Deep Scan". It will take more time but do a more thorough search on the hard disk.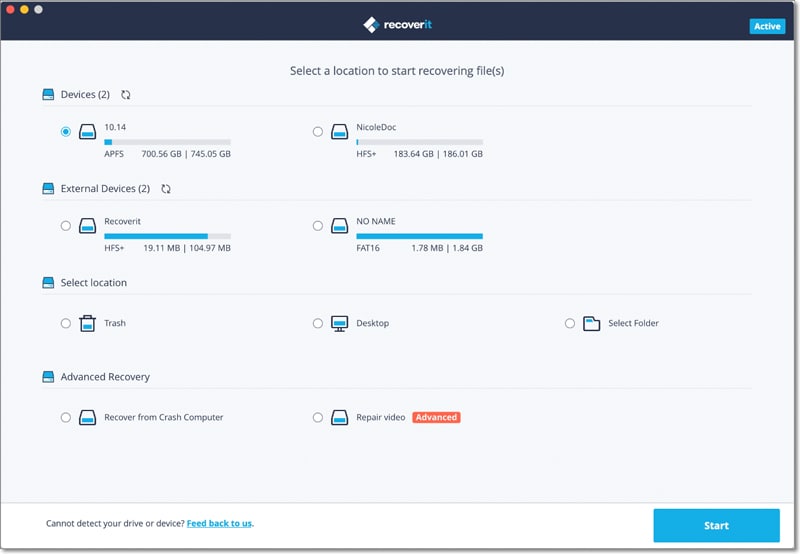 Step 3. Recover Deleted Photos and Videos from Cheap External Hard Drive
When the scanning is done, you will find all the recoverable data. Preview them and select the ones you want to recover and then click on "Recover" button. Select the destination where you want to store.