Contents
1. Windows 10 Tips

2. Windows 10 Download & Install

3. Windows 10 Resources

4. Windows 10 Tablet & Laptops

5. Windows 10 Highlights

6. Windows 10 Problems

7. Windows 10 Software
Many users have upgraded their computers to Windows 10 from Windows 7 or Windows 8 since the release of Windows 10 on July 29, 2015. Then some of them found that they met the data loss problem after they upgraded their computer. And some others have checked that their old data ercovery software can not work on Windows 10 computer. If you are one of them, set your heart at rest, data loss isn't as crippling as it was a few years ago. Even if you have encountered these problems, here're some of the top data recovery tools for Windows 10 can help you complete the data recovery on Windows 10 easily. These softwares can solve these kinds of data loss, but not limited to. Granted that it is because of you have carelessly deleted some important files from your computer, the software can also help you recover the data.
1. iSkysoft Data Recovery for Windows
iSkysoft Data Recovery for Windows is your ultimate solution to all your data loss problems. The software offers all sorts of features that you want in a data recovery solution. The biggest advantage of using the iSkysoft Data Recovery for Windows is that it comes with "Quick Scan" and "Deep Scan" processes that offer solutions for all your data recovery needs, irrespective of whether you ended up losing your data due to accidental deletion, damaged partitions, data corruption, device formatting, virus infections or improper handling. Better yet, the software allows you to recover all sorts of files, right from audio, video and images to documents, emails and archives.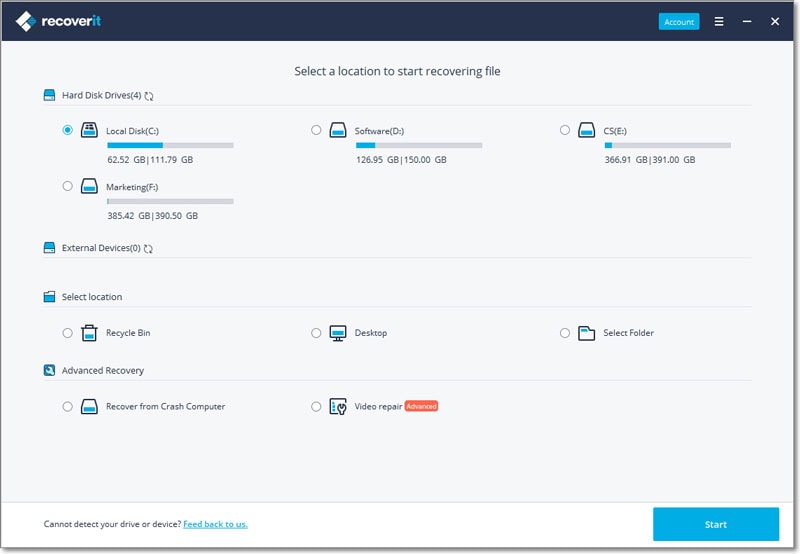 Pros
Compatible with the latest Windows OS.
Easy-to-use.
Option to recover all types of files.
Works for all sorts of devices such as PC, MP3 players, HDD, SDD, USB, Memory Cards and Digital Cameras.
Option to preview and recover your files.
Cons
2. Data Rescue PC3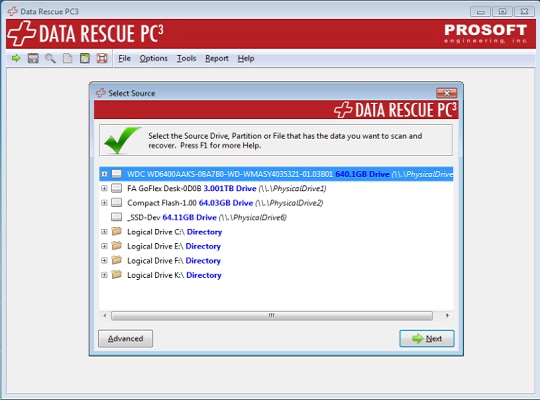 Data Rescue PC3 is another top solution for users looking for data recovery tools for their Windows 10 OS. It can be used by both home and business users and is known to work when other recovery softwares have failed as well. The software costs $99 for a personal license, and a professional license can put you back by $299. Some of its main features include the recovering data from reformatted or crashed hard drives, recovering data from deleted or corrupted files, user-friendly interface and a free demo version.
Pros
Thorough scanning process.
Ability to Preview files before recovery.
RAID recovery solutions.
Cons
Poor performance for Solid State Drives.
3. iSkysoft iPhone Data Recovery for Windows
iSkysoft iPhone Data Recovery Software is the ultimate iPhone data recovery solution for Windows users. It is known to be one of the top solutions for recovering lost data from your iPhone. What makes the software so special is that it offers the option to preview and recover your lost data, supports all sorts of data recovery scenarios and allows you to recover multiple file types such as messages, notes, contacts, WhatsApp history, calendars, reminders, photos, Safari bookmarks, documents, videos, and more.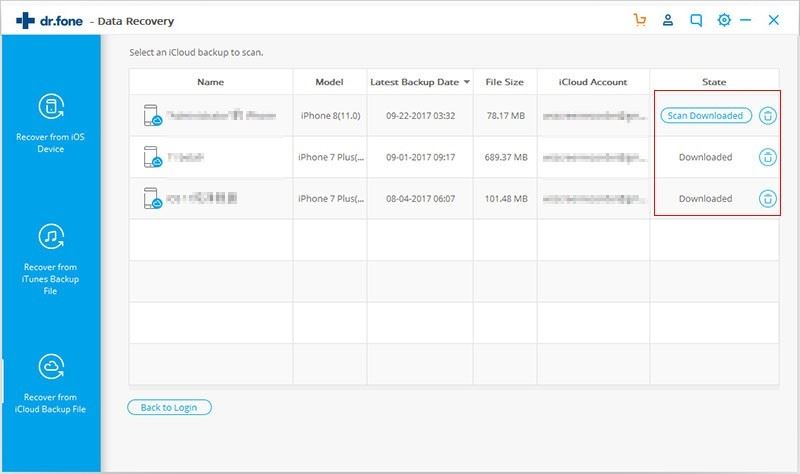 Pros
Recover data directly from your iOS device.
Supports all sorts of data loss scenarios.
User-friendly interface.
Simple and fast data recovery solutions.
Excellent file search, file preview and file filter tools.
Cons
4. Stellar Phoenix Windows Data Recovery
The Stellar Phoenix Windows Data Recovery is a common tool used by users around the world for the Windows 10 because of the fascinating features that it has to offer. It allows you to recover inaccessible, corrupted, deleted, lost or virus infected data and can also recover mission-crucial files from external hard drives or your Windows hard drives. The software boasts of a raw recovery feature which recovers corrupt media and it can also be used to recover emails from Outlook Express and MS Outlook. The software costs $99.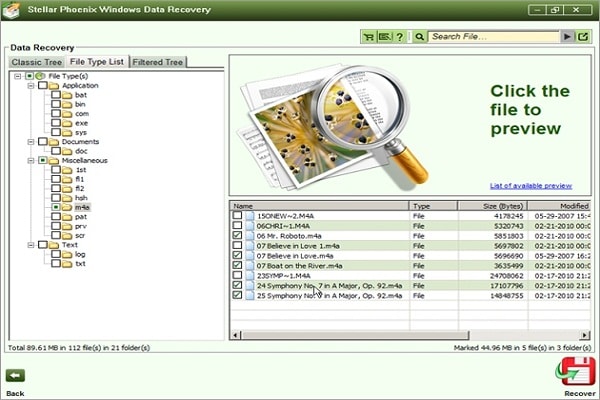 Pros
Option to recover emails from Outlook Express and MS Outlook.
Supports all sorts of file types such as multimedia files, photos, documents and more.
Option to preview files before downloading.
Ability to recover mission-crucial files.
Free trial version available.
Cons
Poor performance with MS Office files.
Expensive.
5. iSkysoft Android Data Recovery for Windows
iSkysoft also has an outstanding data recovery solution for Android phone users. iSkysoft Android Data Recovery for Windows is all you need to recover lost data from your Android devices without making it a problematic, time consuming or stressful affair. The software is very easy to install, and even easier to use. You simply need to follow three simple steps and recover all your lost data within seconds. Android Data Recovery for Windows can recover messages, contacts, audio and video files, documents, call history, photos, and more from all sorts of Android devices. It also supports all types of data loss scenarios and allows you to choose the files that you wish to recover to make the recovery process faster and simpler.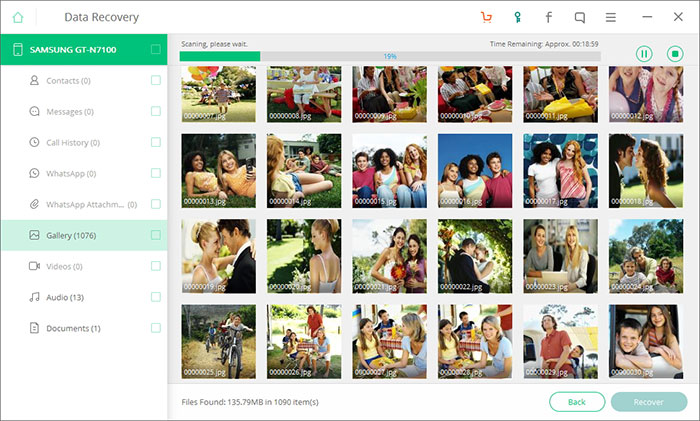 Pros
Supports all data loss scenarios.
Simple setup and user-friendly solutions .
Efficient data recovery tools.
File Preview and File Search features.
Recovers data directly from your Android device.
Cons
Live Chat feature missing.