Flash drives are at a high stake when it comes to using portable drives. They are small, can be read, rewritten and easily swapped between devices. Their small nature is also a threat when it comes to misplacing or losing them. This is where the importance of encrypted USB flash drives comes along. When your flash drive is encrypted, it will mean that your data is totally secure and cannot be recovered by anyone else. You can opt for hardware encryption which will mean that your flash drive comes with a small chip that handles the encryption after configuration. However, the better option is to settle on software encryption, used to encrypt a thumb drive for optimum data security.
Part 1. Top 5 Encrypted USB Flash Drives
If you are wondering how the hell to go either the hardware or software way, don't worry much. There are plenty of encrypted USB flash drives in the market and these five will just blow you off given their nature of tight security.
This 3.0 USB flash drive is one of the best options you can use if you are looking for encrypted flash drive. It has got AES hardware based encryption mode which will keep your information secure even if you lose your flash.
Pros:
- It is available in standard, managed and anti-virus modes
- Has got faster transfer speed
- It also has password protection mechanism
Cnos:
- You won't be able to access your flash in case you forget your password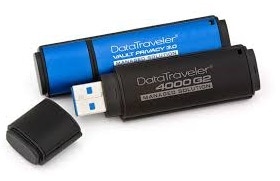 ---
This flash drive comes with an onboard alphanumeric keypad which is useful for unlocking the drive. Simply key in your digit PIN which vary from 7 - 15 digits for utmost protection.
Pros:
- Ability to prevent both hardware and software key logging attempts
- It is small and easy to carry along
- Compatible with all operating systems
- It can actually be configured with independent user and admin PINs
Cnos:
- Its reset feature can be used to clear the user and admin PINs, posing a threat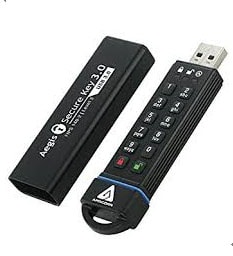 ---
This drive comes in a tougher design of solid triple-layer case. This ensures that your data is secure and free from external threats like water and dust. It also has a superior software encryption mechanism that enquires you to authenticate access by entering the correct alphanumeric character password.
Pros:
- It comes with an auto-lock feature for encrypting all data and locking the drive
- Its rugged design protects it from shocks and water damage
- It is suitable for most OS including Windows and Mac
Cnos:
- If you fail the password six times, you stand a chance of losing your data
- It may be hard to crack the 8-16 alphanumeric character password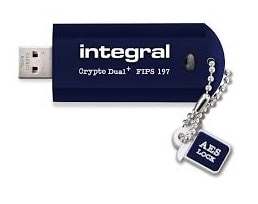 ---
Lepin encrypted USB flash drive comes with an automatic lock on feature. It is suitable for most corporate deployments as it offers configuration for independent Admin PINs. It also comes with a self-destructive feature to secure your data from being accessed by unauthorized individuals.
Pros:
- It comes in a zinc alloy shell which prevents it from shocks and water damage
- It has got anti hackers feature to deter hackers
- It is easy to use and will install automatically on your computer
Cnos:
- You ought to set up your PIN beforehand
- Incorrect entering of the PIN 10 consecutive times will automatically delete the encryption key and erase data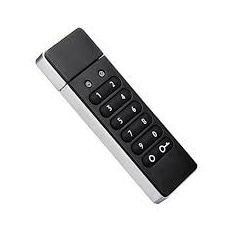 ---
5). Farsler Encrypted Pen Drive
If you are looking for double protection of your data, Farsler encrypted USB flash drive will give you just that. It has got advanced encryption which includes fingerprint recognition that ensures best security for your data. It also includes a private folder which can only be accessed via biometric validation.
Pros:
- It has double security mechanism
- Its efficient and quick as it offers rapid identification
- The biometric technology ensures unauthorized access protection
- It is also compatible with windows, Linux and Mac OS
Cnos:
- It is quite expensive as compared to other drives of its peers
- The fingerprint encryption may be a drawback if your finger is damaged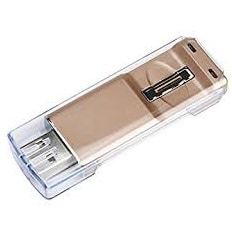 ---
Part 2. Top 5 USB Flash Drive Encryption Software
Transferring data from one computer to another is everyone's day activity. With this, you need a storage medium that is convenient, portable and reliable. There is none other than encrypted USB flash drives. You however need to take precaution as these tiny drives can get lost, get damaged or be stolen at any time. You therefore need to ensure that your information does not get into wrong hands when this happens. However, this should not scare you as you can make use of numerous encryption tools to secure your USB flash drive. Try any of these top 5 encryption software.
This tool is geared towards securing your data by creating encrypted volumes on your flash disks. Simply plug in your flash drive that needs to be encrypted, specify all the parameters like password and key files to be used.
Pros:
- It is easy to use
- It is efficient
- It is cost effective
Cnos:
- You need to remember your password in order to access the mounted volumes on the tool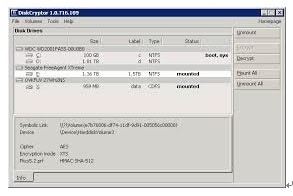 ---
StorageCrypt tool will help you encrypt and password protect your flash. Use this tool to prevent unauthorized individuals from accessing our movies, audios and other documents from your USB flash drive.
Pros:
- It is fast and efficient
- It can encrypt large files occupying up to 2TB capacity
- It doesn't store your password on your flash drive
Cnos:
- It is expensive as compared to software of its peers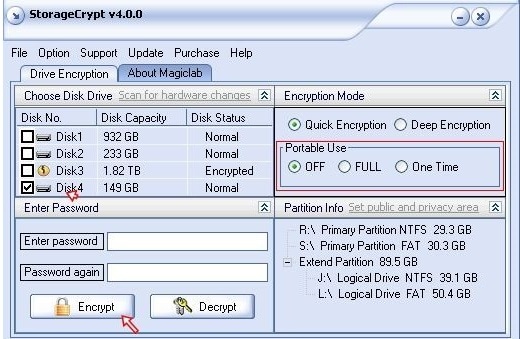 ---
You won't need any installation for LaCie encryption software. It works in a more flexible manner and can be run straight off the USB flash drive. Once you specify the disk size of your USB flash drive that you need to be encrypted, the utility will encrypt the drive space by use of AES 256 algorithm. Access henceforth will be via your password.
Pros:
- It is reliable
- You can use your flash drive without having to install the software on every machine
- It is compatible with both Windows and Mac Operating System
Cnos:
- You can only access the encrypted flash after being mounted
- You need to have the password at your fingertips when using your flash drive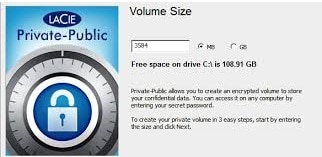 ---
Gilisoft encryption tool has such a pretty user interface that makes it wanting to try. It is easy to use and will ensure that your data is safe on your flash drive. Simply plug your flash drive in and this software will automatically detect the drive.
Pros:
- It has got a user friendly interface
- It is fully compatible and supports all external portable drives
- Gives optimum data protection by using several layers of patent pending methods
Cnos:
- A tendency of the screen popping up more often could be annoying to many users
- Its 10 time usage cap for the free trial is a drawback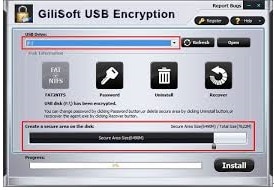 ---
BitLocker lets you secure your stored data such that unauthorized personnel cannot get access to them. It gives you a piece of mind such that even if you forget your password, you can recover it via the automatically generated recovery key. You however have to save this key to a file or sync it to your Microsoft account.
Pros:
- It is reliable
- It offers an avenue for retrieving forgotten passwords
- It is compatible with all operating systems
Cnos:
- You need to sync the recovery key in order to enable you recover your unlocking password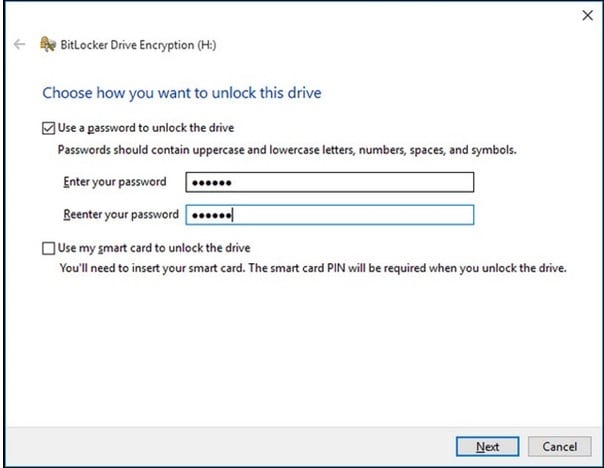 ---
Part 3: Recommendation: The Best USB Flash Drive Data Recovery Software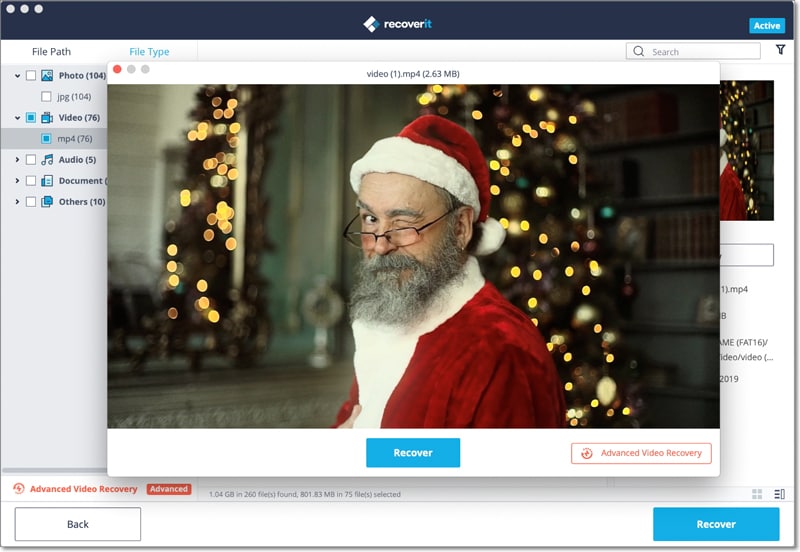 Recoverit comes in handy in the event that you lose your flash drive data. Use this software to recover data such as images, document, video and audio files. Recover your lost data using three simple steps by scanning, previewing your data and finally selecting the data to be recovered.
Why Choose This USB Flash Drive Data Recovery Software:
Easy to use Data Recovery:
Recoverit is pretty easy to use and works within few minutes and steps.
Data Loss Scenario Support:
This feature gives you the ability to restore all your files which were lost through formatting, virus infection and accidental deletion. You will be able to retrieve any type of data.
Massive Device Supported:
This software supports data recovery for Mac, Windows, BlackBerry plus external hard drive as well. You can also use it to recover data from USB drive and memory cards.
100% Safely recover data:
Recoverit allows a 100% safely recovery of data. You are able to do a complete data recovery process with original quality in just a few seconds.