So, you just formatted your digital camera and all your photos are now gone by accident. It may have happened because of the corrupted memory card or some other similar reason. Losing picture is undoubtedly a very common problem nowadays. Therefore, for Windows user, we have cherry-picked some of the best free photo recovery software for Windows to help you with this problem. Let's go through each one of them!
Top 8 Free Photo Recovery Software for Windows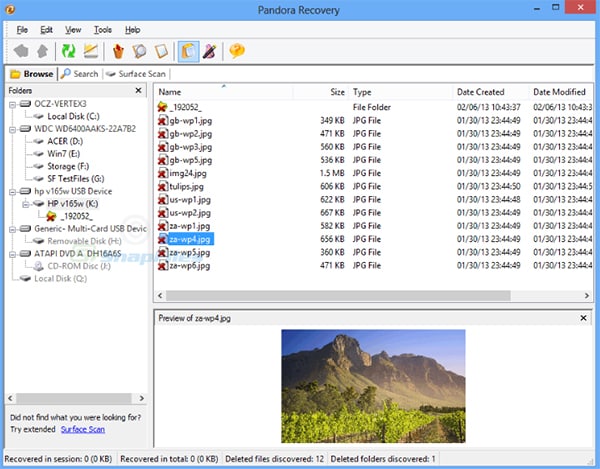 This amazing free photo recovery software can be used effortlessly for recovering photos from a wide variety of devices. It is very easy to download and install this program. The wizard has the main control in the application and therefore it pops up automatically as soon as the program is launched. You can also skip it and navigate to the main user interface. The scanning process is excellent and initiates automatically to find almost all the lost photos.
Pros:
It shows you the preview of image.
The tool also indicates whether it is possible to recover the image or not.
Cons:
It takes quite longer to recover images.
The restored photos cannot be opened sometimes.
iSkysoft Data Recovery for Windows is the fastest, simplest and safest data recovery program. It is specifically designed to help you recover almost any data type from a wide range of devices. The four recovery modes in-built in the program are remarkably amazing. You can also use the Preview option of the tool to see your files before actually restoring them to other storage devices. Its powerful scanning module will find all the existing and deleted files from your hard drive.
Why Choose This Windows Free Photo Recovery Software:
The tool performs a read-only process so that the recovered data is unchanged and unflawed.
It recovers any kind of data such as photos, videos, music, audios, documents, archive files and more.
Apart from the internal hard drive, the tool is also capable of retrieving data from other external storage devices like memory cards, USB stick and others.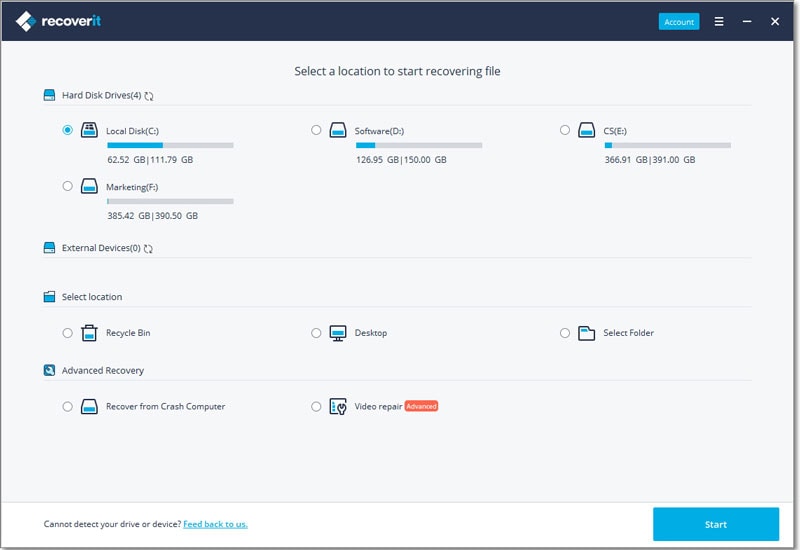 Step-By-Step Guide to Recover Photos from Windows
Step 3. After the scanning process is finished, you can preview the photos to make sure they are recoverable. Once the photos you want to restore are decided, click on the "Recover" button.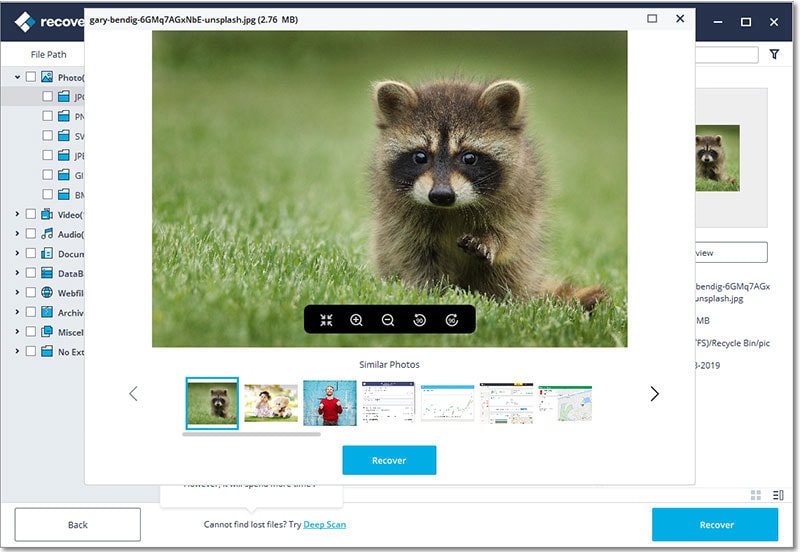 This is the best data recovery tool in the market right now. It is both fast and safe. However, you should always save the recovered photos to some other external storage device for more safety.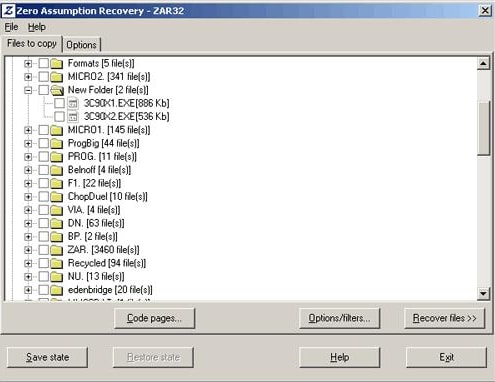 The image recovery part of this remarkable data recovery tool is absolutely free for recovering photos. When you run the application, a list of all the connected devices will appear. In the scanning process, the sectors are shown color coded according to their fragments, bad sectors and file system structures. You can check the root box for knowing the availability of all the recoverable photos.
Pros:
It gives 100% image recovery.
Easily recovers deleted or even current files.
Cons:
The scanning process is very time-consuming.
Other recovery options are not free except image recovery.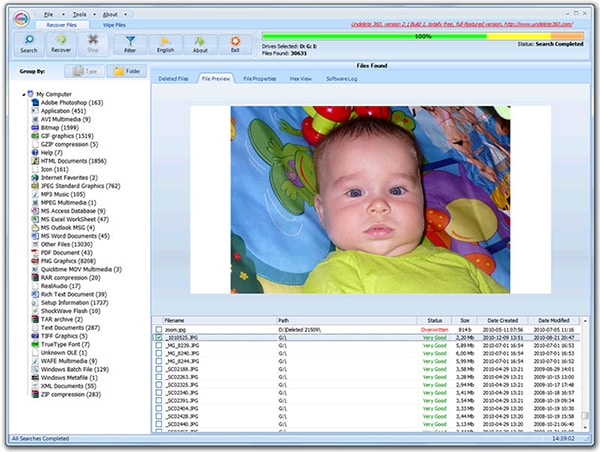 This is another great tool for recovering your photos without spending exorbitant price on some high-end tool. Undelete 360 works exceptionally well for restoring your lost, deleted or formatted pictures. It also makes sure that you get uncorrupted and flawless photos. It will tell you well ahead the recovery process that whether all the files are easily recoverable or not. The main interface is worth mentioning that is kept as simple as possible.
Pros:
The recovery process offered by this tool is really fast.
It works well for all the devices where there is a possibility of lost image.
Cons:
You cannot select images in bulk with its free version. You have to select each file individually.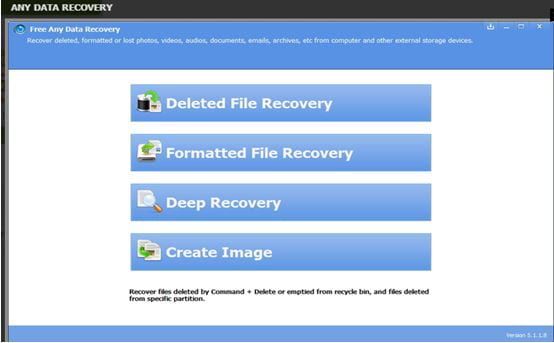 This extremely efficient free photo recovery software enables you to recover deleted files from your PC's hard drive and USB devices. The advanced scanning mode featured in the program works brilliantly for retrieving almost all the deleted or lost files. In fact, you can also preview the recoverable photos before recovering them completely. This is an easy and effective data recovery tool.
Pros:
The interface is easy to use.
Recovers most of the lost files.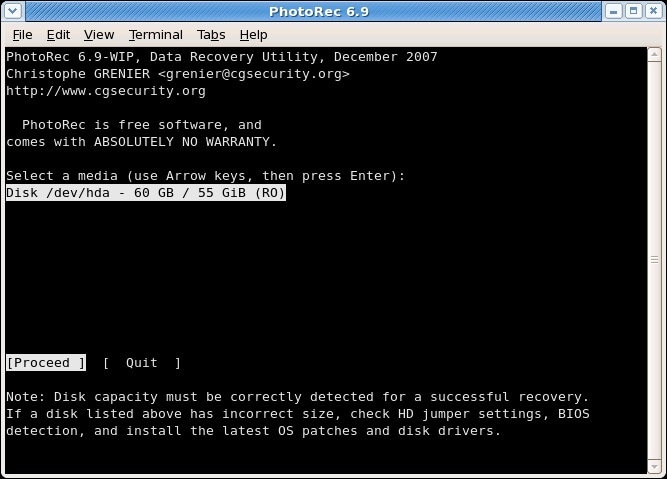 PhotoRec is available in two different versions. You can either run it in the command prompt or on 64-bit Windows. This is one of the most outstanding free photo recovery software that supports more than 440 file formats. The recovery techniques offered by this tool are highly safe. It does not affect partitions and file systems because it checks the partitions in a safe mode.
Pros:
Unlike its name, it can even recover videos, audios and other type of data.
It helps you to recover lost partitions.
Cons:
The user interface is not intuitive.
The scanning process is not deep.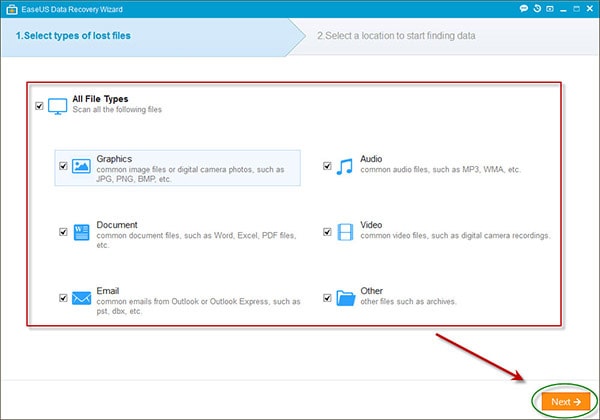 The free version of the EaseUS Data Recovery tool empowers you to recover up to 1 GB in data for free only. The interface is also different than other programs but allows you to recover photos and other lost files easily. It is a nice tool especially for a free data recovery.
Pros:
Nice tool for recovering photos.
Cons:
There is a limit on data recovery.
User interface is dull.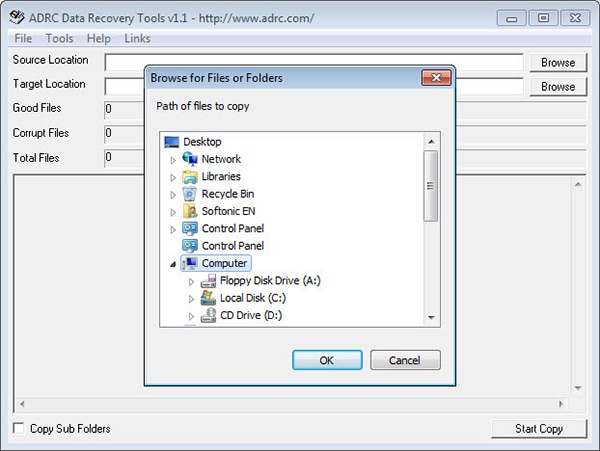 This is another free tool for recovering your lost, formatted or deleted photos. This is a small-sized program that can be kept store anywhere and used when needed. It efficiently recovers all the file types from various devices.
Pros:
Scanning process is fast.
Cons:
Clumsy interface.
Finds files in an unaligned order.