"Is there any way to use green screen in stop motion videos?" --- Many users asked us.
Green screen is a technology used in videos and movies production. This video effect is also called chroma keying or chroma key compositing. Green screen is a post-production effect that allows movie makers or video editor to change or replace the background of the original video and then insert image or footage into the scenes. Many fans of video production use the green screen effect to product interesting videos. And there will be the need to do green screen on stop motion videos. So how can we use green screen in a stop motion video? No worry! In this guide, we will give you a detailed step-by-step guide on producing a stop motion video with green screen effect.
Part 1. How to Use Green Screen in Stop Motion Video
To make stop motion with green screen effect, you have to get help from a third-party video editing software, which comes with the feature of stop motion and green screen. Here we highly recommend you to use Filmora Video Editor for Windows (or Filmora Video Editor for Mac). Filmora is the easiest video editor that is specially design for video editing beginners and professionals. It provides you with powerful editing features including green screen and stop motion. You are able to use it to do green screen on your videos and create stop motion videos. There are many other video effects that you can apply to your video for totally free. The straightforward feature of exporting video helps you to share your green screen stop motion video online directly.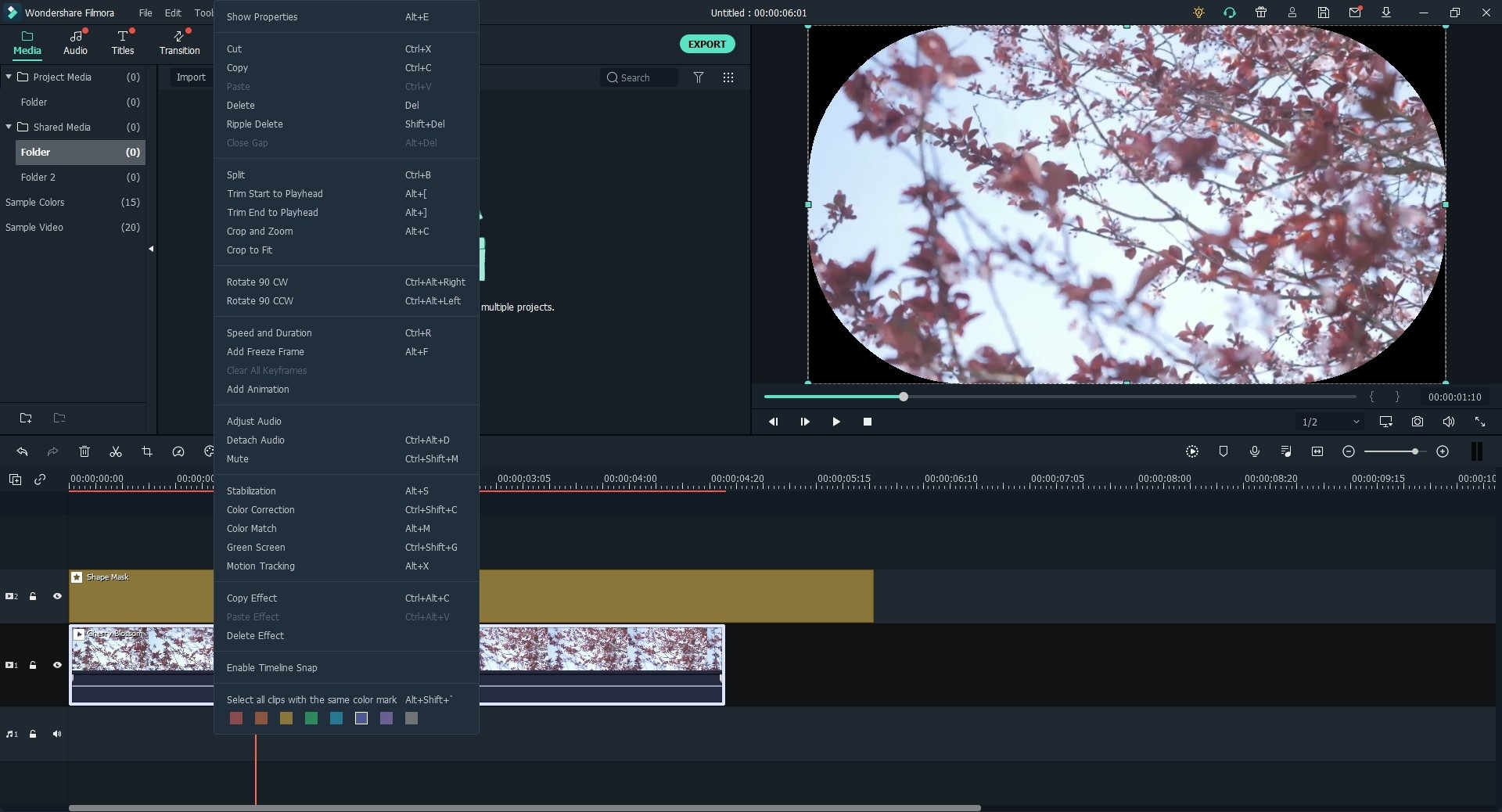 Why Choose This Software to Use Green Screen in Stop Motion Video:
It allows you to edit videos with advanced effects like green screen, split screen, filters, transitions, texts/credit, mosaic, faceoff, and many more.
You can customize your video with editing tools including rotating, cropping, splitting, combing, cutting/trimming, and more.
It lets you do quick video editing in basic editing mode, while professional editing in advanced editing mode.
You are able to edit videos in any format or from any source like phone, camera, camcorder, YouTube, Facebook, etc.
It enables a direct way to export the video to online video-sharing sites such as Facebook, Vimeo, YouTube, and others.
How to Use Filmora Video Editor to Make Green Screen Stop Motion Videos
Step 1. Download and Install Filmora Video Editor
If you haven't got Filmora Video Editor on your computer, click above "Free Download" button to download the program on your Mac or Windows PC. For Windows users, double on the program file you have downloaded. And then it will move to the installation steps. You can just follow the on-screen instruction and click "Next" until you finish the installation. After that, the program will launch automatically. And you will go to the main interface directly.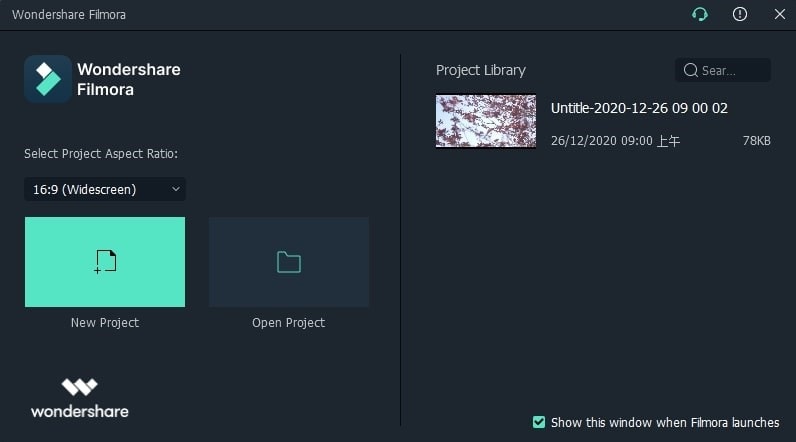 Step 2. Import Your Source Video to the Program
Now click on the "FULL FEATURE MODE" and open the advanced video editing window. There you can click on the "Import Media Files Here" button and select the source video to import it to the program. Alternatively, you can click on the "IMPORT" button and choose the option to import video from computer, camera/phone, Facebook, or others. While the easiest way is to drag and drop the video file from your local hard drive to the media library window of the program.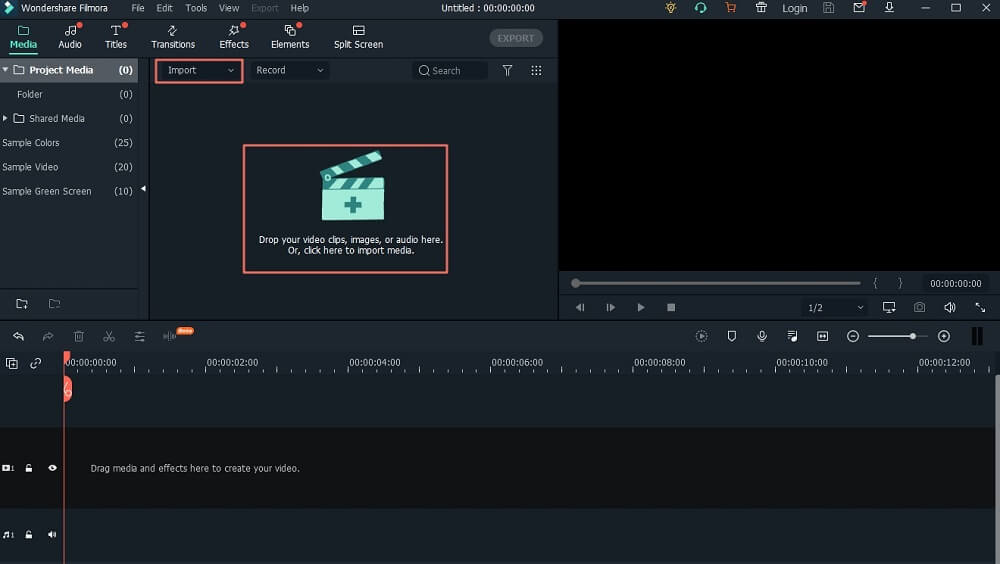 Step 3. Create Stop Motion Video
In this step, drag the video from the media library window to the timeline. And you can play and preview the video from the upper right window. If you want to make certain frame a stop motion, you first take a snapshot of the frame by clicking on the camera icon under the preview window.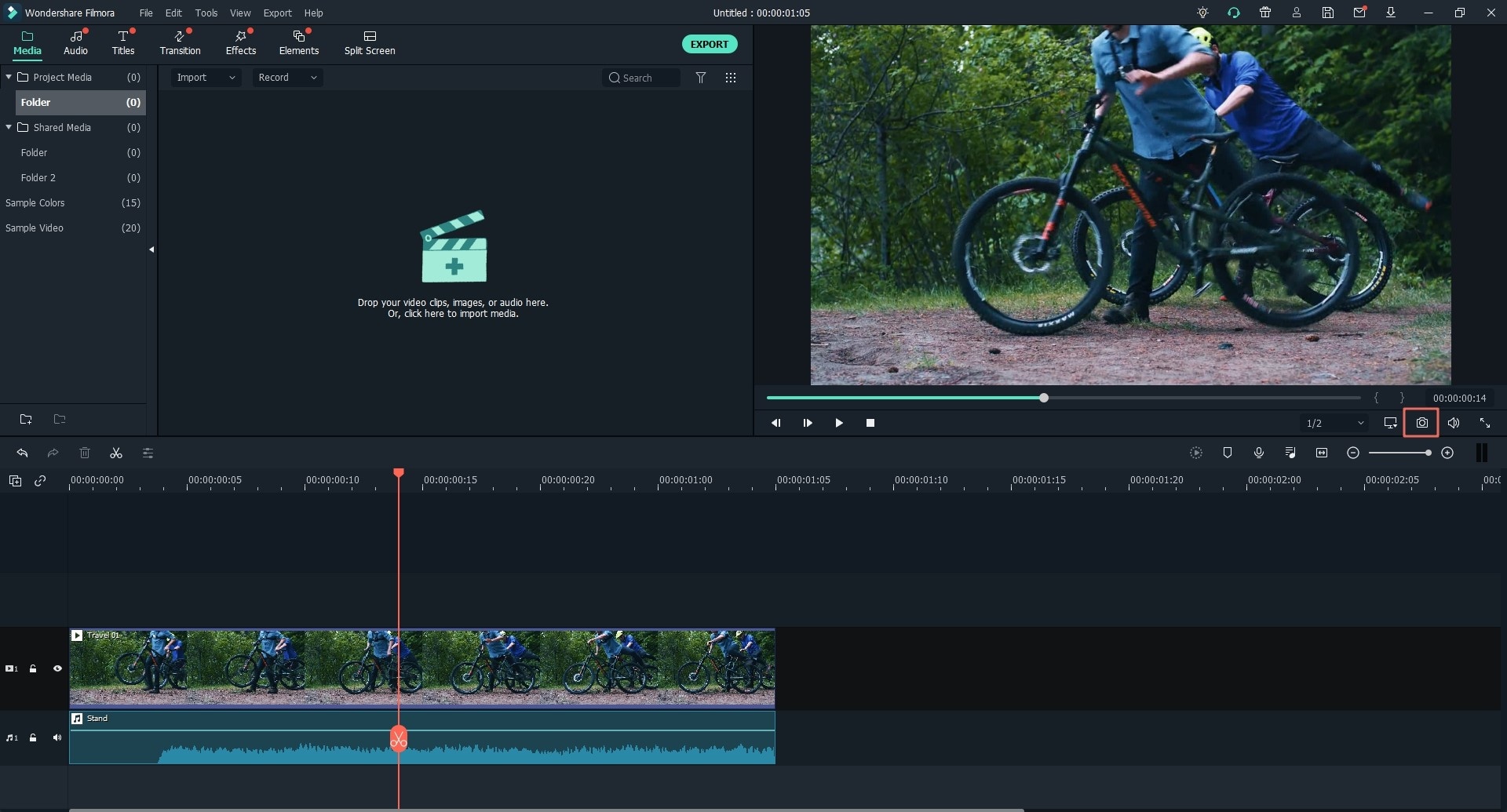 And then the snapshot will be saved on the media library. You can drag the snapshot to any frame of your source video in the timeline. Then you have create a stop motion. You are able to drag the image to adjust the duration of the stop motion.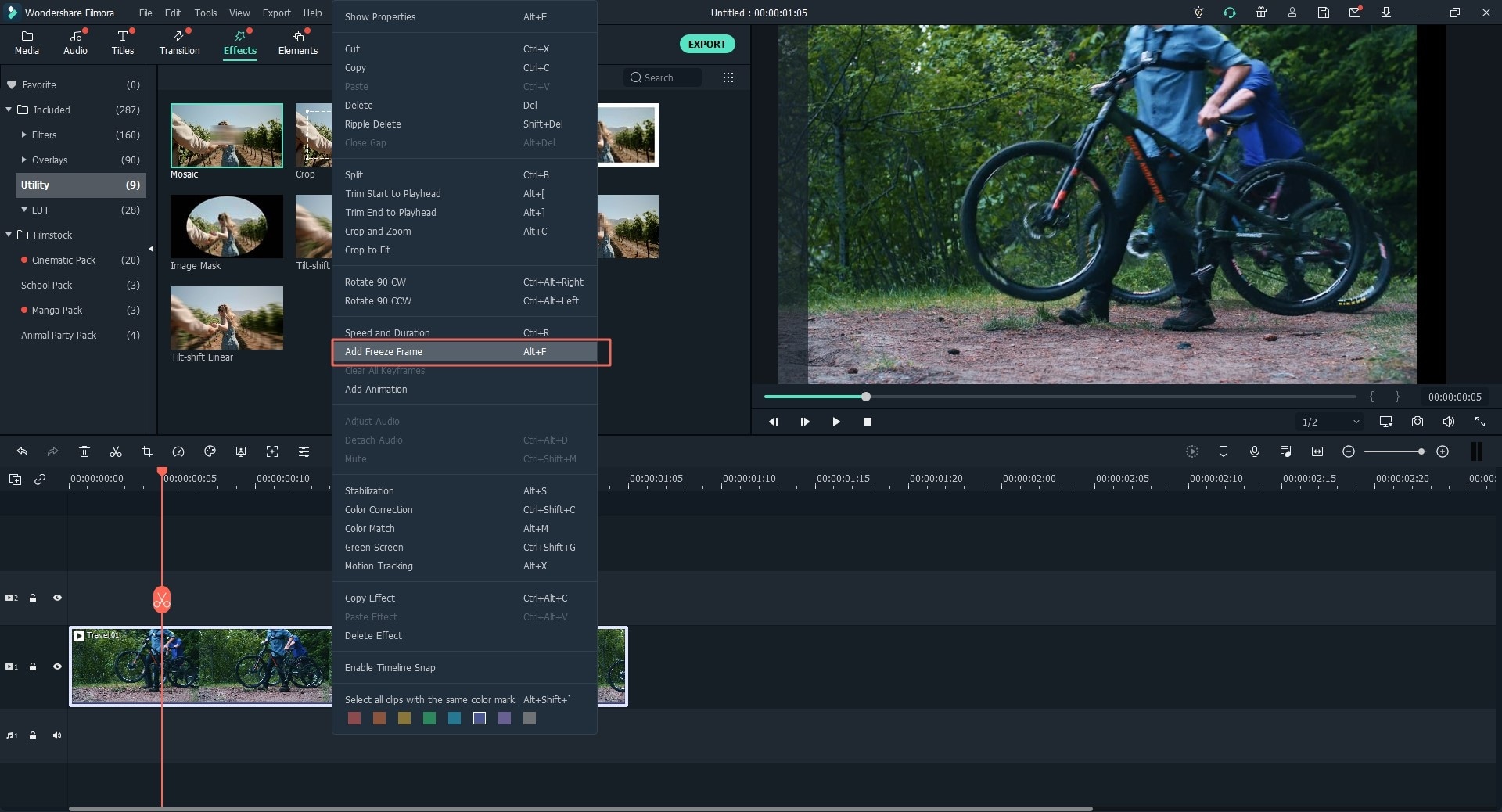 Step 4. Do Green Screen on the Stop Motion Video
In the media library, right click on the video and photo. And click on the "Add to PIP" option. And navigate to the timeline to find the video or photo you just added to the PIP area in the stop motion video. And then select the "Green Screen" option. You will go to a new window. There click on the "Green Screen" tab and choose the green color in the right side of the window. You can also change the intensity until you can get the PIP video is overlaid the original stop motion video perfectly.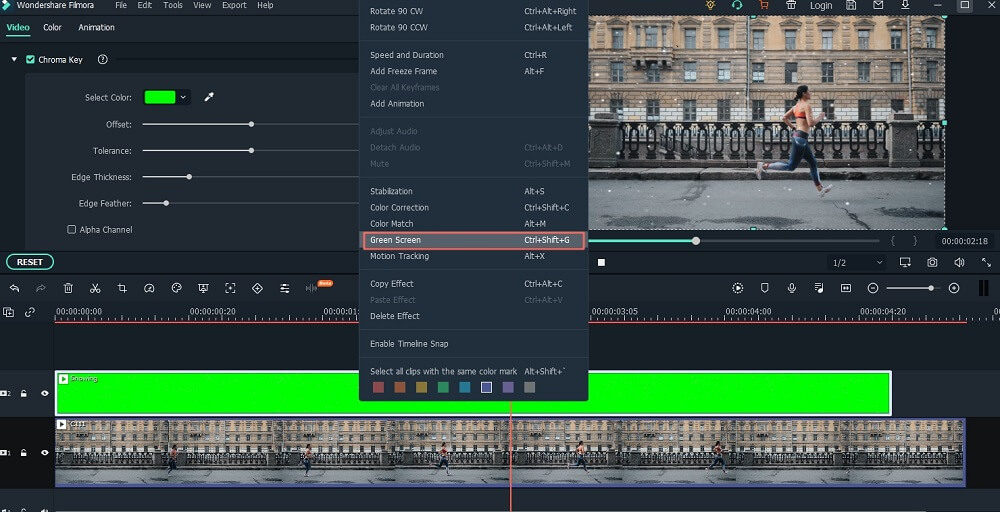 Step 5. Add Music to the Green Screen Stop Motion Video
To add background music to the stop motion video, you can click on the "MUSIC" button above the timeline. And then select your desired audio track from the music library on the upper left side of the window. Drag the audio track to the timeline, and it will be added to the stop motion video. You are able to drag the beginning and ending of the music to adjust the duration.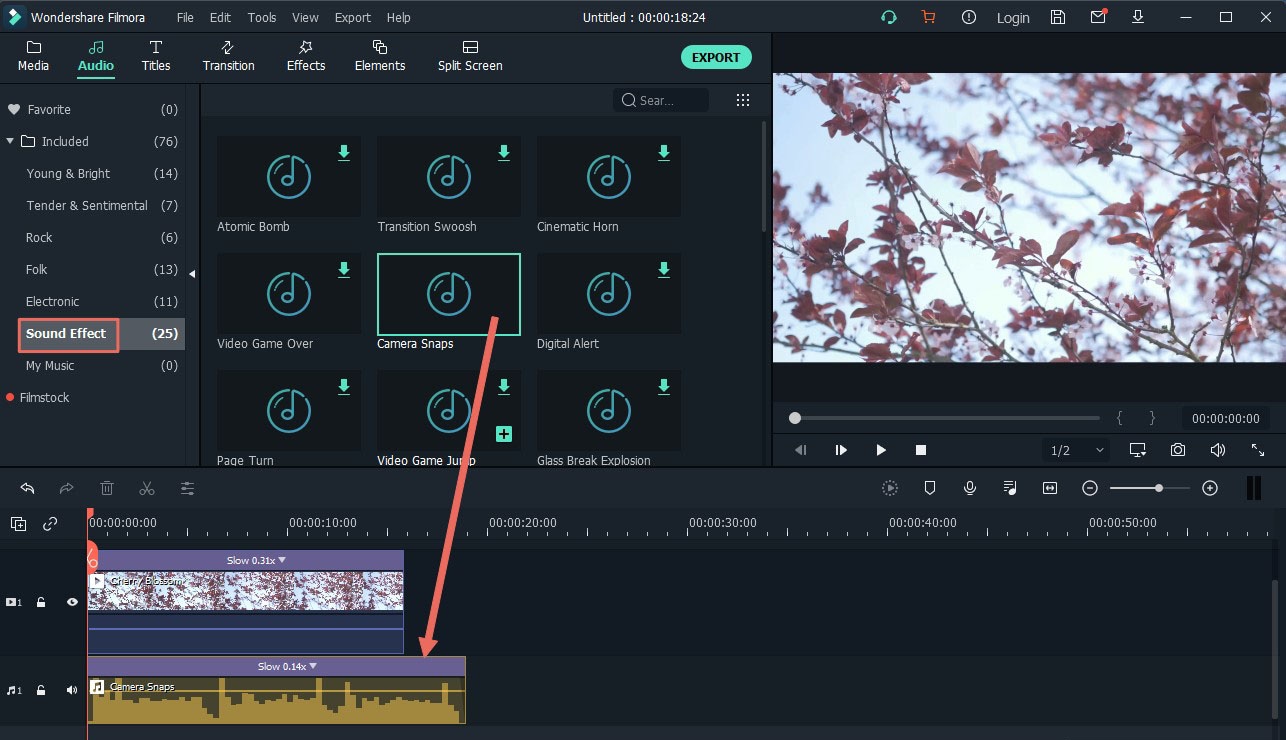 Step 6. Export the Stop Motion Video with Green Screen Effect
Click on the "EXPORT" button, and you can have several ways to save your output video. You can convert the video to specified format, save it to device compatible format, burn to DVD, or upload to YouTube or Vimeo.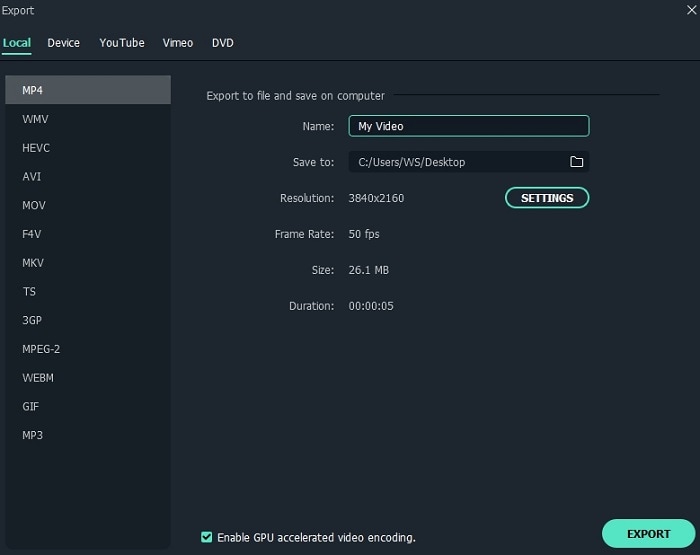 ---
Part 2. Stop Motion Background Ideas: 10 Funny and Attractive Stop Motion Green Screen Videos
1. 50+ Green Screen Effects Pack
This YouTube video provides you with more than 50 green screen effects for stop motion videos. It introduce the ways on how to create a video with green screen effects. And you can have guide to download and use these green effects from the video sources. Click and get the full tutorial on how to get these wonderful green screen templates for your stop motion video!
2. Funny Lego Stop Motion Video Clips for Kids
This funny Lego stop motion video made with green screen comes with collection of a lot of Lego figures, heroes of stories and other great things. It is best for kids, which for them to review the stories and play with their heroes including spider-man, super-man, and others. It is designed with Leogo building bricks with lots of games such football game and others.
3. Green Screen Tips, Tricks and Materials
This is a tutorial video helping you to create green screen videos. It shows you tips, tricks and the necessary materials. In this video, you can have detailed step-by-step tutorial on how to create a stop motion green screen video and learn the materials that you have to use. Just watch the video and make your own film on green screen.
4. Stop Motion Tutorial: Green Screen FX
This is another tutorial video giving you detailed guide and tips on how to make stop motion video with green screen effect. And it share some ideas on how to make full use of a green screen or blue screen and put the stop motion effects on the video. You can also put the clay animation characters into locations while do not need to quite the animation stage.
5. The Problem of the Green Screen with Stop Motions Films
This stop motion green screen video is more like showing tips and tricks on creating a funny green screen with stop motions film. It collects lots of heroes and movie characters, which is used for the green screen video. And it makes the video in a fun way by putting the heroes into the real world.
6. Stop Motion Pro Claymation Green Screen Animation
This is a typical green screen video with stop motion. It use the clay green screen animation and clay stop motion animation to make the video in funny way. This video uses the skull man as character to show funny scenario. The kids might enjoy this kind of stop motion video. You still can get many related funny video from this channel.
7. Stuffed Animal Stop Motion (Green Screen Footage)
This stop motion video with green screen footage shows you the funny short stop motion animation. It use the handcraft puppet animals as the character in the video to bring funny to life. You also can see the tricks on how to create such stop motion video in a green screen.
8. Green Screen Stop Motion Fun
This is a funny green screen stop motion video. It use the puppet toy and green screen background to show you how to create a green screen stop motion video. This simple tutorial video is best for beginners who want to make green screen video but without too much knowledge. Click and watch the video to start making your own green screen stop motion movie.
9. A9 Lectures - Stop Motion
This video is produced by a professional movie maker who is mainly in teaching art and giving numerous lectures in college. He is good at the technology in creating stop motion green screen video. So in this tutorial video, you will get detailed instructions on how to set up a green screen and make a stop motion video with the green screen effect.
10. StickBot Studio Stop Motion Animation Stick Figure With Green Screen
This video is about Stickbot Studio stop motion animation with green screen, which is a mini posable stick figure. And you can move the figure in front of a green screen, or to any position of the green screen to make your own stop motion video. You are able to get the figures in many different colors. With the figure and a green screen background, you can make your own film easily.
---
Conclusion
You can get tips and trick on stop motion background from the above videos. And using the Filmora Video Editor as your handy tool to make your own green screen stop motion video without hassle.