Data loss is a regular occurrence and none of us regardless of how many precautions we take can be immune to it. This is why it is very important to have backups of all your data including the photos on your Micro SD card. But this isn't always practical and sometimes you can accidentally delete some of the photos on your Micro SD card or lose them due to a drive or system malfunction. In this case, it is necessary to have a data recovery system that will help you recover deleted photos from Micro SD Card in great condition and with high accuracy. In this article, we are going to be providing you with one such system. We can safely claim that by the time you read to the end of this piece, you will be fully equipped to recover the missing photos easily.
Part 1. How to Recover Deleted Photos from Micro SD Card
By now you can already guess that you will need a data recovery program to get your missing photos back. But not just any program will do. You need a data recovery program that is as effective as it is easy to use to ensure that you are able to get your photos back in the shortest time possible. That data recovery program is none other than iSkysoft Data Recovery for Mac (or iSkysoft Data Recovery for Windows).
Why Choose This Software to Recover Deleted Photos from Micro SD Card:
It is a data recovery program that is very easy to use. A simple 3-step process, that we are going to show you shortly will have you recovering your data in no time at all.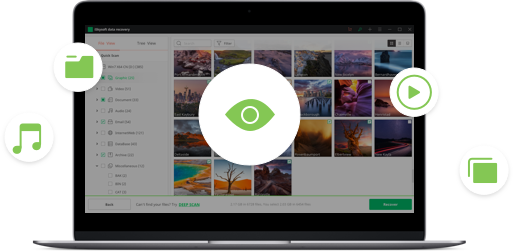 It is also very fast and efficient. It can be used to recover just about any type of file from any drive. This means you can easily recover all types of image files.
It can also be used to recover images regardless of how they were lost in the first place. It works whether you accidentally deleted some of your photos or there was a drive malfunction causing the data loss.
It is compatible with all versions of the Mac OS X including macOS Sierra.
Step-by-Step Guide to Recover Deleted Photos from Micro SD Card
Step 1

Download Digicam Photo Recovery Mac Alternative

Download and install Recoverit (IS) for Mac to your Mac computer and then launch the program. From the main window, you should see four different file types. You can just select the file types that you want to recover with this software. Here you can choose "Photos" to recover your lost photos in the following steps. Then click "Next".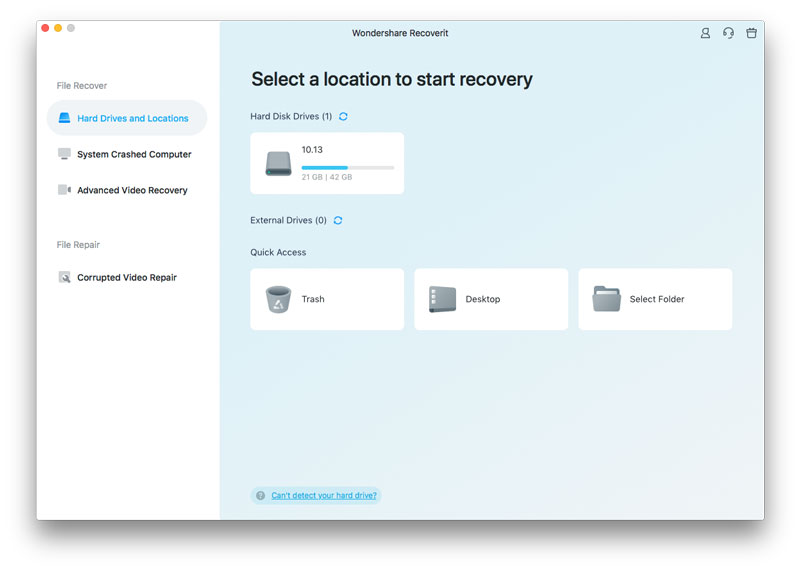 Step 2

Search for Deleted Photos

In the next window, select the drive you wish to recover data from. Since in this case it is a Micro SD card, please remember to connect the storage device to the Mac computer. If you don't see it listed in the available drives, click on the refresh icon and it will appear. Then click "Start". The software will start scanning your lost photos on your SD card.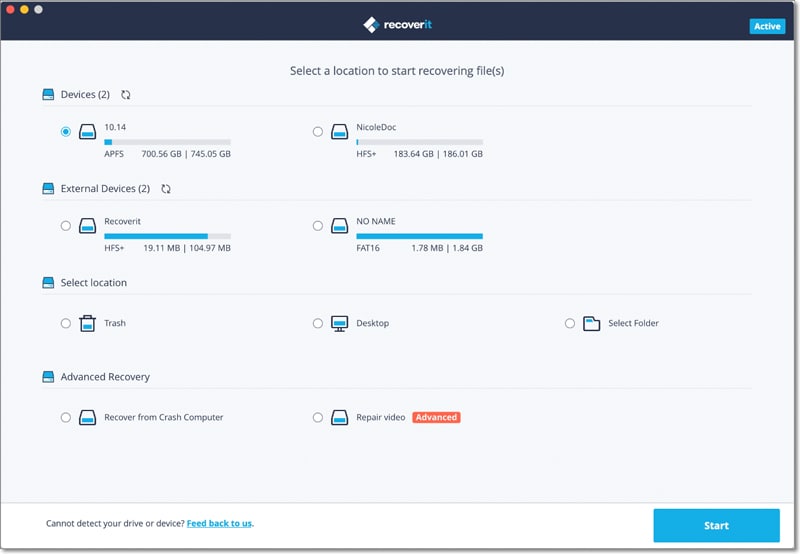 Step 3

Recover Deleted Photos from Micro SD Card

The whole scanning process shouldn't take long and once it's done, you will see all the recoverable images in the next window. Select the ones you wish to recover and then click "Recover" to save them to a different drive.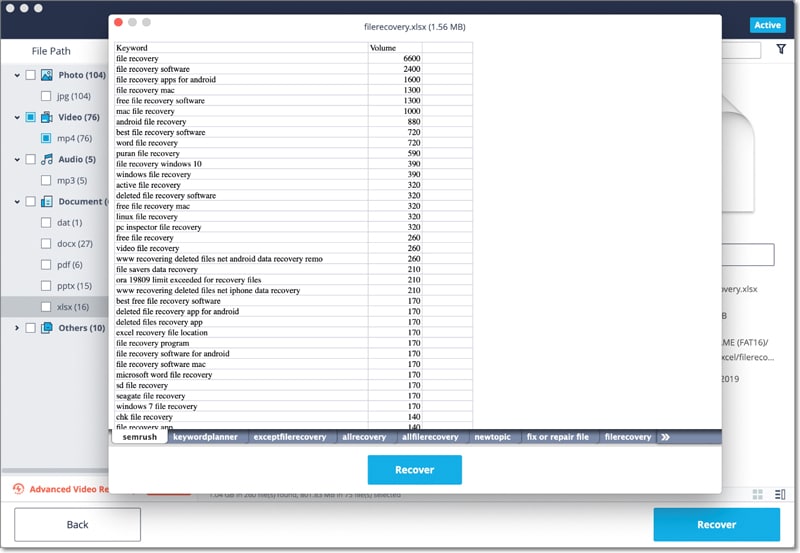 In case of not finding your wanted lost photos, you are supposed to do the "Deep Scan" mode, which will search deep into your SD card and present you more of your lost photos.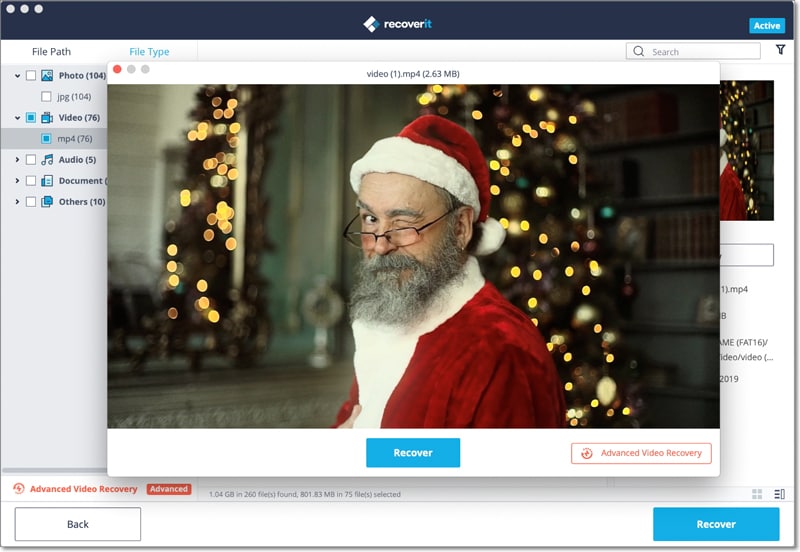 Part 2. How to Choose a Right Micro SD Card for Your Device
The need to expand the storage capacity of any device has given rise to numerous different types of SD cards flooding the market. While the wide variety is of great advantage to you as the consumer, there is often confusion on the right Micro SD card to choose for your particular device. The following are just some of the things you should look out for.
1. Ensure your device supports MicroSD
Before we get ahead of ourselves, the first thing you should do is to ensure that your device actually supports Micro SD cards. Ensure that the device has a Micro SD slot. If it does, you are ready to buy one.
2. The different between SDHC and SDXC
One of the things you will notice when you want to buy a Micro SD card is that there are two types, SDHC and SDXC. The difference is that SDHC (Secure Digital High Capacity) can store up to 32GB data while SDXC (Secure Digital Extended Capacity) can store 65GB and above. So really, the one you choose to buy depends on the amount of data you would like to store.
3. What Different classes mean
You will also notice that different Micro SD cards are classified into various classes that are numbered as class 2, 4, 6 and 10. Don't let these classes confuse you when you go out to buy a Micro SD card. They simply refer to the minimum rates at which these cards can transfer data. For example, a class 2 Micro SD card will transfer data at 2MB/s and a class 10 will transfer data at 10MB/s.
4. Micro SD Cards and Device speed
The most important question when looking for an SD card is whether or not it will improve the performance of your device. If you are going to use it to store photos and apps then a higher speed Micro SD card will definitely improve data transfers ad save photos faster and as a direct consequence improve the performance of your device.
That said, it is still worth noting that apps stored on an SD card will open at significantly slower speeds as compared to those stored on the phone's internal memory simply because there is an extra layer of communication between the phone and the SD card that needs to be carried out.
5. UHS on a Micro SD Card
Another thing you will notice when purchasing MicroSD cards is UHS. They are generally categorized as either UHS-1 or UHS-3 compatible. These UHS cards can reach data transfer speeds of up to 312 MB/s with a minimum transfer speed of up to 10 MB/s. currently no smartphone supports the UHS standard so even if you were to purchase a UHS compatible Micro SD, you may only realistically get the minimum 10 MB/s speeds.