Do you suspect that your Hard drive has turned RAW and you fear that you may have lost all or some of the data on your device? Or is some or all of the data on your drive missing and you don't know what may have happened? In your search for answers, you may have come across RAW file recovery but like everything that has to do with data recovery, you may not completely understand what this means. If you find yourself in this predicament or something similar, you will find this article highly informative in regard to what RAW files are exactly and how you can perform RAW data recovery. Let's begin with a description of exactly what RAW files are.
Part 1: Do You Know about RAW Files
The simple answer to "What is RAW?" is that it is the default CD-ROM file system that Windows recognizes. There is also a RAW mode in DVD burning after reading the complete sector data. The RAW mode in DVD burning can extract users' data and also sub channels but not all burners support RAW Mode. A hard drive that hasn't been formatted by an NT File system such as NTFS or FAT is often called a RAW hard drive. But nothing can be included in a RAW hard drive simply because a drive can't be used to save data before it has been formatted.
So you may ask: how can you recover data from a RAW drive is nothing can be saved on it? The truth is, even a formatted hard drive can suddenly become RAW due to problems such as a virus attack or improper operations.
A RAW hard drive can manifest in two situations: One is that the whole drive has become RAW due to some problems we shall discuss later and another is a specific partition of the hard drive can become RAW. Let's take a look at each one in detail.
1. The Whole Disk is RAW
If you suddenly find that your operating system doesn't recognize the file system on your hard drive, you can rightly assume that the hard drive has become RAW. At this particular moment, the hard drive is inaccessible. Also if you happen to check its used space, unused space and capacity, they will be calculated as "zero". This means that all of the data originally saved on that "RAW" drive has been lost. You can't access the data, nor transfer it to another drive for further use.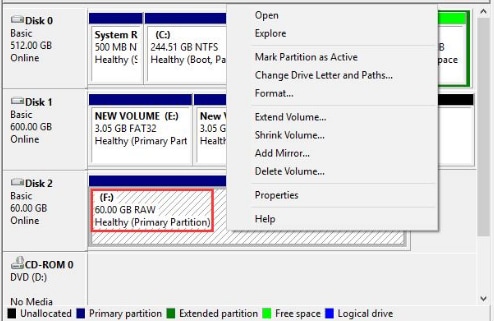 2. RAW Partition
If on the other hand the damage has occurred on only one partition, other partitions will be normal. When you click on the "RAW" drive you will see an error message stating "The file or directory is corrupted and unreadable" or "You need to format the disk before you can use it". In this case you can fix the drive by formatting it. Formatting the drive will however result in total data loss. So if there is an alternative solution, try it and let formatting the drive remain your last resort.
---
Part 2: What May Cause Your Hard Drive or Partition to Become RAW
Like we mentioned before the reasons why your hard drive can suddenly become RAW are varied and most of the time may depend on several factors some of which you have little control over. But just to put your mind at ease, the following are some of the major reasons why a hard drive or partition can become RAW.
1. A problem with the Disk Drive Cable
This is very rare but it could happen. The drive may be shown as RAW because of cable issues. The problem can be as simple as a broken cable which is easily fixable. You can just replace the cable and the drive will be normal again. As a matter of fact, this is the first thing you should check before jumping to data recovery methods.
2. Bad Sectors
The main symptom that your hard drive may have bad sectors is when you click on the hard drive's letter and it takes too long to respond. If this is what you are experiencing, you can use a professional tool to mirror the hard drive. Again, this should be done before you can think about data recovery.
3. File System Structural Damage
If there is no obvious reason why the hard drive has become RAW; the drive is responding fine and you have found no damaged cables, you may need to manually analyze the drive. If you don't know how, tools such as WINHEX can be of great help.
4. Partition Table Damage
Once the partition table of a hard drive has been damaged, the drive will automatically become RAW. This is because the computer's operating system can only identify the different partitions using the partition table. The table records the location, type, size and other information about the particular partition.
5. Reinstallation or Restoration of the Operating System
Sometimes choosing to reinstall the operating system you are running now or restoring it to the initial state such as downgrading to an older version may damage the disk and cause it to become RAW.
6. Virus Attacks
Computer viruses are many and of different types but the one thing they have in common is that they cause too many problems when they infect your system. They can cause problems such as document loss, partition loss, loss of photos and other files and in more serious attacks a complete system crash. A hard drive can become raw after a virus attacks the system and changes or deleted some vital parameters or information on it.
7. System Reinstallation
This one manly causes a partition to become RAW. If the current system partition was formatted with FAT but you decide to change it to NTFS, you may find that the new system cannot be recognized by the operating system resulting in a partition that has become RAW.
8. Too Many Hard Drives and Partitions
If you use too many partitions and hard drives on the same computer simultaneously can cause a partition to become RAW.
Like we said, the reasons a drive or partition could become RAW. Once or more of the above reasons could be causing the problem for you and diagnosing the problem may be crucial to fixing the problem and ensuring it never happens again.
---
Part 3: All in One Method to Perform RAW File Recovery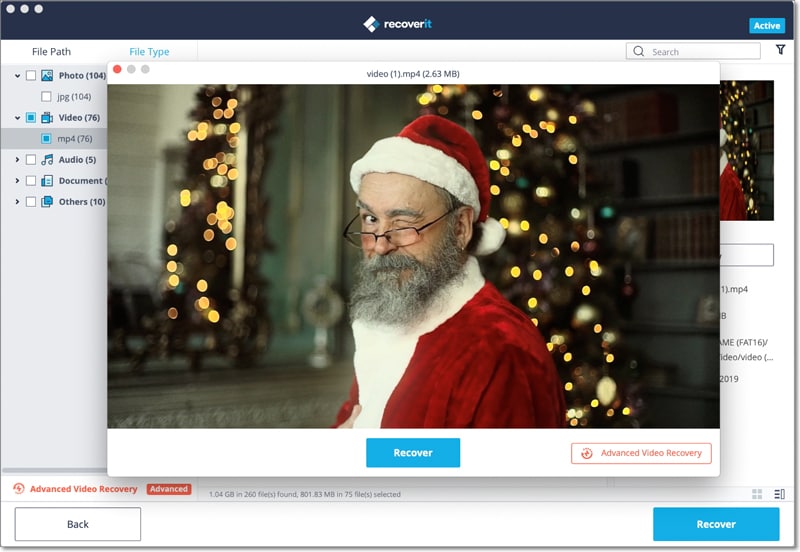 Now that you know what could be causing your hard drive to become RAW, we are certain you are anxious for a way to get your missing data back. Luckily, we have a solution that will allow you to get all the data you have lost in a few easy clicks and in the shortest time possible. That solution is Recoverit (IS) for Mac (or Recoverit (IS)) an all-powerful data recovery tool that can be used to recover lost data regardless of how the data was lost in the first place.
Understanding just how devastating it can be to lose all the data on your hard drive, Recoverit (IS) was designed to eliminate the worry that comes with being in this situation. As long as the data on that drive has not been overwritten, this program can recover it regardless of the type of file in the hard drive or even if there are many different types of files.
Why Choose This RAW File Recovery Software:
• All the data on the drive and your device as a whole will be recovered intact and because it utilizes a read-only system, none of the data on other undamaged partitions will be damaged in any way.
• It comes with a preview feature that allows you to view the files before recovery. This comes in handy when you don't want to recover all the files but only the important ones. You can pick and choose the files to recover.
• You can use Recoverit (IS) to recover photos, videos, music, zip document and many other data.
---
Step-by-Step Guide to Recover Raw File
Begin by downloading and installing the program to your computer. We have another instruction here: if what you have is a RAW hard drive, you obviously have to install the program on a different drive. But even if only a partition of your hard drive is RAW, you still need to install the program on a different drive. The reason you do this is to avoid overwriting the data on that drive and hence rendering it unrecoverable.
Step 1. Choose File Types
Launch the program. On the main window, you will see the supported file types to choose from. It looks something like this. You can click on "All File Types" or only select some file types (if you only lost some of your data)" and hit "Next".
Step 2. Select the Drive
In the next window, you should see the partitions on out computer. Select the partition from which you want to recover data and then click on "Start" to begins scanning for the missing data. If you have lost or formatted a partition you can select the whole disk. If you don't see the partition or drive click on the refresh icon and you should see them.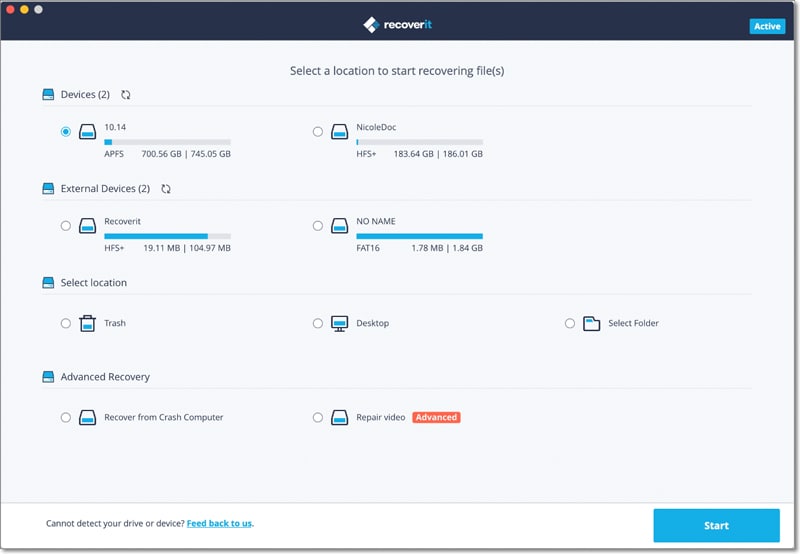 Step 3. Start Recovering Raw Files
Once the scan is complete, you will be able to see all the data on that drive on the next window. The data is categorized by file type. You can click on a file type on the left to preview it. In case there are too many files on that drive and you're having trouble finding a particular one, use the "Search" box to find a file. Once you find the data you are looking for, click on "Recover". You can also click on "Save Scan Info" to save the scanned results and resume recovery later.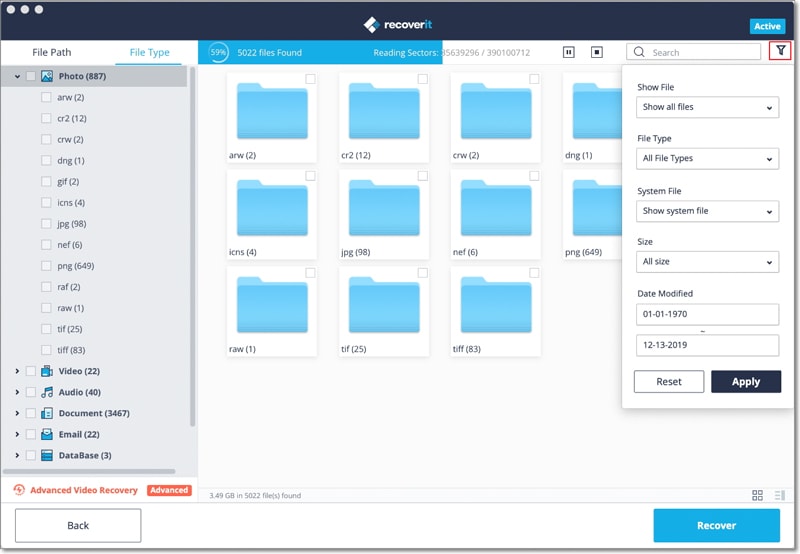 Once you have recovered all the files you wanted to find, you need to save the files in a different location. We advise you save the files on a separate drive to avoid losing the data again. You may not be sure what the problem is with the current drive. So to avoid future problems, it may be a good idea to stop using the drive until you can figure it out. The "Deep Scan" mode provide with deep scan on your drive thus bring more of your lost files for you.