Both humiliating and frustrating, the accidental loss of data we deemed to be truly precious or valuable can cause considerable distraught. It doesn't matter whether it was an eon-old family picture or an important document: we feel incredibly upset and cheated upon. However, there is no use crying over spilt milk, especially when that milk can be cleaned up to be used again. The quick fix for how to recover photos from external hard drive comes under the name Recoverit (IS), and it is good news for both Mac and Windows users.
Part 1. How to Recover Photos from External Hard Drive
iSkysoft Data Recovery for Mac (iSkysoft Data Recovery for Windows) is an easy-to-use and reliable data recovery software that is easily available online. It is very user-friendly; even the most amateur of users can use it without any hindrances.
Why Choose This Software to Recover Photos from External Hard Drive:
It can recover data from formatted, corrupt or damaged partitions
It can recover files removed from accidental deletion, via the Command and Delete prompt
It can recover files via their file signature and for a deeper scan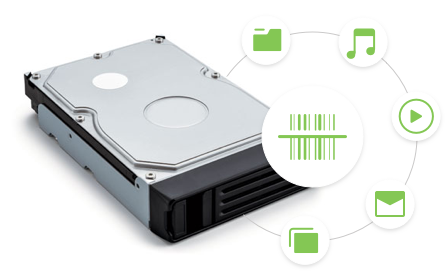 One can resume recovery, in case the scan progress takes too long and the user wants to resume it at a later time
Step-by-Step Guide to Recover Photos from External Hard Drive
Step 1. Download Recoverit (IS) for Mac on your Mac computer. Run the program. You should be greeted with the following dialog box. Choose one or more file types and click "Next" button.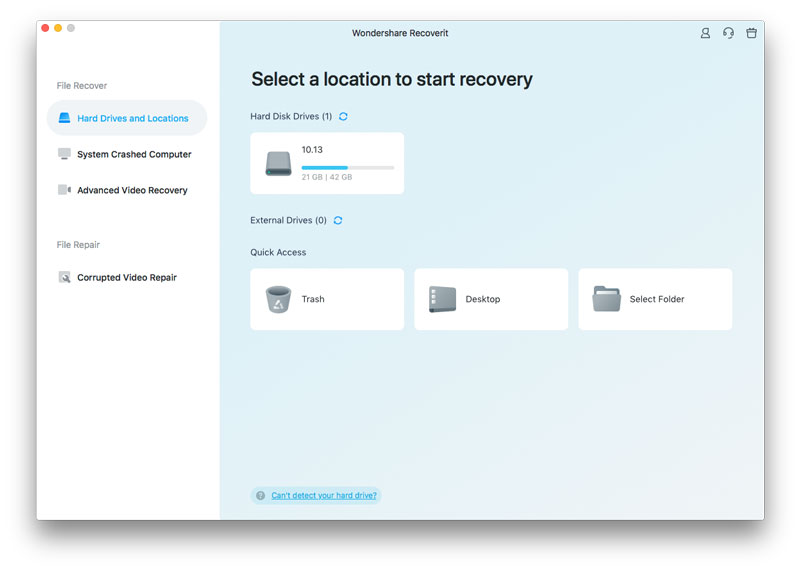 Step 2. From the list of drives, select the one you lost the file from and click "Start" on the bottom of the box. If your drive is not visible in the "External Removable Device" list, click on "Refresh" icon, which should bring your drive up.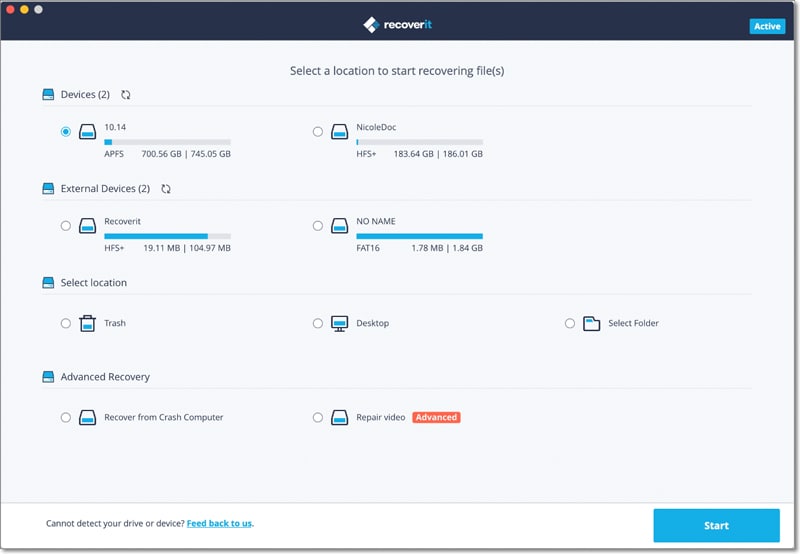 Step 3. Once scanning is complete, a preview of all the found files will be displayed. You can choose the file you want to restore from there and click "Recover".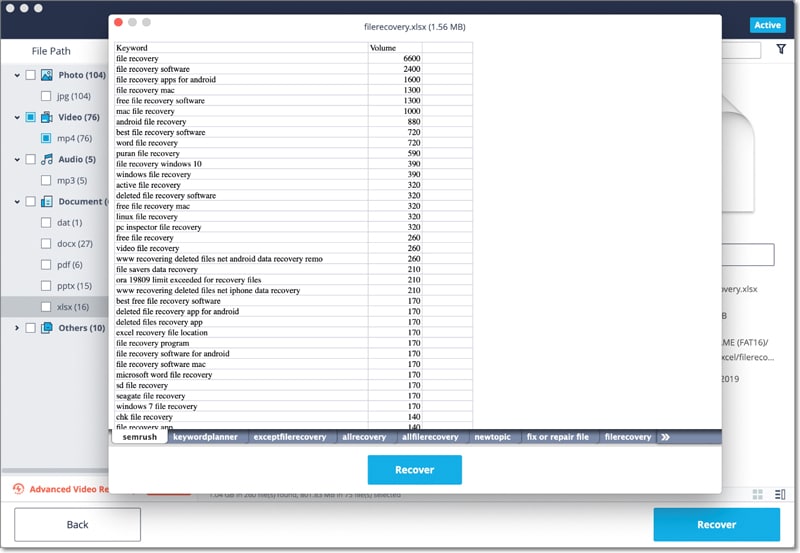 Choose the destination path to save your file to. We recommend choosing a location other than the one you originally lost the photo from.
Part 2. How to Avoid Photo Loss When Using an External Hard Drive
Prevention is always better than the cure, and a case in point is data loss. Instead of suffering through the ordeal of looking for and restoring the deleted photo, why not just completely avoid its loss next time? Here's some pointers regarding how to keep your data and photos safe, especially with respect to external hard drives.
Use multiple external hard drives.
Don't rely on just the one flash drive or memory card. Use as many storage devices as you can. Spread the risk of data loss. Also, create partitions on the drives. This way, if one drive fails, you can be sure that the other one is still in place and up and running. For Windows, here's how to run the Disk Defragmenter tool to consolidate your files:
Step 1. Go to Start -> Control Panel -> System and Security -> Administrative Tools. You'll be greeted with the following window.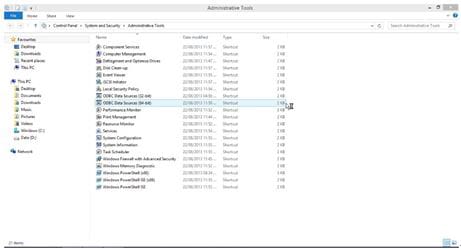 Step 2. Click Defragment and Optimize Drives. The following will appear.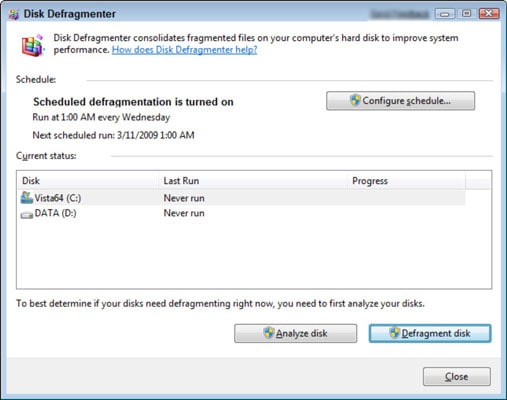 Step 3. Click Analyze Disk. This checks whether the disk needs to be defragmented. After analysis is complete, click the "Defragment Disk" button. This will defragment the disk. After the process is complete, you will be notified and you can close the operation.
Prevent malware.
This is a major contributor to data loss, and the most frustrating thing is that it can also be easily managed. It just requires a little bit of time and patience on your part, and constant updates of the antivirus software you have chosen to install. If you have deeply entrenched virus, here is a guide on how to use Norton Power Eraser (a powerful antimalware software) that can dig out and eradicate very stubborn malware.
Step 1. Download and run Norton Power Eraser. You can download it for free from here: https://security.symantec.com/nbrt/npe.aspx. You'll be greeted with the following box. Click on "Accept".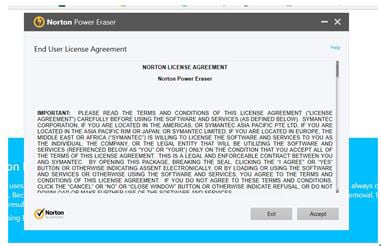 Step 2. Click on Scan for Risks. Click on "Restart". This will restart your computer to prepare it for a rootkit scan.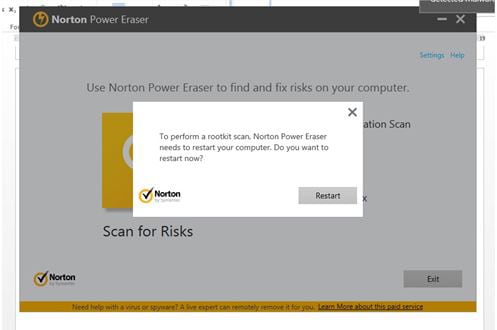 Step 3. After restart, NPE will run itself and will begin scanning your computer. You will need an Internet connection for the scanning process. After scanning is complete, you will be shown the potential risks Click "Fix Now". If you're scared of losing precious files, you can check the box that says "Create System Restore Point", which will allow you to restore any data you may lose in the process.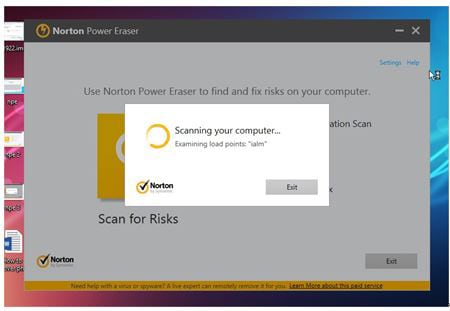 Create backups for your data.
You can use software like Norton Ghost to do this for you.
Step 1. Install and run Norton Ghost. Choose whatever you want to back up.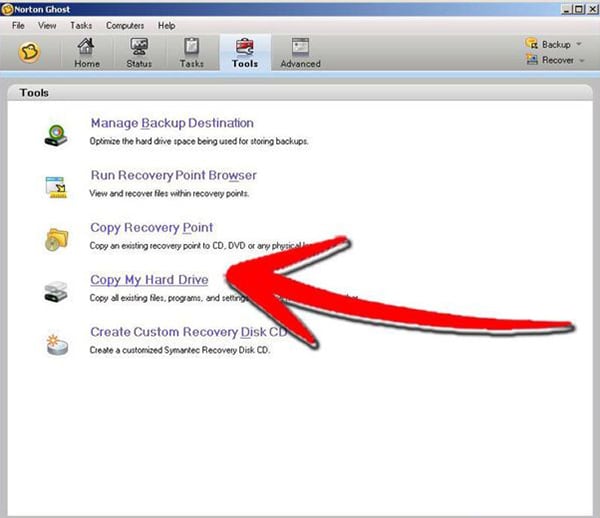 Step 2. Choose the destination path. Set the backup schedule. Since this method requires an external hard drive, make sure the drive is plugged in at the time you have set the schedule for.