A registry cleaner is primarily a software program that scans the entire windows registry in order to find entries that have now become redundant and serve no use. So, a registry cleaner scans all the entries and shows the ones which they feel are useless. They are likely to rank the entries by importance and you can either manually delete them or give the program the permission to automatically delete the entries from the registry. There are different types of registry cleaners which are available and we are going to discuss about those here.
Part 1. The Best 5 Registry Cleaner for Windows 10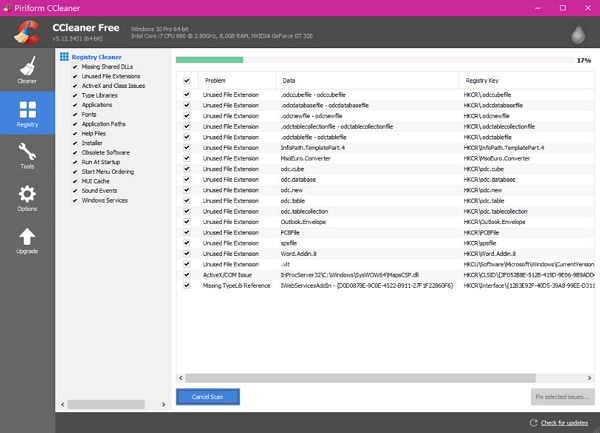 It is hailed as one of the popular and versatile cleaners which is used by a lot of people. Every time you clear the registry, the program prompts you to make a backup and it comes packed with a lot of useful tools as well. It is compatible with a lot of version of Windows.
Pros:
● It is supported on Windows 10, 8, 7, Vista, XP and more.
● This program cleans a lot more than just your registry and frees up unwanted space in your system.
● The registry keys and values which points to files and programs that are no longer existent is cleared up.
Cons:
● The primary download page isn't well laid and can be confusing for a user to begin with.
---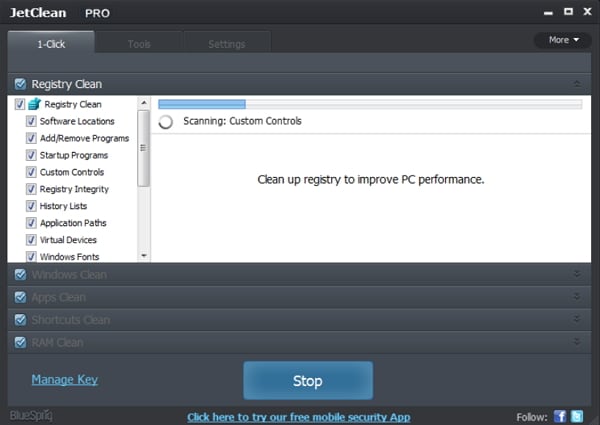 It is one of the popular Windows 10 registry cleaner software which comes equipped with great features. The software is light and makes use of minimal resources in order to make things work. It also helps in improving the performance of the PC as well.
Pros:
• You can scan, repair and even automatically shutdown the registry after the errors that have been spotted have been fixed.
• Registry backups are created automatically.
• The interface is very easy to use and requires no prior training.
Cons:
• Jet Clean tends to keep a bit too many cookies which doesn't seem like the right thing to do.
• During installation, it tends to force the downloading of a toolbar, but you do have the option of skipping it.
• The portable version of the program isn't readily available and needs to be generated.
---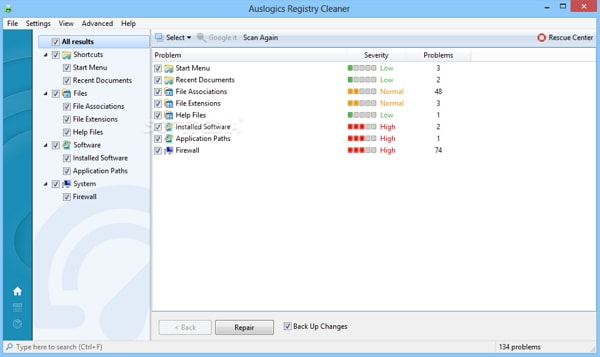 It is hailed as one of the easiest registry cleaners which can be found in the market. It also gives a coloured output with a severity rating for the different categories of the registry areas. This makes it a lot easier to fix the different issues in an appropriate manner.
Pros:
• It comes with a very quick installation process.
• This program is easy to use and have a very smooth interface.
• With a single click, you can clean the registry.
• The registry can be paused and resumed at any time.
• It has the option of backing up the registry automatically.
Cons:
• There are several additional programs that might pop up during installation of the registry cleaner.
---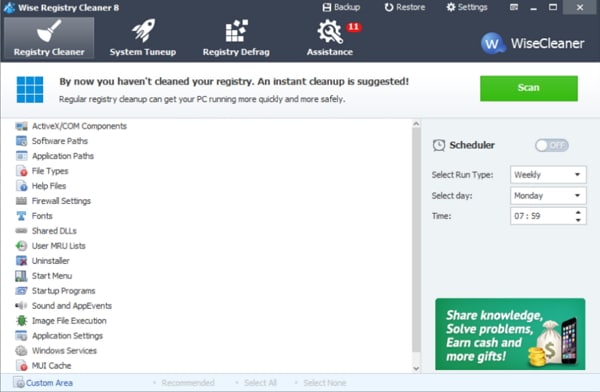 This cleaner too is quickly catching up on popularity owing to the features which it has to offer. It comes with some of the fastest registry scans along with the option of scheduling the scans as well. Not only this, you will also find a clear demarcation between normal issues and even the unsafe ones as well.
Pros:
• You can schedule the cleaner to clean the registry on a set schedule be it daily, weekly or even monthly.
• The registry is automatically always backed up before the cleaning is done.
• You can create a restore point whenever you want manually.
Cons:
• During the setup process, you might find other programs looking to get downloaded.
---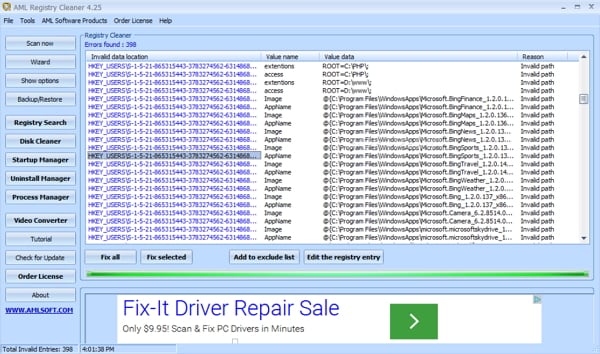 This is yet another registry cleaner that seems to do a good work. Though it isn't the most updated cleaner, it serves the purpose in the right way and hence deserves mention in this list. It works on both the 64 and the 32 bit versions of Windows 10 OS.
Pros:
• Excluding the different folders while scanning is really easy and can be done with just one command and/or click.
• It is easy to open the registry and see the precise location of the error.
• Along with the cleaner, you also have a disk cleaner, a software uninstaller, search tool and even process manager.
• The program has the option of creating backup and restoring the registry as well.
Cons:
• The scan speed is comparatively slower.
• The backups for the registry aren't done automatically and have to be manually done.
---
Part 2. The Best 3 Registry Cleaner for Windows 8
Now, we will take a look at the cleaners which can be used for Windows 8 OS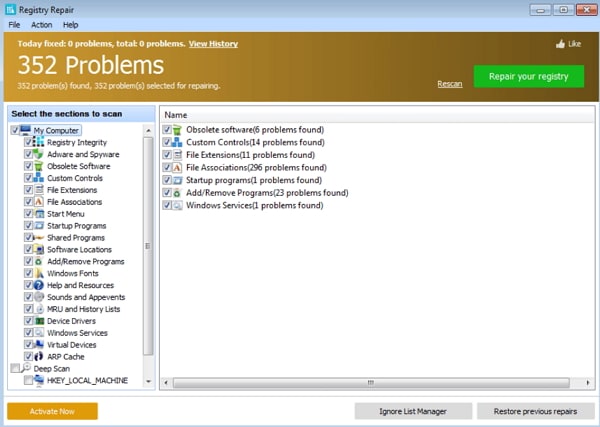 This cleaner works well with Windows 8 and also higher OS versions too. A lot of different errors are detected with the help of this software and this includes the issues with different kinds of file extensions and even the software which has become obsolete.
Pros:
• The errors have the option to be exported to a TXT file.
• It comes with a lot of advanced features.
• The download size is very small ad requires minimal space.
• The registry backups are done automatically.
Cons:
• A lot of unwanted programs may try to install during the setup process.
• There is no provision to create a system restore point.
---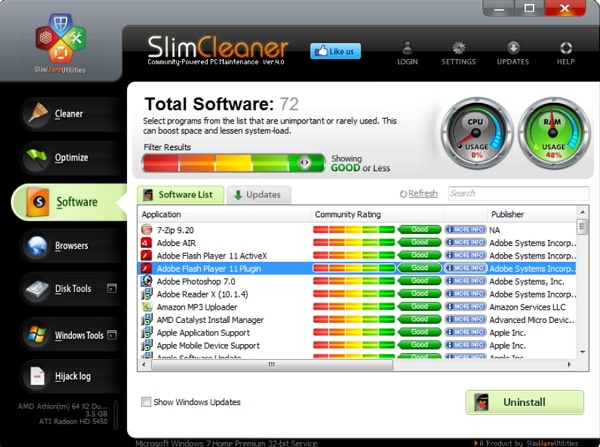 One of the reasons why this cleaner is so popular because there are a lot of extra programs which are useful that comes embedded with it. The tool is very simple to use and does work smartly and even backs up the registry all by itself.
Pros:
• It comes with an auto clean feature which doesn't require you to manually scan the errors and repair them one by one.
• You can train the program to ignore certain types of errors.
• The registry backups are done automatically and can also be removed or restored as per your need.
• A lot of useful tools like file shredder, program updater, defrag program are included as a part of the installation.
Cons:
• The scan results do not appear to be extremely user friendly and can sometimes be too complex.
• Installation can be a long time consuming process.
---
This is a popular registry cleaner which is compatible with Windows 8, 7 and even Vista and XP as well. This cleaner is mainly known for offering remarkable ease of operation.
Pros:
• It detects and repairs a lot of different types of problems.
• Ideally, it should be used at regular intervals to ensure high performance of the system.
• It backs up the registry automatically.
• There are two analysis modes which are available and you can choose the one you want.
• Undoing changes to registry is remarkable simple.
Cons:
• Initially, you need to understand the interface and it might take some time getting used to it.
• The start-up could be simpler.
---
Part 3. The Best 3 Registry Cleaner for Windows 7
Now let us see some of the registry cleaner that works best with windows 7 OS.
#1. Easy Cleaner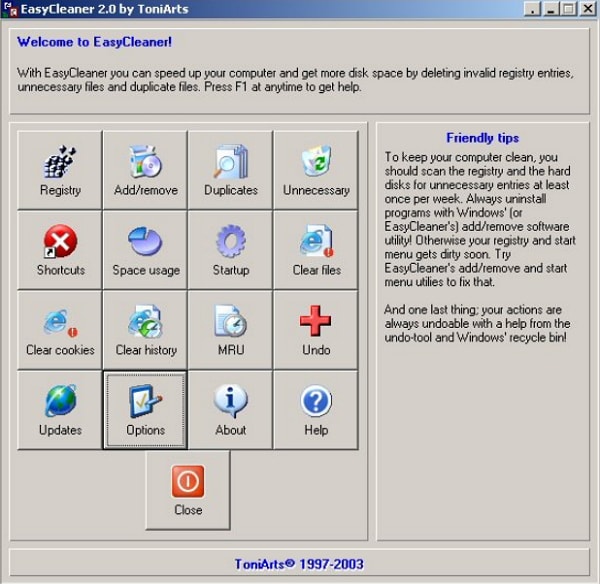 It is by far one of the oldest cleaners which you can find in the market. Though the interface could use a little bit of updating, it is indeed an effective tool with some remarkably amazing features.
Pros:
• It comes with a lot of other useful software installed in it like a duplicate file finder, a startup manager and even an invalid shortcut remover.
• It backs up the registry automatically.
• You can delete more than one error at a time and also remove all of it together.
Cons:
• The scan time is remarkably slow.
---
#2. Kingsoft PC Doctor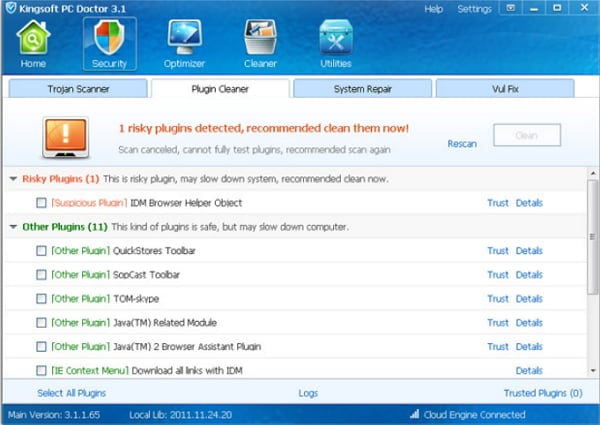 It is one of the top registry cleaner which comes embedded in a software suite. The interface is simple and easy to use and requires no prior training.
Pros:
• One can easily find the different errors spotted by the program.
• The backup of Windows registry is done atomically.
• It comes with a lot of additional features like it can cut down the startup time; reminds you to clean the hard drive when the storage space is running low and even send alert when you consume too much internet traffic.
Cons:
• There is no option to schedule the scans.
---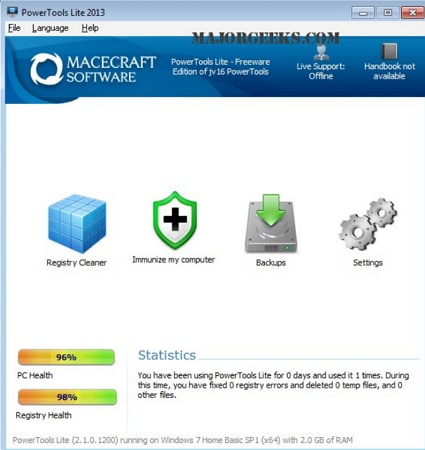 Created by the popular brand Macecraft, jv16 Power Tools Lite is a top registry cleaner and doesn't comes with unwanted downloads.
Pros:
• The scan results can be saved and even printed.
• There is the option to restore the backed up registry items.
• Registry backups are done automatically.
• Most settings are customizable and gives you a lot more control.
Cons:
• The interface could use some improved user friendly options.
• There are better alternatives available.
---
Recommendation: The Best Data Recovery Software Windows 7/8/10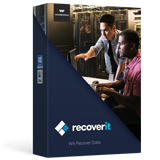 Recovers data lost due to several reasons
Supports 550+ multiple file formats
Offers 100 percept risk free data recovery
Carries out both deep and quick scan
Option to preview the content before restoring it
Now that you know all the top registrar cleaners, we want to know that sometimes it may so happen that while cleaning disk space, you may end up losing data that you would actually want. In such cases, you need to make smart use of software which can help you recover the lost data. One such software is Recoverit for Windows.
It is one of the best software for all those who want to recover data that has been lost owing to different situations which includes partition loss, loss during system update, and loss during formatting and even emptied recycle bin as well.
So, now that you know the top free registry cleaners and even the software to recover the lost data, put them to right use as and when needed.