Data loss occurs without notice, whether it's through disk errors, physical/accidental deletion, power shortage or hackers. If you've lost important files, you can recover them with a reliable data recovery program. However, the process is always considered to be expensive and doesn't guarantee a 100% recovery of files, especially when it comes to accidental loss and drive failures. So, data backup should be your first line of defense against data loss. You can create a manual backup on Windows simply by copyingyour files to a spare hard drive. But if you want to make your work easier, you need to download & install a dedicated backup & restore software, which automates the processes. This article walks you through the top 10 best software for drives backup and restore on Windows. Read the full article and select your preferred program based on what it has to offer.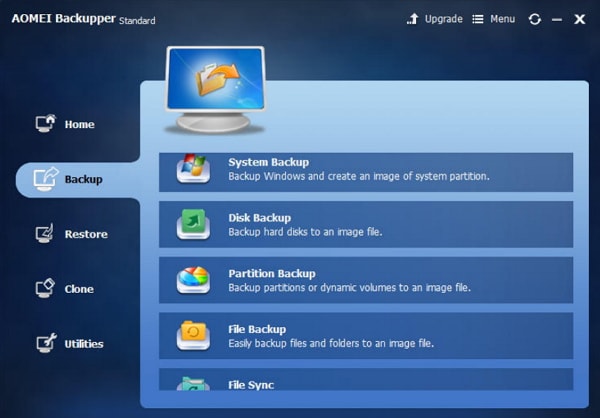 If you are worried about losing your data in the future, you need to backup your system, disks, and files in advance using AOMEI Backupper Standard. And when the accidents happen, you'll be able to restore the crucial files all back immediately. AOMEI Backupper Standard can be referred to as anall-in-one backup, sync, recovery & clone program, designed for everyone,including those who aren't IT experts. You can use it to:
i. Backup WindowsOS and create a system image to keep your data safe.
ii. Backup theentire hard disks (HDD), SSD as well as specified partitions to create an imagefile.
iii. Backup or syncall your important files and folders on a regular basis.
Pros:
• Supports automatic backup, differential backups, and incremental backups, and this helps you save time & storage.
• You can clone as maller HDD to a larger one for disks upgrade or clone HDD to SDD for even abetter performance.
• It performs areal-time sync, monitoring file changes and synchronizing newly added, modified & deleted files as soon as the changes occur.
• Users get free lifetime upgrades.
• The software is offered at an affordable price.
Cons:
• Folder backupsare a bit slow.
Compatible Platform:
Windows XP/ Vista/ Home Server 2011/SBS 2011/ Server 2003, 2008, 2012/ 7/ 8/ 10.
---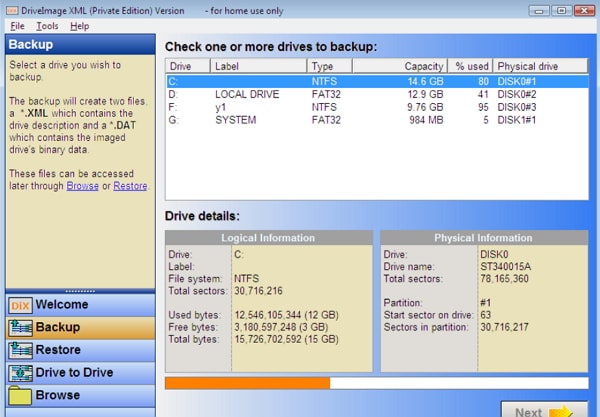 This data recovery program lets you create images & backups of logical drives & Windows partitions. It lets you back up your files quickly, without having to restart Windows. Another amazing thing about DriveImage XML is that it uses Microsoft's Volume Shadow Service, "VSS", meaningthat you can create hot images of hard drives that are already in use.
Pros:
• The software lets you copy data directly from one drive to another.
• Users can quickly browse, view or extract files from the images.
• You are free to restore the images to the same drive or to a different one.
• It lets you schedule automatic backups & image creations using "Task Scheduler".
• Users can run the program from Runtime Live CD or from WinPE boot CD-ROM.
Cons:
• You can't restore data to a smaller partition size than the one with the files to be restored.
Compatible Platform:
Windows XP/ Server 2003/ Vista/ 7/ 8.
---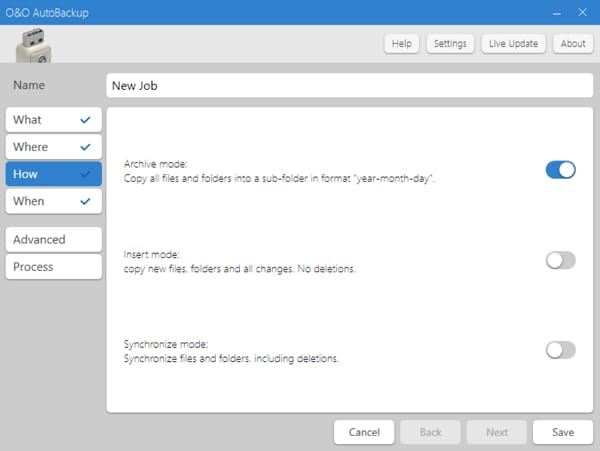 O & O Auto Backup 6 is programmed to backup files and sync any future changes to them automatically. It lets you backup documents, videos, photos, etc, on to an external USB or HDD in no time. The process is 100% automatic and starts as soon as you plug in the external hard drive or USB stick to your computer. Your files are copied 1-1, meaning that you'll be able to access them even without O & O Auto Backup.
Pros:
• The simple and intuitive user interface provides you with a quicker & smoother user experience.
• Auto backup and sync functions make the software perfect for individuals who are afraid of using complicated programs.
• You can schedule a backup for new connections on a daily/weekly basis.
• A manual start ofthe software isn't required for it to synchronize changes that have been made on the backed up files.
• The software features a clear and straight forward dialog window that enables you to selectthe files, folders or even the partitions you wish to backup.
Cons:
• There are smallinterface glitches.
Compatible Platform:
Windows 10/ 8.1/ 8/ 7/ Vista.
---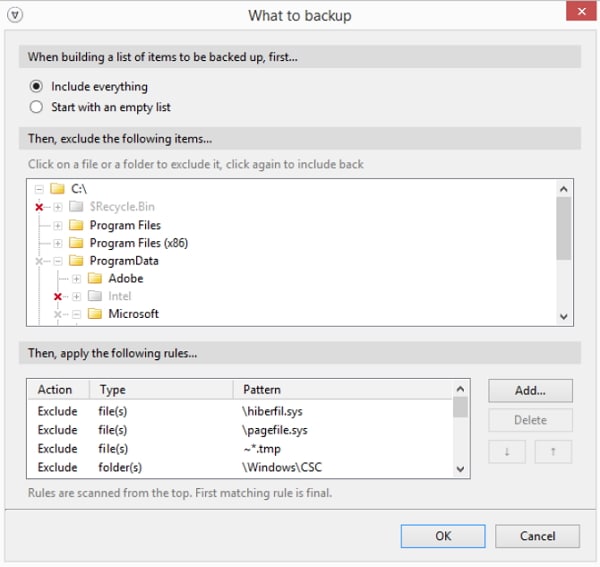 If you are looking for a simple, versatile, light and very capable software for drives backup and restore on windows, then you should try Bvckup 2. This program allows you to select a pair of folders and ensures that one stays as an exact copy of the other. It's very fast at bulk copying and even faster at updating the already backed up files, thanks to its native delta copying support as well as its ability to run multiple read & writer equests in parallel.
Pros:
• You are free to run backups at fixed time intervals or only when started manually.
• It doesn't compress, FTP or encrypt files.
• You can pin backups to a specific removable device in such a way that they will run only when the device is present.
• The software supports long path names fully.
• Checks for updates automatically and also reminds you to check for updates.
Cons:
• No encryptions & no compressions.
Compatible Platform:
Windows XP/ WS 2008 or newer.
---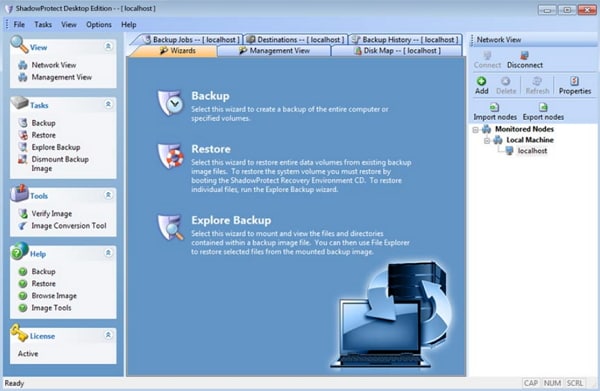 StorageCraft ShadowProtect 5 Desktop is one of our favorite software for drives backup and restoration on windows. The program provides fast and reliable backup, disaster recovery, data protection and system migration, letting you get your laptop or computer to its normal status in minutes following a data loss/ disruption. ShadowProtect 5 works quietly in the background as it takes full and incremental backups automatically, as often as 15 minutes.
Pros:
• The software makes it easier for you to quickly recover your apps, personal settings,pictures, documents, etc.
• Automatically verifies and re-verifies your backups, which helps ensure full recovery when you need it.
• The program lets you migrate to a new Windows laptop or desktop in no time, with zero data loss.
• You can convert backup images to .VHD or .VMDK.
• The program lets you consolidate your backup images daily, weekly or monthly for simple management.
Cons:
• There are limited explanations of the advanced features.
Compatible Platform:
Windows 10/ 8.1/ 7/ XP/Vista/ 2000.
---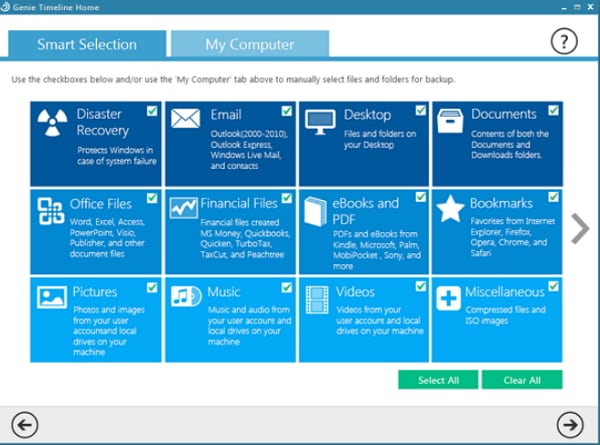 Whether you are a novice computer user or an IT pro, is all you need Genie Timeline Home to backup and restore your data at any time. The software runs automatically. You'll just have to set the backup frequency to your preference and then forget it. Note that Genie Timeline Home lets you backup and restore all the important files from your computer, including music, videos, pictures and more.
Pros:
• The step-by-step wizard makes it easy to recover your data.
• It's fast and lightweight; no slowdowns or alerts that may interrupt you while watching movies or playing games.
• The software backs up new & modified files and detects changes.
• It protects all the mobile data synced to a computer.
• You'll be able to monitor your backups at any time and anywhere via iPad/ iPhone apps.
Cons:
• There is no encrypted data backup option.
Compatible Platform:
Windows XP/ Vista/ 7/ 8/ 10.
---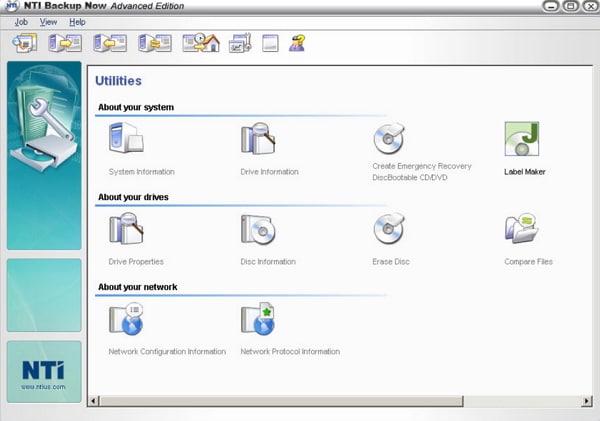 NTI Backup Now offers an advanced solution for protecting Windows desktops and laptops. It supports complete PC backup, File & Folder backup, social media backup, cloud backup and automatic mobile device backup.So you can use it to backup all your digital assets, which you'll be able to access with ease, in case of computer hardware failures, malicious virus attacks, or simple human errors of accidental deletion of important files.
Pros:
• The reliable and easy to use program lets you restore your computer back to when it was working correctly.
• It supports a wide range of destination including flash drives, internal & external hard drives, solid-state drives, network drives, NAS, etc.
• The program provides you with destination capacity alert as well as CPU priority.
• You'll love the software's flexible backup scheduling.
• The software lets you restore your entire PC with just one click of a button.
Cons:
• Slow full disk image backup.
Compatible Platform:
Windows 7/2008 Server RC2/ SBS 2008/Vista/ XP/ 2000/ 2003 Server.
---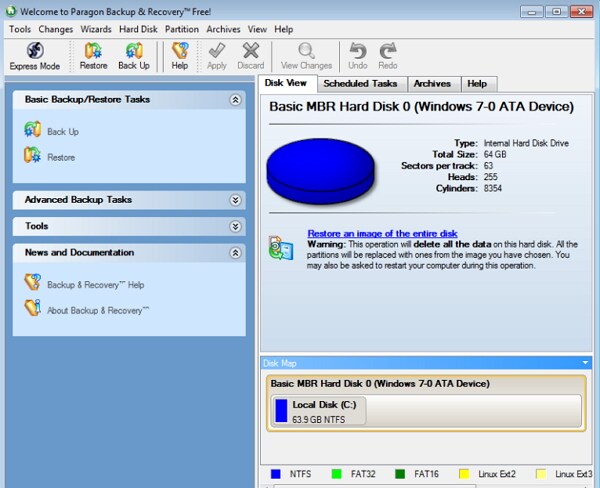 This is an advanced backup & safe-guarding software that lets you perform complex backup tasks and restore your data with ease when things get serious. It's all you need to protect partitions, file and folders, disks and even the entire system. Paragon Backup & Recovery creates an exact copy of your PC, (including the OS, apps, user settings and data).
Pros:
• Easy to use and no skill required, thanks to its intuitive interface and wizard guide.
• The software backs up data to highly compatible virtual hard drives.
• It provides you with a full range of backup & recovery options.
• The software doesn't create any background processes.
• Free for non-commercial users with registration.
Cons:
• The free version supports only pre-fab scheduling & retention settings.
Compatible Platform:
Windows 7 SP1 and later.
---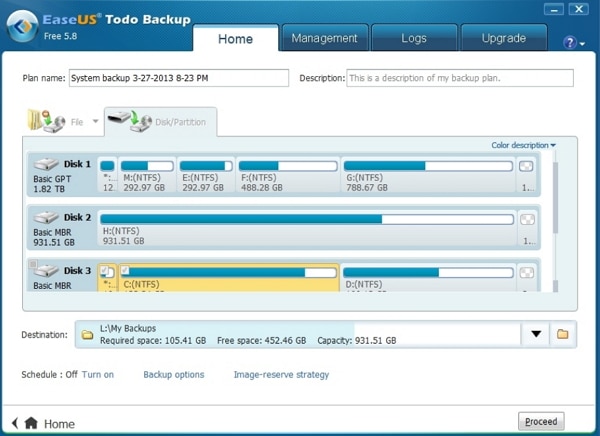 EaseUS Todo Backup Software protects your data from disasters and delivers the greatest level of data security for Windows PCs & laptops, servers, and data bases. The software offers a complete backup solution, which makes it trusted by a variety of users ranging from home users to business users to service operators. Overall, the software backs and recovers everything you consider to be important.
Pros:
• The software comes with complete backup modes, Full/incremental/ differential/ scheduledbackups.
• It lets you backup the entire disk, file or system periodically and recovers them in no time when a system crash occurs.
• Real-time reports keep you informed of every backup state.
• When disaster strikes, it helps you recover your valuable data fast, letting you get back towork in no time.
Cons:
• The backup process is a little bit slow, but that depends on the size of your files.
Compatible Platform:
Windows 10/ 8/ 7/ Vista/ XP.
---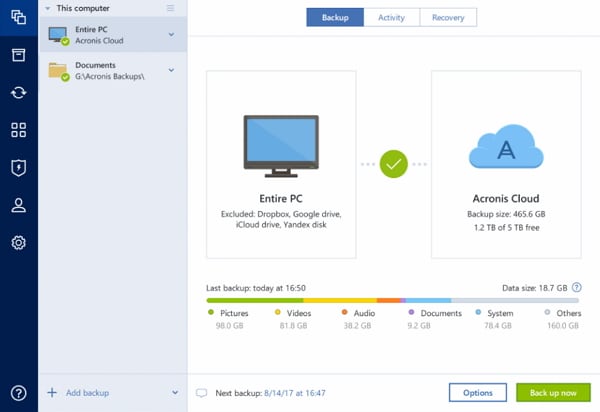 With Acronis True Image, you'll never lose another file. This personal backup software enables you to create dependable copies of your files, so that you can restore them when data loss occurs. You'll use cloningand imaging to make a duplicate of your system and capture all your data fordisk migration or system recovery.
Pros:
• You'll be able to view all your data & backup information in one place.
• It's easy to backup data since only two clicks are required.
• You are free to backup your files to a local drive as well as to the cloud for dual protection.
• The software lets you restore a specific file or the whole system, knowing that the backup is asgood as the original.
• Acronis TrueImage safeguards everything from Android & iOS devices to social mediaaccounts, to Macs and PCs.
Cons:
• Cloud options are still in the program even if you didn't buy the cloud service.
Compatible Platform:
Windows 10/ 8.1/ 8/ 7/ Home Server/ XPSP3.
---
Recommendation: The Best Windows Computer Data Recovery Software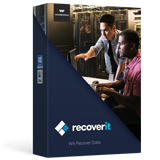 Quickly scans your devices to finds all your data as long as they aren't damaged or overwritten.
The software is safe to use since it performs a 100% non-risk deep scan.
Recovered files are displayed with original file structures and names.
You can preview your data and check their quality before recovery.