We're used to the thought that high-quality products are expensive. Luckily enough, this does not apply to audio DVD burner. Of course, paid versions often come with more elegant interface and a wider gamma of in-built signature features, yet if you're looking for a free, simple and reliable burning tool, then you'll find this article useful. All of the listed DVD audio burner are functional and free to use.
The Best DVD Burning Software - DVD Creator (Mac and Windows)
iSkysoft DVD Creator for Mac (or iSkysoft DVD Creator for Windows) is the highly recommended DVD burner software for Mac and Windows users. It helps you to burn any videos and photos to DVD with beautiful background music. And you will have free menu templates to make your DVD professional. See more features below:
Burn DVD from videos in any format.
Create photo slideshow with background music.
Provide free DVD menu templates.
Allow you to edit videos before burning.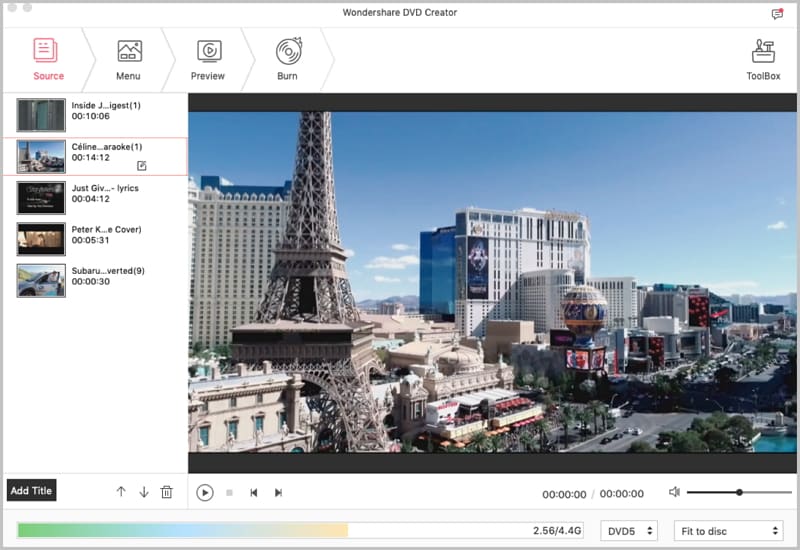 Top 5 Free Audio DVD Burner
#1. CDBurnerXP
CD Burner XP is praised as one of the most reliable free disc burners on the web. Let's not be confused by its name, though – it burns CDs, DVDs, H-DVDs and BluRays (not only compact disks) and it also works in other operative systems than XP. Some people consider it as a "free version of Nero", and they are right - CD Burner XP offers all the features of paid software.
Pros:
Works stable and burns high quality DVD's.
64x Bit version available, compatible with Win Vista/7/8.
Works with CDs, DVDs, H-DVDs and BluRay discs.
Capability to rip Audio discs - CD Burner XP rips and extracts the audio files to your PC.
CD Burner XP is loyal to its name by keeping the "good n' old" Windows XP looks.
The program is easy to use once configured properly.
Offers an alternative portable version that doesn't require installation and can be ran from an USB drive.
Cons:
Might be a little confusing to use in the beginning.
In some PC's, the program burns audio discs only one track at a time (1x speed).
Fails to burn audio discs when on x64 Vista latest version.
Won't verify data integrity on discs.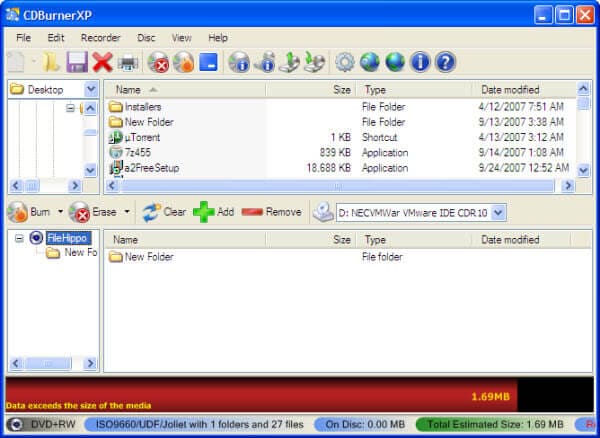 #2. InfraRecorder
An angry user once wrote: "I hate those commercial burning apps that try to be a DVD burner, media center, streaming server, and hair dryer, with a UI that looks like a website full of ads." If you think the same way, then InfraRecorder is a must-have for you. It looks as simplistic and minimalistic as CDBurnerXP, but it's way easier to use.
Pros:
Easy to use, minimalistic interface.
Great stability and compatibility with virtually any kind of hardware.
Allows you to directly clone Audio discs (instead of doing the ripping, copying and compiling processes manually), which can save you a lot of time.
Loads fast and requires ridiculously small amounts of RAM.
Lightweight – needs only a couple of megabytes of HDD space.
Cons:
Does not support BluRay discs.
It cannot handle filenames with non-English characters (say Japanese, Chinese, etc).
Some option boxes such as "eject disk when done" reset in every new project, so you need to remember and check them manually every time.
The program keeps steadily evolving since 2006, yet its evolution pace is slow and new features take time to be implemented.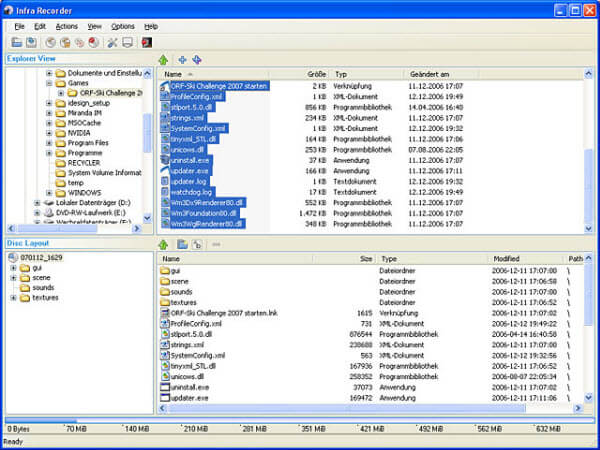 #3. BurnAware Free
BurnAware is a heavily underrated DVD burning software. Its clean, yet modern-looking interface makes it look different from any other free program. It's extremely simple to use as well. Many satisfied (or I could even say, excited) users stated that BurnAware has the easiest learning curve, compared to its counterparts.
Note: make sure to uncheck the "Also install the toolbar" box during installation.
Pros:
Its free version has almost the same features as the paid one (full functionality).
User-friendly interface with drag & drop support.
Officially compatible with the newest operating systems (up to Windows 10 - 64 bit).
The installation takes up to 10 seconds.
The program layout looks like the newest versions of Nero (which is paid software).
Supports DVDs, CDs and Blu-rays.
Verify data integrity on discs.
Low CPU usage while burning and very stable burning process.
Cons:
Some features, as Audio CD ripping and direct DVD copy aren't free.
There have been some reports of compatibility issues with older ASUS laptops.
The clean interface might look a little bit primitive or dull.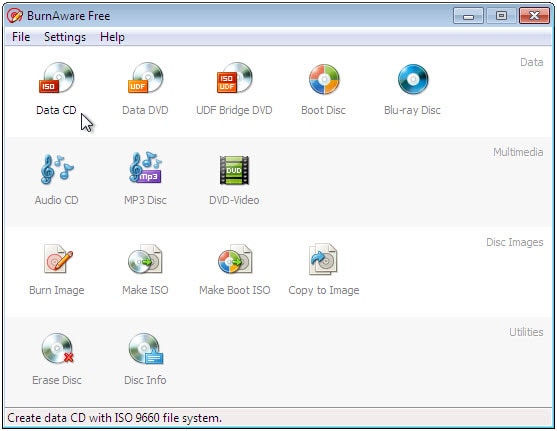 #4. ImgBurn
It would be a crime to not include ImgBurn in our list. While most of you will opt for something more simplistic (drag, drop, burn), ImgBurn is meant for the cases when you need to have access to advanced tweaks in order to make your disc burner work properly. It's just as simple as it sounds – ImgBurn allows you to configure more things that any other software, will it be paid or free.
Pros:
The most complete and customizable DVD burner out there.
13 pages of settings and configurations for you to enjoy.
Exhaustive report system that allows you to monitor every process and event.
Its advanced configuration feature makes it potentially compatible with problematic burning devices.
The splash screen allows users to quickly access the basic features.
3MB installation size, it is lightweight compared to other burner software.
Displays disc information for the inserted disc.
Cons:
Need to pay extra attention during set-up: make sure that you uncheck all the undesired options.
You'll need to download it from a third party website.
Simplistic interface.
Has many settings that can render the program unusable when configured wrongly.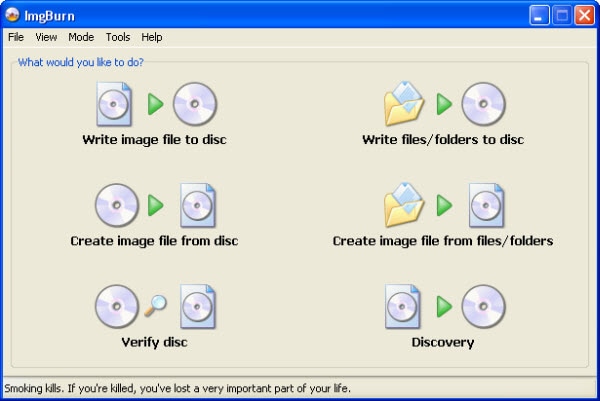 #5. Ashampoo Burning Studio 6 Free
Last but not least, Ashampoo is one of the leading disk burning software suites, available for free. Why do we love Ashampoo Burning Studio 6 Free? First, because it's free, yet it offers more features than, let's say, Nero. Not trying to be mean with Nero, but looks like Ashampoo keeps managing to walk one step ahead.
Note: During the set-up process, choose the 'Expert' install option and uncheck all the toolbars/third party software.
Pros:
Easy to use; intuitive interface.
Features a splash screen that helps you to pick your desired task in no time.
Free software that offers more features than Nero.
Burning Studio allows you to rip, clone, copy, compile and burn your DVDs with ease.
Praised as one of the fastest and most reliable burners on the web.
Allows you to create and restore back-ups of your files.
Supports WAV, MP3, FLAC, WMA and Ogg Vorbis audio format files.
Works stable and is compatible with Windows 10.
Cons:
For the picky users, its interface might look a bit out of date.
Sometimes it might require a couple extra clicks in order to perform a simple task.
Doesn't have editing tools.
Doesn't have authoring tools.