In the current digital age, watching a movie or video is as simple as streaming it online or downloading on your PC and watching it offline. However, for those who still value the unforgettable experience of watching videos and movies on a large TV screen, to burn video to DVD for playing on DVD player or TV is a great option. Despite almost being headed to extinction, DVDs and DVD players are still very impressive, and they allow you to watch high quality videos on large screens as opposed to watching it on your PC or laptop. Below is a look at how you can burn a video on a DVD and then play it on DVD Player.
The Easiest Way to Burn a Video to DVD on Mac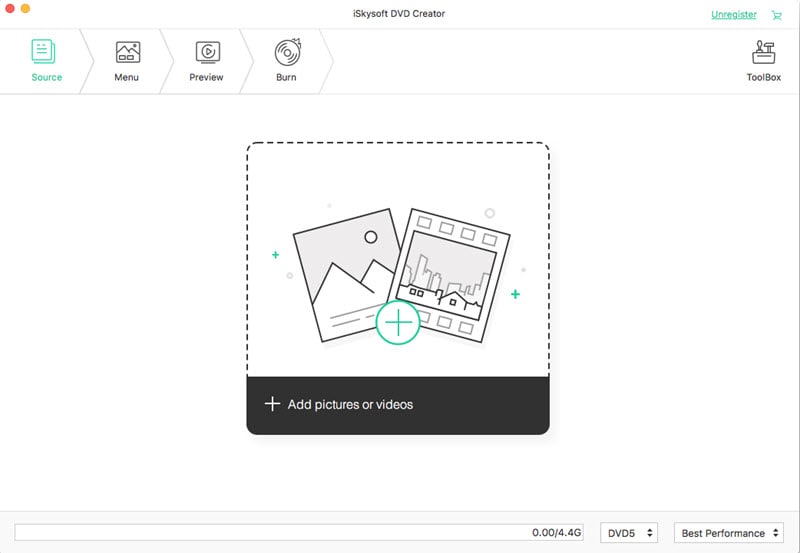 When looking to burn a video to a DVD, there are several DVD burning software you can use. However, some of these programs are not very effective, and your DVD player might not recognize the format that the video is encoded in. to prevent this, you need to look for professional, but easy to use DVD burning software that will allow you to easily burn high quality videos to a DVD. iSkysoft DVD Creator for Mac (or iSkysoft DVD Creator for Windows) is one of the best DVD burning software you can use for this purpose.
It is a DVD burning software that allows you to burn high quality, professional looking videos to a DVD in just a matter of a few minutes. It is an easy-to-us application that comes with an intuitive user interface, making the burning process very easy. iSkysoft DVD creator also allows you to burn your video in MP4 format, as well as other formats such as AVI, MPG, FLV, WMV, and MKV depending on your DVD player. In addition, it comes with a menu template feature that comes pre-loaded with several DVD menu templates, allowing you to personalize the videos on the DVD you create.
Steps to Burn Videos to DVD on Mac
Step 1
Install and Launch the DVD Burner
Download DVD Creator for Mac. Install and run the program on your computer, a DVD Creator interface will pop up on your desktop.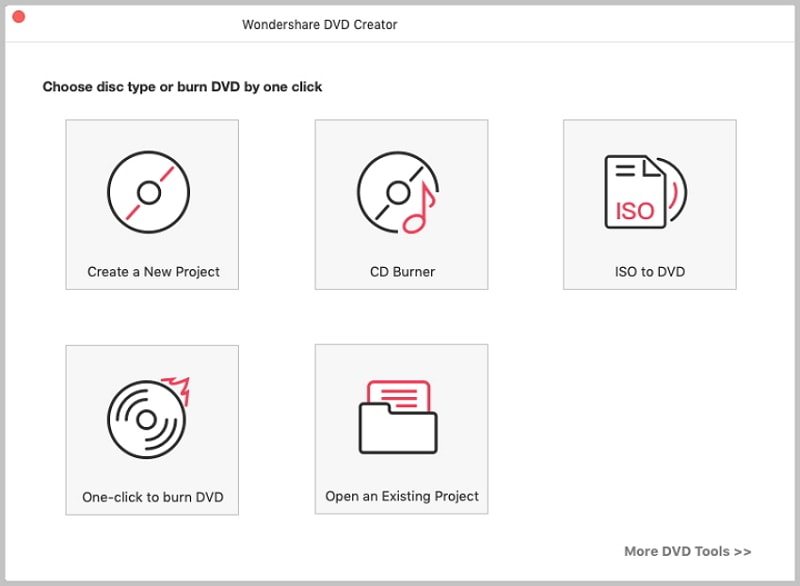 Step 2
Load Videos to the Burner
Click on "Create a New Project" button to start the burning process. Import the video files you want to burn by dragging and dropping them into the interface, or clicking the "+" button and selecting them from their location.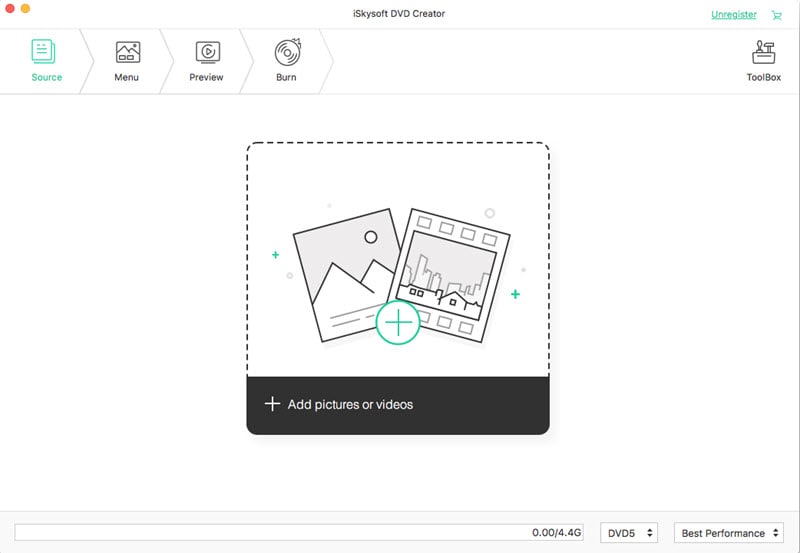 Step 3
Select a DVD Menu
Once you have imported the files, click on the "Menu" button to personalize your videos by selecting a menu for your DVD from one of the available templates. Click on "Preview" to view how the DVD will appear after you have burned it. In case there is anything you would like to correct, go back and make the necessary changes.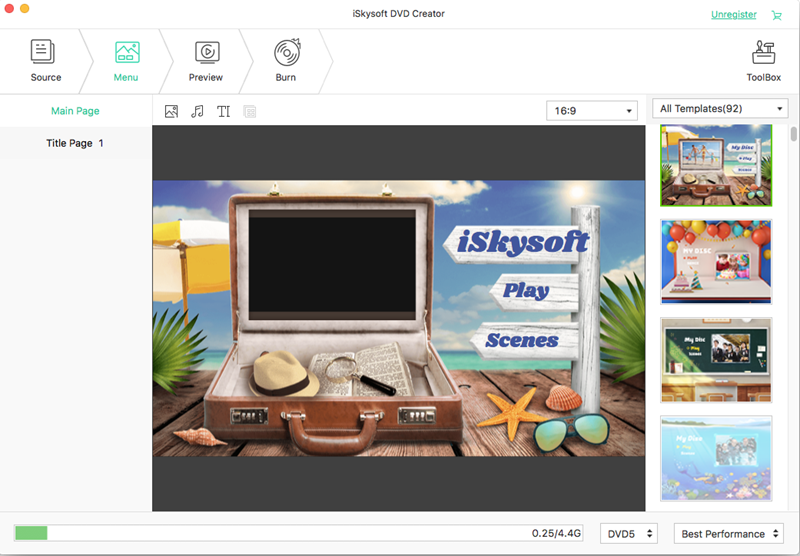 Step 4
Start Burning Video to DVD
Once you are satisfied with everything, click on "Burn". A new window will pop appear prompting you to choose your output preferences. Select your output option (DVD Disc, ISO file, DVD Folder (Video_TS) and DVD Media File) depending on the playback support of your DVD player. Other output options you can select include giving your DVD a name and selecting the speed to burn at (chose "Best" for optimal quality and quick burning). Lastly, click "Burn" to start burning the videos.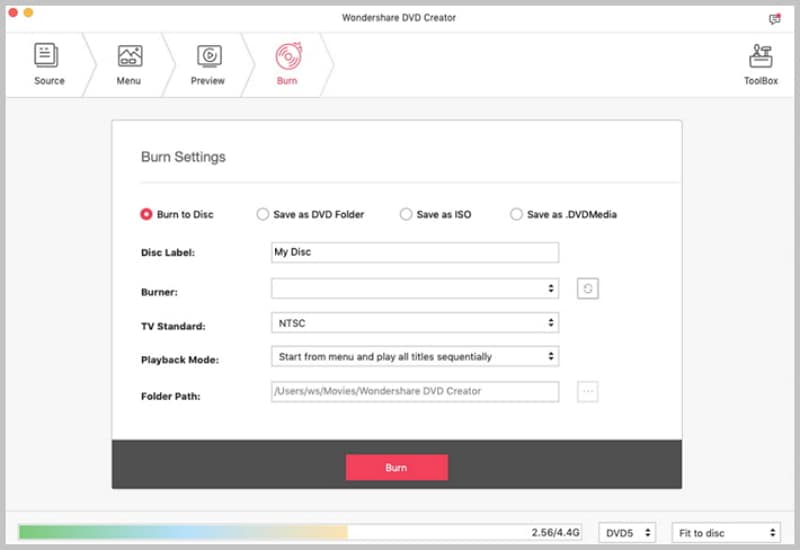 Why Choose DVD Creator
Simple DVD importing feature
The program comes with a simple-to-use video importation feature that allows you to drag and drop your videos from the storage location to the program's interface.
Video editing
DVD Creator for Mac is also equipped with video editing feature that allows you to edit your videos and choose a menu for your DVD from the several menu templates available.
Multi-format support
The DVD burning software allows you to burn any video to a DVD from several video formats that include MP4, AVI, 3GP, MKV, FLV, MTS, TS, MOV, and several others.
Preview feature
DVD Creator for Mac also comes with a preview feature that allows you to check how your DVD will appear once completed. This allows you to correct or make additional changes to your DVD as you might deem fit.
How to Burn Video to DVD on Windows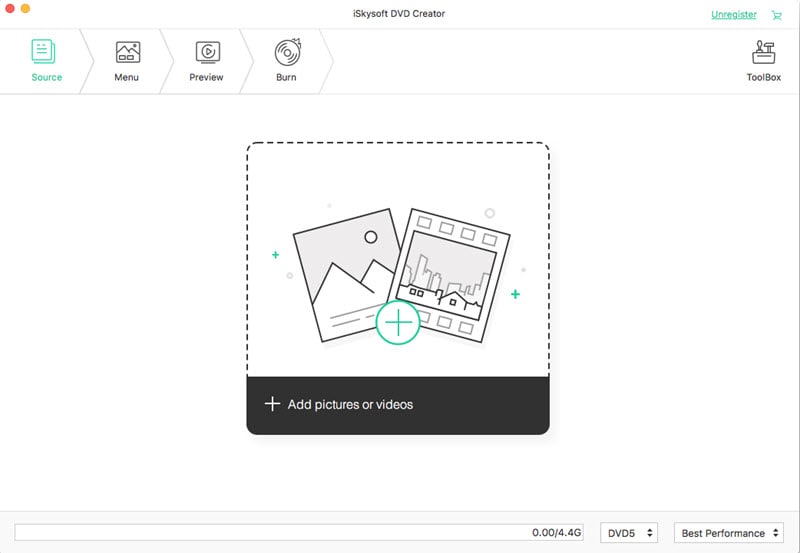 If you are using a Windows computer to burn videos to your DVD, do not feel left out; you can still use iSkysoft DVD Creator for Windows) to achieve the same high quality burning of your videos. DVD Creator for Windows is specifically designed to be used on Windows computers, and it provides users with a professional DVD burning software that allows them to burn high quality videos. .
Key Features of DVD Creator for Windows:
Easy to use interface
DVD Creator for Windows comes with an easy to use interface that allows you to easily import the files you want to burn, and then guides you through the entire burning process step-by-step.
Video editing
The program is equipped with video editing tools, which allow you to edit your videos before burning them. With these tools, you can crop, trim, adjust the effects, add watermarks and rotate the individual video files.
Menu template
The application comes with a menu feature equipped with several menu templates that allows you to personalize your DVD.
DVD Preview
It also features a DVD preview feature for checking out how the video will appear before burning it.