Portable DVD players are popular since they provide entertainment virtually anywhere. Whether you are on a long road trip, airport, doctor's office or you are just relaxing in bed; you can still enjoy watching or listening to your movies, videos and audio files. Moreover, most of these devices have built-in batteries that can last longer than that of a laptop. In this article, we explore the top 5 best portable DVD player for Blu-ray and as additional information, we also reveal the best Blu-ray DVD burner on the entire web.
Top 5 Best DVD Blu-Ray Portable Player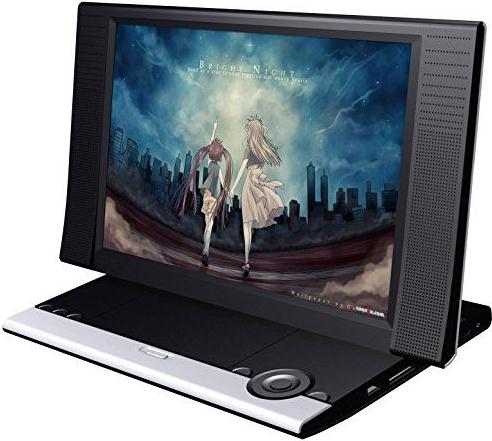 If you are looking for a unique portable DVD player with a super-sized screen that will enable you to watch all your DVD and digital media files with ease, then this should be your perfect option. The 13.3" inch screen is considered to be one of the largest displays for portable video players on the market. The stunning screen swivels up to 180 degrees and can even lay flat, offering clear display in the car, plane, home or at any place. No more fights between your kids as all of them will be able to view the screen with ease. Although Sylvania is compatible with DVD, +-R/RW, CD-R/RW, JPEG, and MPEG, you will be able to play your digital files through the built-in SD card and USB reader. The inbuilt rechargeable battery and AC & Car adapter ensures that you never run out of power. Other accessories include a remote control that enables you to control the portable player at your fingertips and ear buds.
Price Range: $129.99- $227.98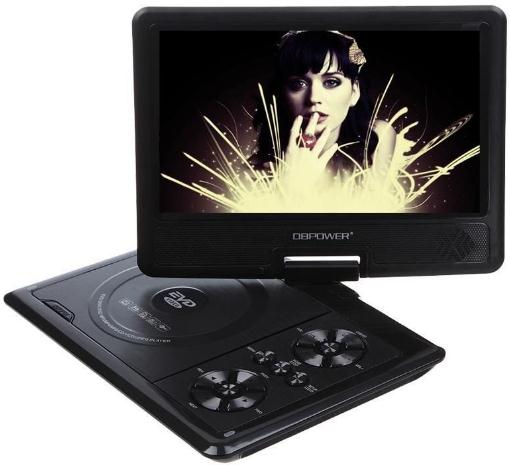 DBPower DVD Blue-ray portable player is designed to satisfy your needs in a better way. With the 270-degree rotating and 180-degree flipping design, it is great for your home, plane, car, etc. The flip rotation offers an excellent viewing experience of maximum angle. You will be able to play CD, DVD, VCD, XVID, R/RW, MP3, AVI, MPEG1, WMA, VOB, JPEG and all your digital entertainment files, thanks to the built-in USB port and SD Card slot. The portable DVD player also comes with a built-in battery with 2 hours extended life, making it easier to enjoy your movies and videos on the go. While making your purchase decision, you should know that there are three color options to choose from; Black, Blue, and Red. The package includes the DVD player, AV cable, Remote controller, Power adapter, Car charger, Game joystick and a user manual. Customers also get a 12-month warranty, and the company provides friendly, easy to reach support.
Price Range: $69.99- 119.99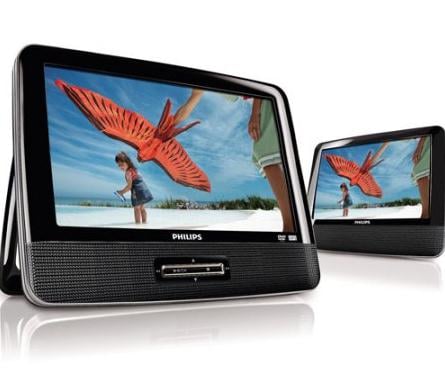 With a 17.8 cm/7" TFT color LCD in 16:9 widescreen formats, Philips PET741M/37 displays media files in rich detail and vibrant colors. The native 16:9 widescreen aspect ratio helps ensures that you never experience picture quality loss that comes from video scaling or get black bars at the bottom or top of the screen during video playback. Philips PET741M/37 is compatible with DVD, DVD+/-RW, DVD+/-R, (S) VCD, CD and supports P3-CD, CD, and CD-RW playback. The built-in stereo speakers produce high quality and clear sound. Users enjoy 2 hours playback while on the go, thanks to the built-in Lithium-ion rechargeable battery. The portable Blu-ray DVD player is very light and weighs only 1.5 pounds.
Price Range: $49-$69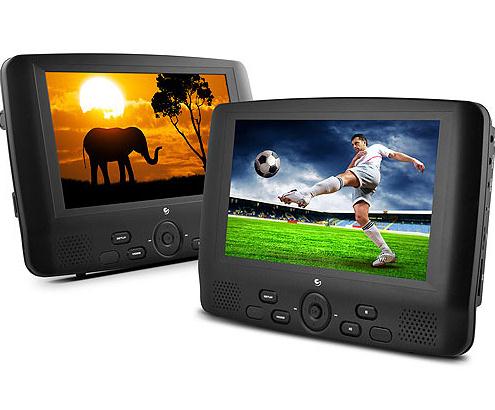 This portable player enables you to fully enjoy your favorite videos, movies, music, and photos on the go. It supports multi-language on-screen display and its 9-inch LCD 480 X 234 LCD tilts, and swivels up to 180 degrees, providing the perfect viewing angle. As a user, you will never have to replace batteries as it features a built-in rechargeable Lithium-ion battery. You will listen to crystal clear audio of your files, thanks to the built-in stereo speaker as well as the nicely designed headphones. Ematic Portable 9" package comes with the 9-inch portable DVD player, carrying bag, matching headphones, AC and DC power adapter, and a user manual. The deluxe carrying bag provides additional storage and is excellent for keeping Ematic DVD player safe anywhere and everywhere you go. The video player is offered in three different color options; Red, Blue, and Purple.
Price Range: $56.52- $69.99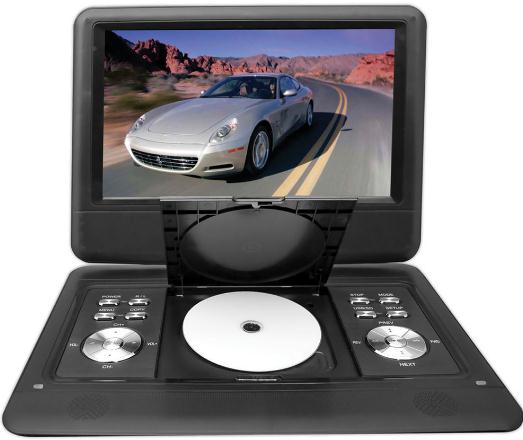 Pyle Home PDH is a completely DVD player that comes with a high resolution (480 x 234) TFT/LDC screen that's adjustable in various viewing angles. It offers clear images and supports full wireless function remote control. The RCA-inputs and outputs allow users to connect the DVD player to larger screen televisions or connect iPod/ game console and watch videos on the 7" high-resolution screen. The built-in rechargeable battery also provides 2 hours of media playback.
Price: $61.39
Recommendation: The Best Blu-Ray DVD Burner
After purchasing your preferred portable DVD player, you just need to install iSkysoft DVD Creator for Windows. This software comes with advanced tools that are excellent transforming your video collections into DVD disc. Once you install it on your Mac, you will be able to burn the Blu-ray DVD discs in minutes. Moreover, you can use it to turn your favorite photos into a "photo show" by adding your favorite photos and background music to the program and then burn them to DVD.
Key Features of iSKysoft DVD Creator for Windows:
The software allows you to import videos, audio and pictures by just dragging them to the program.
You can convert and backup your media files to a DVD folder or ISO.
Users can personalize videos with custom DVD templates, and by adding music and other video elements.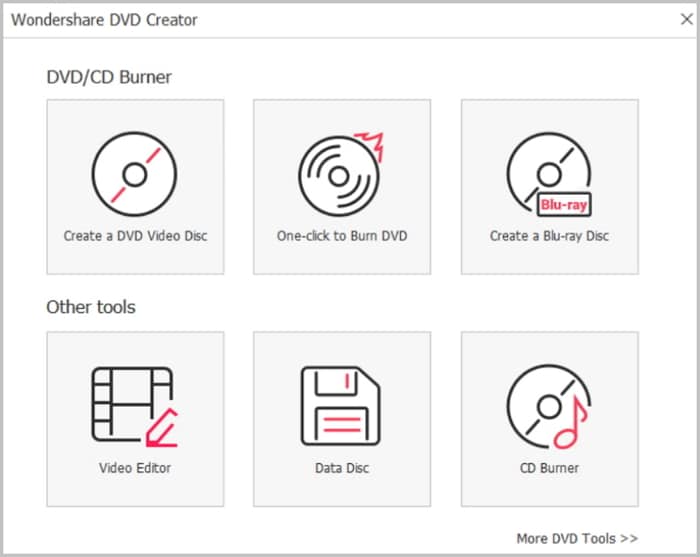 The program can burn all types of audio and video formats to DVD, including the downloaded web content and home movies.
You can collect your favorite DVD menu templates in "My Templates" so that you can find them fast next time.
Step-By-Step Guide on How to Burn DVD
Step 3

Import Your Videos to DVD Creator

Click the "Import" button located at the left-top of the software's window, and then navigate to the videos that you want to upload to the program.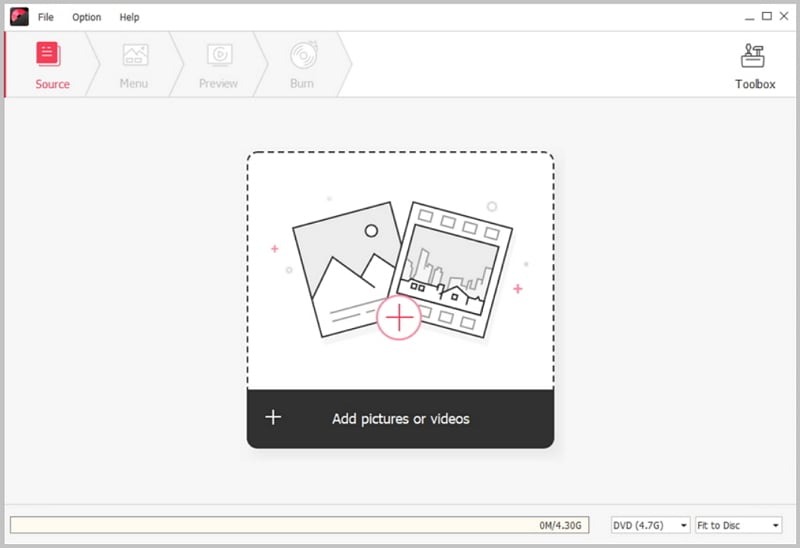 Alternatively, drag and drop your video files from the folder to the software's interface, or select the "Add Files" button to import more videos and then burn them to a DVD.
Step 5

Choose DVD Menu

1.Click the "Menu" button located on the program's interface and then you will be able to see the DVD menus to choose. Double-click on any option to apply it to your DVD.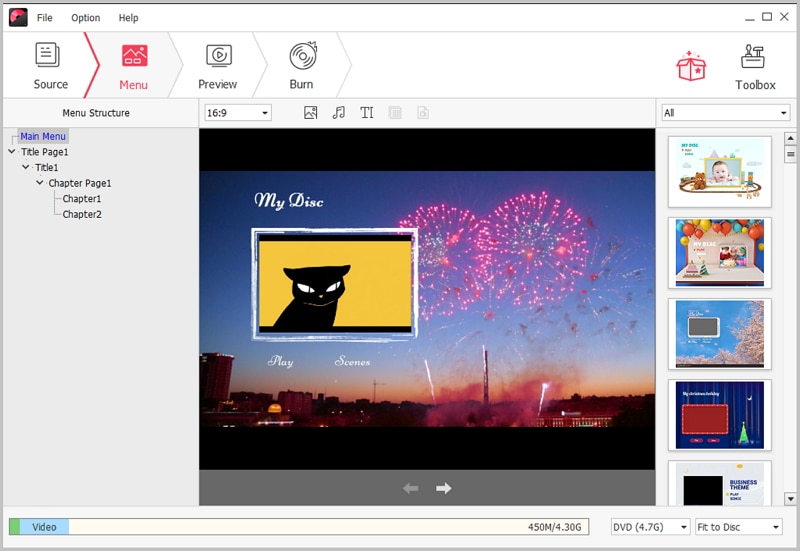 2.Customize the DVD Menu background, by setting up the video frame or by using other images on the DVD menu background, and then check the "Apply to all pages" option to apply the settings.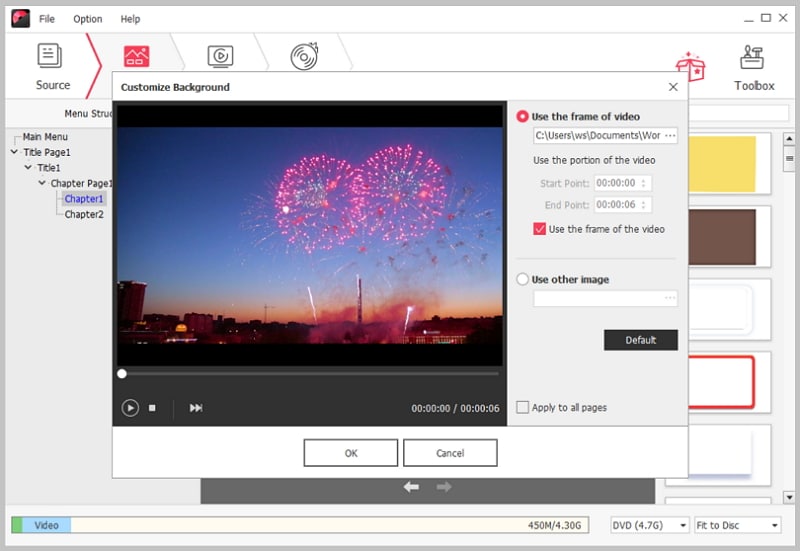 3.Customize your DVD Menu Background for Music: Select your music as your menu background and customize it according to your preference.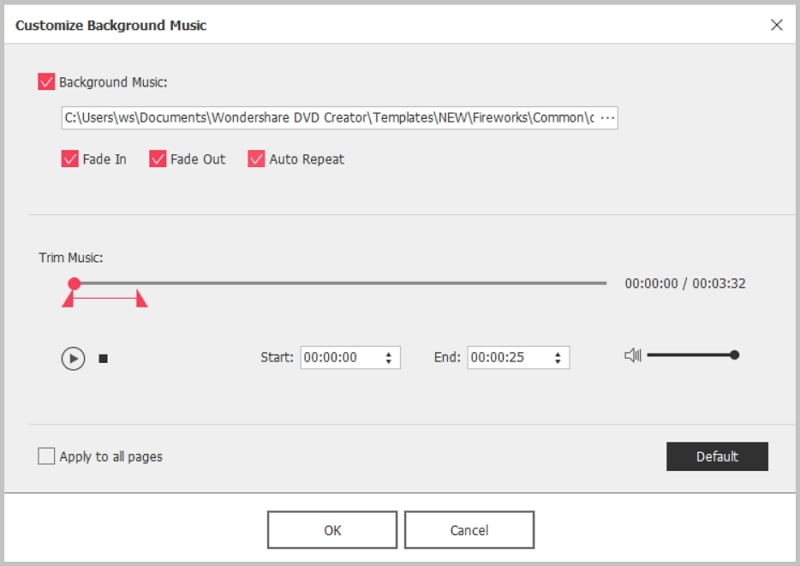 4.Add texts to DVD menu and create chapters and customize thumbnail with ease.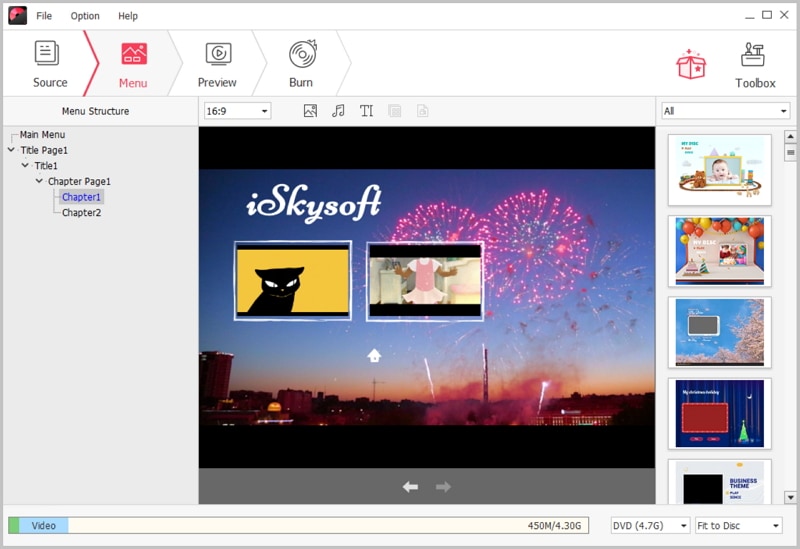 Step 7

Burn Your Blu-ray DVD Disc

Select BD (25G) option or BD DL (50G) to burn a Blu-ray DVD disc, or choose DVD (4.7G) or DVD (8.5G) to burn a standard DVD. Click the "Burn" option to select the output file format and location. After confirming everything, click the "Burn" button to start burning your Blu-ray DVD.