Let's face it, that music is a very important part of our life so we always need to have it available on all of our devices. And while there are numerous music stores in the online world, each one provides the delivered product in a certain manner, so it can be quite hard to manage all music in a single place. This means that sometimes you will have music in too many places, but thankfully you can use some great tools to transfer the music from one place to another without hassle.
Part 1: The Best iPhone Music Transfer Tool: dr.fone for Mac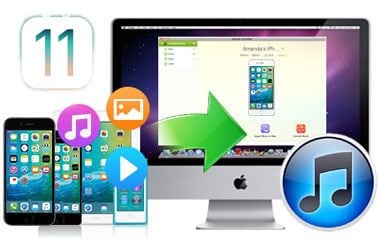 The best way to transfer your music to/from your iOS device using a Mac is certainly dr.fone for Mac. This application provides all the necessary means to copy music seamlessly from your Mac to your device and the other way around, while also making easy for you to export videos as well. Moreover, it can even be sued to transfer all photos and even copy the playlists that you have on your device, with their ratings included. All the transfers are made seamlessly and at great speed, which makes the whole process amazing.
dr.fone for Mac can help you transfer music from your iOS device to your Mac, but it can also bring music from your Mac to your iOS device as well. At first, we will concentrate on the way we can use to transfer music from our iOS device to iTunes.
Step 1: First of all, you need to connect your phone to your computer, and then run the dr.fone for Mac application. Click on the Rebuild iTunes Library option.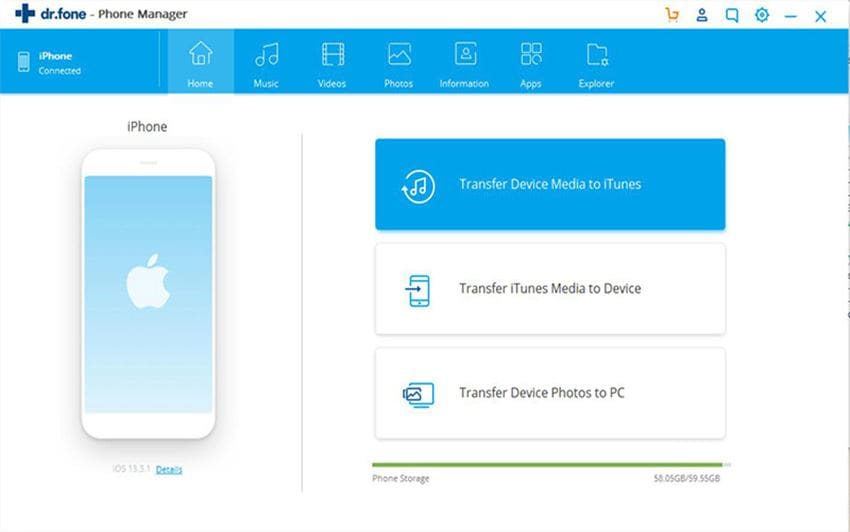 Step 2: Now please confirm the operation by clicking the Start button. The software will start scanning files on iPhone and present them.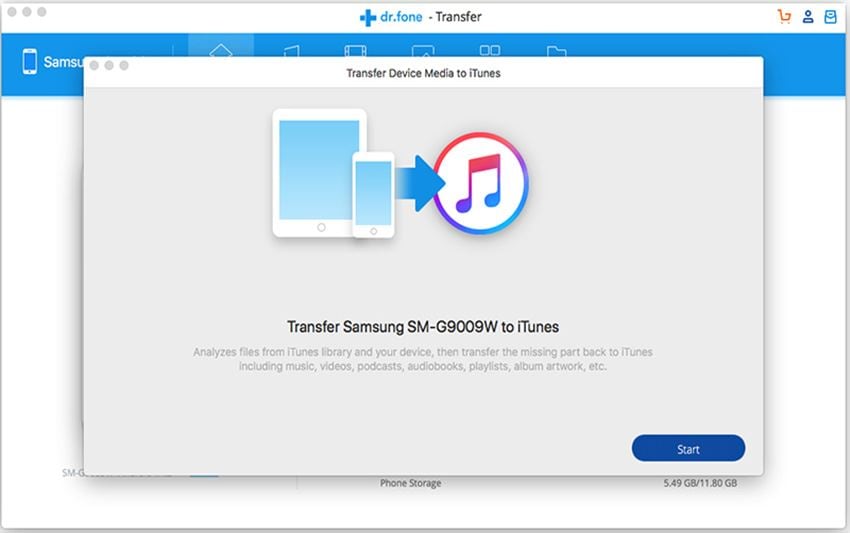 Step 3: In the next window, check the media files (here you should check the music tab to transfer music) that you want to tranfer to your iTunes Library. In the end, click Copy to iTunes to finish the process! You will never worry about any duplicate files generated. The program will only transfer the missing ones.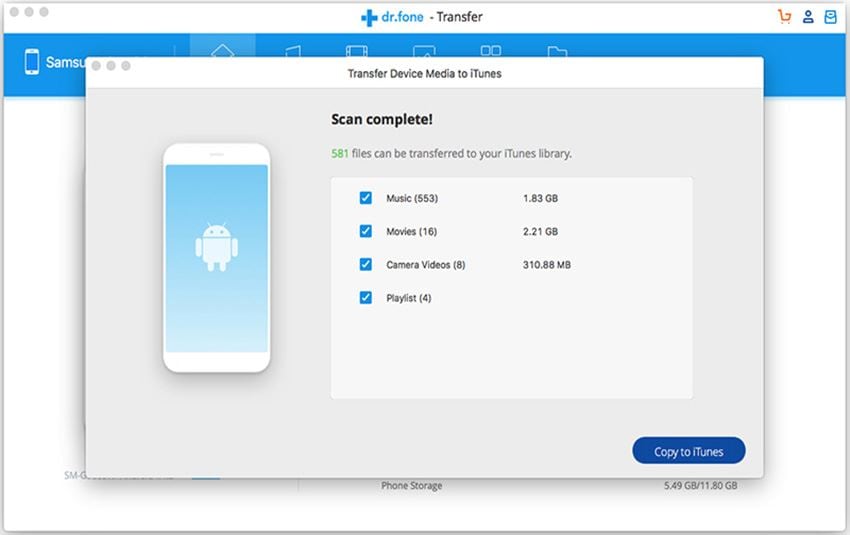 Alternatively, if you want to transfer only some selected songs or a playlist, you can go to the Music tab. In the Music management window, check the wanted songs and export them. Or you can right-click on the playlist to transfer the whole playlist.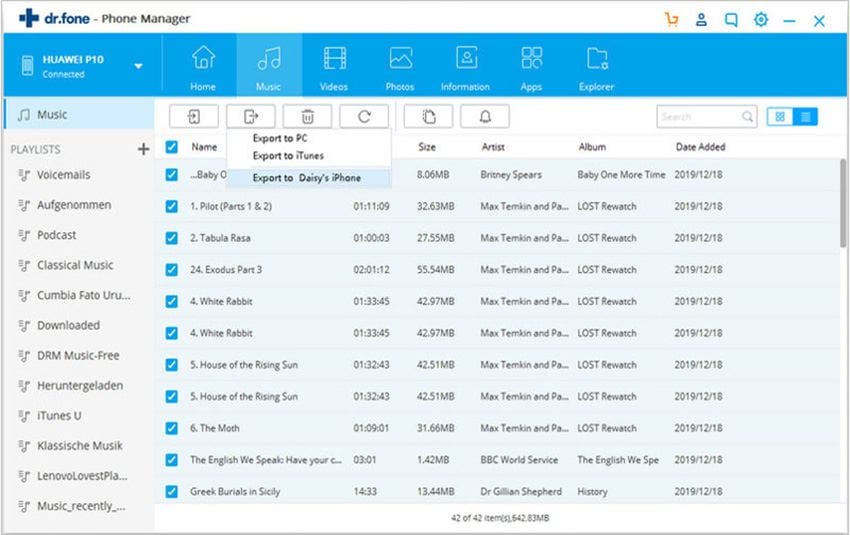 ---
Part 2: Other Methods to Transfer iPhone Music
#1 Free iPhone music transfer software - Phonetrans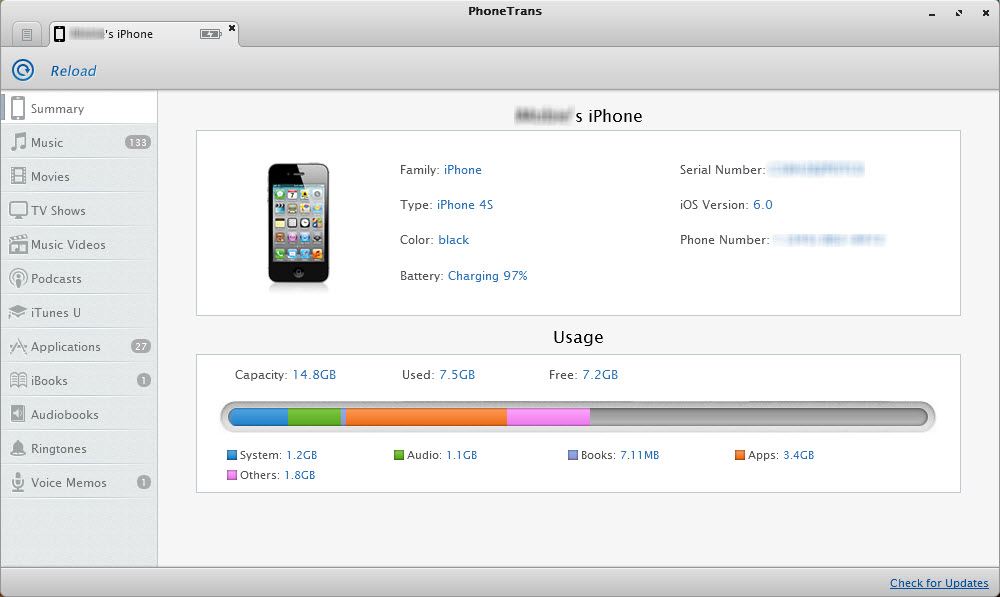 This application has a really good interface that makes it easy for you to access and transfer the desired devices without any hassle. Aside from music, it can also transfer videos , audiobooks and most of the multimedia content that you can find on iOS. It manages to provide similar functions when compared to iTunes, but it doesn't require you to install iTunes in order to use it, which is great. The transfer function works well, although sometimes you might experience some errors unfortunately.
Pros: Easy to use interface, doesn't require iTunes installation.
Cons: Sometimes you experience errors during file transfers.
---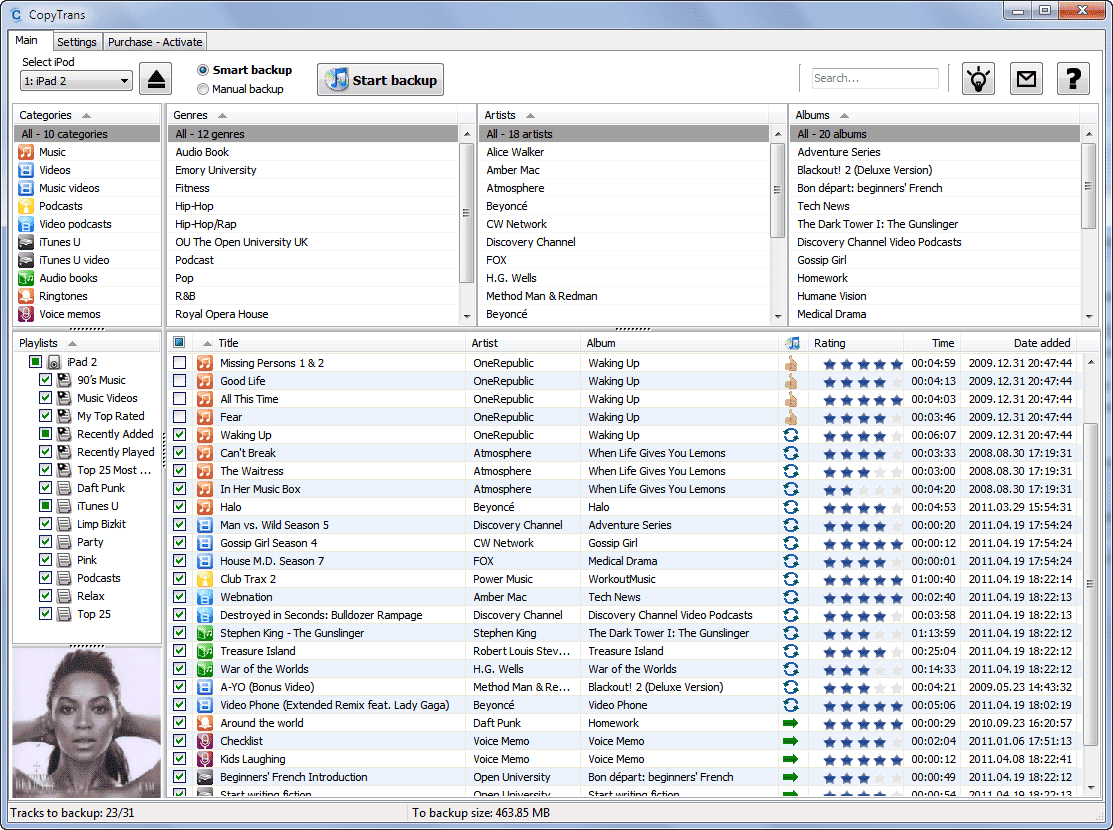 #2 Free iPhone music transfer software - Copytrans
Copytrans is a plug and play music transfer system that works really well with the iOS devices. In addition to the easy to use interface, the application also brings a very good way to backup your music easily and seamlessly, which is really nice. Aside from that, it also provides a single place for all your contacts. Copytrans even makes it easy for you to transfer pictures and create iTunes library backups for free.
Pros: It has great support for a wide range of music and video formats, doesn't require iTunes installation and keeps contacts in the same place.
Cons: In rare occasions it corrupts songs when transferred.
---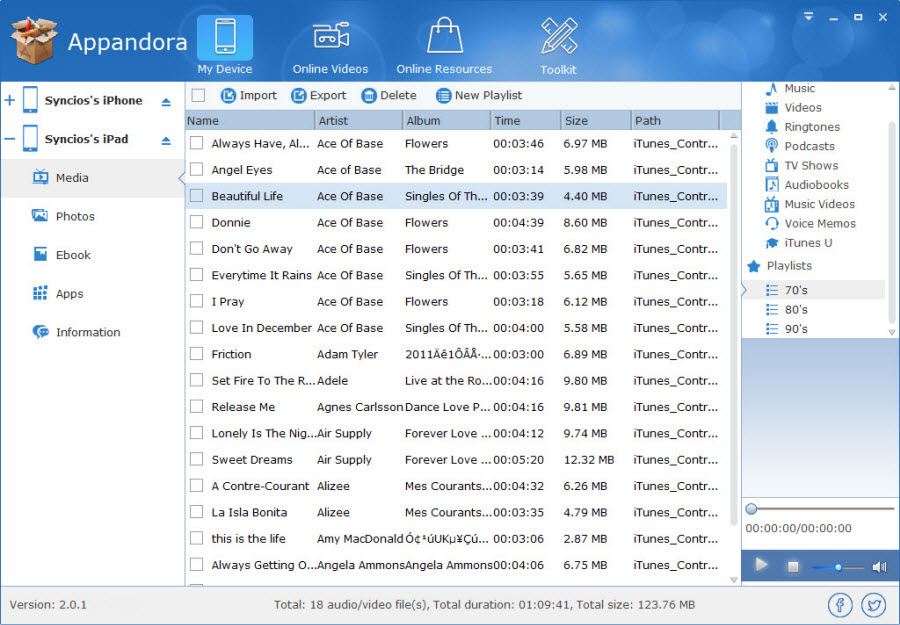 #3 Free iPhone music transfer software - Appandora
This is a great tool for those that want free file transfer between their iOS device and their computer. It also enables you to download videos from a plethora of video sharing websites, not to mention the fact that it can even help you download wallpapers and applications as well. This app is more than a transfer tool, is an amazing resource for the iOS enthusiast.
Pros: A stunning interface, fast transfers
Cons: Some features are broken for older devices. It's only for Windows users.
---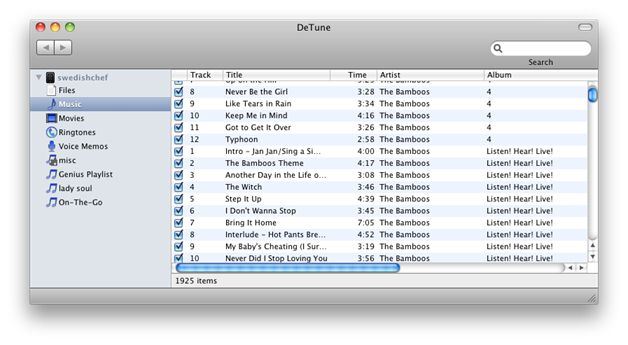 #4 Free iPhone music transfer software - Detune
Detune is suitable for those that want to copy music and create backups to their Mac. It has a very good interface that's similar to iTunes. It comes with complete support for books, ringtones, TV shows, movies and numerous other types of files. Moreover, the app makes it easy for you to copy files from the file system, a feature that is really good.
Pros: Great interface similar to iTunes, fast transfer speeds.
Cons: Doesn't display album and it doesn't play the music for preview purposes.
---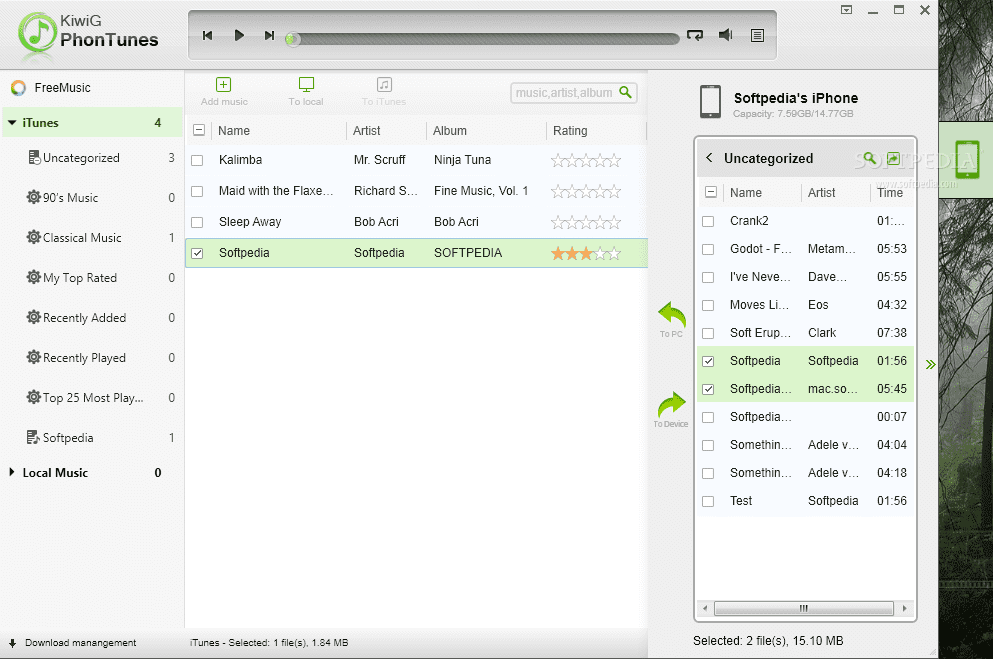 #5 Free iPhone music transfer software - KiwiG PhonTunes
KiwiG PhonTunes allows you to download MP3 music free and legally. In addition to that, it also enables you to perform music navigation on multiple websites, while also allowing you to transfer music from your iTunes library without the need for iTunes. Overall, KiwiG PhonTunes manages to successfully offer a great way to play, transfer and manage your music.
Pros: Free music downloads, fast transfer speeds, cross-platform support.
Cons: Sometimes you can encounter errors when you transfer multiple files at the same time.
---
To sum up, there are lots of applications that allow you to transfer your files from your iOS device to your Mac or the other way around. In the end, it comes down to you to select the app that suits your needs, but if you want a reliable application to perform such a transfer then the use of dr.fone for Mac is recommended, as this the best application that will suit your music transfer needs. It has a ton of unique features, as well as fast transfers without any quality loss, which recommend it as the best solution for your problems.