Watching sports online can be really amazing entertainment. Watching FIFA or soccer online with a group of friends using streaming sites can really be joyful. This is the latest trend and a lot of youngsters these days are following these. Watching sports online can save a lot of time, money, and effort; thus, these online sports sites are gaining extreme popularity these days.
Learn more about how to share FIFA world cup best moments highlights.
There are a lot of online sports streaming websites that are available for free. The main sports that are covered on these sites include, Badminton, Baseball, Tennis, Soccer, Football, etc. You do not have to hit the ground and cheer for your favorite players now, you might as well lock yourselves up at your homes and do all the watching and cheering brilliantly.
This write-up is made in an effort to throw light on the ten best live sports streaming sites. While you are choosing the channels, refer to these pointers and pick the right ones.
So, let's get started.
The 5 Best Live Sports Streaming Sites You Should Know
With the growing trend and demand in the space of sports streaming, there are tons of sites that have launched into this business. But you must know that not everyone can become a kingpin. It takes a lot of effort, dedication, and focus on bringing their sites to top one level. These streaming sites are pretty much similar to the TV channels; the only difference is they can be enjoyed from any corner of the world.
In this section, we would give you an insight into the five best live sports streaming sites that are worth knowing.
#1: YouTube TV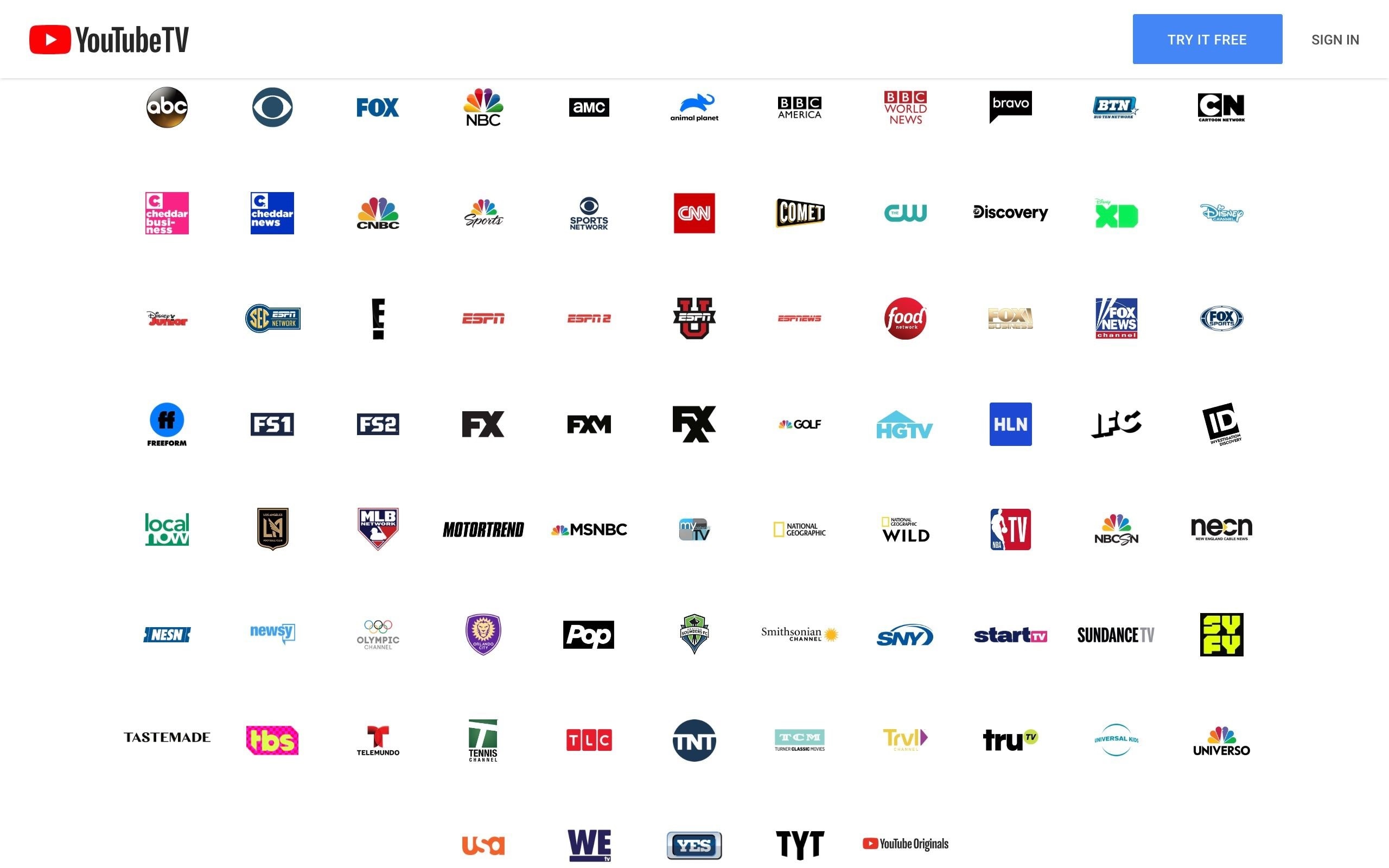 YouTube TV is one of the best online streaming sites that you need to consider having. There are more than 70 channels listed under this TV.
You might as well consider getting your cable connection disconnected as you would be hooked up to this TV once you start watching it. You can subscribe to all the channels under different categories like entertainment, news, and sports.
Price: At $49.99 per month, you can get to enjoy everything you want to on YouTube TV.
Channels Offered:
Sports channels: NBC Sports, NBA TV, ESPN, ESPN2, CBS Sports, MLB network.
AMC, Cartoon Network, The CW, FX, National Geographic, TNT, and the USA.
Discovery networks include Animal Planet, Discovery Channel, Food Network, HGTV, TLC, and Travel Channel, etc.…
Pros:
Amazing channels
Fantastic clarity
No delay
Broad platform support
Cons:
Cost can be slightly higher
Parental controls are basic
---
#2: YIP TV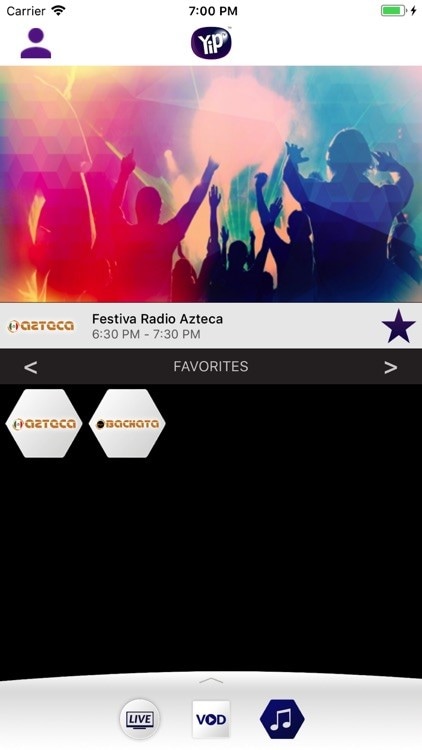 YIP TV, your Personalized TV, is one of the largest streaming TVs that was launched in the year 2012. Ever since then, the TV has been in fame because of the addition of new channels. Access to this online streaming site, you would be able to enjoy 100 channels without any interruption. People with T-Mobile can reap a lot of benefits with YipTV due to the partnership program. Check for the appropriate plans to make use of the offers.
Price: YipTV has two types of membership one premium membership:
#1: $14.99 a month gives you a lot of options to watch binge-watch your favorite shows, and this is only for a premium membership.
#2: Else, you can watch 18 international channels on two devices, with an additional 9 channels as a bonus for a week.
Channels Offered:
FashionBox Live, The Church Channel, 360 Tune Box, Bloomberg TV, Tyc Sports, Antena3, and many more.
Pros:
Can watch free channels for a week
Affordable cost
A lot of channels
Can watch it in two devices
Highly beneficial for people with T-Mobile
Cons:
Number of sports channels are slightly lesser
The free membership is only for a very shorter duration
---
#3: Sling TV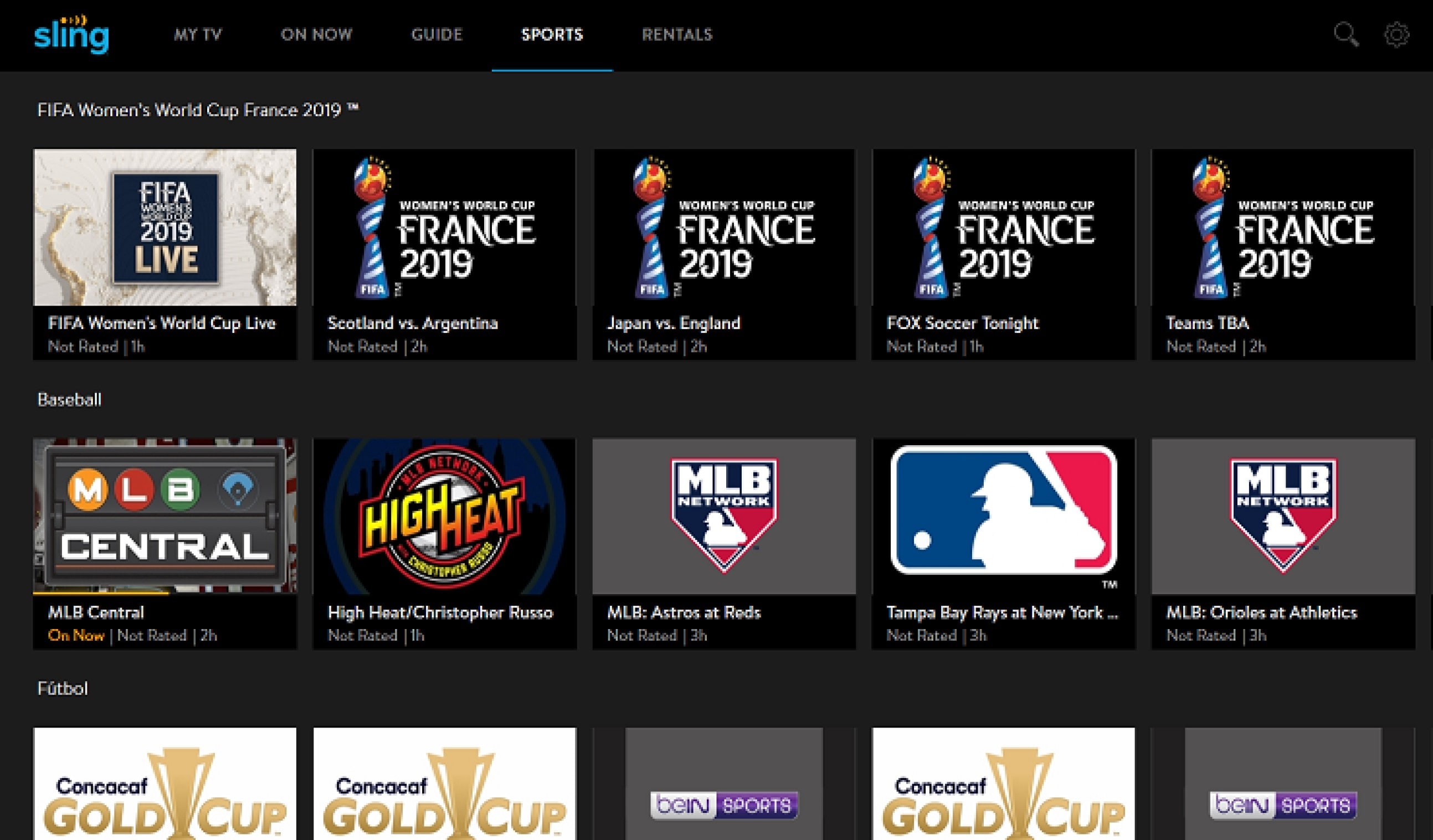 If you have always dreamt of watching your favorite sports on an independent sports streaming site, you must opt for Sling TV. Almost all the live sessions telecasted in the most famous sports channels would be streamed on this site.
Price: There are a lot of packages available to choose from, and they are as follows:
Sling Orange: $30 per month and you can access the AMC, CNN, ESPN, Food Network, TBS channels
Sling Blue: $30 per month and the channels available are USA, FX, El Rey, Viceland
Sling Orange + Sling Blue: $45 per month, and you could watch Comedy Central, History, IFC, NFL Network channels.
You can get channels starting from $5 to $15, and the monthly rental is $30, and this is one of the cheapest streaming websites by far.
Channels Offered:
ESPN+, ESPNews, ESPNPlus, SEC Network, Longhorn, etc.…
Pros:
Has a lot of packages
Offers easy payment option
Awesome bundling options
Cons:
Local channels need an antenna
Consumes a lot of data to stream
---
#4: Hulu+ Live TV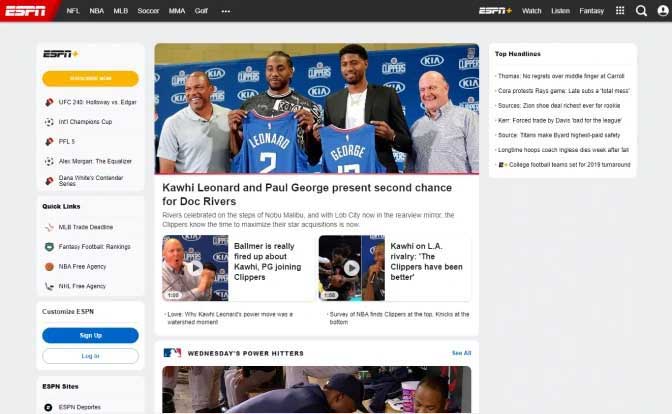 If you are interested in binge-watching movies and TV shows belonging to the yesteryears and the current generation, Hulu+ Live TV is a fantastic choice. You do not have to think twice about getting the cable connection disconnected after gaining access to this streaming site.
Price: At $6 a month, basic Hulu loaded with TV series and movies can be accessed. When you upgrade it to $55, you can get complete access to the Hulu Plus Live TV.
7-day trial plan.
Channels Offered:
ESPN channels (ESPN, ESPN 2, ESPNews, ESNPU, ESPN Bases Loaded, ESPN College Extra, and ESPN Goal Line)
Pros:
Lots of past and current movies
Accessibility to on-demand content
Content clarity is good
Quick streaming
Cons:
The interface is slightly funk
Limited accessibility to DVR at $10
---
#5: FuboTV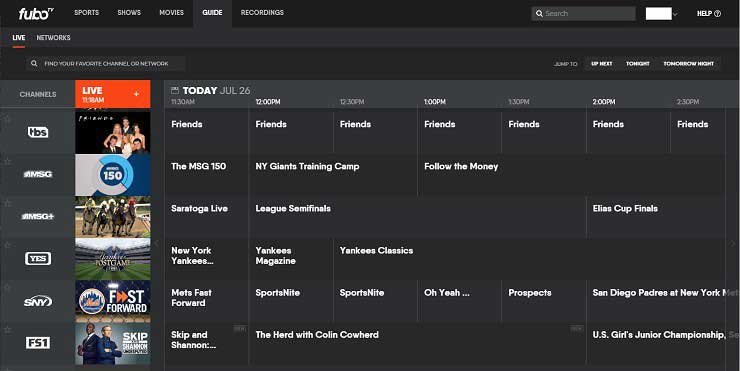 FuboTV is especially known amongst sports fans. But many news and media channels of this platform are also known amongst its fans. FuboTV offers almost 100+ channels that include sports channels, news channels, as well as entertainment channels.
Price:
The basic plan under FuboTV is called the standard plan, and it is priced at $54.99.
The family plan comes at $59.99, and it is almost similar to the standard plan.
Fubo'sultra plan is priced at $79.99 per month, which includes a standard plan with a showtime plan.
Channels Offered:
CBS, FOX, NBA TV, The Golf Channel, GOL TV, and TNT
Pros:
Tons of channel options
Good web as well as a mobile app
Capable DVR functionality
Few 4K contents
Cons:
Add-ons are costly
Most live streams are limited up to 720p
---
Tips: If you want to record/collect some moments highlights of the sports competition, you can try Filmora Video Editor! Download Filmora and have a try. It won't let you down!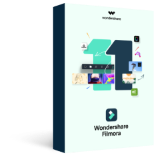 The program features tones of editing options such as trim, split, merge, crop, cut, paste, add music, extract audio, and adjust speed among others.
Capability to directly upload video files to popular sites like YouTube, Facebook, etc.
This program supports high quality video editing of up to 4k.
...
---
Top 5 Free Sports Live Streaming Sites You Can't Miss
With the growing demand for sports streaming sites, we are providing you with a list of top 5 best live sports streaming sites.
#1: Laola TV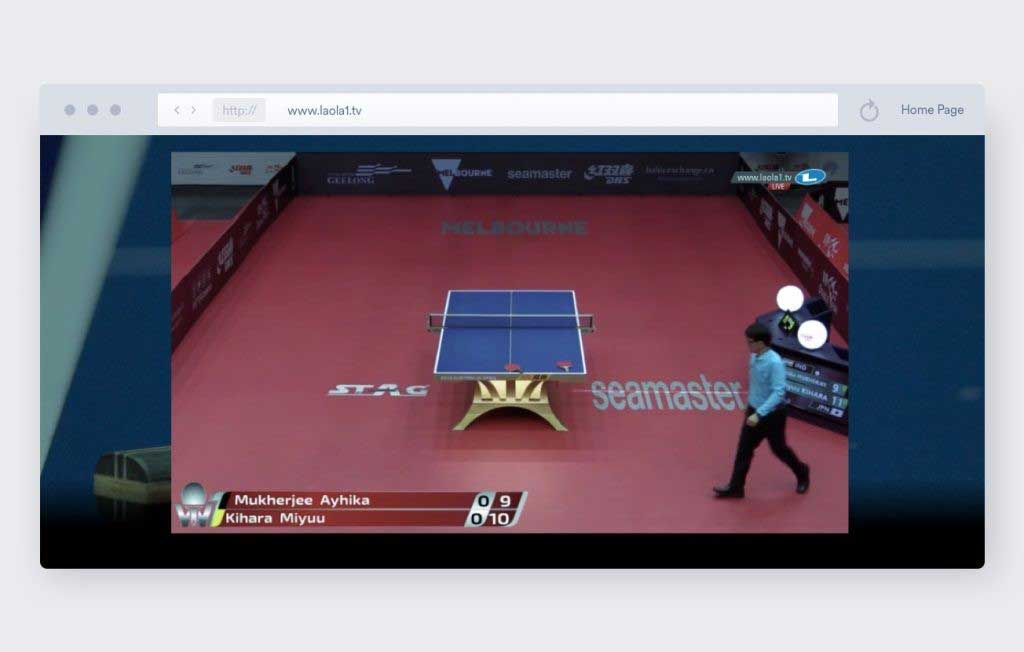 Laola TV is one of the best sports streaming sites that offer numerous sports watching options. It is considered as Europe's largest streaming platform. You can watch exciting sports content from all around the world without paying a single penny or getting registered.
Price: Free download
Channels/Content Offers:
All news reports, sports report, highlights of major sports
Pros:
Free sports league videos
Up to date app
Reports and interviews of many sports personalities
Cons:
Not many choices are available as per many customers
---
#2: WatchESPN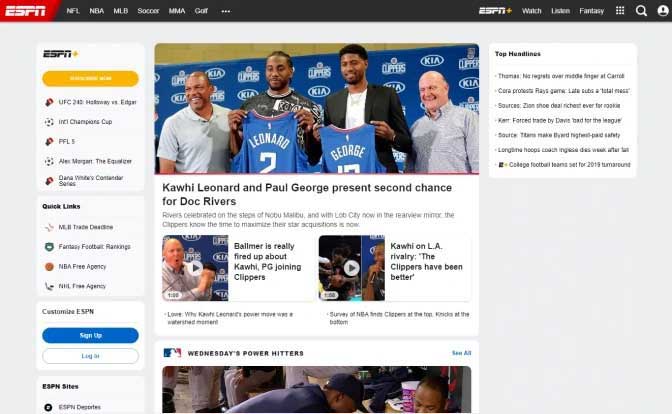 WatchESPN offers you unlimited free videos and live sports relay from all around the world. You can view any sports activity around the world from the comfort of your home. The app can be used on multiple devices like smartphones, tablets, Xbox One, and Amazon Fire TV.
Price: Free of cost
Channels Offered:
ESPN, ESPN2, ESPN3, SEC Network, SEC Network+, and Longhorn Network
Pros:
Live stream of sports activities
No cost services
Accessible on different digital devices
Cons:
Few users found the app to be a bit glitch
---
#3: Live Soccer TV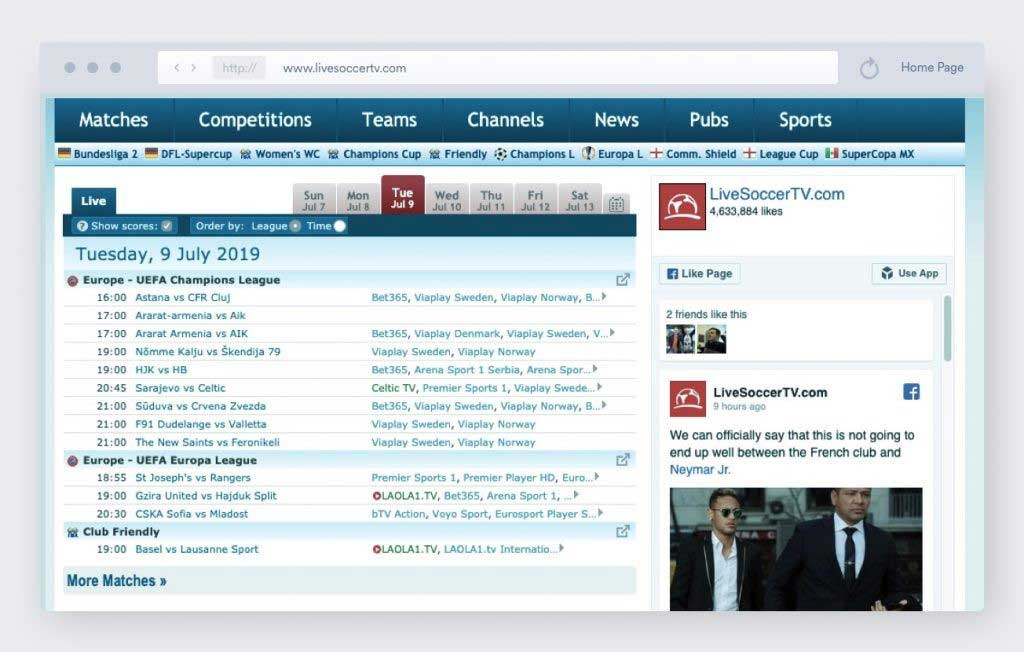 Live Soccer TV is a comprehensive platform offering soccer/football guide to global audiences, without any additional charges. Although the app doesn't offer any live streaming, the app offers direct links to all live broadcasters.
Price: Free of cost
Channels Offered:
FA cup, La Liga, UEFA Europa League, English Premier League, and UEFA champions league
Pros:
Ad-free option
Multi-language support
Comprehensive broadcast for all top league
Daily breaking news and viral content
Cons:
Sometimes the app doesn't load well
---
#4: Livetv.sx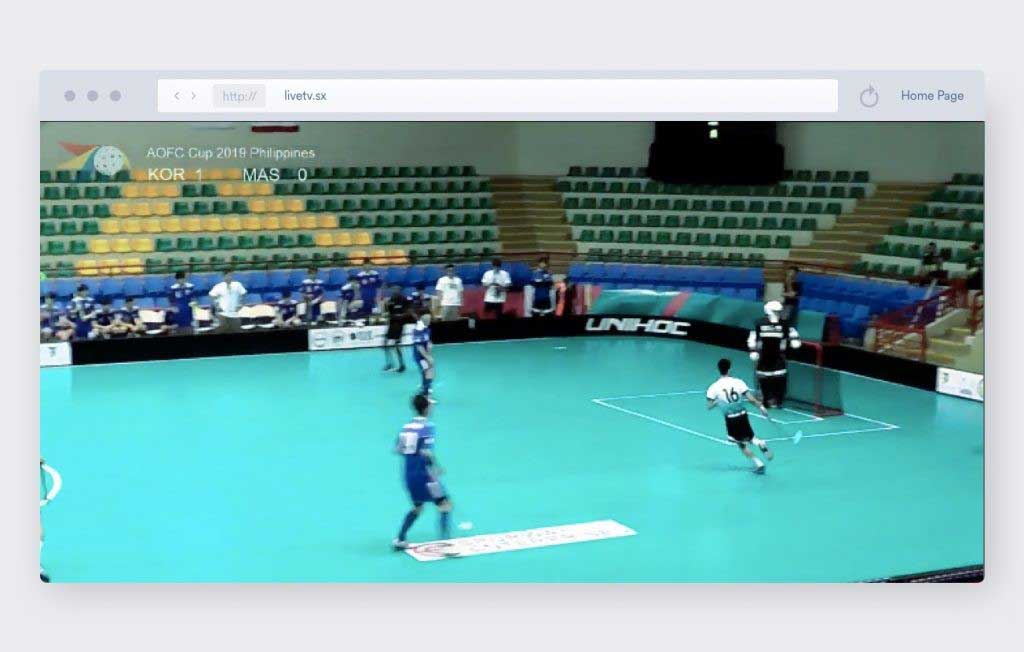 Livetv.sx is a free website that offers unlimited sports-related content like highlights, news, and reports for free.
Price: Free of cost
Channels Offered:
Different channels related to Football, Basketball, Soccer, Volleyball, and Cricket
Pros:
Link with a single click
Ad-free website
Multiple sports are included
Cons:
Few users found that the channel doesn't offer many sports activity from different continents and regions
---
#5: CBS Sports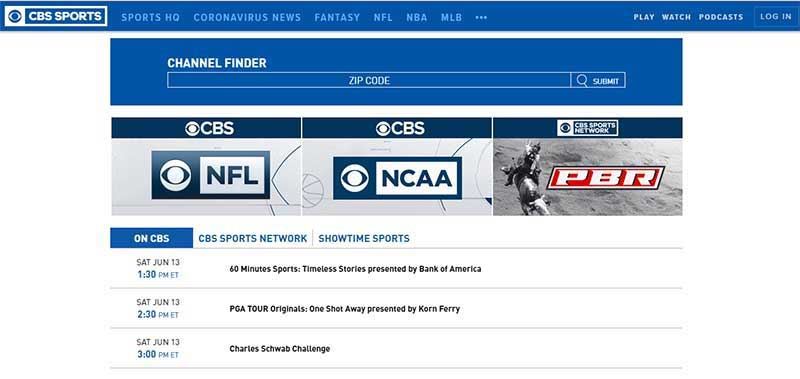 If you want to get live reports, news, and ranking of players, CBS Sports is the perfect app to look for. The app also includes the streaming of different sports events and programs. For all sports junkies who want to stay engrossed in the sports world, getting this channel is the perfect option.
You might as well consider getting your cable connection disconnected as you would be hooked up to this TV once you start watching it. You can subscribe to all the channels under different categories like entertainment, news, and sports.
Price: Free of cost
Channels Offered:
CBS Sports, NCAAF, FB REC, BB REC, and NCAAB
Pros:
Live games
Unlimited news and content
Player information
Daily game schedule
Cons:
Sometimes the games are blurry and breezy
---
Conclusion
For all sports fans all around the world, if you want rich sports content, the best way is to go for free sports live streaming sites. These sites come up with maximum content and entertainment with almost no payment. Thus, stay glued to your favorite sports by using services offered by these best live sports streaming websites.
Let us know which platform offered you the best services.