What are the best streaming video recorders?
With video becoming the most widely used medium for content sharing, streaming video recording is now more important than ever. But simply downloading and installing any video recorder of the internet isn't enough.
You need to choose a streaming video recorder that suits your needs and produces the best screen capture quality.
However, choosing a streaming video recorder is often a daunting task for must users. Because there are so many options to choose from with different streaming video recorders having different features.
So...
...if you're looking for a high-quality tool to record live streaming video (like me), you've been the right place.
In this post, you can get:
- Tips of picking up the proper streaming video recorder for yourself;
- A practical straming video recorder software and its detailed tutorial;
- Skills to get the best quality of the streaming video recording;
- ...
Now, let's get started...
Check the Characteristics of A Good Streaming Video Recorder Should Have
The first step to finding the best streaming video recorder for you is to establish what your needs are. Before picking a video recorder, consider the following factors:
1. Ease of use
Not all streaming video recorders are suited for beginners. Get a video recorder that has a simple interface that is easy to use and navigate, and also has both basic and advanced settings to accommodate users at all levels.
2. Type of streaming video
Do you want to record a conference call, gameplay, YouTube show, live performance, sports event or something else? Different screen recorders are designed for different types of screen captures.
3. Audio recording
Do you need to record audio from an external microphone in addition to the streaming audio? Choose a video recorder that supports audio recording from external sources.
4. Video editing tools
Do you need to edit your video after screen capture? Go with software that allows you to effectively perform video editing functions such as trimming, cropping, adding subtitles, annotations, applying special effects, filters, transitions and more.
5. Video format support
Do you need to save or share your recorded video stream in a specific format? Look for a screen recorder that has good support for popular video formats such as MP4, FLV, MOV, MKV, MPEG, WMV etc.
6. Cost - Important!
What is your budget? While there are screen recorders that are free, they are usually either limited in terms of functionality or do not produce the best quality results. Find a balance between cost and quality.
Now that you know what to look for in a screen recorder, then you can ready to record streaming video on Mac or PC.
---
Get Ready to Record Streaming Videos by Yourself
#1. Find A Screen Recorder Software by CHECKING Details in the Above Section
According to the above section, you might have picked up the best streaming video recording software on the basis of your needs, right? Then, you can skip this step and go to the next step.
However,
if you still have no idea about it, here I'd like to recommend Filmora Video Editor for your reference.
Why?
This program has a screen capture tool that can record streaming video on your computer screen. You can use it to record live webinars, conferences, video calls, streaming movies, tv shows and more. And, you can choose to record your entire screen or a defined area at your own will.
What's more,
Filmora Video Editor comes with powerful ability in video and audio editing. It allows you to edit the recorded streaming video or videos in other types with lots of tools, including trimming, cropping, splitting, editing, color tune, etc. And it can also help you to add various effects like transitions, filters, titles, music, etc. to your streamign video easily.
And,
This program comes with free and paid version (the free version will add a watermark in the output video), so you can experience its powerful functions before placing an order. Of course, if you don't mind the watermark, the free trail version can satisfy all your needs.
# 2. Customize the Recording Settings
Now, you need to confirm the recording area, and adjust the recording details according to your own needs. In Filmora Video Editor, you can finish these steps as follows:
- Launch Filmora Video Editor and choose "New Project";
- Click on "Record > Record PC Screen", then you can see an interface like below. Here, you can choose the recording area, destination folder, frame rate, etc. one by one;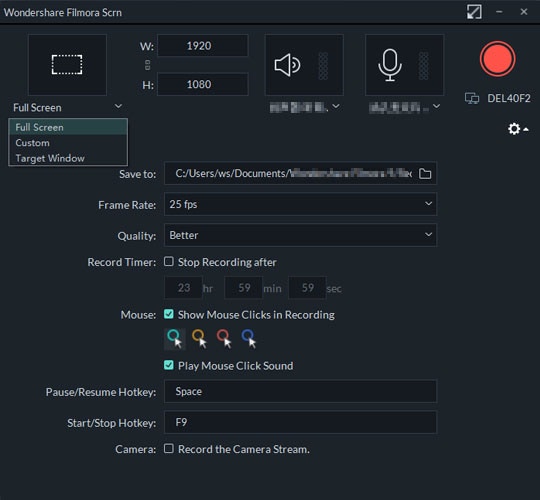 - Click "Rec" button to begin the recording process. And you can pause or stop the recording at any time you like.
#3. Apply Special Effects to the Recorded Streaming Video
When the streaming video is recorded, it will be saved and displayed in the media library for your reference. Here, you can drag and drop the video into the timeline and apply some special effects on it.
For example:
- Create An Awesome Intro or Title
Hit "Title" on the top menu, and you'll get 146+ free title templates for choosing, including openers, subtitles, marriage theme, etc. You can drag these templates to the timeline and preview its effects directly.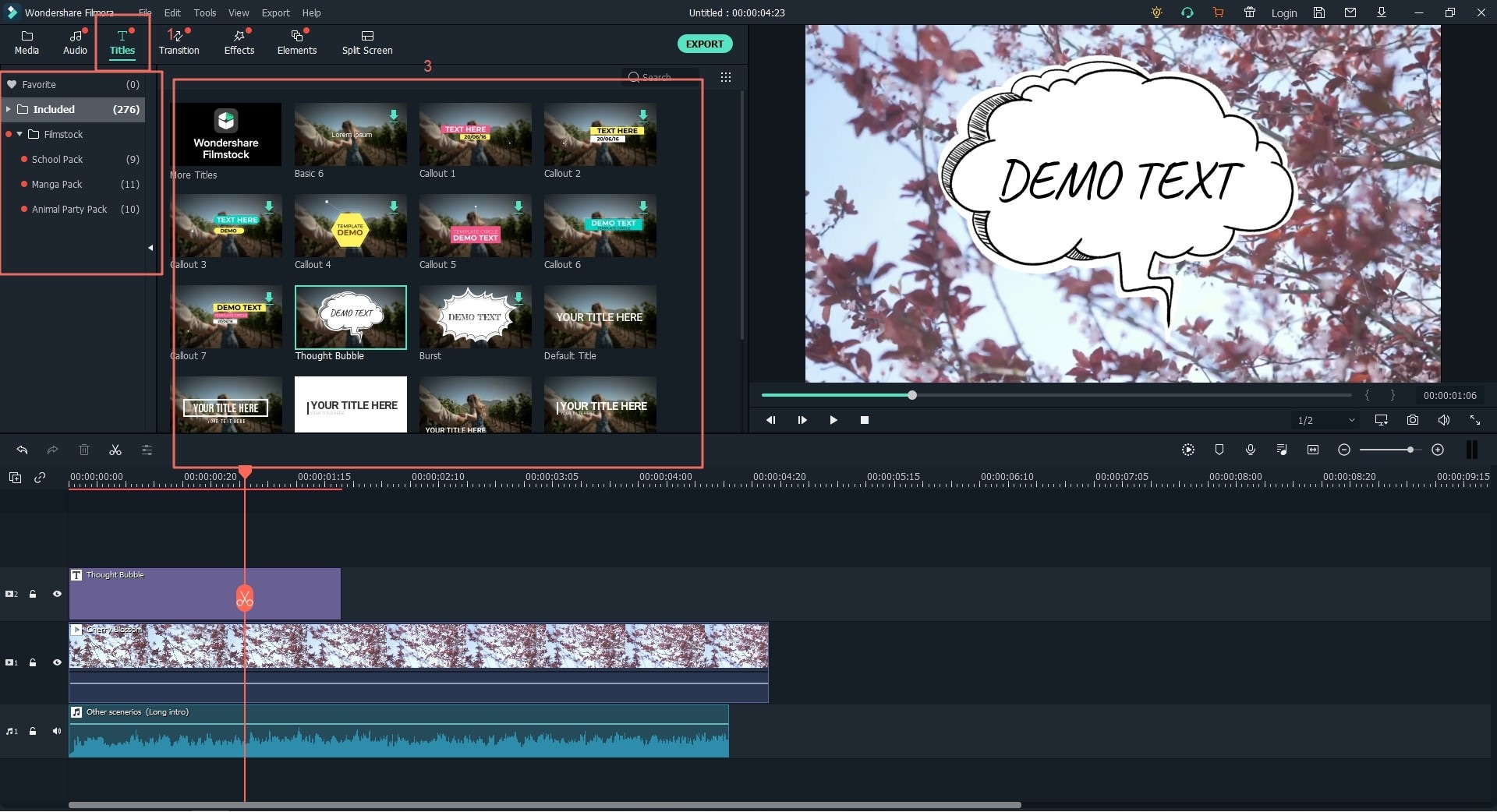 Filmora Video Editor allows its users to customize the text settings by double-clicking on the text layer in the timeline. Then, you can get a window as below. Here, you can simply change the font style, size, color, space, etc., or click "Advanced" button to do more editings on the title text.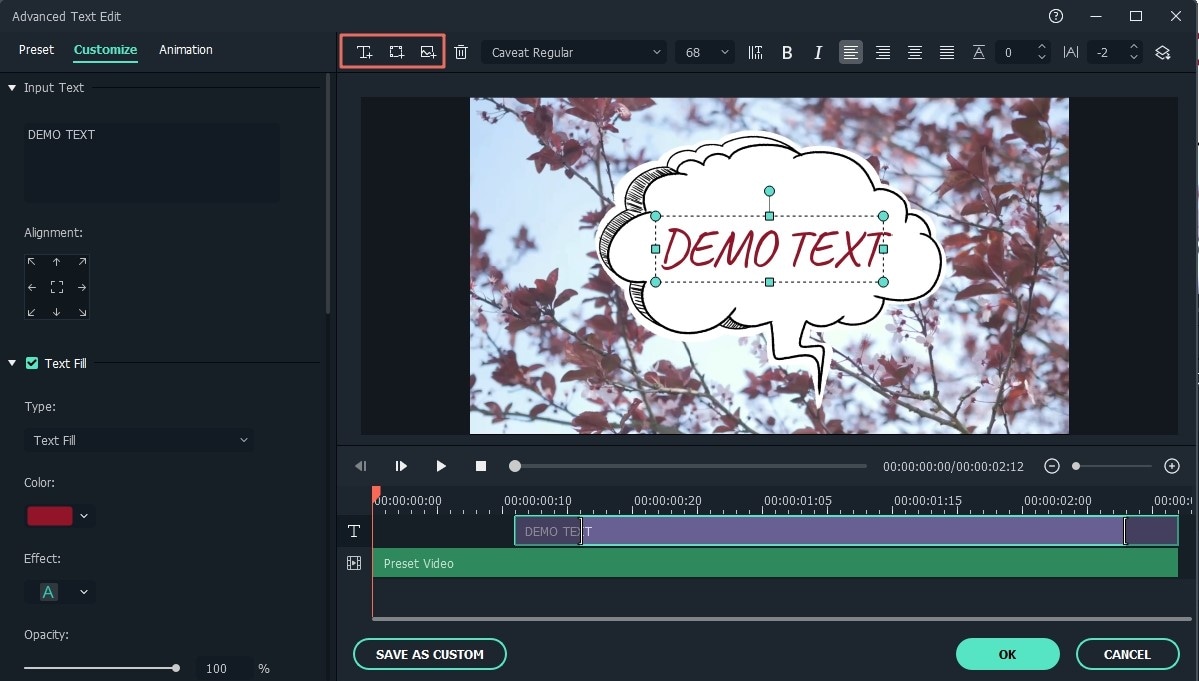 - Add Transitions, Filters, Overlays, etc. to Enhance the Video Performance [Optional]
As a semi-professional editor, you'll choose to add effects like transitions, filters or overlays to make your video unique, right?
Well,
Filmora Video Editor provide all of you with 300+ free effects to customize your video easily. You only need to hit "Transition" or "Effects" tab on the top menu, then drag the desired template to the timeline.
Done!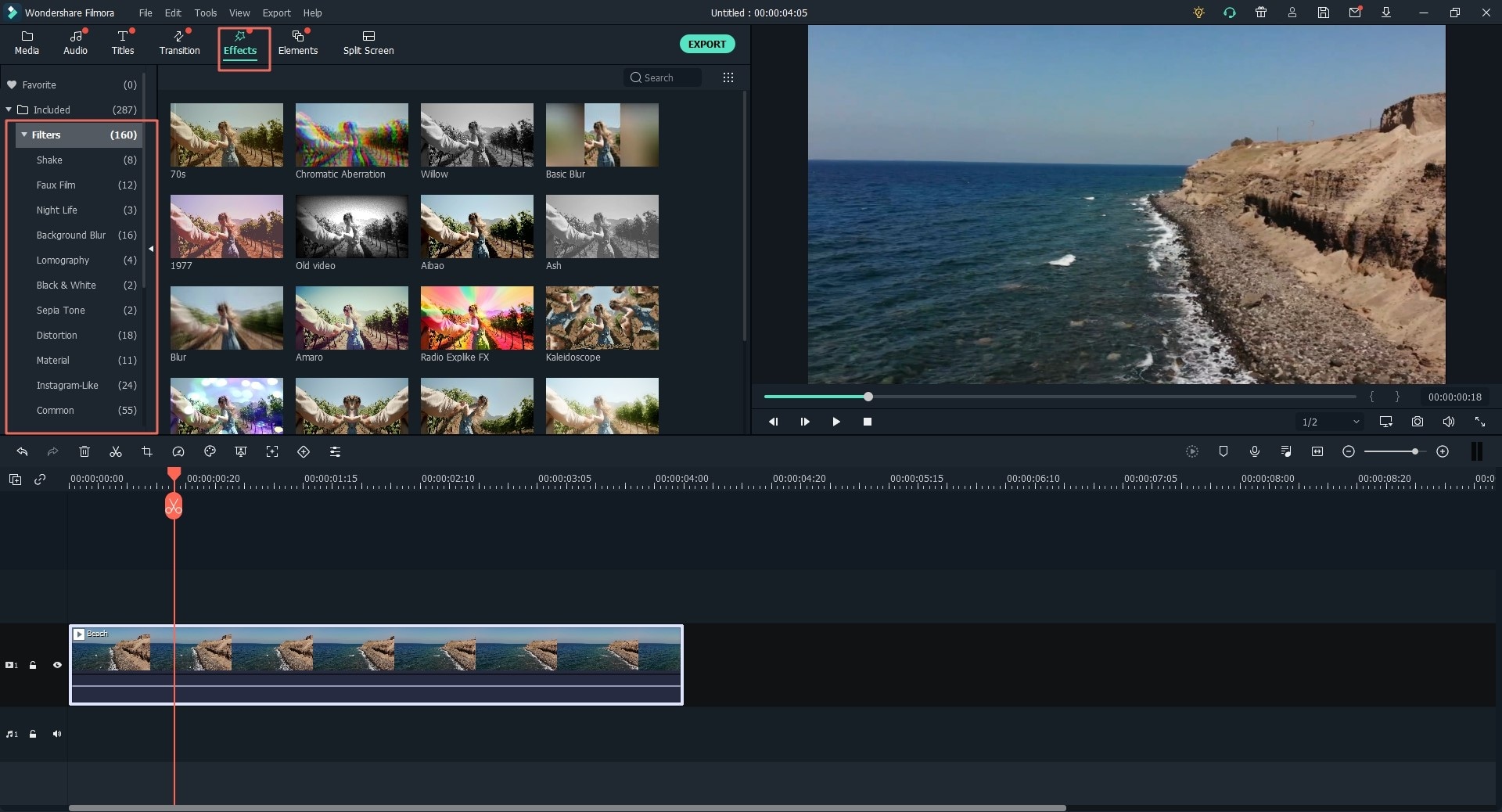 [Attention]
Effects like Mosaic, Face-off, Auto Enhance, Old Film Effect, etc. can all be found and applied in this section. And if you want to know more editing skills that Filmora Video Editor have, you can view this post - How to edit a video from beginner to professional.
Finally,
When you're satisfied with the video effect, you can click "Export" button to export and save the recorded streaming video on your local disk or directly upload to YouTube, Vimeo, etc. as you like.
---
Advanced Editing - Tips to Help You Get the Recorded Streaming Video in Best Quailty
Whether you're creating gameplay, an online video, a Skype call or some live event, getting a high-quality recording will make your video more enjoyable to watch and will hold the attention of your viewers longer. Also, if your video is intended to create a presentation or e-learning material, good quality video is proven to help your audience understand and retain the information much better.
Below are some suggestions to help you record video in high quality:
1. Plan your recording
Take the time to think ahead and prepare for your recording session. How long is the Livestream? Do you have sufficient disk space? Are there segments you need to pause the recording? Asking yourself these types of questions will make for a smoother and better-quality recording.
2. Remove unwanted noise
This is especially important if you intend to record mic audio. Eliminate all sources of distracting noises such as traffic or radio playing from the recording room.
3. Run a test recording
Perform a practice recording to make sure everything is working and you are familiar with the process. If it is a live event, you only have one chance to get everything right. If you will be recording yourself, make sure your voice is clear enough and the volume levels are good.
4. Close unnecessary programs and tabs
By doing so, you will not only avoid potentially ruining your recording with popups and notifications, but you will also have more processing power available to record more efficiently.
5. Use good software and hardware
Streaming recordings with poor mic audio will turn off your audience. Try and make sure you are using a good mic and have decent internet speed so that you can get high-quality streaming video. The same applies to software. Use reliable and reputable screen recording software like Filmora Video Editor will help you save time on editing.
6. Properly edit your video
Your stream recordings should feel professionally made to the audience to inspire credibility and enhance its perceived value. Use the video editing tools in Filmora Video Editor to remove unwanted parts, correct video color, add annotations and subtitles where necessary, apply transitions and filters, split and merge different clips and equalize the audio. You should also add an intro and outro to mark the beginning and end, and add credits. This will overall improve your video and make your presentation highly effective.
[Write in the End]
That's all!
This is the whole content of recording streaming videos on PC or Mac. Have you gotten the right solution after reading this post?
In short,
the key point to record live streaming video is to find a reliable yet professional video recording software as your daily assistant. And then edit the video before uploading or sharing it on the public.
Referring to the option of the best video recorders, you can directly take the Filmora Video Editor into consideration. Or if you have more good options, you're welcomed to leave a quick comment in the below section.