With the exponentially growing popularity of meme culture, it is safe to say that netizens have revolutionized the concept of humor. And of course, despite having no voice, music, or action to it, meme humor must speak to you so you understand it. Thus, creating an entertaining meme is a challenge and art in itself. Mind you, the text font you're using in it is also highly impactful.
Impact is one of the most commonly used meme text fonts since the inception of the culture and, consequently, its popularity. Learn more about its history and the reasons for using it below. Here are a few of the best meme fonts you can use for your creation.
Part 1. The 4 Best Meme Fonts You Need to Know
As mentioned earlier, when we talk about the best font for memes, there are usually 3-4 names that cross the mind. They are Impact, Arial, Custom fonts, and Comic Sans. In this section, we will focus on these types, and try to describe the characteristics of each of these. It will help you to get a better understanding of how to proceed with the same.
#1. Impact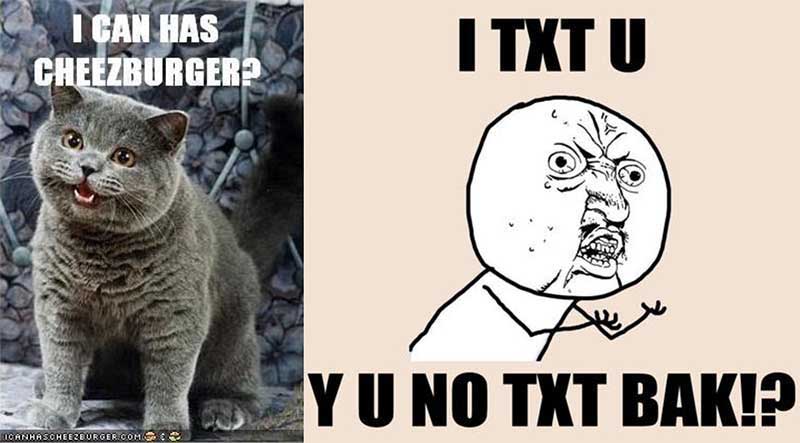 Impact is a typeface so popular in memes that it could be referred as the "meme font". As its name suggests, the font was meant to have an impact on the recipient; and so it did.
Initially, the font style was known for its legibility and how it stood out over pictures because it was easy to read with bold, thick black letters. Its creator, Geoff Lee, claimed that he created the typestyle by hand-cutting metal. Impact came to rule over the web when its digital rights were sold to fellow competitors after the owner, Stephenson Blake, shifted the focus of his business. The font landed with Monotype, a publicly-traded type foundry and technology company, who then sold it to Microsoft.
In the hands of Microsoft, Impact flourished. It came with the standard font style pack on the market-dominating Windows 98 systems, and there has been no coming back ever since.
For over two decades now, this meme text font has unconsciously been ingrained in our minds; it is due to Impact that we expect memes to look a certain way today. The impact has indeed been made! If you want to learn more about the interesting facts behind Impact font, you can have a lot of fun reading a recent story released by VOX.
---
#2. Arial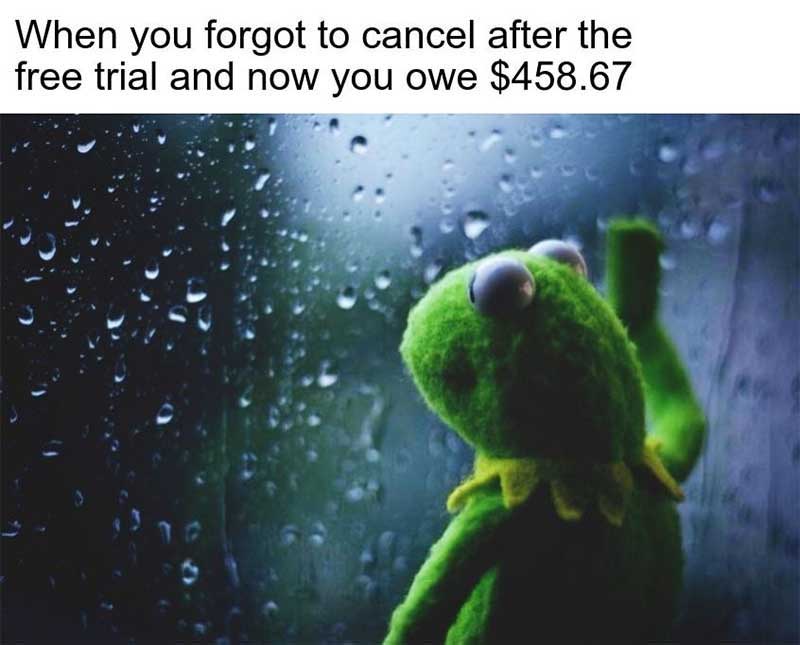 Arial is a modern version of the old-school Sans Serif font design. It was marketed as being in line with the mood of the contemporary era of the internet. The same is the reason for using Arial as text font style in memes of the new times. It is believed to give an edgy and cool overall look to the meme while still maintaining its aesthetic sense because of its humanist character.
Its round edges and general shape don't make it look mechanical like a few other options available to us, for example, Times New Roman, which is rather professional.
---
#3. Comic Sans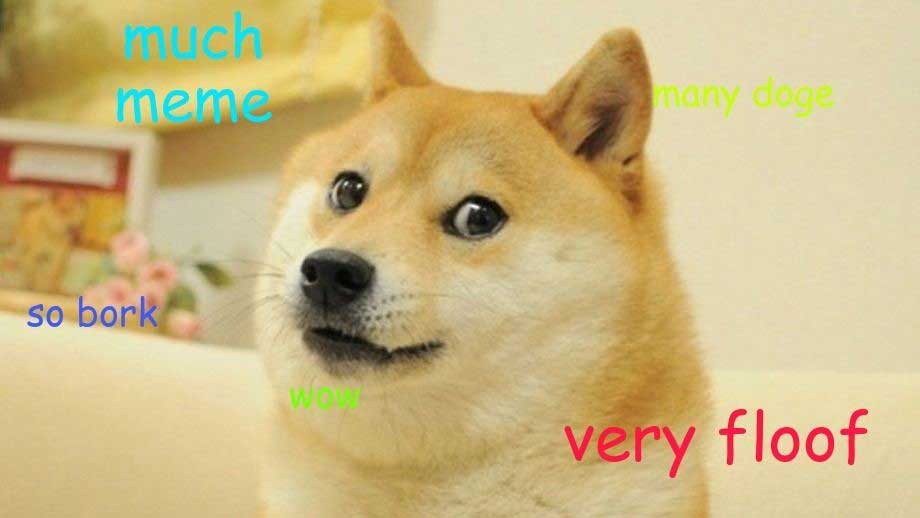 If we were to name a font style 'boomer', it would be Comic Sans. Its overuse has made itself a meme niche. Mostly found in comic books, Comic Sans is perceived as a childish text font and is not encouraged for professional, even casual use now (because of its anciency). Of course, you do not want to be taken back to the 2000s.
Remember the Doge Shiba meme family; it was complimented with Comic Sans, making the meme funnier than ever and promoting the subject's amusing childishness.
---
#4. Other Fonts
Calibri, Segoe UI, and Verdana are some of the most commonly used meme text fonts from Microsoft systems. These are, respectively, the default font of Microsoft Office, Microsoft standard user interface, and the vintage screen font.
If you see a meme with text in the style Helvetica, you instantly know it was made by a loyal Apple device user. Google widely supports the use of Open Sans as a free-to-use web font.
Honestly, as long as you avoid using Comic Sans, you will be good to go.
Now that you're aware of what font style would make a striking meme, it's time you also get to know about some of the best meme generators on the internet. It is your time to shine and contribute to the meme culture.
---
Part 2. 3 Best Meme Generators to Make a Meme
On Imgflip, there is a variety of meme templates to choose from. From the iconic Oprah, as you see above, to the evergreen Monkey puppet, this meme generator is your one-stop shop for making memes. If any of these do not suit your taste and you have something new to bring to the table, you can upload a new template as well.
Once you pick your template, you can add a 'top text' and a 'bottom text' to all of them. The color choice is up to you too. There're 13 most commonly used meme fonts you can choose from, including Impact, Arial, Comic Sans MS, Helvetica, Times New Roman, Times, Courier New, Verdana, Georgia, and more. Also, you can adjust its space, add images, and draw on the template too from the options you see above the meme picture. Once you're done making a masterpiece, click on 'generate meme', et voila!. You've got your meme!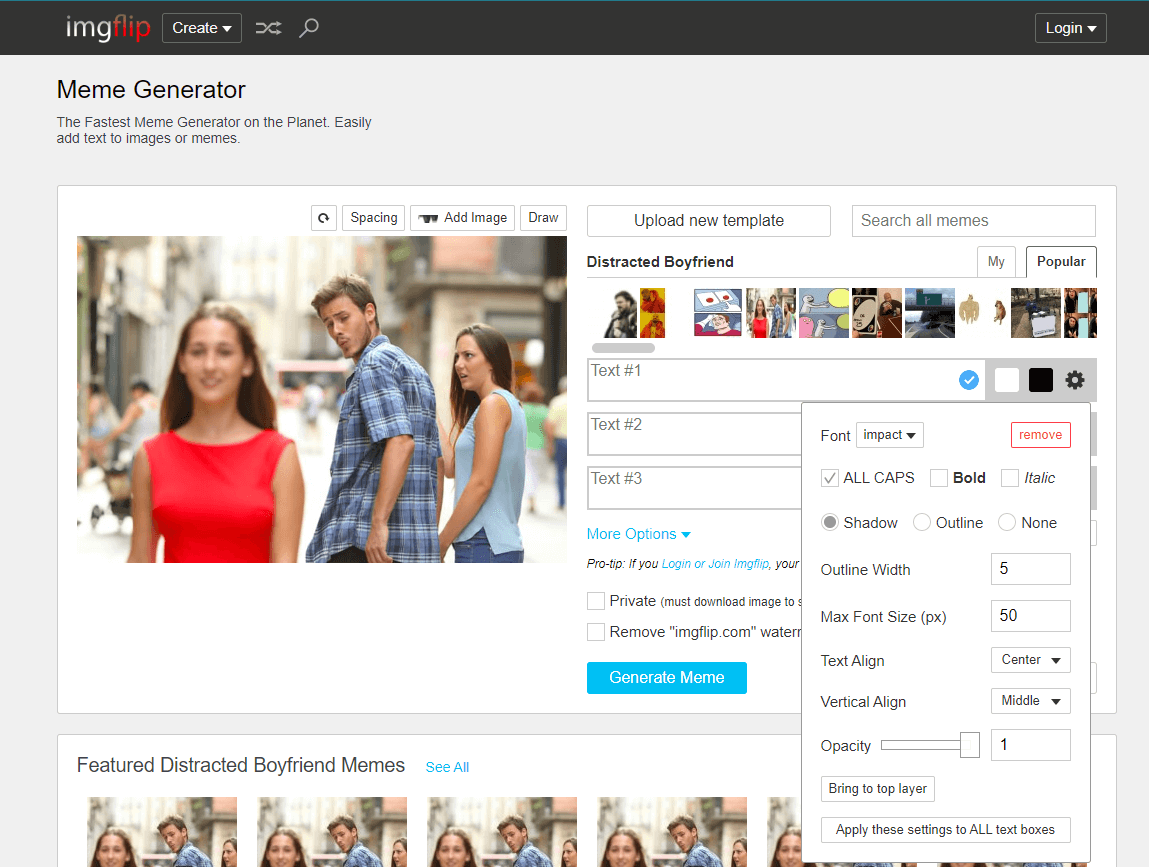 With Fontmeme, you are at liberty to choose from a myriad of fonts  used in (or similar to) brand logos, film titles, TV logos and edit them with its image tools. If you're not in the mood to generate a text font, you can choose from existing ones—for example, the Eternals (film) font or the Squid Game font.
Picking any of these will add the relevant mood to your meme. Once you select it, type the text, and generate it. You can then copy it and paste it into your meme template.
Here, unlike Imgflip, you do not get to make a complete meme with a template. Instead, you only get to pick the font and then paste it on the image you have. But compared to the limited font amount (13 fonts in total) in imgflip, you can find almost every font you would like to use from your favorite movies, games, TV series, Books and more.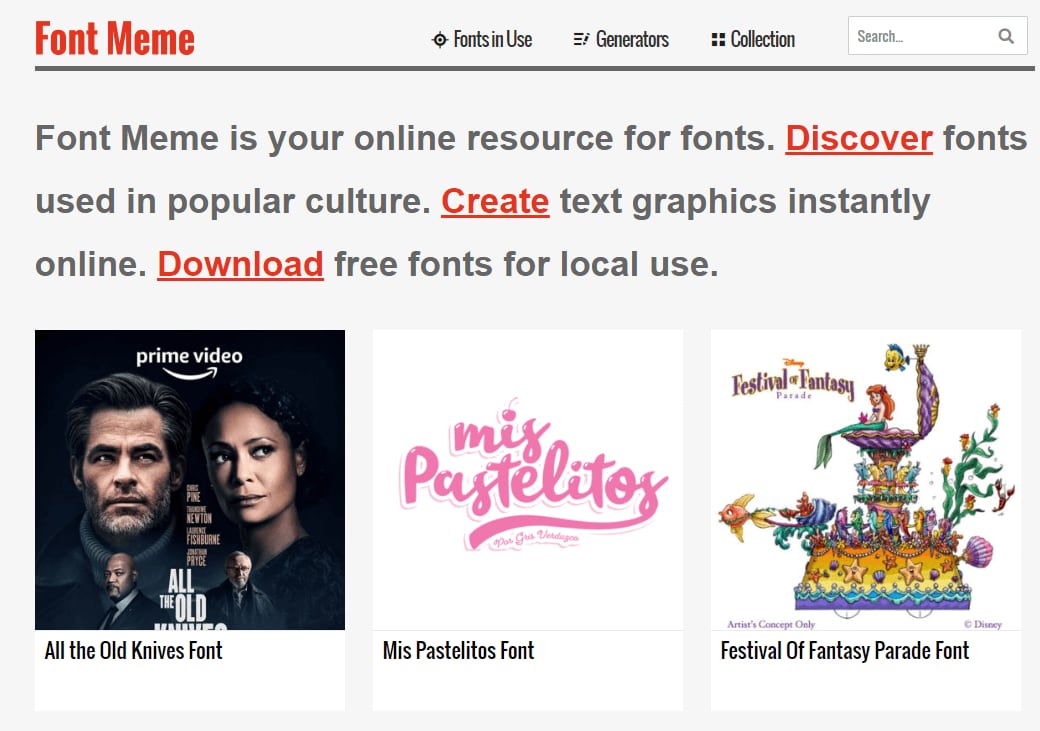 With Free Monogram Maker, you can pick or make any font you want and use it in a meme. Here everything from images, templates, and fonts are available to generate an entertaining meme. You can also select the image type as well, for example, in a portrait or landscape format. Its original website interface guides you through the process, and to be honest, it is the easiest. Try it out for yourself.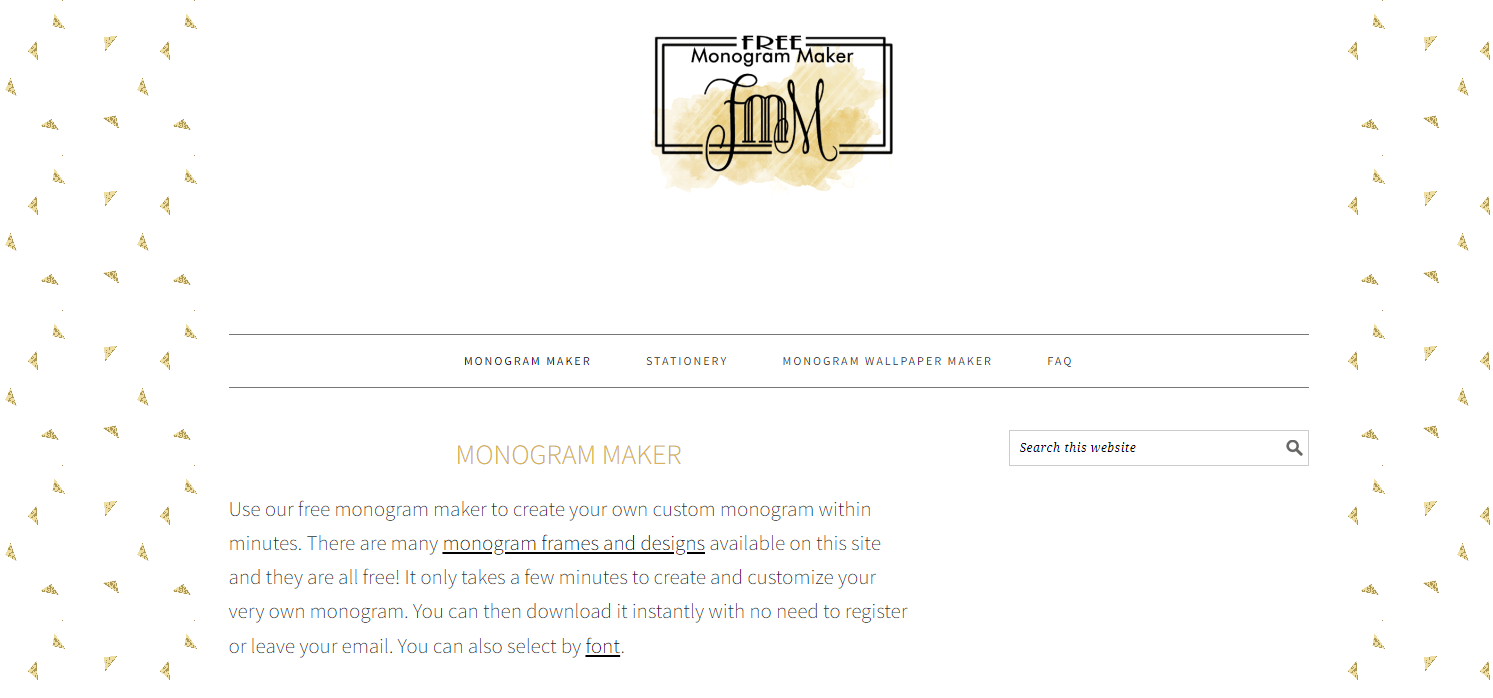 KEY TAKEAWAY!
We don't see the meme culture coming to an end anytime soon. This form of entertainment has given new meaning to humor and has been successful in cheering up netizens.
Memes show your creative skills and how you can use humor. Playing with fonts can be the best way to stand out if you want your memes to have a specific tone, attitude, or character. We have introduced the best tools for creating memes with ease.
---
Part 3. How to Make Your Own Impact Font Meme - Using Filmora Video Editor
When you want to make your meme, nothing more than Filmora can help you serve the purpose. It is one meme maker tool that will not ask you for any kind of registration or watermark usage. Filmora is not just a video editor but it can help create a meme and customize the best meme text font as you like. Let us know what you can do with this tool.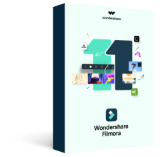 Best video editing software for beginner and semi-professional
Simple video editing tools including cut, trim, merge video
Easily add transition/image/audio/transition/overlay/elements
Advanced video editing features including speed ramping, motion tracking, color match, keyframing, masking, etc
Advanced audio editing features including audio ducking, audio denoise, auto beat sync, auto synchronization, etc
500+ free special video effects to customize and create an awesome movie by yourself.
Numerous free stock media from Giphy, Unsplash and Pixabay
Now lets learn how to create a meme and customize meme text font step-by-step.
Step 1. Launch Filmora and import your picture for making a meme
Launch Filmora on your computer, and import your picture into it by clicking the Import button and choose your file. Then, drag and drop the picture to the timeline.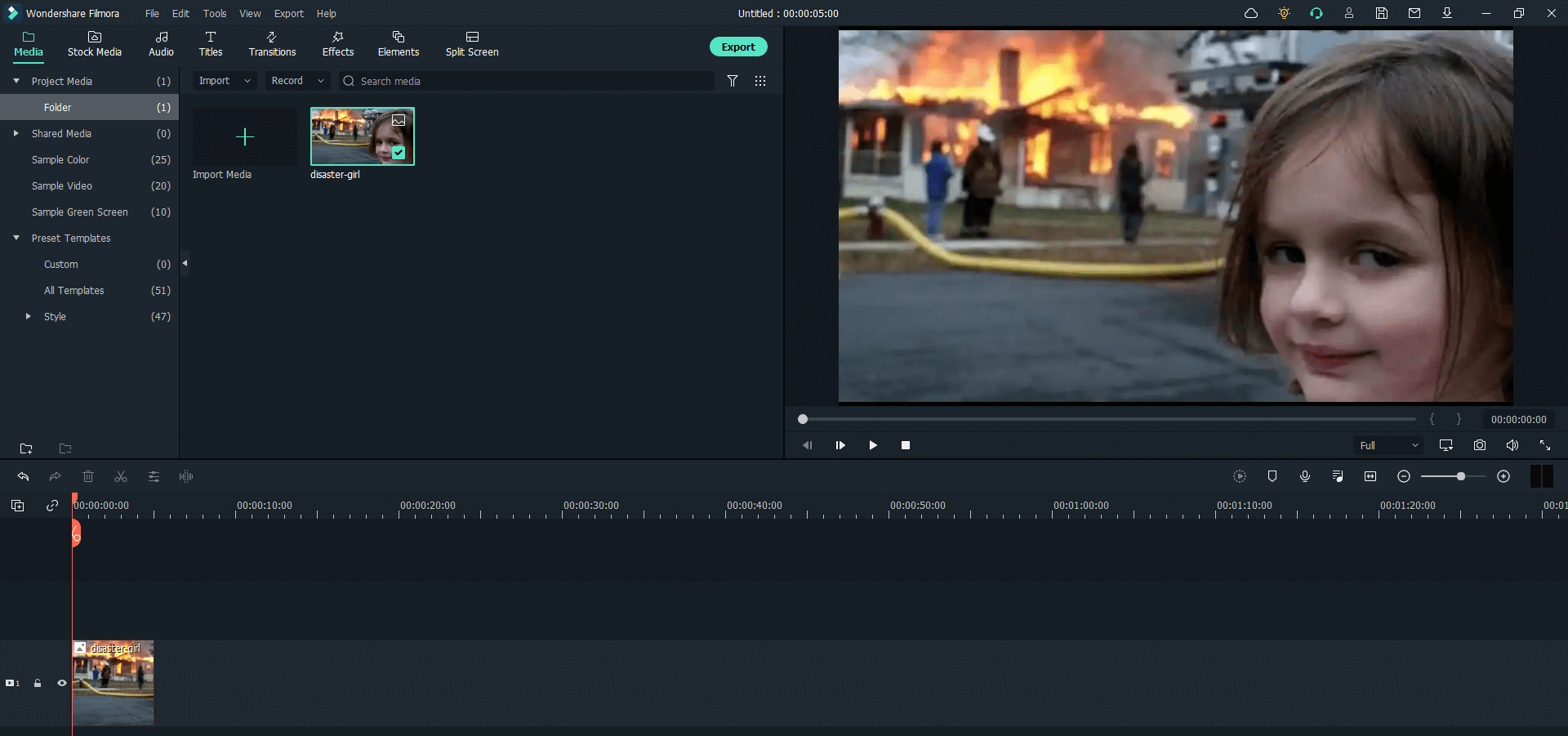 Step 2. Add Text to your meme
Now, select a text from the Title menu on your upper left window. Here you will find tons of different texts. But we just want to make a simple meme, so let's select Title 39 from the Titles tab. Then, drag it and drop it above your picture in timeline.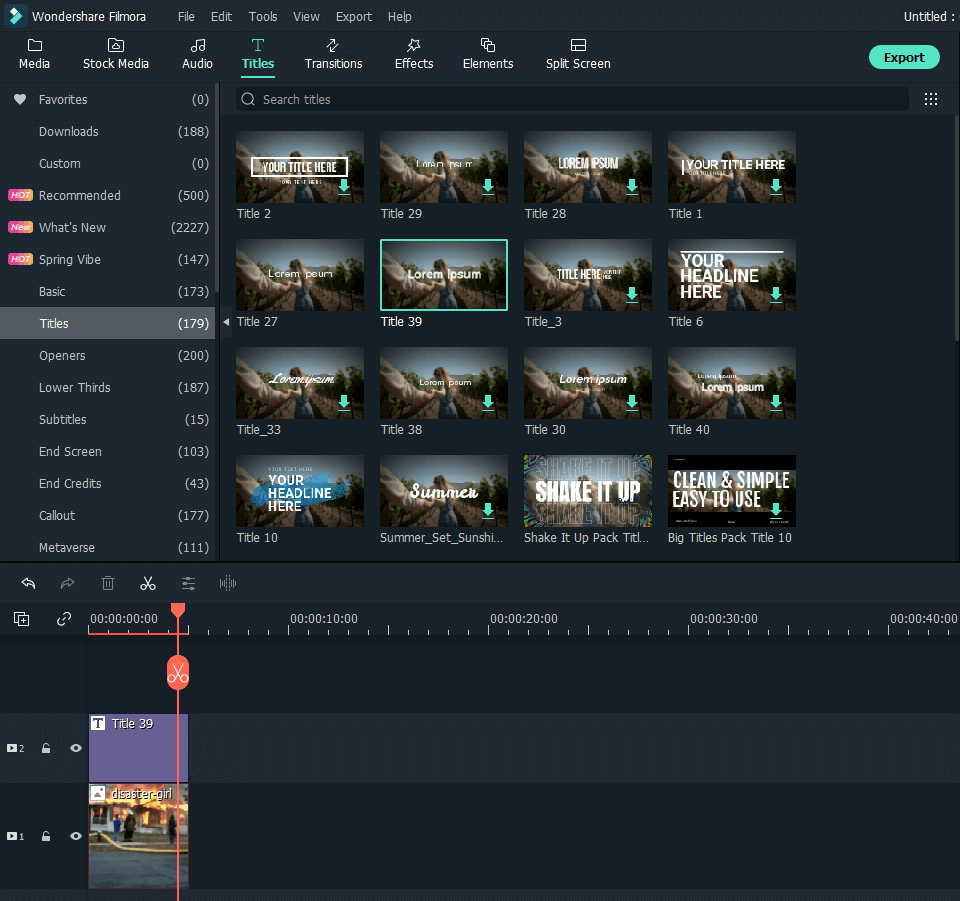 Step 3. Relocate your text and change text font
Now, you can preview the meme in the upper right window. And you can drag the Title box to anywhere you want. Here we add two text in one picture, so we added two Title 39 in the timeline. Then, you can customize the text's font, size, shadow as you like. What we did for this meme is to change the text font to Impact, and you can change it to many other text fonts as you like because there's a variety of different fonts to choose from.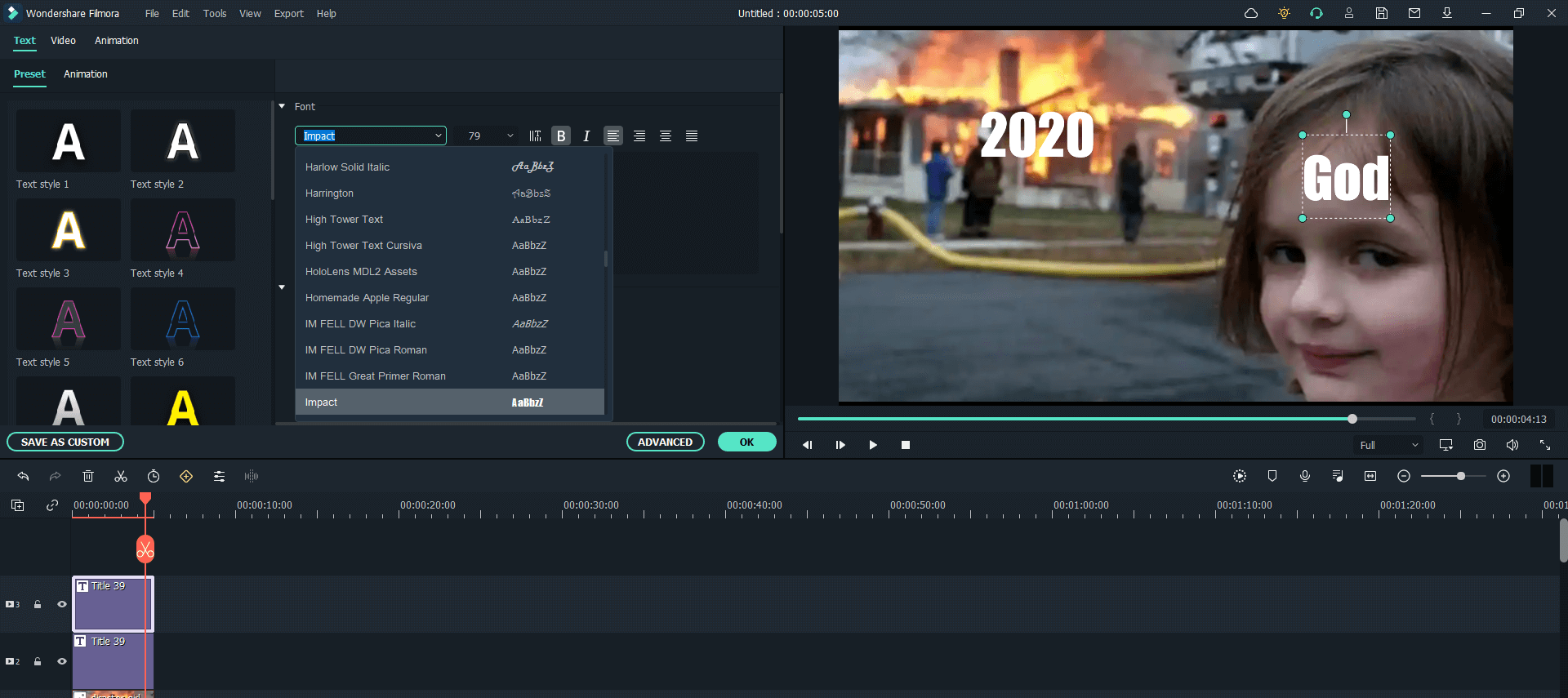 Step 4. Export Meme
Here it is! The meme is done, and you can just take a snapshot of it by clicking the small Camera icon below the upper right window. Then, you can find the snapshots in your computer easily by clicking "Reveal in Explorer". And it's completely free because snapshot has no watermark on it.

Final Words
So, here you have a list of the four best meme text fonts that we feel are the most efficient. You can further pour in your suggestions if you have something more in mind. We would also love to know which font style is your favorite. Apart from making a meme, Filmora is an excellent and popular video maker for YouTube Creators, you can explore its more advanced video editing functions by watching the video below. Have fun!