If you're working with any sort of animations, you might frequently require the need for converting videos to GIF images. This is because GIF images help you when all other formats fail. They can be the best option in many cases as they support features that may be of great help to you. Some of these features and their benefits are listed below.
•Transparency: This is a great attribute of GIFs. It allows you to place a GIF image on top of any background or image – it does not show the background at the back or border around itself. This is why it is used for simple symbols, icons and logos.
•Smaller File Size: GIFs are limited to 256 or less colors. This is why the size of output file is always lesser than the video formats like MP4. Hence, users are able to make low resolution files for their website.
•Animation: Even though animation in GIFs is not as good as in Flash files, but they allow you to add transitions and animations to quite an extent. They do not require a lot of coding or programming, and are more than sufficient for showing small movements.
For converting your MP4 videos to GIF images, you need conversion tools and software which can be difficult to find. For this purpose, we've compiled a list of the top 5 MP4 to GIF converters for you:
---
One of the perfect software to convert the MP4 videos to the GIF images is the dr.fone for Mac (dr.fone for Windows) which has the simplest user interface. Unlike most of the GIF maker, it is available offline, so, you can convert any MP4 file to the GIF image without the internet connection.
It is a complete multimedia solution to manage all kind of photos, videos and images on your computer. You can easily transfer these media files between iPhone, Android phones, computer and iTunes.
You can edit, delele, add contacts, messages, apps on dr.fone.
You can send message on computer with dr.fone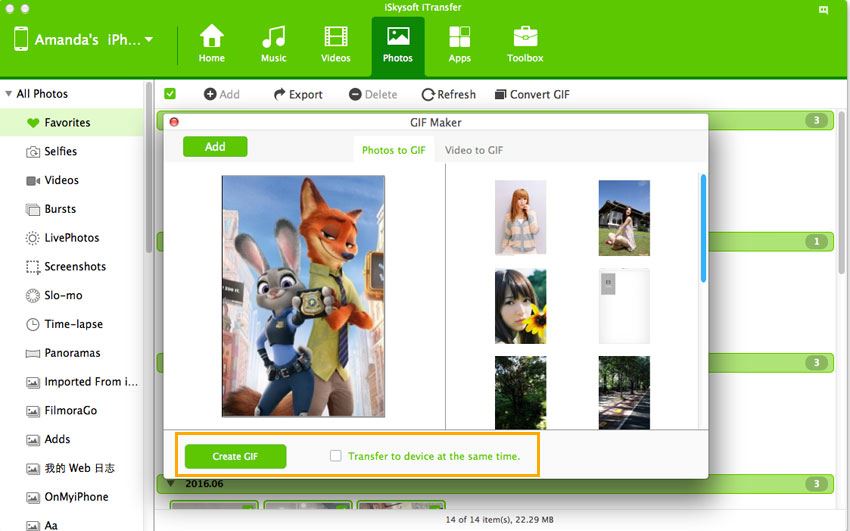 Steps to convert videos to GIF images with dr.fone
Step 1: Run dr.fone on your computer. You can download from the Download button provided. From the main window of the program, click "Toolbox" tab and you can see "GIF MAKER" option. Hit on it.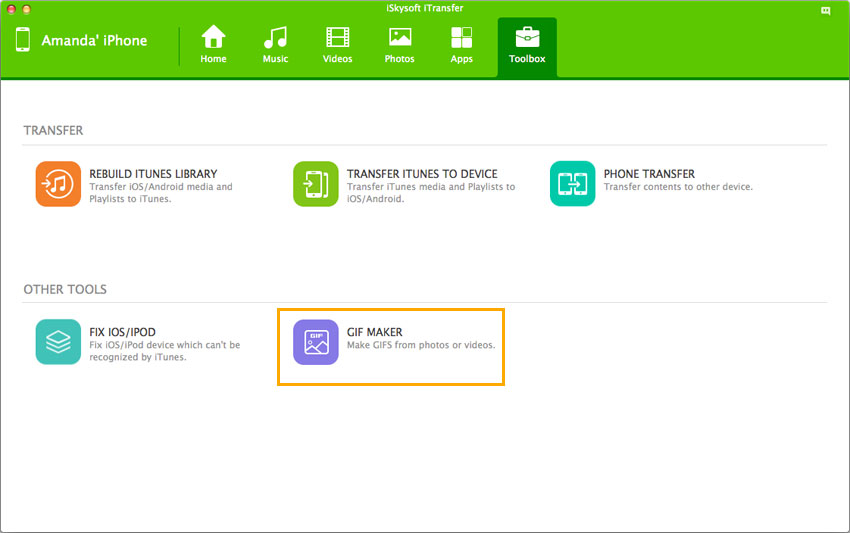 Step 2: There will be 2 options: "Photos to GIF" and "Video to GIF". Choose the latter one as you want to convert mp4 to GIF images. Next, set up the settings such as Start Time, Duration as you like. Then click "Create GIF". It will convert the chosen mp4 clip to GIF in no second. Amazing? Let's try!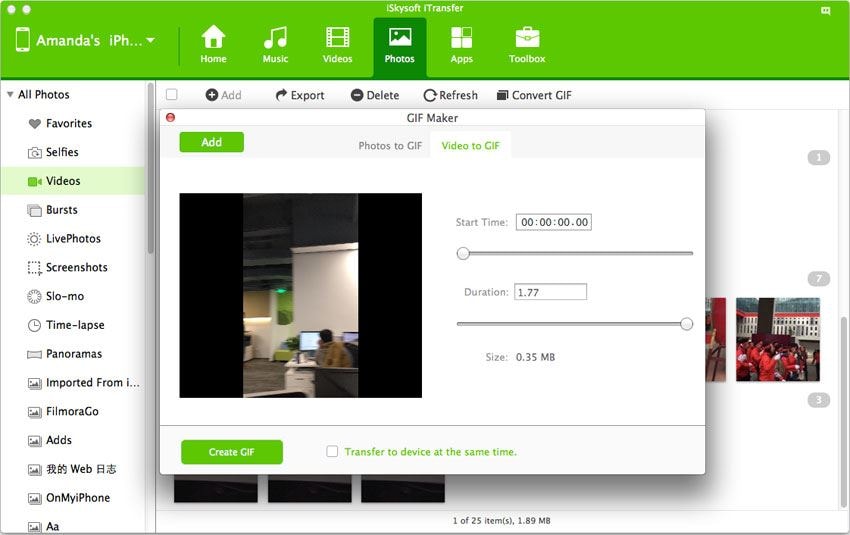 ---
#2. LICEcap
LICEcap is a very useful tool when it comes to creating animated GIFs. You have to upload a recording of the MP4 file that you want to convert into GIF. LICEcap allows you to record almost everything – a video from your PC, a video from YouTube, or even anything you're doing on your computer (through screen recording tool). You also have several features available for customizing the GIF that include setting the dimensions and frame rate of the GIF image.
Pros:
•Very easy to use

•Allows to change frame rate.

•You can pause and resume recording when using the screen recording tool.
Cons:
•The output GIF takes a lot of space by default.

•Lacks important features such as captions and frame size.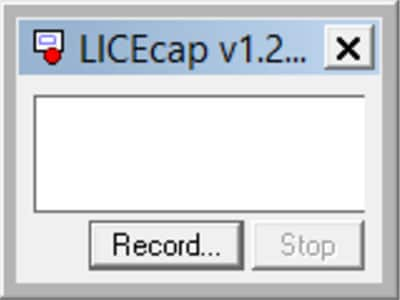 ---
#3. Free Video to GIF Maker
Free Video to GIF Maker is a free software that lets the user upload a MP4 video from the system and coverts it in GIF. This software is especially good for anyone who is using such a tool for the very first time; if you're not sure about all the specifications and details, you can just set everything to default and the output would be as good.
Pros:
•Allows user to adjust width and height of output

•Adjustment and other options come one by one so you don't miss out on anything.
Cons:
•Poor interface which makes it difficult to learn and use the software.

•Adware (also tries to install add-ons during setup).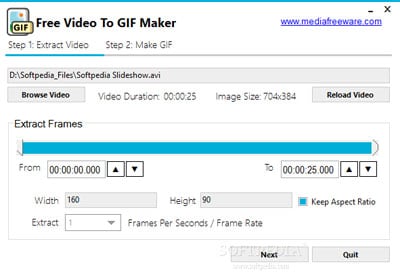 ---
#4. ThunderSoft Video to GIF Converter
ThunderSoft Video to GIF Converter is another free tool for converting videos into animated GIFs. The input file in this software supports many video formats including mkv, flv, mpg, avi, rmvb and mp4. It includes many features like setting play speed, cropping, resizing and replay times.
Pros:
•User friendly interface.
•Many customization features available.
•Shows the preview frame by frame.
Cons:
•No screen recording tool available.
•Can be slow while converting large video files.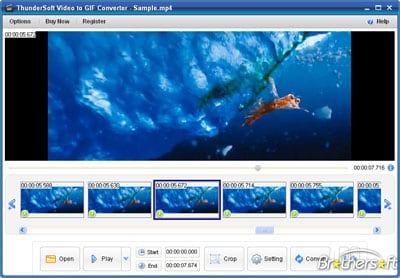 ---
#5. Free Video to GIF Converter
From Video to GIF Converter is free software for converting video files to GIF images. Whether the video is mov, mpeg, avi, vob, mkv, wmv or mp4, Free Video to GIF Converter can convert it into GIF in no time. It allows the user to edit the GIF as well. The options include setting width and height, trimming the video, changing speed etc.
Pros:
•High quality output.
•Simple and fast.
•Does not contain any secret add-ons.
•Freeware.
Cons:
•Though easy to use, the interface in unorganized which makes it difficult to find the required features.
•Slow in converting large video files.