GIF images are now officially the next big thing on the social media. Be it Facebook or Twitter, everyone on these social media platforms loves watching the short yet expressive GIF images. The benefits that GIF image have are that they are animated, short, and much more expressive than other image formats. Whereas, when we compare GIF images to videos, they are much shorter and thus, much easier to watch. Therefore, we can say that GIF images are the perfect blend between the still images and the long videos. If you're looking to convert your videos or images to the GIF format without much hassle, we've put together a list of the top online converters for GIF conversion:
Part 1: 10 Free Online GIF Maker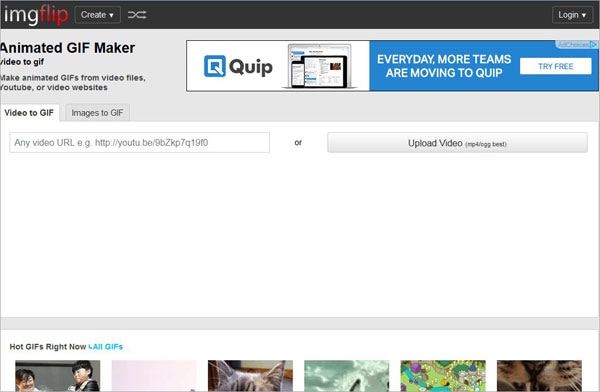 Imgflip is an amazing online GIF maker that is capable of converting images and videos in several different formats to high quality GIF images in no time. The sources that you can use for importing image files for conversion include your computer and URLs. Not only this but through imgflip, you can make GIF images from Youtube, Metacafe, Vimeo, and other video websites. Imgflip supports a wide variety of image and video formats that include jpeg, png, gif, mp4, wmv, ogg among many others.
Pros:
Quick and reliable.
Free online storage available when you register for an account.
High quality of output GIF images.
Supports a wide variety of formats for images and videos.
Cons:
The video size restriction is only a mere 35 MB.
GIF images generated from the free account are watermarked.
---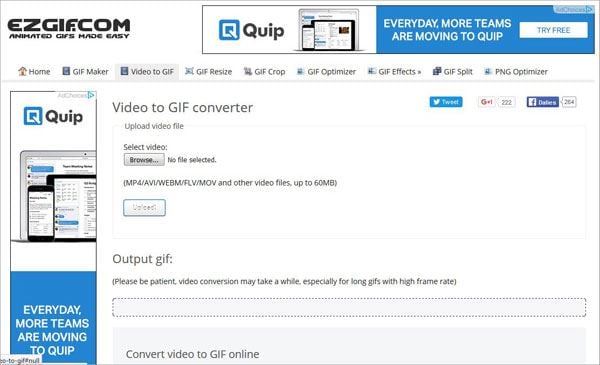 A highly functional GIF generator that can handle all your GIF conversion tasks easily and efficiently. With the help of the EZGif converter, you can easily convert both videos and images to GIF images in a few simple steps! Not only this but EZGif enables you to resize, crop, optimize, and enhance your GIF images.
Pros:
A wide range of customization options available for editing your output GIF images.
Supports a range of video and image formats.
Simple and easy to use.
Cons:
Tends to be slow especially with larger file sizes.
The output quality of the GIF images can be poor at times.
---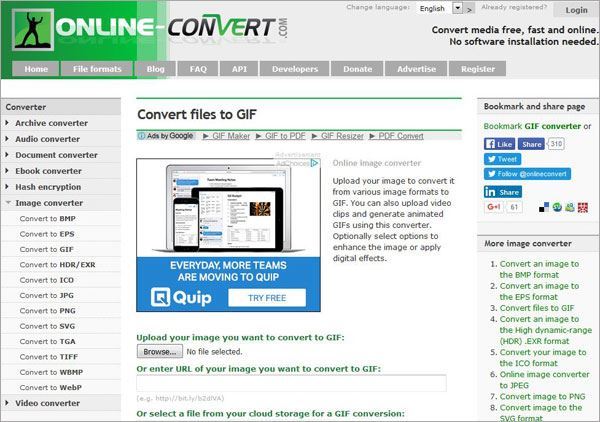 A simple and straightforward online GIF converter that does the job. Upload your images from your computer, Dropbox, or Google Drive, and simply click on Convert file! The customization options available for editing the output GIF include size, color scale, effects, and DPI.
Pros:
Supports up to 130 different image formats!
The procedure of conversion and customization is very simple and easy.
You can edit the resolution and quality of the output GIF (thus controlling the output file size as well).
Cons:
The converter tends to be sluggish and slow with most file conversions.
No option available for editing the GIF image once it has been created.
---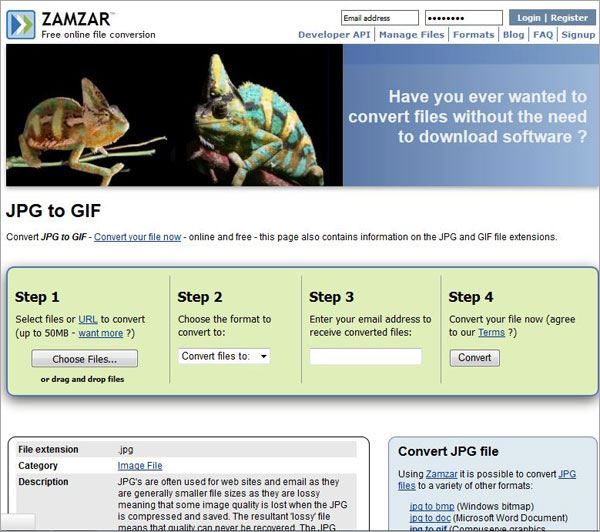 One of the most reliable online converters there is. Zamzar is well known for its speed and quality. However, the only lacking that it has is the unavailability of customization options. For converting image files to a GIF image, simply upload the file and enter your email address. The converted file will be mailed to you in a matter of seconds!
Pros:
Reliable, quick, and efficient in the conversion process.
Files are sent directly to your email for later use and download (one-time conversion).
Cons:
Lacks customization features.
There is no preview available for the converted GIF image.
---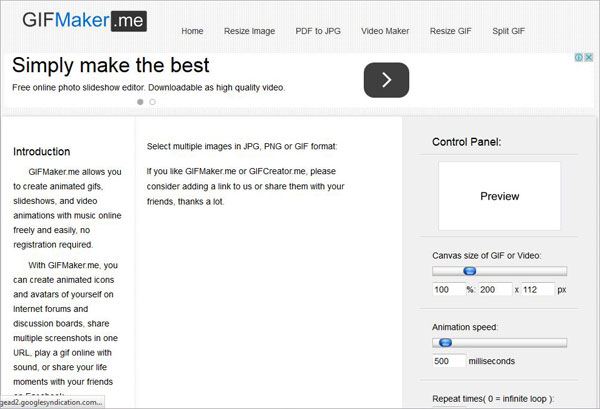 An advanced online conversion tool that has a variety of customization features available for GIF creation. GIFmaker allows you to create GIF images, videos, and slideshows. For creating GIF images, you simply have to upload images, edit the output GIF preferences (that include canvas size, animation speed, repeat time), and click on 'Create GIF Animation'!
Pros:
Shows preview of output GIF image before you generate it.
Allows the user to customize several different properties of the output GIF.
Cons:
Very limited support for image files.
No video conversion option available.
The interface is a bit messy i.e. it can be difficult to find the required options.
---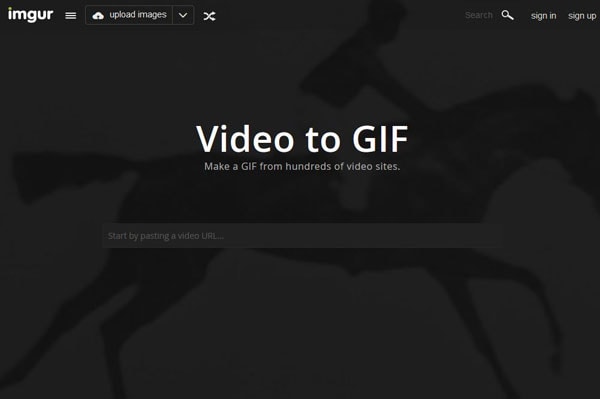 A brilliant online tool for video or image to GIF conversion. Imgur features a clean and illustrious design that, when compared to some of the other available tools, is a treat to the eyes. Through imgur, you can convert videos from numerous different websites to GIF images. Not only this, but the tool also supported a wide variety of image formats that you can convert.
Pros:
Simple, intuitive, and clean.
Supports videos from a wide range of video websites.
Cons:
Limited functionality especially when it comes to editing GIF images.
---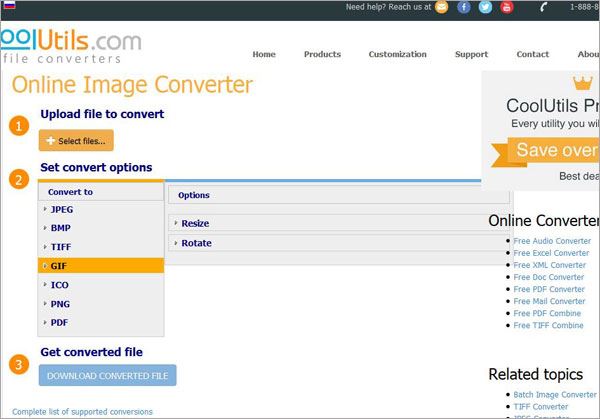 Cool Utils is a well-developed, robust, all-purpose converter that can handle conversions from almost every format to another. Cool Utils first went online back in 2003 and it has been, ever since then, developing converters for newer formats. Image to GIF conversion is a simple and straightforward procedure with Cool Utils: Select your files, select the format that you wish to convert to (GIF), resize and rotate the images, and click on Download!
Pros:
The interface is very easy to use.
Unlike most other online tools, Cool Utils has instructions available for guidance in the conversion process.
Cons:
No advanced customization features.
Does not support video conversion.
---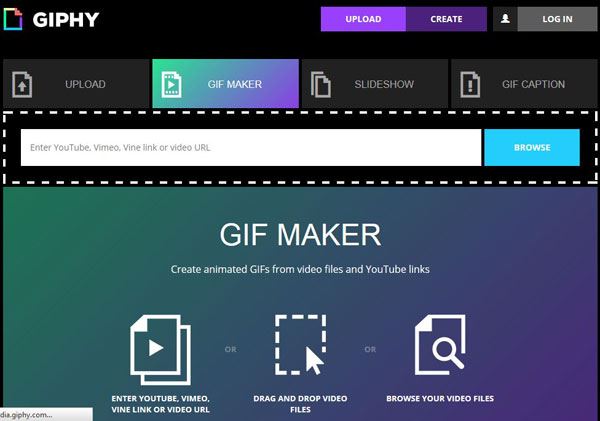 A beautiful website accompanied with a powerful converter is what defines Giphy. If you're looking to convert a video from Youtube, Vimeo, or your computer to a GIF image, then Giphy is the tool for you! Supporting a range of formats, Giphy comes with a high range of tools that include caption adding and video trimming (that allows you to trim the videos before you convert them). The procedure is simple and you get some sample GIFs to help you out too!
Pros:
Attractive design.
Clear and easy to use interface.
Powerful tool for converting almost any video to a GIF image.
Cons:
Does not support image to GIF conversion.
---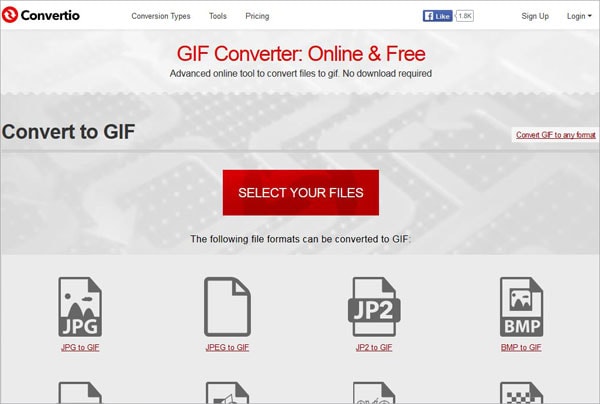 Convertio is an uncomplicated GIF converter that takes you through the process step by step. The first step asks you to select your files for conversion. When you click on the button, it asks you whether you want to select files from your computer or your Google Drive. Once you've selected your file, simply click on convert and that's it! The file will be converted and you can download it using the download link available. GIF conversion is an effortless task with the help of Convertio.
Pros:
Easy to understand, easy to use converter that does the conversion job easily.
No ads, no registration, it's free and simple.
It can convert videos and images from several different formats to GIF images.
Cons:
Only available for the Windows OS.
Will not let you add text or images to the Output videos.
Doesn't have any option to add voiceover on WMV videos.
No editing features available for output GIF.
---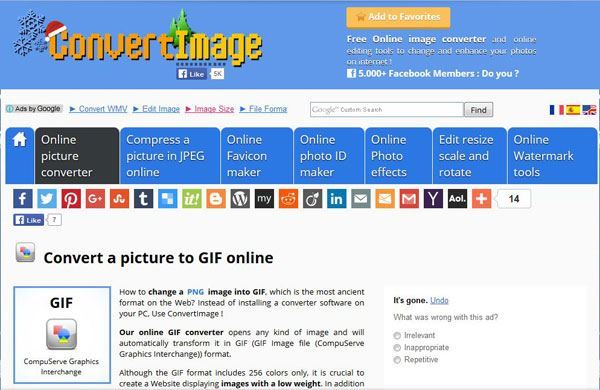 A bare minimum GIF converter that gets the job done. Three easy steps is all it takes to convert your images to a GIF image. Step 1: Choose the output picture format to be GIF. Step 2: Upload your images by clicking on the 'Select your image' button. Step 3: Agree to the terms and conditions and click on 'Convert this image' and that's it!
Pros:
No complexities, just simple image to GIF conversion.
The interface is helpful and instructive.
Cons:
The online tools is filled with ads which can be annoying.
No support for video conversion.
No tools available for editing the output GIF image.
---
Part 2: The Best Offline GIF Maker You Should Know
dr.fone - Turn Videos and Photos to GIF Images
dr.fone is an amazing multi-purpose multimedia software that can handle tasks such as conversion with great easy. dr.fone is a powerful tool that allows conversion, editing, and customization through the countless features available within the software. If you're looking to reliably convert your images or videos to the GIF format, we recommend that you use dr.fone. Here are some of the main benefits of using dr.fone over other online converters:
*No internet connection required – Everything is offline with dr.fone!
*There is no need to upload pictures or videos (which can be a laborious task). This is because you have the dr.fone tool available on your desktop and you can simply drag and drop your files for conversion.
*dr.fone supports an entire range of formats that include iPhone Live Photos, .mov, and .mp4