World has become a global village and Facebook is the largest social networking website which connects people around the globe. People share their important life events, photos, videos and feelings with their friends and family on Facebook. We are living in a world of smartphones, with the dawn of new technologies, we can easily share anything we want with our friends, right from our iPhone. You can easily share a video with the people you want from iPhone using the Facebook application on your iPhone. There are two ways of uploading videos on Facebook from your iPhone, you can either use the "Photos" app on iPhone to share the video on Facebook or you can also use the Facebook application to upload videos. Using Facebook Application, you will also able to tag your friends in the video, and tell about your feelings but sharing via "Photos" app won't let you do that. Normally, Videos will be uploaded in the normal quality, however, you can also upload the videos in high definition, just make sure to enable the "Upload HD" options in settings to upload the high definition video. Here's how you can do that.
Go to settings, Scroll down and Tap on "Facebook" > Login with your Facebook account and tap on "Settings" > Scroll down and enable the "Upload HD" video. Now, use whatever method you want to use to upload videos to Facebook.
Step by Step guide to upload videos to Facebook from iPhone:
1. Use "Photos" App to upload videos on Facebook:
Step 1. Open Photos and select the video that you want to upload on Facebook. Tap on the "Blue Arrow" at bottom left >Tap on "Next" > From sharing options, Swipe left to see Facebook and tap on it.
Step 2. Now, a new pop-up will be shown. Write down the description of video, select the Location and Audience of Video and hit the "Post" button at top. That's it! Your video will be automatically uploaded to the Facebook in the background.
2. Upload Videos using the Facebook App:
Open Facebook Application and Tap on "Photo" right next to the status.
Select the video that you want to upload and tap the "Done" button at the top.
Write down the description of video, you can also tag your friends, tell your feelings about this video and add location of this video. After doing everything you want, hit the "Post" button at top right corner to upload the video.
If your videos are not so perfect to upload to Facebook directly, you may want to export them to your computer for editing, right? In this case, you can try dr.fone to export them from your computer to your computer, either Windows PC or Mac. Later, try Wondershare Video Editor for Windows or Filmora Video Editor for Mac to edit your videos.
*Export Videos from iPhone to computer using dr.fone for Mac
1. Download and install dr.fone on your computer. After then, launch it.
2. Connect your iPhone with your computer via its USB cable. dr.fone will detect it and display it in the main window.
3. Generally speaking, your videos are in Camera Roll or Video Apps on your iPhone. From here, you can click the Photos menu to find the iPhone recorded videos or Videos menu to check out the videos you've synced to your iPhone in dr.fone. Select videos and click Export to copy them to your computer.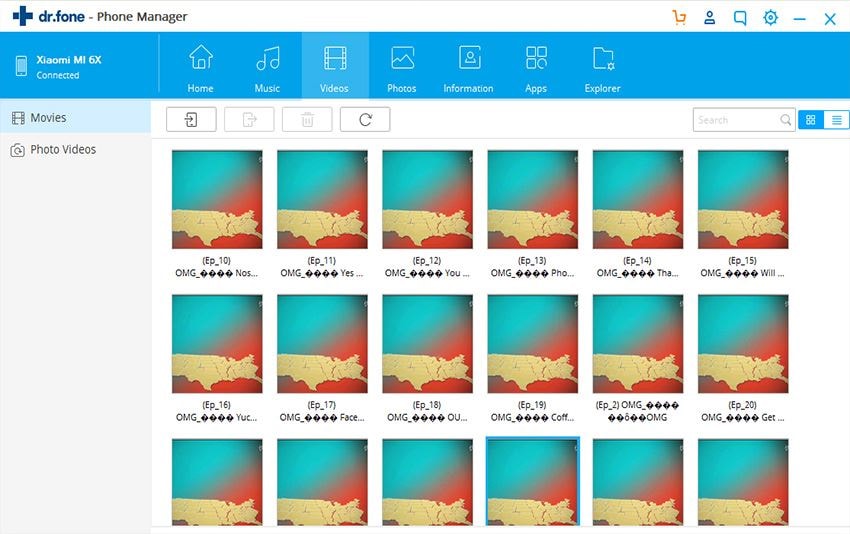 *Edit Videos on your computer
You can make your stylish videos with 3 simple steps: import video > add transition > export videos (you can also directly click the share icon to upload it to Facebook ). Check the detailed guide for how to make a Stunning video >>