How can I transfer my video from iPhone to Mac?" Have you ever recorded a full HD video on your iPhone and wondered how to transfer it to your Mac without losing the quality? Then you are at the right place. iPhones are legendary for capturing quality videos of up to 1080p. If you have ever used any of the iOS build in sharing tools to transfer a video, you'll undoubtedly have noticed that the quality gets degraded from the high quality HD to a very low resolution. So what is the best and the easiest way of transferring videos from iPhone to Mac without losing quality? This tutorial will guide you through the various ways of transferring recorded videos from iPhone to Mac without quality loss.
Method 1: Transfer videos from iPhone to Mac via dr.fone
dr.fone for Mac prides itself as the ultimate media management solution for your iOS device and Mac and there is no doubt that this software application gets the job done. It enables the users to share their music without being bound by iTunes. It also gives the user the opportunity to transfer music files at a super high speed using the batch transfer option.
To transfer video via dr.fone, simply follow the steps below:
Connect your iPhone, iPad or iPod touch to your Mac with the use of the provided USB cable.
Launch dr.fone. Your device information will be displayed as shown in the screenshot below.
Tap on the 'Movies' option on the top of the screen, select the movies you need and then hit "Export" to transfer the movies. The same is used to transfer music videos, iTunes and podcasts.
If you're going to transfer iPhone recorded videos to Mac, you should find them first. Click Photos in the left window, then you can see them in the right side. After then, select wanted ones and click "Export".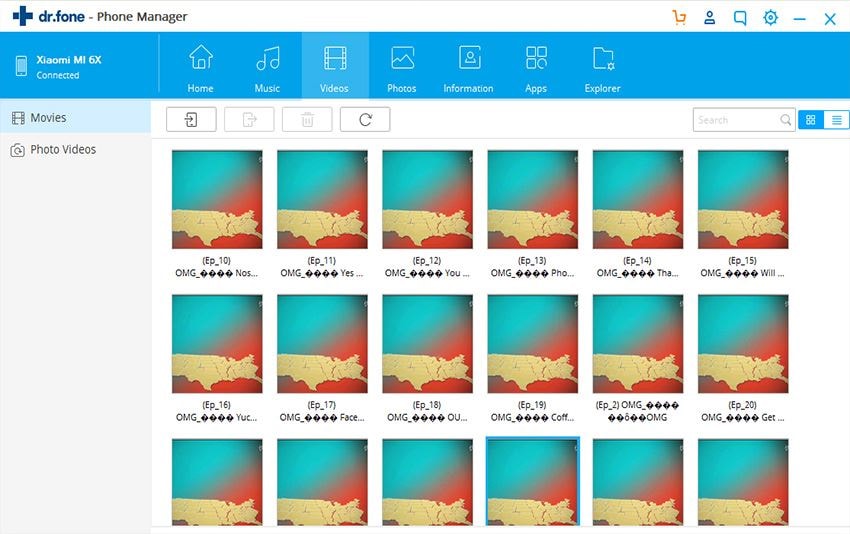 Other uses of dr.fone
dr.fone gives the user the opportunity to transfer music from iPhone, iPad, iPod to Mac in one click without any duplication of contents. Other uses of this amazing program include: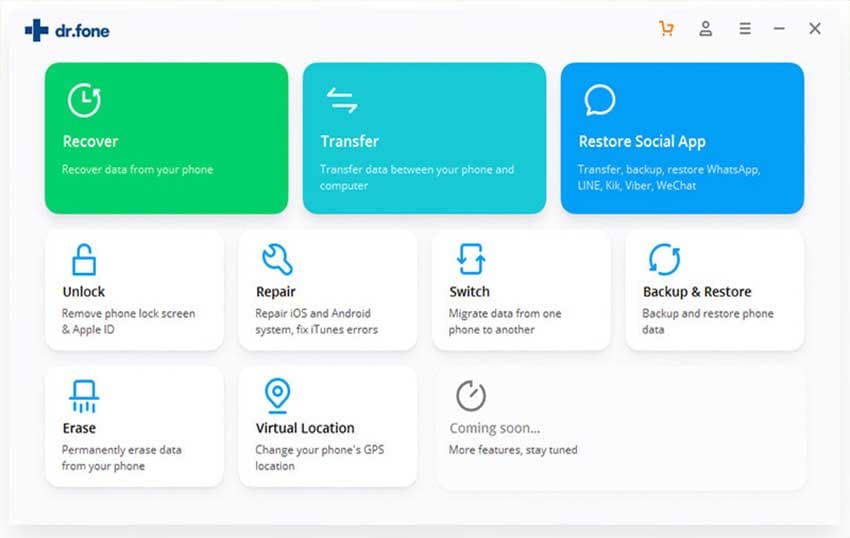 ---
Method 2: Use of iMovie
iMovie is a software application developed by Apple for video editing for Mac and iOS. It lets you enjoy a wide array of video editing features and enjoy your videos like never before. You can now browse your clips more easily and create beautiful HD content and Hollywood style trailers. As long as you have your iPhone and your Mac connected via USB cable, you can simply transfer videos from your iPhone to your Mac with iMovie. Below find the steps to follow:
Step 1: Connect your iPhone and your Mac via USB cable. On your Mac, run iMovie app. Press 'file' and then select 'import from camera'.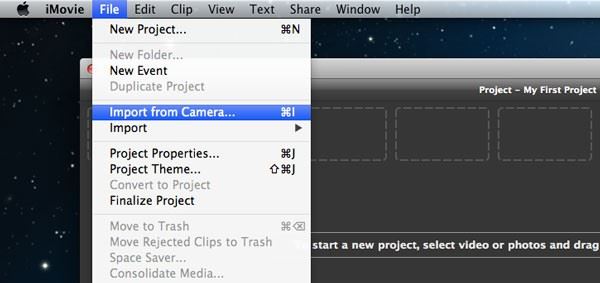 Step 2: Once your iPhone is detected, all the video clips in your device's camera roll will be displayed. Select the video clips that you want to transfer to your Mac. Click 'file' then 'New project' to create a project. Drag and drop the videos you selected to the project. Click 'share' and then 'Export movie' in order to share the video files to your Mac hard drive. See illustration below.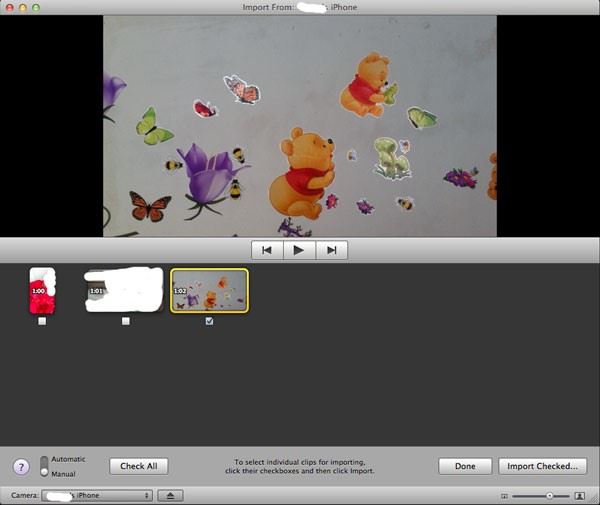 This method is efficient and ensures the video doesn't lose the original quality. However, it suffers from one drawback in that it requires the use of a cable in a world where everything is changing to wireless.
---
Method 3: Transfer videos from iPhone to Mac by use of Image Capture
Image capture is another application from Apple that enables users to transfer their videos from iPhone to Mac at full quality rather than in a compressed version. To transfer videos from iPhone to Mac by use of Image Capture, follow the steps outlined below:
Connect your iPhone to your Mac via USB cable.
Launch the Image Capture app on your Mac
Once launched, the Image Capture app should detect the iPhone .
Review the various selections available such as where to download the videos, whether to download individuals or select all as shown in the screenshot below.
Transfer your videos to Mac. Once you have done your selection and taped on 'download' it displays a status bar and immediately transfers the videos to Mac. Alternatively you can select a video and drag it to your target folder.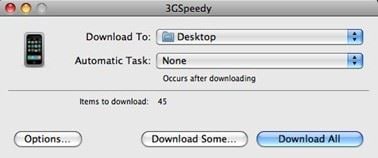 Summary
Migrating your music library from iPhone to a Mac couldn't be a breeze if you don't have the right tools to get the job done. Luckily Apple has flooded the market with copious application that suits every aspect of media management. Many software applications exist for transferring videos and photos from iPhone to Mac; while new and wireless programs are being developed at an alarming rate, others like iPhoto have become redundant.