Over the years, GIF images have become quite popular owing to their size, compression, and compatibility. They have been preferred to be the primary source of multimedia on the internet over other image and video formats. The reasons for this are:
● GIF images are lossless bitmap images that can be compressed numerous times without losing data.
● GIF images enable transparency and animation simultaneously – it combines two of the main features of unanimated photos and long features to give the best of both worlds.
● Small size – GIF images are much smaller than videos and most photos (this makes GIF the most ideal and easily transmittable format for multimedia data on the internet).
● Compatibility – GIF images are widely compatible with numerous web applications and browsers which is the primary reason behind their extensive use on the web.
● Fun and entertaining – Shorter than videos, more expressive than pictures, and loaded with entertainment is what defines a GIF image.
#1.dr.fone - Convert Videos and Photos to GIF Images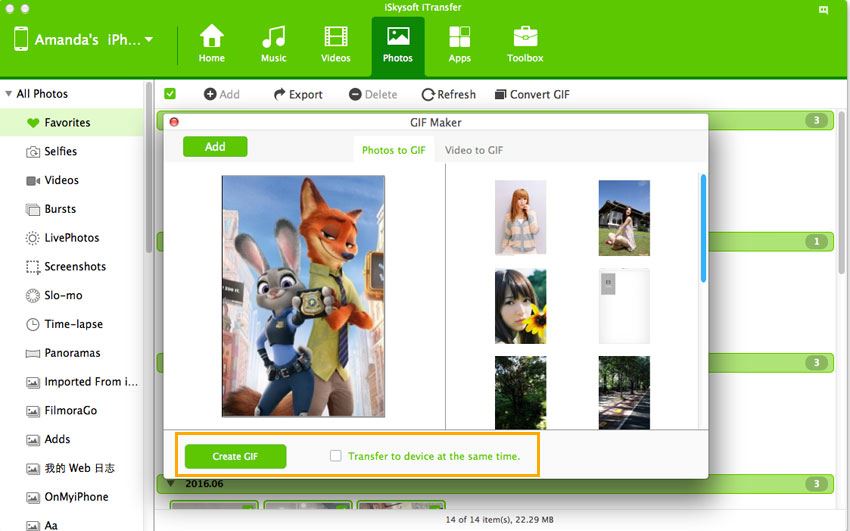 We recommend the dr.fone as the most ideal GIF conversion software. dr.fone is a multimedia manager for Windows, Mac, iOS devices and Android devices. It allows you to convert a very large variety of image and video formats to GIF images. Apart from this, it also allows you to manage, organize, and edit the GIF images. You can customize the output GIF image in several different ways through the variety of tools available within dr.fone. Produce the perfect GIF image from your images, videos, or Live Photos with your desired features and effects using dr.fone!
Download the free trial version to have a try!
* Guide to Convert photos/videos on iOS/Android devices to GIF images
Step 1: Download and install dr.fone.
Step 2: Connect your iPhone, iPad, or iPod to your PC.
Step 3: Launch dr.fone and go to "Photos" or "Videos", and then select the file that you wish to convert to GIF format.
Step 4: Right click on them and choose "Convert to GIF". If you're converting a video to GIF image, you need to set up the duration for the video before doing the conversion.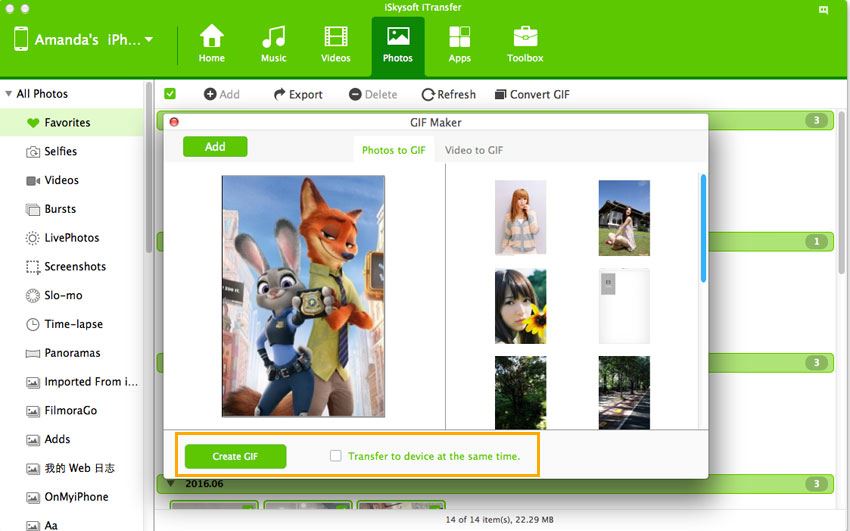 ---
* Guide to Convert Videos/Photos on Computer to GIF Images.
Step 1: Launch dr.fone.
Step 2: Connect your device to the computer.
Step 3: Select "Toolbox" at the top menu, and then click "GIF Maker".
Step 4: Select either "Photos to GIF" or "Video to GIF" according to your needs > upload file(s) from your computer > set up the settings and convert file to animated GIF image.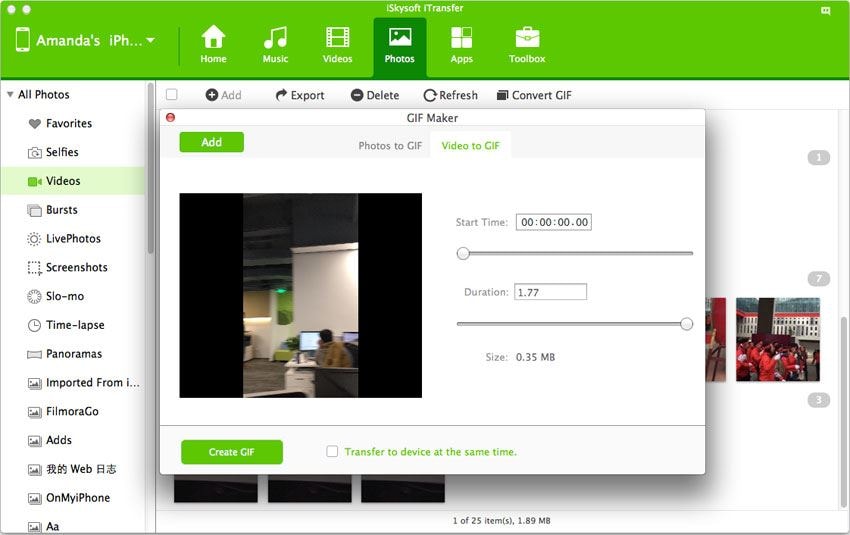 ---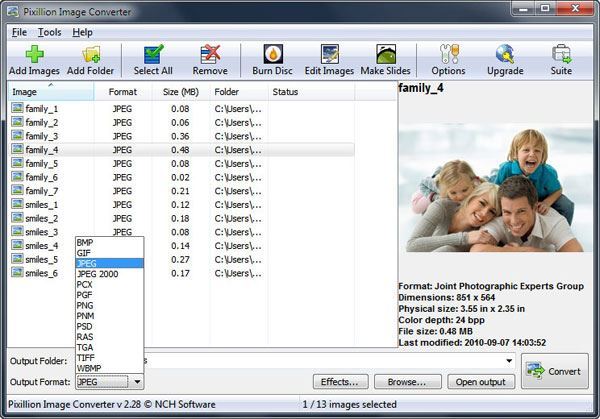 #2. Pixillion Image Converter Software
The Pixillion Image Converter is a reliable offline software for image to GIF conversion.
Main features:
Enables customization features such as rotation, resizing, and compression.
The output quality can be altered to reduce the file size.
Gives functionality for adding a watermark to the output GIF images.
Supported Files: DNG, NEF, ORF, MRW, PDF, MEF, ARW, JP2, RAW, SRF, KDC, RAF, TIFF, GIF, JPG, DCR, CR2, PGF, PTX, PEF, CRW, ERF, TGA, R3D, BMP, PSD, X3F, PNG, MOS.
Pros:
Easy to understand and use.
Available for both Windows and Mac OS X.
Clean and intuitive interface.
Good range of customization options available.
Cons:
---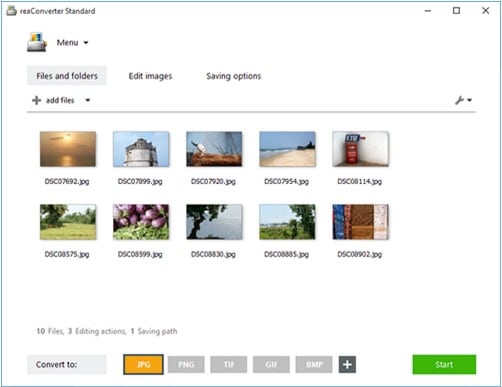 #3. reaConverter
A quick and simple converter for converting images to GIF images. ReaConverter handles GIF conversions easily and efficiently.
Main features:
A large number of customization options that include resizing, rotation, cropping, color customization features, watermarking, and filters among many others. ReaConverter has one of the best customization features available in the market.
Supports batch conversion for images.
Supports a variety of different image formats.
Supported Files: ARW, NEF, FLV, CRW, PNG, PCX, MRW, RAF, R3D, PGF, CR2, PTX, ORF, AVI, SRF, KDC, MKV, JPG, RMVB, VOB, X3F, MOV, PSD, MP4, ERF, DNG, BMP, MOS, MPEG, GIF, JP2, TIFF, WMV, DCR, PEF, RAW, MEF, TGA, among many others.
Pros:
Enables the user to convert several files at the same time.
The output quality is quite high.
The software is user friendly and interactive.
Supports a very large range of image formats.
Cons:
Not available for free (except for trial version).
No video conversion facility.
The images converted in trial version are watermarked.
---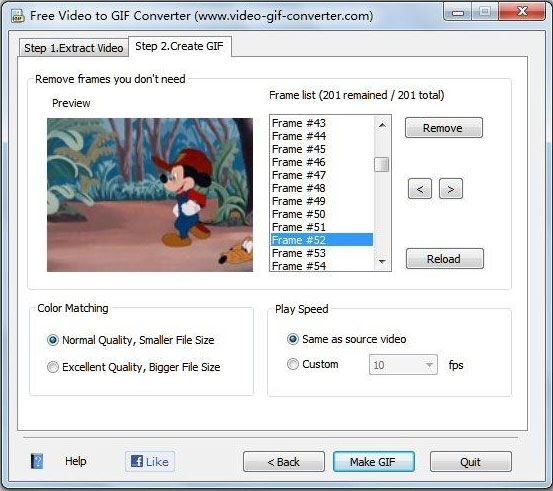 #4. Free Video to GIF Converter
A robust tool that can be used to convert videos to GIF images through a simple two-step process. The first step is to select the source of the video that you wish to convert. The second step gives you a range of customization options that you can edit to alter the output GIF. Once you've set the settings according to your requirement, click on Convert and that is it!
Main features:
Powerful and efficient tool that handles video conversions easily
The customization options available for editing the output GIF include frames per second, resolution, and time interval (from which the GIF is to be extracted).
Preview available for the output GIF – however, in this preview, you can only go through each frame individually (the preview does not play the animation).
Supported Files: AVI, MPEG, WMV, MP4, MOV, FLV, MPG, RMVB, VOB
Pros:
Very simple and easy to use tool.
Allows you to alter the output animation speed through the customization options available.
You can discard any unwanted frames from the output GIF image.
Cons:
Filled with ads.
Slow with larger file sizes.
Does not support batch conversion.
---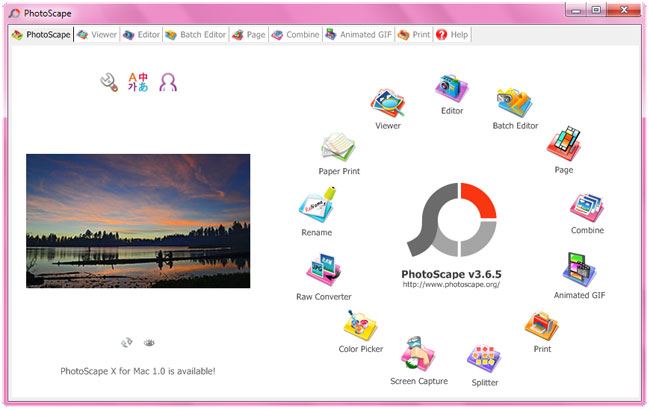 #5. Photoscape
An all-purpose software that compromises of a photo editor, an image converter, and a GIF animator.
Main features:
Straightforward user interface that is easy to understand.
Supports conversion for both images and videos to GIFs.
Variety of customization features including resolution, framerate, canvas, alignment, and background color settings. In addition to this, you may also add filters or transition effects to your output GIF.
Supported Files: ARW, NEF, FLV, CRW, PNG, PCX, MRW, RAF, R3D, PGF, CR2, PTX, ORF, AVI, SRF, KDC, MKV, JPG, RMVB, VOB, X3F, MOV, PSD, MP4, ERF, DNG, BMP, MOS, MPEG, GIF, JP2, TIFF, WMV, DCR, PEF, RAW, MEF, TGA
Pros:
Freeware.
The software is stable and reliable.
Intuitive interface that is effortless to use.
Powerful – packed with a photo editor and converter that help you generate the perfect output GIF.
Cons:
When compared to other photo suites such as dr.fone or Adobe Photoshop, Photoscape lacks behind since it is only for fine tuning photos. No detailed customization options are available.
The software is slow with video conversions.
---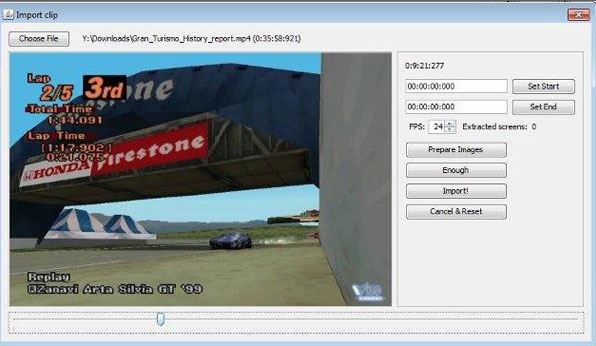 #6. Gif Animation GUI Application
An open source, portable, dedicated GIF conversion app that has been supported by Source forge. One of the simplest GIF converters you will ever find.
Main features:
Adjustable, user-friendly interface (you can change the size and appearance of the interface according to your taste as well).
Simple and dedicated tool for image/video to GIF conversion.
Customization features include effects, batch conversion, playback speed, dimensions, and quality of the output GIF.
Supported Files: GIF, MPEG, JPG, PNG, MP4, MKV, VOB, BMP, TIFF, WMV, AVI, MOV, FLV,
Pros:
Very easy and straightforward application that can be used to convert images and videos to GIF without a hassle.
Freeware and open source.
Cons:
Not as powerful as most other applications.
The installation process is complicated – the installation instructions need to be carefully read.
---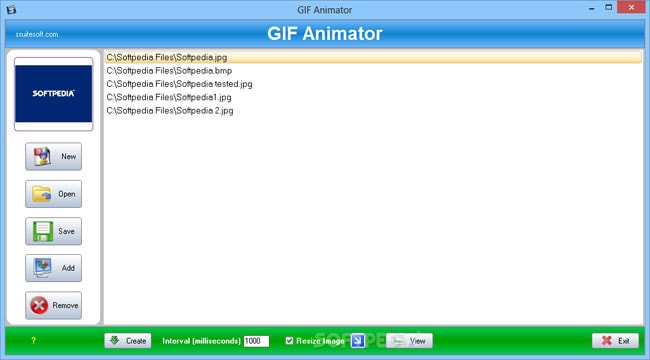 #7. Ssuite Animator
A GUI application with a beautiful interface that helps you perform the most basic of GIF operations (including conversion and editing).
Main features:
Allows you to add and remove images for conversion with ease.
Adjustable frame rate and frame position.
Customization options include adjustable dimensions and output quality.
Supported Files: JPG, JPEG, PNG, BMP
Pros:
Beautiful interface.
Performs the necessary options needed for GIF images.
Minimalistic software that takes up very little memory.
Cons:
The output quality is not as high as some other tools.
The interface is not quite simple – this software takes time to understand and it is not recommended for beginners.
No video conversion facility.
---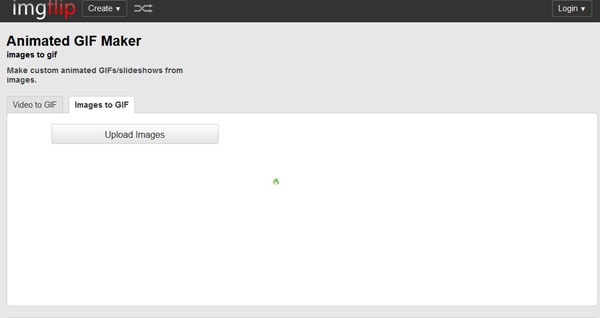 #8. Imgflip>
An online tool for converting images and videos to GIF images quickly and reliably.
Main features:
Multimedia input for conversion can be taken from computer or URLS (such as Youtube, Metacafe, Vimeo).
Simple two step conversion process – just upload the image/video, and click on convert!
Supported Files: JPEG, JPG, PNG, BMP, GIF, TGA, TIFF, JP2 MP4, WMV, AVI, OGG, FLV, MOV, 3GP, ASF, SWF, H264, MPG, MPEG
Pros:
Reliable and efficient.
Provides you with free online storage for your GIF images if you make an account.
Supports a range of formats.
Cons:
The input video size cannot be larger than 35 MB.
If you convert a GIF images with a free account, the output will be watermarked.
---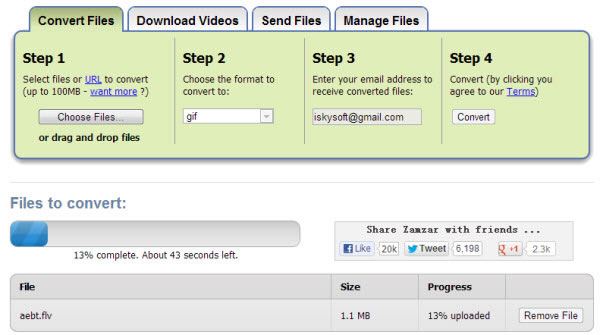 #9.ZAMZAR
One of the oldest and the most reliable online converters. Zamzar is well known for its speed and high quality.
Main features:
Stable online tool that can convert a variety of different formats to GIF.
Upload the image you wish to convert and click on convert. Next, enter your image address and the converted file will be sent to you via email in no time.
Supported Files: 3FR, AI ARW, BMP, CR2, CDR, DCR, DNG, EMF, ERF, PCX, PDF, PNG, PS, TIFF, JPG, JPEG, JP2, WBMP, WEBP, MDI, MRW, NEF, ODF, ORF, PCX, PEF, PPM, RAF, RAW, SR2, SVG, TGA, WMF, XCF
Pros:
Quick, efficient, and robust.
Emails the output GIF directly to you for later use as welli.e. one-time conversion.
Cons:
No preview of output GIF image.
No customization features.
---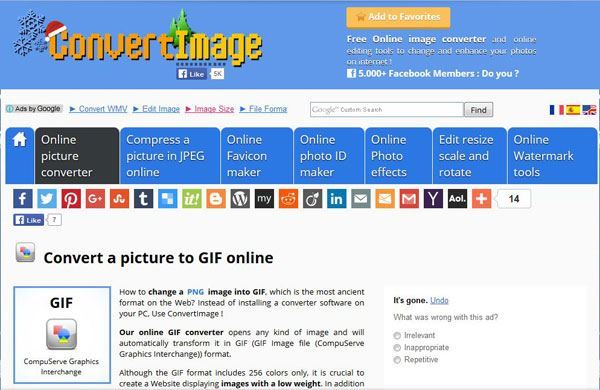 #10. Convert Image
A minimal tool that simply gets the conversion job done. ConvertImage is an online tool that can handle GIF conversions with relative ease.
Main features:
Three step process for image conversion: 1) Choose GIF to be the output format. 2) Upload the input images by clicking on the 'Select image' button. 3) Click to the box next to Terms and Conditions and click on Convert Image.
Instructions available with each conversion step.
Supported Files: BMP, WBMP, DIB, JPG, JPEG, JPE, PCX, RLE, PDF, PNG, PSB, PSD, TIFF, XCF
Pros:
Very simple and easy to use – no complicated options available.
Interface is helpful and instructive.
Cons:
Adware.
No video conversion.
No customization options.