Animated GIF images are the most widely used online animated multimedia files. The primary benefits of using GIF images over other formats are:
Smaller size – GIF images are small in size when compared to other image and video formats.
Short animations – If a picture speaks a 1000 words then a GIF image speaks a million. The reason is that GIF images are a series of images that run one by one in sequence. They're more interesting than images yet easier to watch than videos.
Better compatibility and compression – GIF images are almost supported by every browser, every plugin. The reason for this is that they are not flash based but a mere collection of images.
Part 1. Top 10 Online GIF Creators to Create GIF Online
One of the most reliable online converters available. It's easy, straightforward, and does the job efficiently and quickly!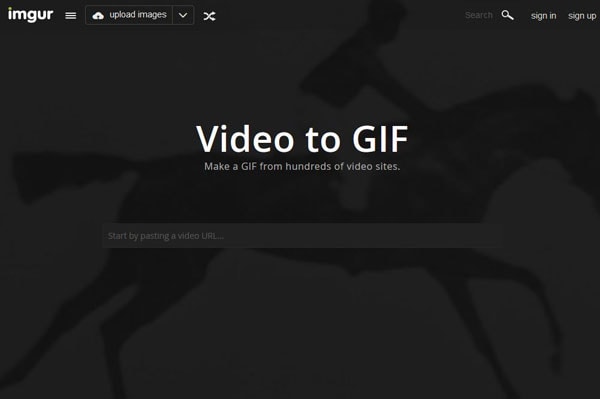 Main features:
Two step process – First, upload the video you wish to convert by providing a link to the video source. Second, click on convert and your video shall be converted.
Sharing options available that allow you to embed the output GIF in your website/blog.
Supports a range of different video formats from a variety of different video sources.
Pros:
Beautiful interface that is easy to understand and use.
Provides the user with all the basic functions.
The conversion process is simple, quick, and smooth.
A wide range of formats and resolutions are supported.
Cons:
There is no social media connectivity that allows you to share your GIF images on Facebook, Twitter, etc.
High resolution video files tend to convert slowly.
---
Gfycat is a free online multimedia management tool that allows you to host and convert GIF images. It is unique in the sense that it hosts 'gfy' format instead of 'gif'. This newer format is in all ways like a GIF image apart from a few advanced features such as better compression and quicker loading.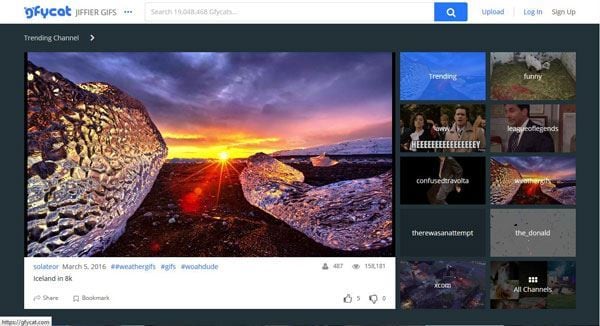 Main features:
Convert a wide range of videos, images, or even GIF images into the soundless, animated 'gfy' format.
Allows you to host and manage your gfy images for free!
Quick, easy, and reliable in use and functionality.
Pros:
Free tool that you can use even without registration (however, you do need to register if you wish to host images).
Simple and straightforward – automated conversion process that converts all forms of media into GIF like gfy images.
Advanced customization and playback options available that include looping, pausing, fast forward, repeat, and frame by frame playback.
Cons:
The online application is limited in terms of the size of video files it can handle (only video files of up to 15 seconds can be converted).
Low quality output.
---
A web based converter that is easy to access and even easier to use. Imgflip is one of the most popular online converters around.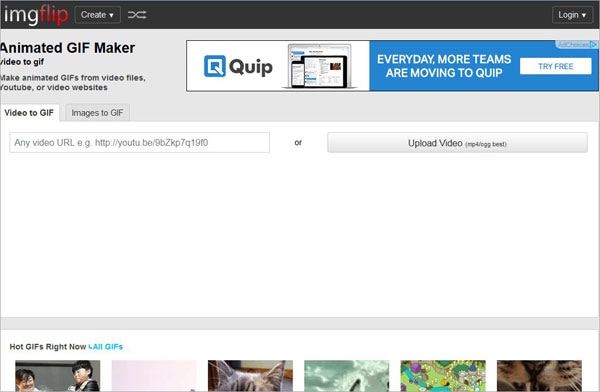 Main features:
Videos of up to 35 MB may be uploaded and converted.
The tool also supports conversion from online video sources (such as YouTube).
Basic converter that gets the job done without much effort.
Pros:
Basic, easy, and reliable.
Clean and simple interface that is easy to understand.
Cons:
Contains ads that can be annoying.
Advanced features are only available in the paid version.
---
A straightforward converter that is very helpful especially with the instructions during the conversion process. Convertio supports a variety of different converters, one of which include the GIF converter.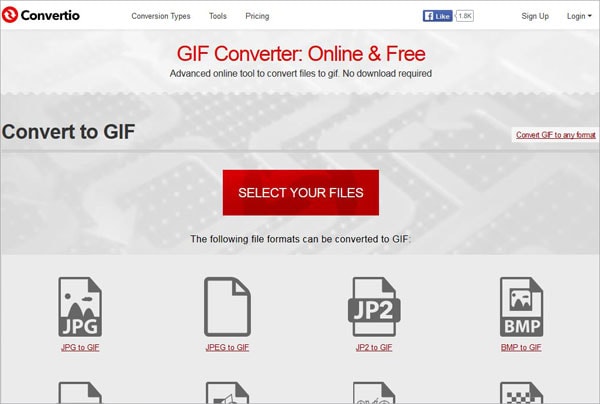 Main features:
Two step process – First step: Upload the videos or images that you wish to convert (you may even upload the files from Google Drive). Second, click on convert and the converted files will be available for download!
Compatible with uploading and sharing to Google Drive.
Helpful instructions available during the conversion process.
Pros:
Very easy to use and understand.
Freeware with no ads, no registration requirements.
Supports a range of image and video formats.
Cons:
No customization options available for the output GIF.
---
Beautiful, powerful, and efficient is what defines Giphy. If you wish to convert online videos to GIF images quickly – Giphy is the tool for you.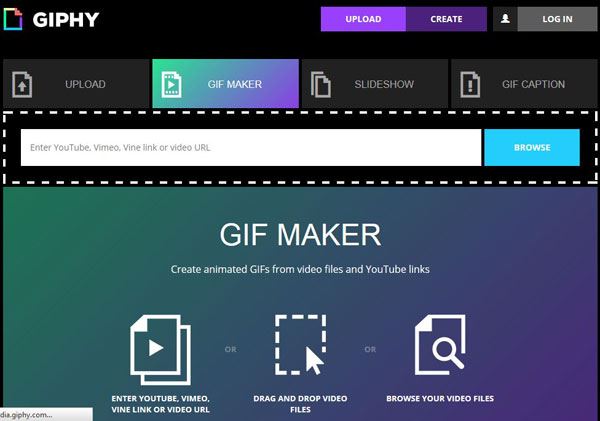 Main features:
Allows you to take input from online video sources that include Youtube, Vimeo, and DailyMotion among many others. It also enables file uploading from the user's computer.
Supports a range of formats.
Advanced customization tools include caption addition, trimming, and playback speed control.
Pros:
Beautiful, appealing design which accompanies a brilliant user interface.
Powerful and very reliable conversion tool.
Cons:
Image to GIF conversion is not supported.
---
Makeagif is probably one of the most reliable tools for GIF conversion. It can produce high quality GIF output in no time!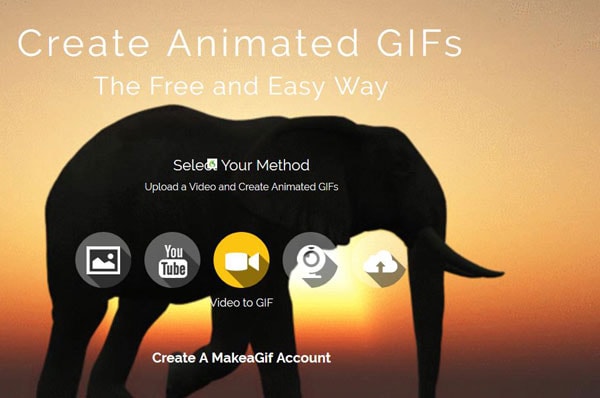 Main features:
Supports video and image conversion from both online sources as well as via upload.
Customization features available that include resolution control, playback speed, and frame count.
Watermarked output unless you opt for the paid service.
Pros:
Simple interface that is easy to use.
Smooth and reliable in performance.
No junk features, no adware.
Cons:
The output GIF is watermarked with the makeagif logo. The only way to remove this is to use the paid version of the tool.
The conversion process is slow when online sources are used as input.
---
An all-purpose converter that is well developed. Cool Utils was initiated in 2003 and it is a widely used converter – the primary function of the tool being conversion of a variety of different formats to a variety of other different formats.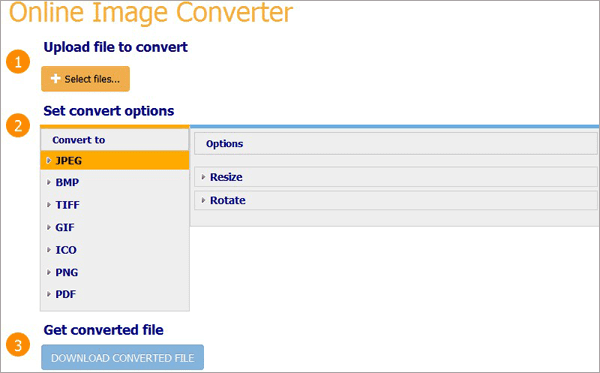 Main features:
Robust converter that is suitable for conversions from a variety of different formats.
Customization features include resizing and rotation.
One-click download for the converted output GIF.
Pros:
Instructions are available with each step in the conversion process.
The interface is very simple and easy to understand.
Cons:
Limited customization options.
No video conversion supported.
---
A GIF generator that is able to produce high quality GIF output quickly and effortlessly. EZGIF is the perfect converter for you if you wish to convert your images and videos to GIF without much of a hassle.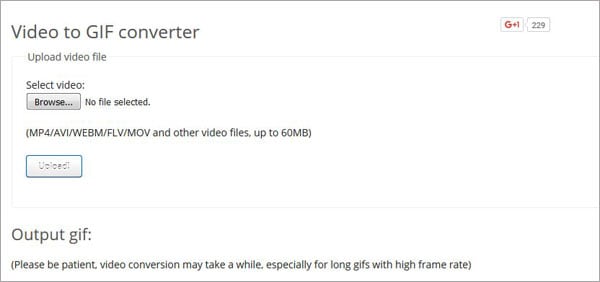 Main features:
Supports both video and image conversion.
A variety of different customization options that include optimizing, enhancing, cropping, and resizing of the output GIF.
Pros:
Supports a wide variety of formats for conversion.
The customization features available with EZGIF are one of the best around.
Very simple to use.
Cons:
Slow in the conversion processor – especially with larger files.
Output quality not as high as some of the other converters.
---
A simple GIF converter that can handle conversions with ease.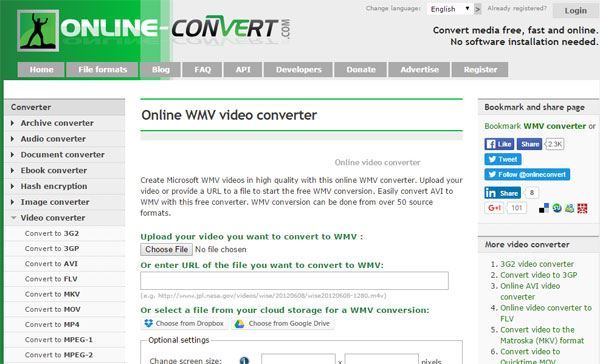 Main features:
Supports a variety of customization features that include color scale, effects, DPI, and size.
Also supports a range of different image formats.
Images can be uploaded directly from Dropbox, Google Drive, or computer.
Simple 2 step process.
Pros:
Supports over 130 image formats!
The conversion procedure is quite simple and easy.
The customization features allow you to control the output size, output quality, and output resolution.
Cons:
Slow and sluggish.
Once a GIF image has been created, you cannot edit it again.
---
A fun and interactive website that allows you to not only convert GIF images but store them as well.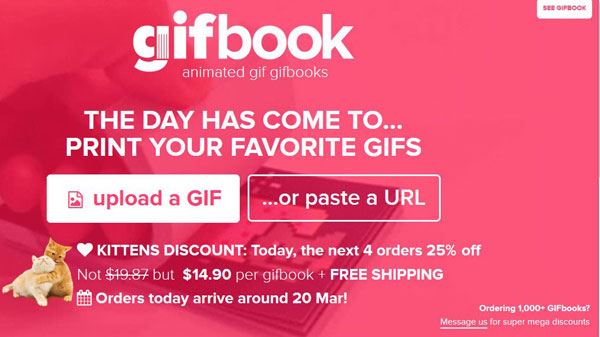 Main features:
Your output GIF images are stored in a beautiful album that can be accessed at any time (if you register for the account).
A flipbook feature is also available that arranges similar images in the form of an animated album-like book.
Fun and innovative converter.
Pros:
A unique way of converting and storing GIFs.
Despite the variety of different features available, the web application is easy to use.
Cons:
No real customization features available.
Even though it can create a beautiful album, it still does not support social media connectivity which is a loss.
---
Part 2. Create Your Personlized GIF Images with Your Photos and Videos
dr.fone - Convert Videos and Photos to GIF Images
A multipurpose multimedia software that is brilliant with handling all sorts of multimedia operations – including conversion. dr.fone is a powerful yet easy to use tool. If you're looking to create the perfect GIF image from images or videos on iPhone, iPad and iPod touch, or any Android devices, we recommend dr.fone for you! Below are the primary reasons as to why you should consider dr.fone over all other GIF converters: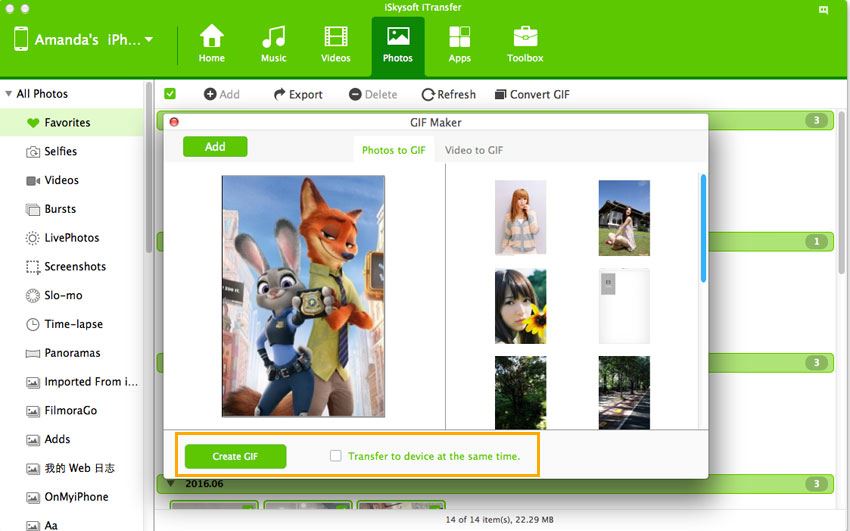 There is no need for an internet connection because everything is available offline within the dr.fone software!
Convert videos and photos on iPhone, iPad to iPod touch to GIF images.
Live photos on iPhone 7 and iPhone 6/6s are fully supported;
Convert any photo and video in MP4 and M4V formats to GIF images on computer;
1 click to transfer all music from Apple device to computer/iTunes Library/another Apple device.