No one can deny that fact that iOS is the most secure and stable operating system among all smartphone operating systems. Whenever a new version of iOS is released, it is instantly available to all iOS devices around the globe and unlike Android or Windows Phone, people don't have to wait for some days or months to get updates for their iDevices. Due to millions of iOS users across the globe, when the iOS 9 is rolled over people are complaining about different errors on their iPhones or iPads for installing iOS 9, here's the list of all the errors and how you can eradicate them.
Part 1. Reasons and Soltuions for iPhone Connection Failure
1.Stuck During Update:
This is one of the most common errors during update to iOS 9, many people complain that their iDevices stuck during the update process or a message popped up, telling "failed to update". Well, the most common reason is that you failed to download the iOS 9 installation package.
Solution:
*If iPhone is not Jailbroke, try the suggestion below
You know that there are millions of Apple device users globally. When the iOS 9 is rolled out, it's available to all people around the world. So, in this case, Apple's serve bears a lot of pressure. It's required a lot of bandwidth. To make it successfully to update to iOS 9, instead of over the air, you're supposed to update to iOS 9 by using iTunes: connect your iPhone or iPad with your computer > launch iTunes > when the update message appears, click it to begin the updating process. It' far more quick to do it on the desktop than do it directly on your iPhone or iPad. Of course, you should ensure that the network is pretty stable for your computer. If you failed again, then try again.
Actually, i strongly suggest not update to iOS 9 currently. You can wait a week or two to do the update. At that time, it might be easier to do the update.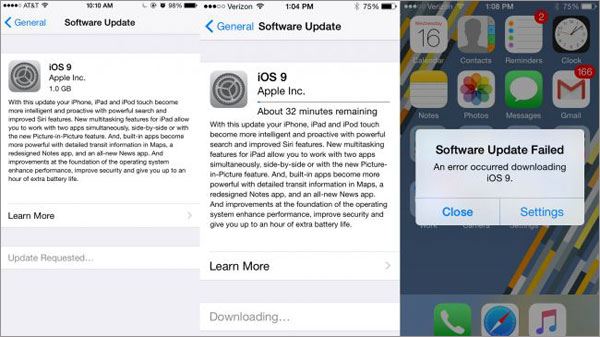 * If your iPhone is Jailbroken:
•Step 1. First of all, Un-Jailbreak your iDevice from Cydia. Thanks to developer of Cydia Store, Jay Freeman, you can now un-jailbreak your iDevice using a tool, Cydia Impactor from Cydia Store. Go to Cydia Store and search for: "Cydia Impactor".
•Step 2. Click on "Modify" in the top right corner.
•Step 3. Now, Tap on "Install" to install it on your iPhone. Once the Cydia Impactor has been installed, Go back to the Homescreen.
•Step 4. Launch the recently installed, "Cydia Impactor" and Tap on "Delete all data, Unjailbreak Device".
It will automatically remove all data on your iPhone and may take a while. Once the process has been completed, Go to Settings and update your device again.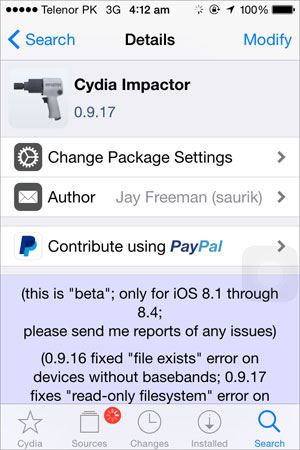 ---
2. Unable to Install Update:
If you are updating your iPhone using "Software update" from settings then you are most likely to hit with this problem. Some people have also reported this while updating through the iTunes.
Solution: This error is due to the heavy load on Apple servers due to which users will not be able to download the iOS 9 on their iPhones or iPads and will get "Unable to Install Update". There are two solutions for this problem, either wait for some time and try again to update your iPhone. If you are impatient and can't wait, connect your iPhone with PC and try updating it using the iTunes on your PC.
---
3. Don't have enough Space to Install the Update:
This was one of the biggest problems for iOS 8 users because users must had to have at least 5 GB of free storage on their iPhone to install the new update. But Thanks to Apple, they have fixed this problem in iOS 9 by reducing the size of update to just 1.3 GB. However, if you are still facing this problem, here's how you can eradicate this problem.
Solution: Delete some media and Applications on your iPhone, you can install these applications from Appstore again after the update process. However, if you still don't have enough storage space, you can connect your iPhone with iTunes and restore it to latest iOS 9 using "Restore" feature. Be sure to make a backup on your computer, so that you can restore this backup to avoid any data loss.
---
4. Error in iTunes update server:
Just like "unable to install update" error, it is associated with the millions of iOS users downloading at the same time. This error is very rare and only some of readers have reported for it. If you are one of those, follow this solution below.
Solution: Manually, download the IPSW file for iOS 9 for your iPhone or iPad. Connect the device with iTunes and Click on "Restore" button while holding the Shift button, select the already downloaded IPSW file and you are good to go.
---
5. iPhone is not turning on After iOS 9 Update:
This can be happened due to certain glitches in the iOS 9 provided by the Apple and the already present software on your iPhone.
Solution: The best solution is to perform a soft reset, to do that: Hold down the "Power Button" and "Home Button" for 15 seconds until you see the Apple logo and then let go the "Power" button while keep holding the Home button. This will soft reset your iPhone and it will switch back on normally. However, if the soft reset doesn't work for you. Connect your iPhone with PC and restore it using iTunes.
---
6. Unable to Install Error 56:
This error is very rare and can only be seen only if you are trying to update your iDevice from a beta version of iOS 9. It is basically due to incomplete installation of "Messages" application which will freeze your iPhone.
Solution: The common way to solve this problem is connecting your iPhone with PC, removing the sim card and then restoring using the iTunes. If this solution doesn't work for you, take your iPhone to the Apple store so they can fix this for you.
---
7. iPhone stuck At Apple Logo:
Some users are complaining about the problem that iPhone is stuck at Apple logo while updating to the iOS 9. This error may be due to a jailbreak installed on your iPhone or some other issues.
Solution: You can solve this problem by restoring your iPhone using the iTunes, the best way is to manually download the IPSW for your iPhone and then restore it using iTunes.
---
Part 2. Best Tool for iPhone/iPad/iPod You Should Never Miss
As an iPhone, iPad or iPod user, how can you bear the pain of data losing due to iTunes working principle: erase data if your device has been synced with another computer.dr.fone is the tool that helps you avoid data erasing and allows you to put any songs into your iPhone, iPad and iPod. With it, you'll never worry about how to share songs, videos and photos with other people.
dr.fone - Make Your Mobile Life Easier Than Ever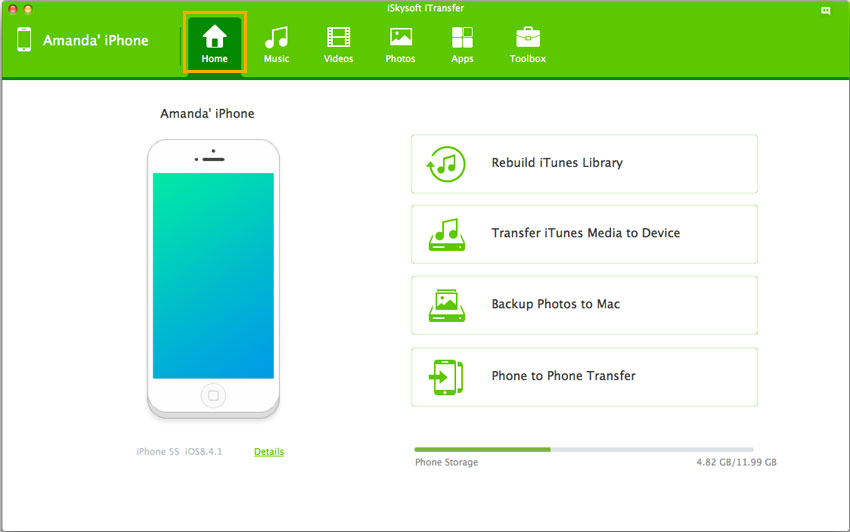 • Transfer music, videos, plyalists and more from iPhone/iPad/iPod/Android to iTunes Library/PC/Mac.
• Backup photos from iPhone, iPad and Android phone to Mac/PC.
• Transfer music, videos, photos and more between 2 devices: iPhone, iPad, iPod and Android phone.
• Fix "iPhone, iPad, iPod won't connect to computer" issue..
Why not download the free trial version of dr.fone to have a try?