Is the new iOS 10 appealing enough to you that you've decided to join team iOS? Or are you just using both iPhone and Android and would like to transfer some of your Music from your Android device to your iPhone, iPad or iPod running iOS 10? Whatever the reason, unless you have the right tools and the right processes, transferring your Music from one device to another is never easy. This is especially true if you want to transfer entire playlists or even your whole music library. To make it easier for you, this article will provide you with a few different ways you can transfer Music from Android to iOS 10 easily whether you are transferring a single song, a section of your playlist or your entire music library. Let's begin with the quickest, easiest and most efficient method.
Part 1 : One-Click to Transfer Music from Android to iOS 10
Imagine the time and effort you would save if you could easily transfer all of the music files from your Android device to your iOS 10 device in under 5 minutes. To do this you would need a program that is specifically designed to make transferring data from one device to another quick and seamless. That program is MobileTrans for Mac (or MobileTrans for Windows).
Key Features of MobileTrans:
It is very easy to use. All you have to do is connect the devices to the computer and select the photos you want to transfer.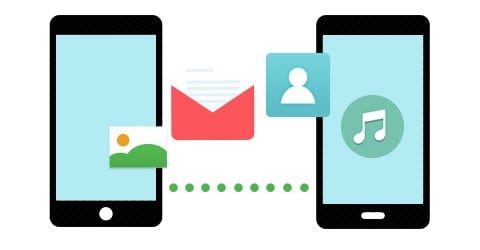 MobileTrans for Mac can also be used to backup all of the data on your device.
It is also highly effective. All of the music files you choose to move from one device to another will be transferred in pristine condition.
It will prove to be a great investment for you because it can also be used to transfer other types of data from one device to another.
Step-by-Step Guide to Transfer Music from Android to iOS 10
Step 1. Download and install MobileTrans for Mac to your Mac. Launch the program and you should see the following window.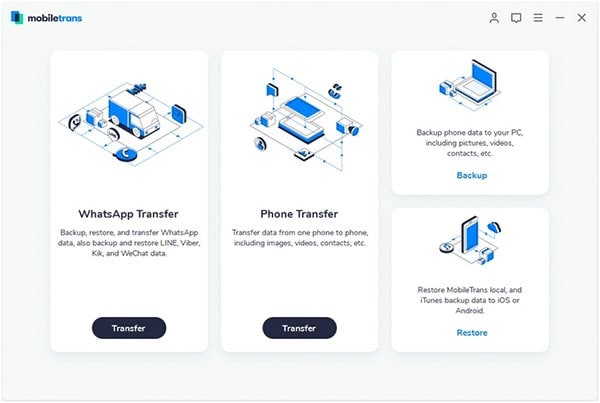 Step 2. Next, connect both the Android device and the iOS 10 device to your Mac using USB cables. You may need to authorize the Mac on your device to continue the process. If you see a message requesting to allow USB debugging on any of the device, check "Always allow from this computer" and then tap "OK" to continue.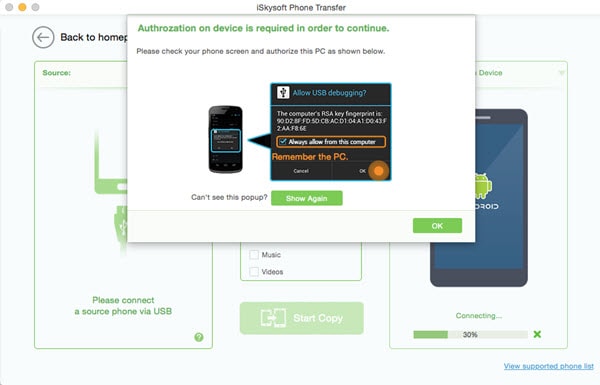 Step 3. Once the devices are connected, click on the "Phone to Phone Transfer" tab to begin the transfer process. You will then see both the devices with the Source device's data displayed in the middle panel. Make sure that the Android device is the Source device, if it is not click on "Flip" to re-order the devices.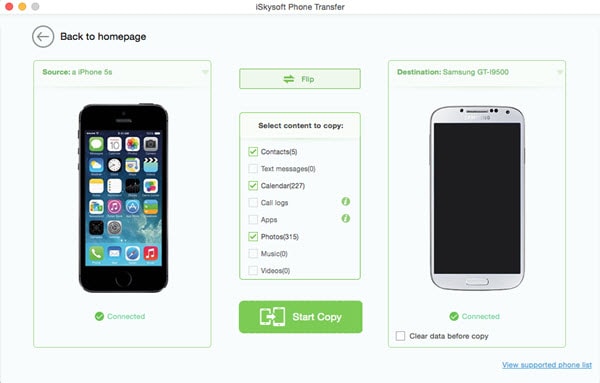 Part 2 : How to Transfer Music from Android to iOS 10 via Amazon Music
Although the process is slightly complicated, you can use Amazon Music to transfer files from your Android device to an iOS 10 device. It is important to mention before we begin with the step by step guide that in order for this process to work, you must have installed the Amazon Cloud Player App on your iOS 10 device.
Step-by-Step Guide to Transfer Music from Android to iOS 10 via Amazon Music
Step 1. You will have to begin by importing the Music files you want to add to the new device. To do this, you need the amazon Music Importer. From the Amazon music Importer, specify the device name you want to import music from (in this case the Android device).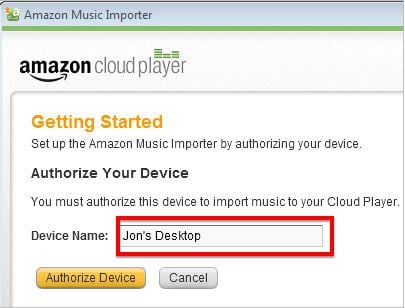 Step 2. You can then either start an automatic scan for the music or manually shooed the folders that contain the music files.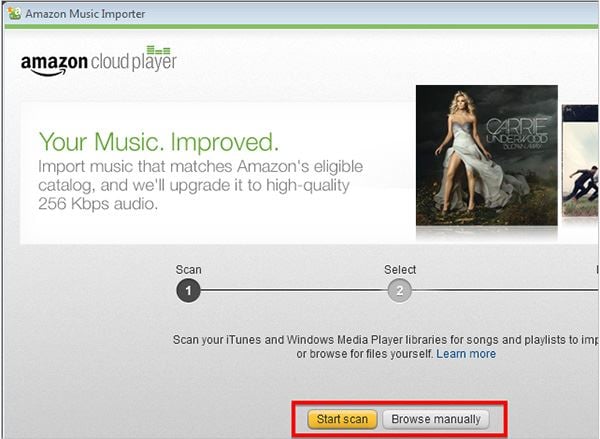 Step 3. Import all of the songs from the resultant scan or you can select individual files.

Part 3: Some Streaming Services to Transfer Music from Android to iOS 10
In much the same way as we've seen with Amazon above, you can also make use of some of the popular streaming services to transfer your Music from your Android device to your iOS 10 device. The following are just some of the most popular ones.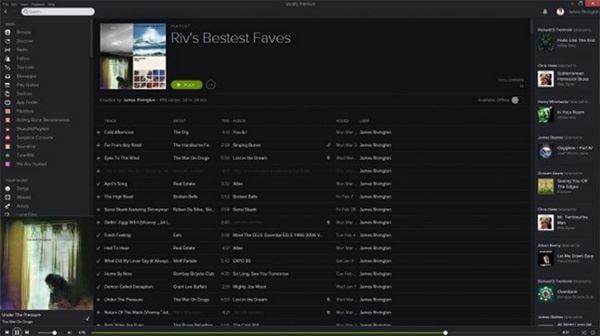 It has been noted as one of the best if not the best music streaming service on the planet. One of the main reasons why Spotify continues to edge out the competition is the constant reinvention of the service. There are so very many new features added on to the new already exciting features that most people expect Spotify to continue to dominate both in Europe and the US. Recently Spotify has changed its look to a better interface that is mirrored across all of its apps on all platforms. They have also included exclusive music that you won't hear anywhere else, further appealing to music fans and upcoming artistes. Its 20 million + music catalogue is also an added advantage the continues to tip the scales in favor of Spotify.
Pros:
It now comes with a great new look that is easy to use and uniform across all platforms.
The Music on Spotify is awesome especially because of the exclusive releases on the streaming services.
It comes with excellent features all geared towards making it very easy for you to enjoy your musical experience on Spotify.
It offers a 320kbps streaming.
Cons:
The web player can be a little bit buggy.
• The search feature isn't always great.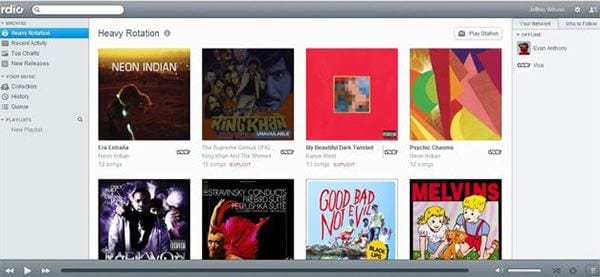 2. Rdio
Coming up right behind Spotify in terms of popularity Rdio has managed to carve out a space of itself in the world of music streaming. It provides a great alternative for those who would prefer social music discovery. It comes with a very simple to use interface and provides a very solid music streaming service and even comes with a free listening service that many music fans have appreciated. Rdio provides users with a variety of choices when it comes to membership. You can either choose the Rdio Web at $4.99 a month that lets you stream unlimited music to a browser or a desktop app. Rdio Unlimited at $9.99 a month is another great option that will include unlimited web and mobile streaming as well a music caching feature that allows you to listen to music offline. You can add a second or third person to your Rdio account for $17.99 to $22.99 per month. You can download the Rdio desktop app for better services such as music matching and music catalogue collection. The app will scan your iTunes and Windows Media Player playlists for music to duplicate on Rdio library.
Pros:
It has a very simplified user interface allowing to focus on what's important- enjoying your music.
It also comes with mobile apps.
The sound quality is very good and you get the option to rewind tracks.
Cons:
Some of the important indie artists are missing from the services.
You won't get any lyrics on Rdio.
Rdio doesn't have exclusive content.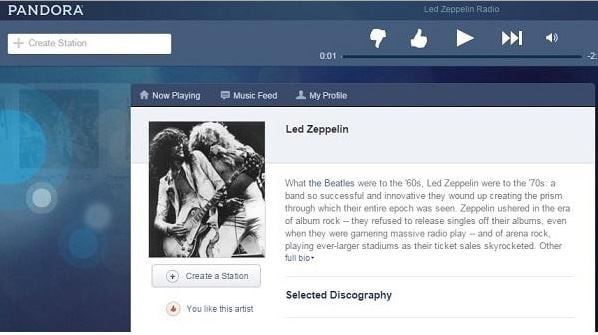 Pandora Internet Radio is another music streaming service you may want to take a peek at. It is available both as a free and premium service. Free users are limited to six songs skips per hour and may her a few audio ads. When you upgrade to a $4.99 per month, you get an ad-free experience and additional song skips. The interface is pretty straight forward, you search for an artist or song title and Pandora populates a station. Below that you will see details about the song and the artist as well as share and publish buttons. The service also has a recommendation feature although most people say it isn't as accurate as they would expect that you are just better off finding your own music.
Pros:
Pandora Premiere is a feature that offers users access to unreleased music.
You can also get lyrics to any song.
The recommendation feature is fairly decent although it could be better.
Cons:
Premium account will not offer users unlimited skips.
There are no niche stations and neither will you find playlists or on demand streaming.
Pandora also lacks live content.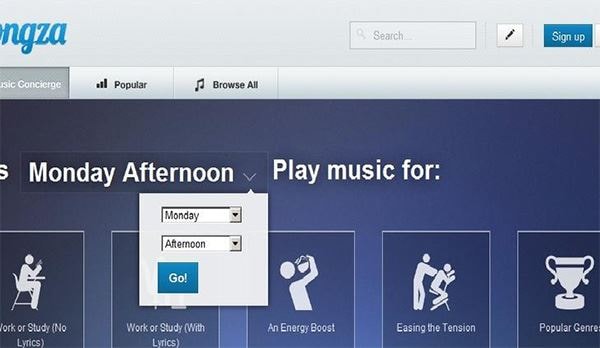 This one is a relatively new service that focuses on themed playlists. It offers a free ad-supported service that offers curated playlists and string social features. It has quickly gained popularity among users and quickly gained traction against competitors such as Spotify and Pandora. It comes with an easy to use and very pleasing interface that is clutter free, making it very easy for you to find what you are looking for very easily. All you have to do is create an account, search for and find a playlist you like and you are ready to enjoy Songza.
Pros:
The audio is crisp and of very good quality.
A Music concierge feature presents music that is based on the time of day.
There are very many themed playlists to choose from.
It also provides a great recommendation service based on the music on your Playlists.
There are no audio ads interrupting the music.
Cons:
It doesn't possess on demand tracks and albums.
Update: as at January 31, 2016 Songza has been closed down with existing users switched over to Google Play Music.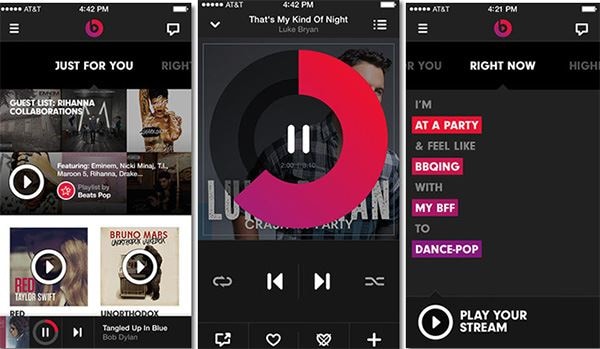 Beats existed for a long time as it's another one of really great music streaming services for Music Lovers everywhere. But recently, Apple acquired the services and incorporated it into a new service known as Apple Music. All Beats members prior to the acquisition were moved to the new services. You might still be able to download the Beats app but you will not be able to sign up for a new account. To do that, you need to head on over to Apple Music. At its height the service gained popularity thanks to a growing music scene and the then famous Beats by Dre Headphones when the company moved from making music accessories to helping you listen to music.
Pros:
The service provides a great recommendation. They actually learn about your music tastes and tailor your collection to meet these needs.
Even after being acquired by Apple, the quality still remains and Apple Music brings better and more useful features.
Cons:
If you hadn't signed up for an account prior to the acquisition, you won't be able to now.
Offline listening was a little complicated although it works just fine now on Apple Music.