If you thought that transferring your beloved photos from an iPhone to an android device is a very impossible task, then you must be leaving in the old age?. In this article, you're going to learn how you can successfully transfer all your favorite photos from an iPhone to the android device in a very simple and fast way.
Note that the method recommended here can be used to transfer a wide range of contents between the two devices. For example, it can successfully transfer call history, calendar, music and video files, photos, apps, and so on. But in this case you're interested on how you can you can transfer photos from iPhone to android. Right?
How to Transfer Photos from iPhone to Android in 1 Click
There stands the name of the program that allows you to accomplish the phone to phone transfer process. MobileTrans for Mac (or MobileTrans for Windows) offers you a great platform where you can connect the two devices and allow them to share content. It comes in Mac and Windows version so that you can successfully install it on your Mac or Windows PC. Above all, the program is very safe and easy to use.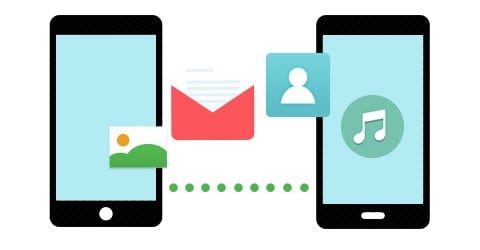 Key Features of Phone Transfer
The program supports over 3,500 phones as well as different networks. In other terms, the program is not limited to iPhone-Android platforms sharing only; it can be used to enhance sharing between other phone platforms as well.
This is tool isn't just meant for the transfer purposes. It can be used to safely backup all your phone content on your PC. What's more, you can safely and easily restore this data whenever you need it.
Phone Transfer also restore data such as music, video and photos from iCloud, Blackberry, and iTunes backups to your Windows phone.
It can be used to restore OneDrive contacts to your Windows, iOS, Blackberry, and Android phones.
Another great feature about this program is that it can restore data from the pone transfer process. This means that you can first transfer the data from one phone to another, and later restore it to your preferred phone.
Steps on How to Transfer Photos from iPhone to Android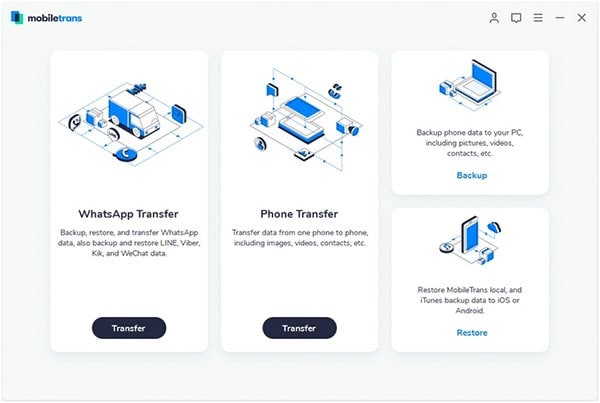 Step 1: Install the program to computer and run it
First things first! Install the program on your computer. You can install the Mac or Windows version depending on your Computer OS platform. After a successful installation, launch the program so that it displays the main interface.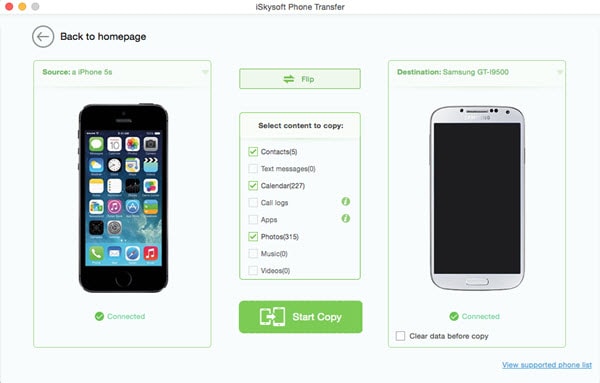 Step 2: Connect the iPhone and Android to computer
Next click on the "Phone to Phone transfer" tab. This will take you to the program's main transfer window. With the help of USB cables, connect both the iPhone and Android devices to your computer. The program will scan the connected devices and eventually display their names.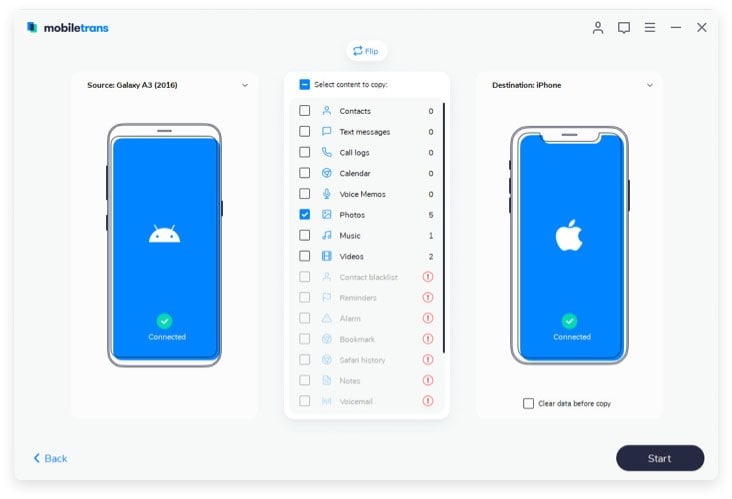 Step 3: Check and transfer photos from iPhone to Android
After the previous step, you'll be presented with a list of the data available in the phones. Go ahead and check the box next to the name of data you want to transfer (i.e. photos) and click on the "Start Copy" option to commence the transfer process.
Mobile phone data transfer process with iSkysoft Phone Transfer takes only a few seconds. It's a fun to use program that makes your wishes of transferring iPhone photos to your Android phone a reality.