Perhaps you have recently changed handsets from an iPhone and you want to transfer iTunes to your Android phone. Or alternatively, you may be making a trip and you wouldn't prefer to carry along an iOS device and the Android phone. So, you may find it convenient to have your music on it and listen to it from there. Regardless of your situation, it is possible to transfer songs from iTunes to Android phone. This article will guide you on how to get iTunes songs on Android.
How to Transfer Songs from iTunes to Android with Phone Transfer
Using MobileTrans for Mac (or MobileTrans for Windows) is the easiest way. This software enables you to restore back data from BlackBerry, iCloud and iTunes backup. Apart from that, you can as well transfer call history, SMS, contacts and calendar, apps, music, photos and video, between iOS, Blackberry, Symbian OS, and Android OS with just one click.
It is recommended that users use Phone Transfer to transfer iTunes songs to Android – which is an elegant way to do it. However, there are other methods you can use to transfer iTunes to Android Phone. Such methods include the old drag-and-drop method. Many users have found using Phone Transfer to get iTunes songs on Android most preferable when compared to them.
The following are some of its notable features:
It provides back up for your phone data to your PC.
It scans and erases data from your old phone.
Retrieves data to your phone.
Transfers data from one phone to another phone.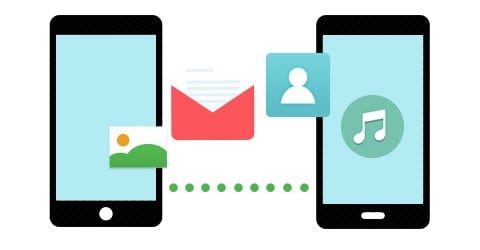 Steps to transfer iTunes to Android Phone
You will need a computer to allow you to do the transfer. This process is very fast so it will only take a very short time. Besides, it is easy to launch the phone transfer.
Step 3

Proceed to Restore tab

Go to the tab with "Restore from Backups" icon and pick "from iTunes backup file". Then you can have the restore iTunes to Android interface.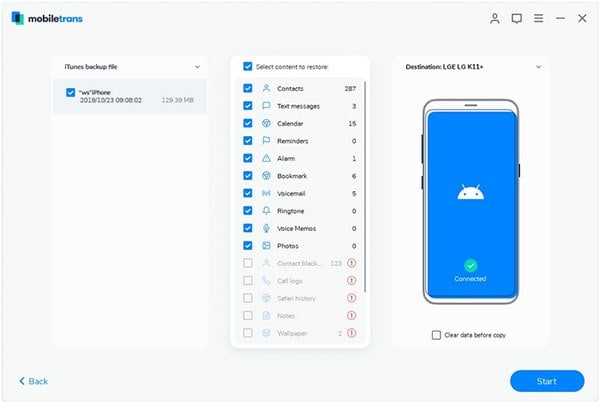 Step 4

Select the Files to Restore

Here you can select the files you'd like to transfer. Make sure that you check the contents before you click on "Start Copy". Press "Start Copy" to complete the procedure of transferring iTunes to Android phone on Mac.