Apple is gearing up to release its flagship iPhone in the coming few months. Although it provides the latest methods to transfer files between Mac/PC and the device, they may not fulfill the requirement of every user. The long process of using iTunes as the medium possess a disregard for users, who wish they could directly plug their iPhone into a computer and begin transferring files. If you are in search for applications that allow you to perform a direct transfer without any limitations, then continue to read ahead as we give you the top ten iPhone 7 file transfer apps .
Top 10 iPhone 7 File Transfer Apps
MobileTrans for Mac (or MobileTrans for Windows) is a one-click solution for all your file transferring requirements with your iPhone. The program assists you in copying contacts, apps, call logs, text messages, photos, videos, calendar, and music files between iPhone, Android, and other tablets and smart devices.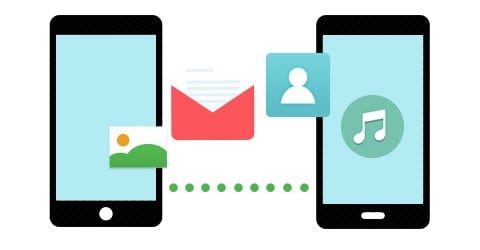 1. MobileTrans
Key Features of MobileTrans:
It is a cross-platform transfer process without risk and quality loss.
Helps in creating a backup of the device in Mac and restores the same without losing a single file.
Supports over 3,500 devices and networks.
You can also restore the backup created or even restore other backup files from other sources including iTunes and iCloud.
---
Step-by-Step Guide to Transfer Files from Other Devices to iPhone 7
Step 1. Visit MobileTrans official site to download the trial version of the software package for Mac. Install the application by dropping the executable file in the "Applications" window.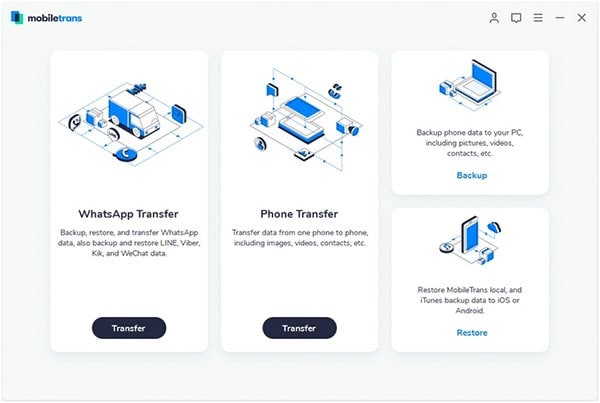 Step 2. Connect iPhone and other devices from which you would like to transfer the files. Use the manufacturer provided cable to prevent data corruption. It is important that you enable authorization for the device to Mac to allow the system to establish a connection with the device.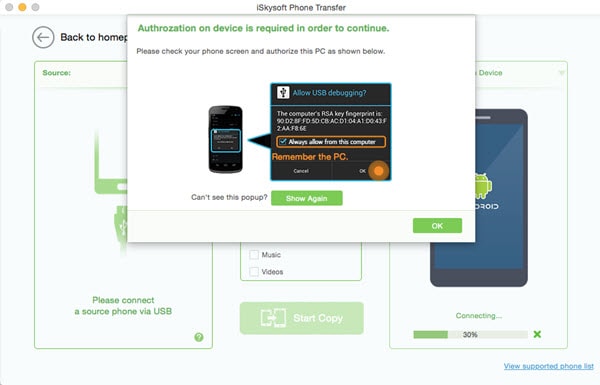 Step 3. You now have to press "Phone to Phone transfer" feature to open the transfer window. In the transfer window, you will notice the two devices along with the source and destination device as shown in the picture below. You can easily flip the devices based upon your requirement using the "Flip" button available in the interface.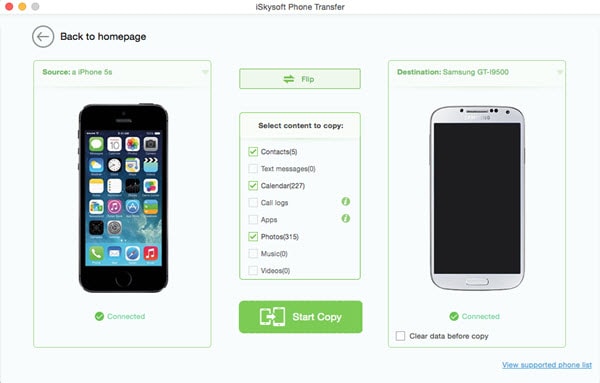 Step 4. You can now begin the selections for the content that you wish to transfer to your iPhone. You can select from contacts, music files, images, videos, text messages, and apps. Once done, press the "Start Copy" button. It will begin the transferring process.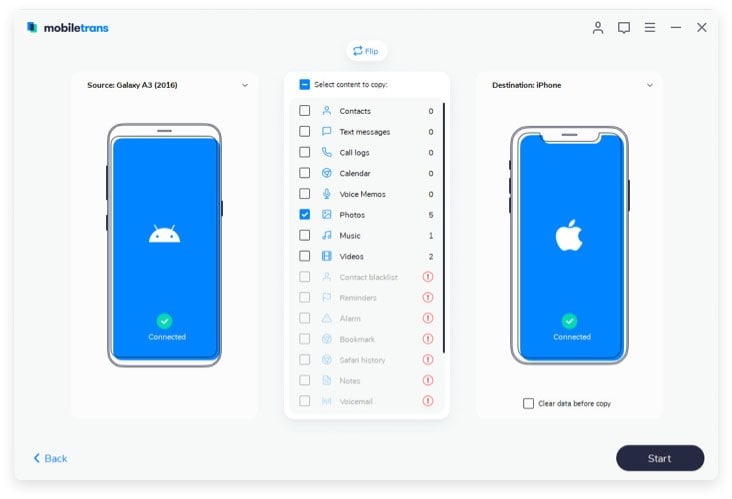 ---
iExplorer gives you the opportunity to transfer files from iPod touch, iPhone, and iPad to your computer. Whether it is a music file or document, the application is capable of moving the files from the device to your PC without having to proceed with the process of iTunes synchronization.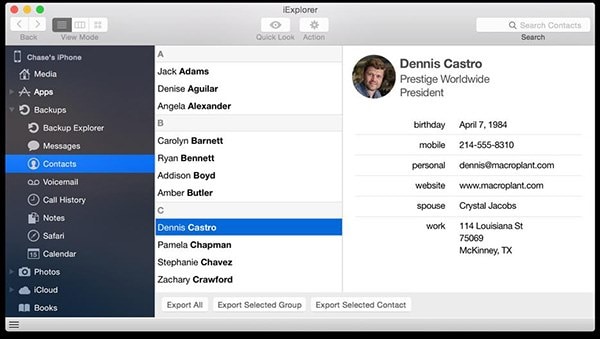 Pros:
Comprehensive detection has the obligation to recognize the connected device right away. It quickly loads all the files present in the device to provide complete control over file management through this single app.
With a clear interface, you will notice all the data detected by it on the display. For example, you can easily preview the date and modified time of a file type along with the file size.
The software also provides you the ability to export individual music files to iTunes and play them in the preview pane.
Cons:
The demo version of the application greets a user with pop-up asking to purchase the full version. The frequency of the pop-up is high, which makes it difficult to evaluate the performance of the program.
The app crashes consistently during the transferring process. However, it starts right back up automatically.
---
Air Sharing is an application that allows transferring files from your iPhone to the computer. It mounts the device through the Wi-Fi connection and as a shared disk on Mac. The application can display all the files within the device irrespective of the file format. It also helps the user in viewing long documents using the up and down arrows. However, an absence of additional tools makes it difficult to work with the documents. It is a perfect application for those who wish to read documents on their iPhone or allow someone to download files using the web browser.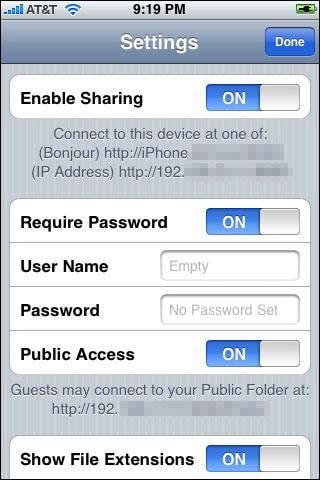 Pros:
Allows a user to transfer files from computer to iPhone and vice versa.
Works flawlessly with Mac, Windows PC, and Linux.
Allows full functionality of web access to the files from iPhone.
Well build up help category within the application.
Cons:
Air Sharing has a limitation to words of Microsoft office as it fails to load or display particular Word and Excel files.
There are no file editing features inbuilt within the application.
---
The application is free and requires minimum iOS 5.0 and is also available for Windows and Android. The program has a simplistic user interface that allows unlimited instant file transferring process. The application enables the transfer between two devices using the same network. The procedure avoids the spread of personal information and sensitive content traveling onto the larger Internet media. The application successfully sends pages of documents, images, music files, apps, app data, and other documents from one gadget to another at a faster rate. The app is useful for those who frequently require transferring files between devices.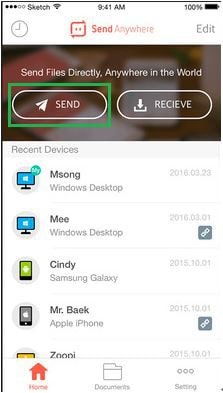 Pros:
Functions efficiently in moving documents between devices and from computer to Apple devices.
The clear interface offers complete information about the data being transferred and received between devices
It recognizes a device instantly and displays the content in categories.
Cons:
Fails to function appropriately on certain devices.
The app crashes consistently when there is a need to transfer larger files.
---
With the help of Phone Drive, it is possible for you to convert your iOS device into a portable wireless flash drive. The process will help you store, view, and manage files on your iPhone. You can quickly connect your iPhone with the support of the app to your Windows PC or Mac over your local Wi-Fi network and begin transferring files straight from the Finder or the Windows Explorer. The application features PDF reader, document viewer, music player, voice recorder, text editor, image viewer, file manager, and supports all the operations such as move, copy, delete, share, email, unzip, zip, and much more. Another significant feature of the software is the password protection. It stops other people from gaining access to the files. It is also possible to turn off the file sharing in the settings so that nobody else can connect to the device when on the Internet.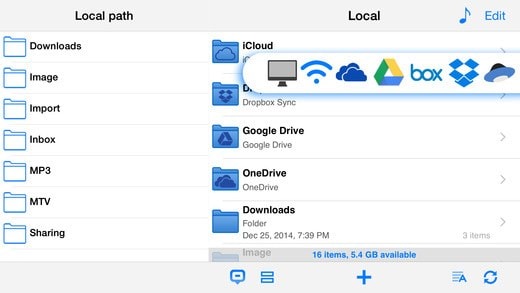 Pros:
User-friendly interface with intuitive performance.
If you wish to buy the license to version, then you can access all of your Apple devices without paying an additional sum.
The trial version provides complete features of the application.
Cons:
There is still room for improvement.
---
File Transfer from delitestudio.com is a one-stop solution for transferring files from iPhone to a computer and other devices, and vice versa. The application functions effectively in transferring the files without any configuration. The application detects the presence of the devices automatically, enabling the user to transfer files in a few seconds devoid of a USB or iTunes. Built-in file viewer helps in opening any file type including pictures, compressed archives, documents, videos, and much more. Another important functionality of the application is its ability to function even in the absence of Internet. Users can easily enjoy their files anywhere and anytime, even offline. Due to the cross functionality offered by the application, it is easy for users to send and receive files from different platforms such as iOS, Mac, Android, and Windows.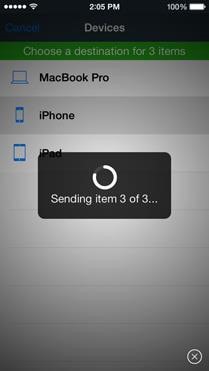 Pros:
Simple and intuitive user interface makes it easy even for a beginner to proceed with the transferring process in a few steps.
It is capable of transferring multiple files in a few seconds.
The application is also capable of opening files stored in third-party apps such as Pages or Numbers, Google Drive, and Dropbox.
Cons:
The transfer rate of the files is not consistent and solely depends on the paired devices.
Absence of file editing tools makes it difficult for those who wish to modify a few things on the go and then transfer a file to the desired device.
---
7. Wi-Fi HD Free
Developed by Savy Soda, the application is capable of turning an iPhone into an external hard drive. Users can transform their iPhone into a wireless shade a network drive, which makes it easy for them to send and receive files from other devices and platforms. With the help of the application, one can easily share, backup, and copy files from PC/Mac/Linux or any other mobile device. Additionally, the functionality is simple, which makes it a must have app for all those heavy file transferring users who often send and receive data from different devices. It features the built-in HTTP file sharing technology, making it easy to work with Mac or Windows. The unlimited number of files and file size management is an added advantage.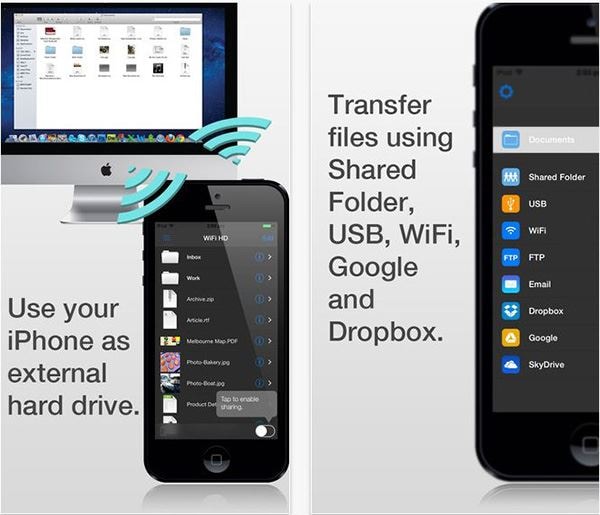 Pros:
User-friendly interface makes it an attractive appearance displaying all the needed information.
The presence of the built-in HTTP file server makes it an added advantage for those who wish to send the content in a secure way.
Transfers the files and other content at a faster rate.
Unlimited file sharing and file size is a boon for heavy users who often send and receive large data.
Cons:
The app crashes consistently on devices running on iOS 8.
Sometimes, it fails to search for the exact file located on the device making it difficult for a user to operate the app efficiently.
---
iMazing iPhone File Transfer is similar to that of a Swiss Army knife with complete file management system. With the help of the application, it is possible to transfer files directly to any Apple device and expand the device's functionality. It features a powerful built-in file browser, making it easy for a user to find, copy, and send files or folders with ease. The app does not restrict the device to a single library like that of iTunes. Therefore, users gain the ability to interact their iPhone or any other Apple device with different computers. The application also helps in turning an iOS device into an external storage, making it easy to transfer content to even third-party applications and media players. The major can affect offered by the application is its ability to connect to multiple devices at the same time.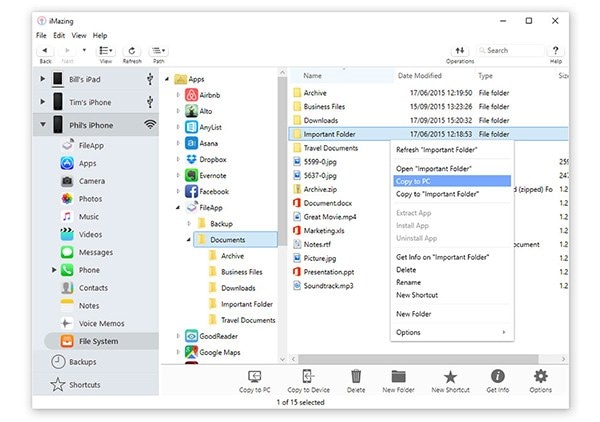 Pros:
It even includes backup utility and file manager, which provides greater control over the entire file management system for iPhone.
It intelligently groups data and content according to the datatype and app names, making it easy for the user to search for preferred file with ease.
Converts an iPhone into secondary storage device, which makes it easy for a user to store additional data while using a Windows PC.
It is also capable of transferring data over a local network using Wi-Fi.
It even helps in backing up voicemails, call logs, text messages, contacts, and more to a computer.
Cons:
Being a single solution for file transfer and management, users often misunderstand it as a backup utility.
Trial version offered has limitations and users may not experience the true potential of the application.
---
The application works as a perfect alternative to iTunes. It provides a new experience entirely for the user giving complete control over file management. The latest version is capable of transferring and managing music files, photos, videos, and other documents between iPhone, iPod, iPad, and computer. The user-friendly interface makes it intuitive and offers everything that a user wishes for from an application. Additional features include fast file loading and transferring speeds, autorotation of videos, converting features, etc. It significantly functions at a faster speed because it supports both Intel and Nvidia hardware acceleration, which causes it easy to send and receive files at a faster speed. The inbuilt organization features give better control over managing music files and playlist. It even helps in creating, modifying, deleting, and rebuilding playlists, which is an added feature for those who are all ears to the music.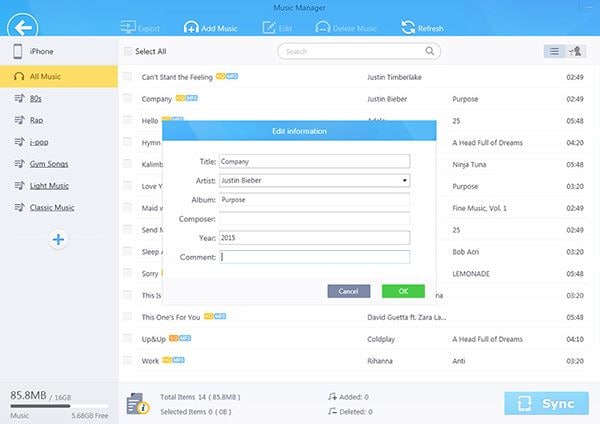 Pros:
The hardware acceleration support for both Intel and Nvidia makes it a compelling software for it speeds the transferring process.
The hardware acceleration support also makes it useful for exporting and importing 4K videos, which are usually in larger sizes.
It is capable of organizing documents and content according to the need of the user and offers plenty of flexibility in arrangement.
The inbuilt auto convert helps the user to convert video into the right format before synchronizing their iPhone and iPad.
The compressor feature helps in reduction of a video file size by 50% without losing any quality for any iDevice.
It flawlessly converts an iPhone into a free USB drive, which makes it easy for a user to store documents and any other files simply by using drag-and-drop procedure.
Cons:
It can be confusing for a few users because of the number of features added on to the software.
Trial version offered has limitations, but users can obtain reduction when they opt for a license.
---
iFunbox is a file manager application for iPhone and iPad. It provides greater control over the file management system, making it easy for users to organize, move, and delete content from different Apple devices. The setup is relatively easy and makes a Windows user more comfortable as they handle their iPhone on their computer. The inbuilt features and tricks offered by the program are major bonuses. You do not need iTunes to synchronize the device, which is rather typical due to the limitations provided by the program. However, with iFunbox you have greater control over how you manage files on your iPhone or iPad. It also lets you view the files, add data, and additional documents in a tiled-based menu so that customers can easily drag, drop, and move files without any hang-ups. In addition to this, the application is also capable of sending apps that you do not find in the App Store. The best feature of the program is its ability to function without a jailbreak.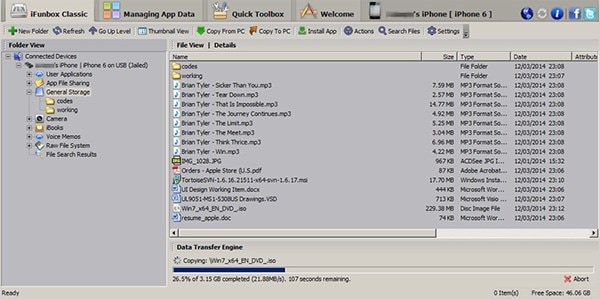 Pros:
It manages the file very similar to that of Windows File Explorer with enhanced features and robust construction.
It transfers the files and folders to a computer at optimized speeds based on the hardware connectivity between the two devices.
It even includes an additional feature known as the one-stop app that is capable of installing and backing up applications.
Additional features include access to app sandbox without jailbreak, exporting music and movies iPad or iPhone, and allpaper function.
Cons:
A few devices might face connection issues and requires permission that could lead to security concern.
It is incompatible with jailbroken Apple devices.